The Hair and Makeup at the 2021 BRIT Awards Are as Exciting as We Could've Hoped
The 2021 BRIT Awards have been a long time coming — as are the beauty looks that accompany the annual event. This year's award show was postponed by three months due to the COVID-19 pandemic, but it was well worth the wait to see what our favorite celebrities were going to do when it comes to their hair and makeup.
Right off the bat, the red carpet beauty was even more exciting than we could have hoped for. Dua Lipa stunned us with an incredible towering beehive, which brought to mind Amy Winehouse's iconic hairdo, and Griff gave us a truly out-of-this-world look with lilac makeup and a crystal-embellished headpiece. Billy Porter went for an all-black ensemble for the occasion, which included jet-black lipstick and smoky eyeshadow, but he was sure to add a teeny-tiny crystal to the inner corners of his eyes to give the beauty a little bling.
Keep reading to see all of our favorite celebrity beauty looks from the 2021 BRIT Awards so far.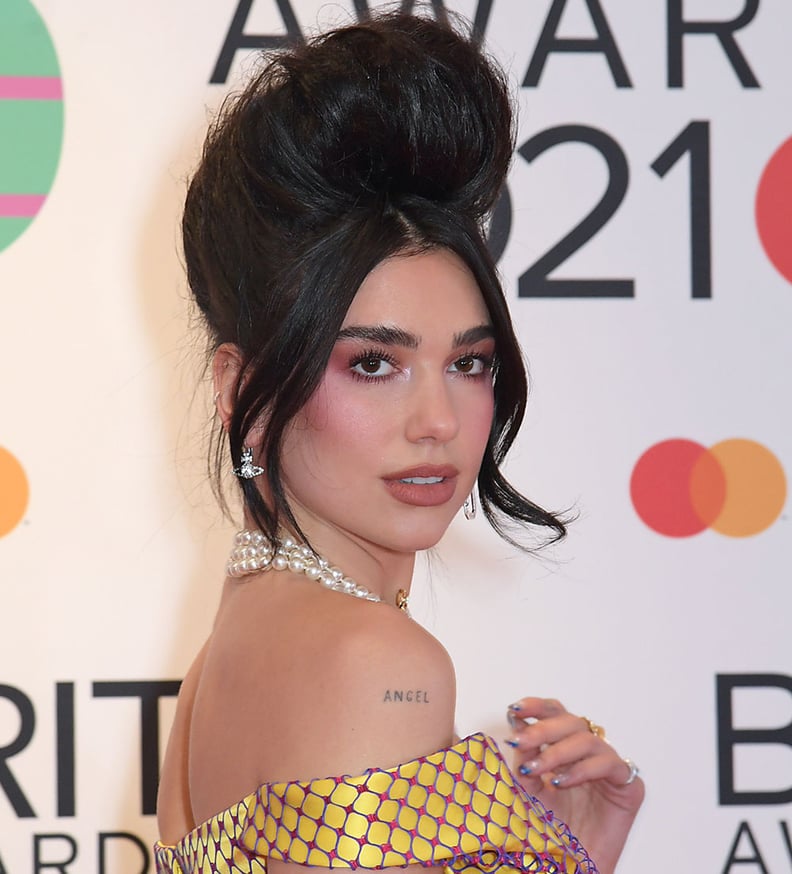 Dua Lipa's Towering Beehive at the 2021 BRIT Awards
"I wanted to make it very British, quite London, have some fun with it," Lipa said of her first look on the red carpet, which included draped pink blush and a voluminous updo that brought to mind the one and only Amy Winehouse.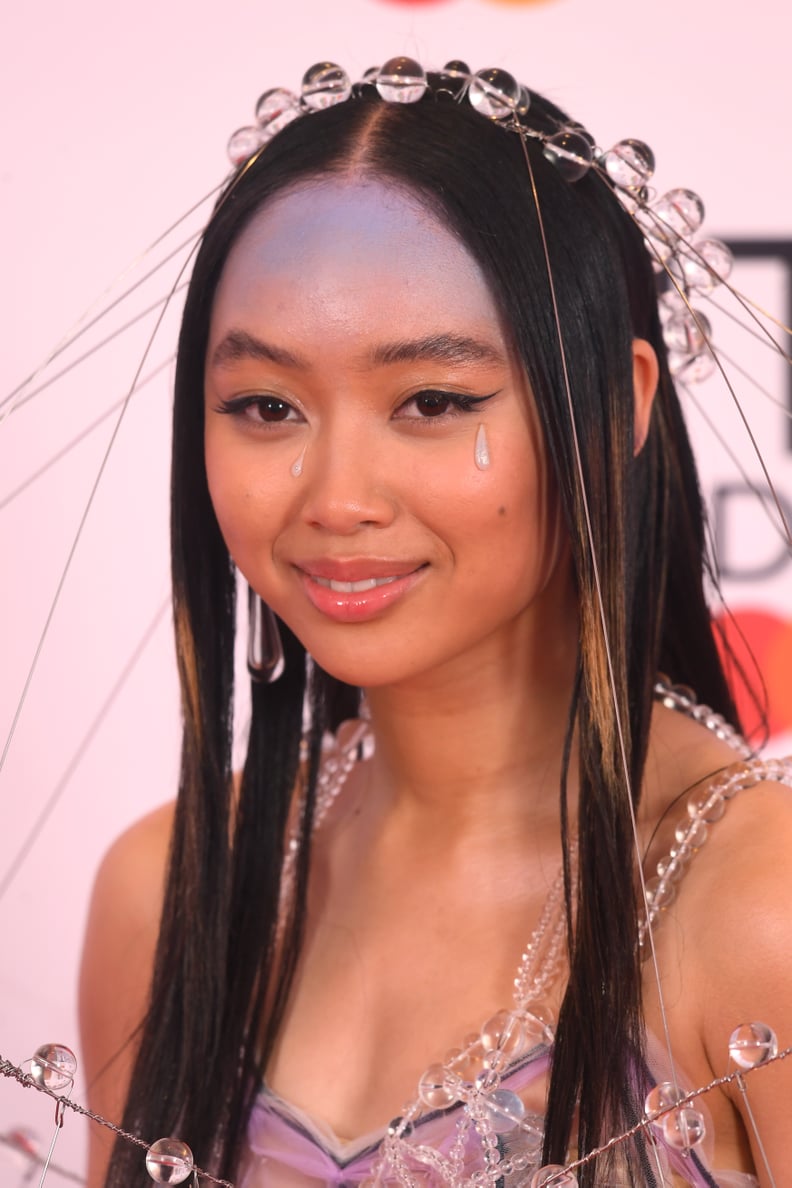 Griff's Dreamy Pastel Makeup at the 2021 BRIT Awards
Most unique and unexpected beauty look of the night goes to the winner of the Rising Star Award, Griff. With lilac pigment stippled down her forehead, iridescent tears, stick-straight hair, and a veil made of crystal baubles, she looked magical and otherworldly.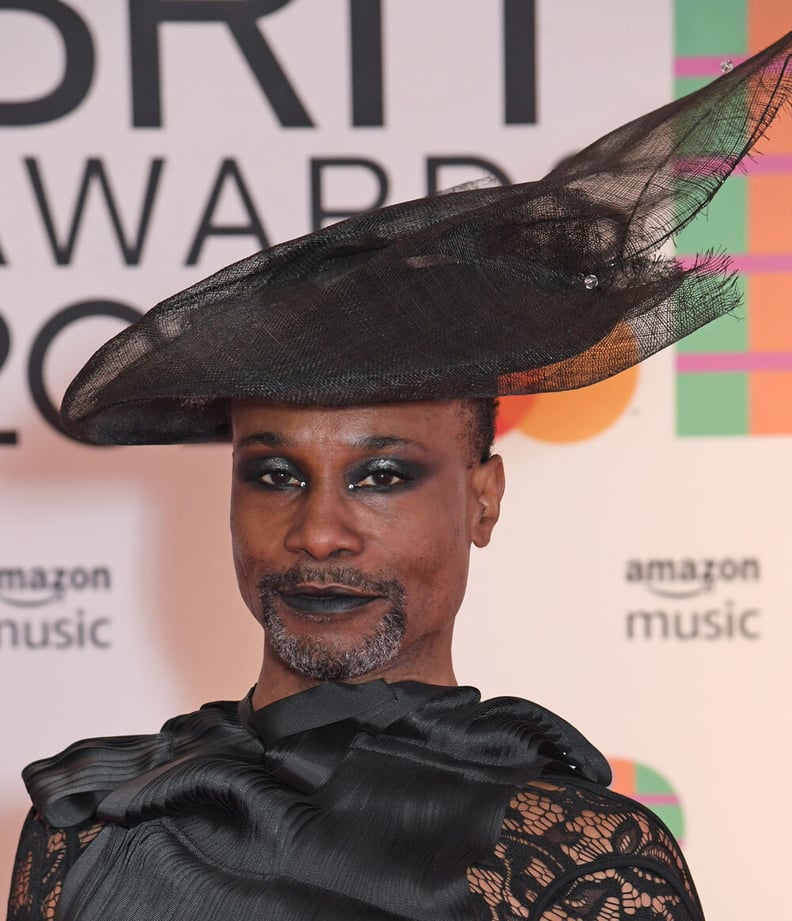 Billy Porter's Matte Black Lipstick at the 2021 BRIT Awards
We can't get over Porter's epic all-black ensemble and beauty look on the red carpet, which featured a matte black lip and a diffused black smoky eye with a shimmery silver center, topped off with tiny crystals on the inner corners of his eyes.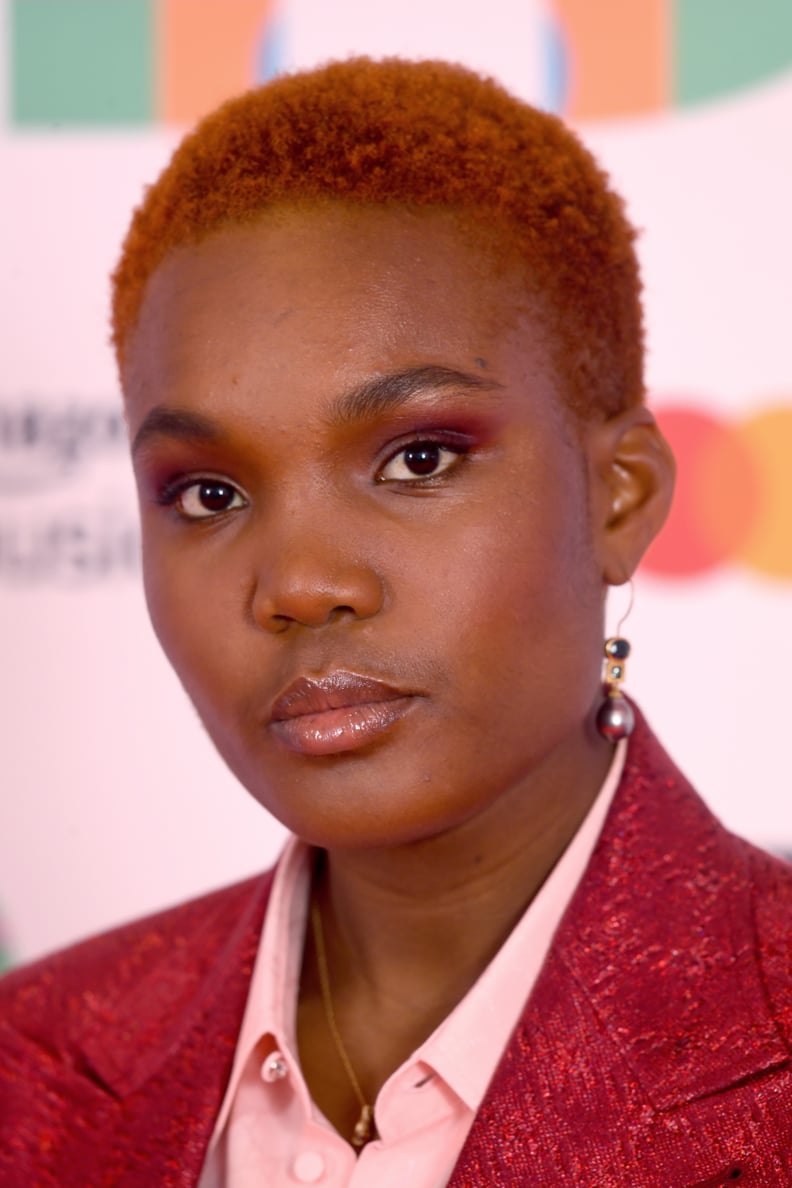 Arlo Park's Cranberry Shadow at the 2021 BRIT Awards
Parks paired her signature short crop with a gorgeous reddish-purple eyeshadow and beautiful glowing skin.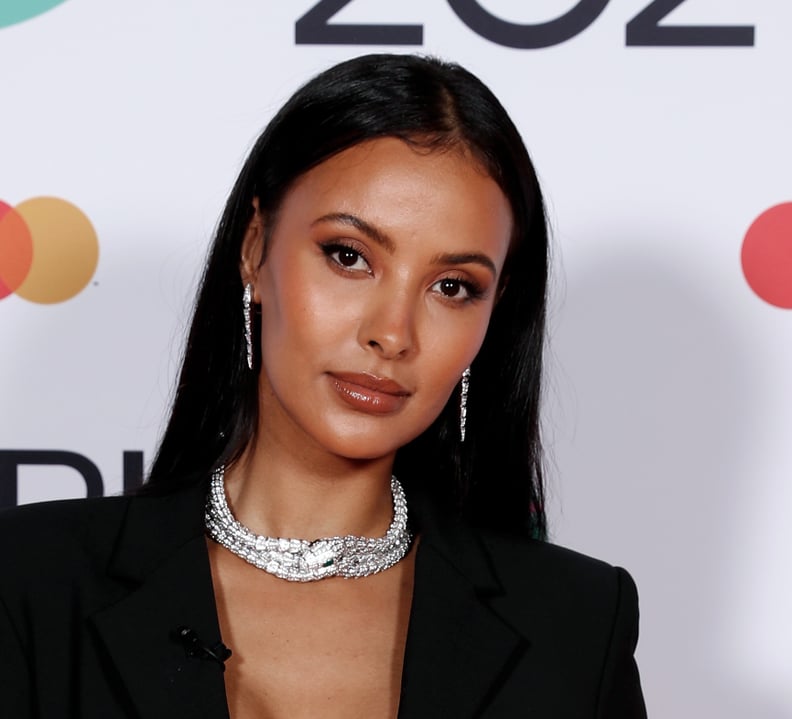 Maya Jama's '90s Nude Makeup at the 2021 BRIT Awards
Jama always knows how to win us over with a simple yet ultraglamorous beauty look, and the 2021 BRIT Awards were no different. She went for a soft brown smoky eye with winged liner and a '90s-inspired glossy nude shade for her lips.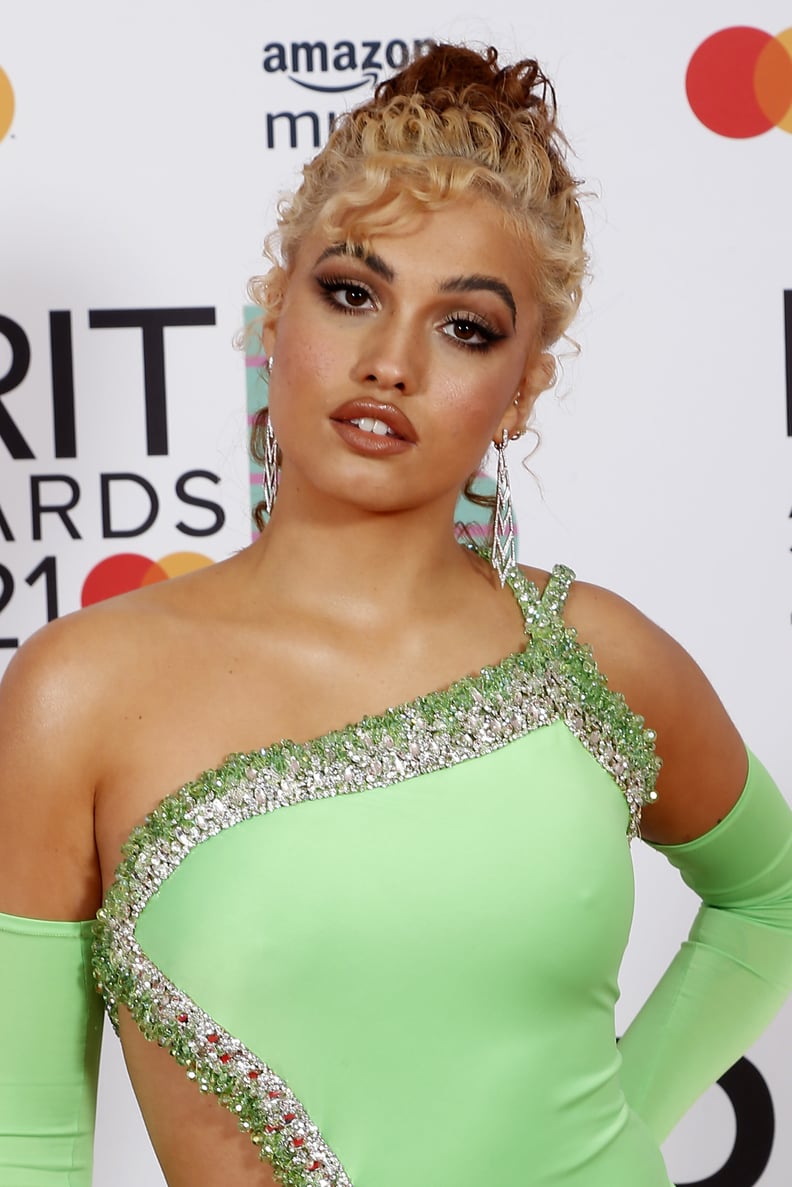 Mabel's '90s-Inspired Lipstick at the 2021 BRIT Awards
Mabel looked ultraglam with '90s-style makeup by Nikki Wolff and a curled updo created by Rio Sreedharan.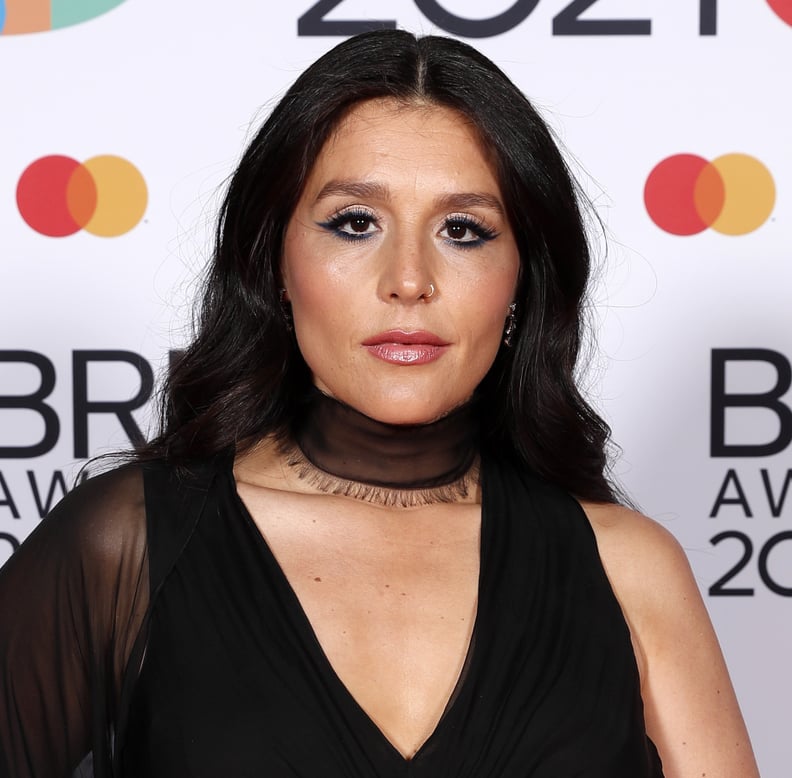 Jessie Ware's Midnight-Blue Liner at the 2021 BRIT Awards
Ware gave us a lesson in wearing colored eyeliner on the red carpet. She wore a beautiful midnight-blue cat eye and a glossy peachy-pink lipstick for the occasion.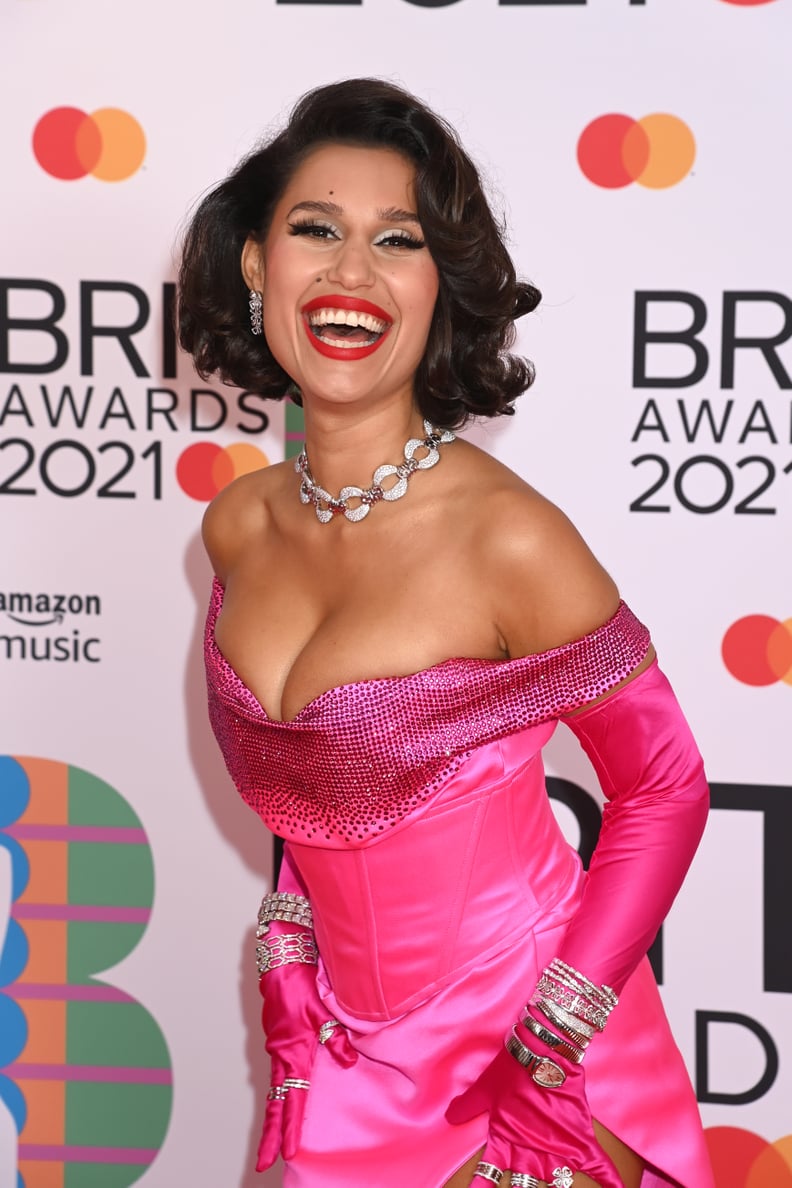 Raye's Classic Red Lip at the 2021 BRIT Awards
Raye stunned in a powerful red lip, fluffy lashes, and a classic waved hairstyle to match her equally beautiful bright-pink gown.