The Most Standout Celebrity Nails From the MTV VMAs
There was a lot going on at the 2023 MTV VMAs. From the extra-special music performances (hi, Doja Cat and Shakira) to the countless beauty moments on the red carpet, it was hard to focus on any one thing. Still, we'd implore you to try — at least when it comes to each celebrity's nails, because the manicures this year were very, very good.
The nail trends we saw on the red carpet fell into two primary categories: extra bold and minimal. Some stars, like Sabrina Carpenter, Megan Thee Stallion, and Cardi B, opted for over-the-top designs that were accessories in their own right. Meanwhile, people like Madelyn Cline and Kelsea Ballerini went with barely there looks, like the ever-popular supermodel nail color, to allow the rest of their beauty look to really shine.
While nail art was present on some fingers, other celebrities went for single polish shades, abiding by the "less is more" philosophy. There were two standout colors that popped up again and again: black and red nails. Olivia Rodrigo and Demi Lovato wore all-black nails, leaning into their mysterious, glam-goth vibes. In the other camp, red was spotted on the fingertips of Selena Gomez and Charli D'Amelio. This shouldn't come as a surprise, as the cherry hue was predicted as one of the biggest color trends of fall 2023.
All of the manicures, no matter the style, are worth zooming in on. Keep reading to see the best celebrity nails at the 2023 MTV VMAs.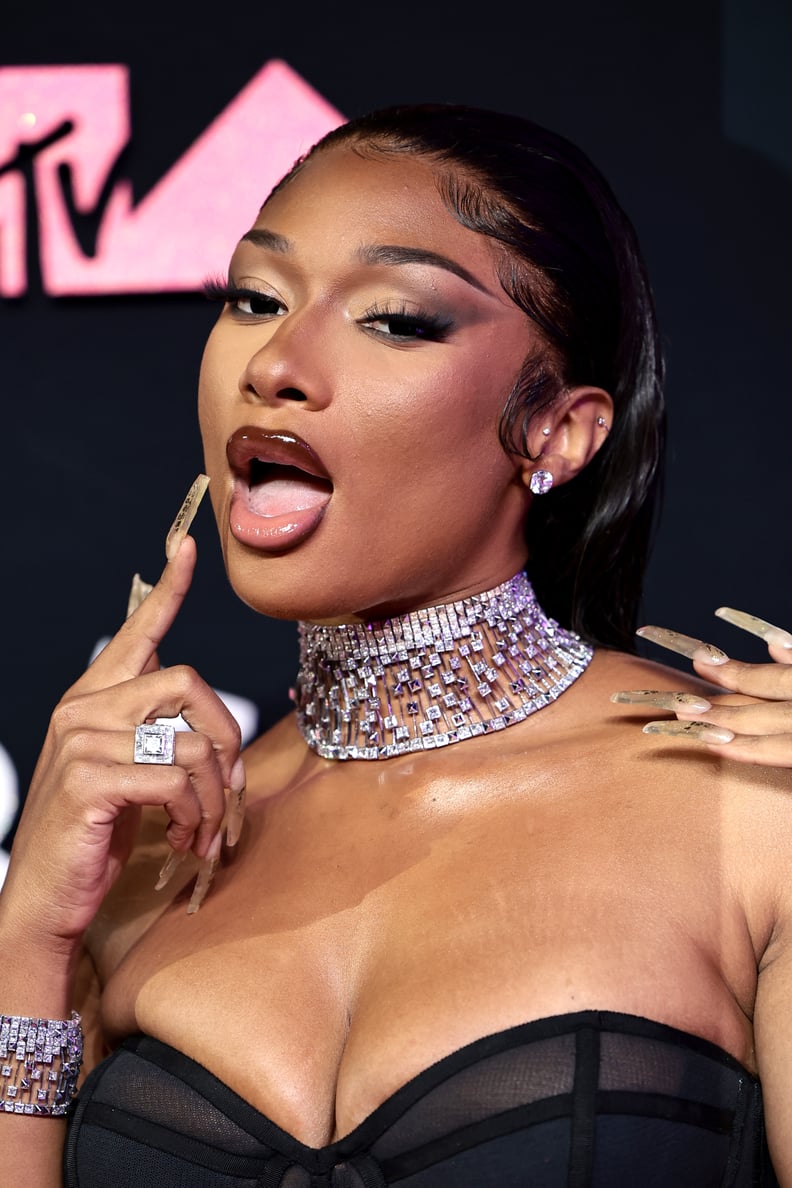 Megan Thee Stallion's Nails at the MTV VMAs 2023
Megan Thee Stallion went with her go-to lipstick nail shape and topped the extensions with a snakeskin-printed design. For a twist, instead of carrying the nail art over her entire nail, she kept it on the outer two-thirds, like a french manicure. The masterpiece was by celebrity nail artist Coca Michelle.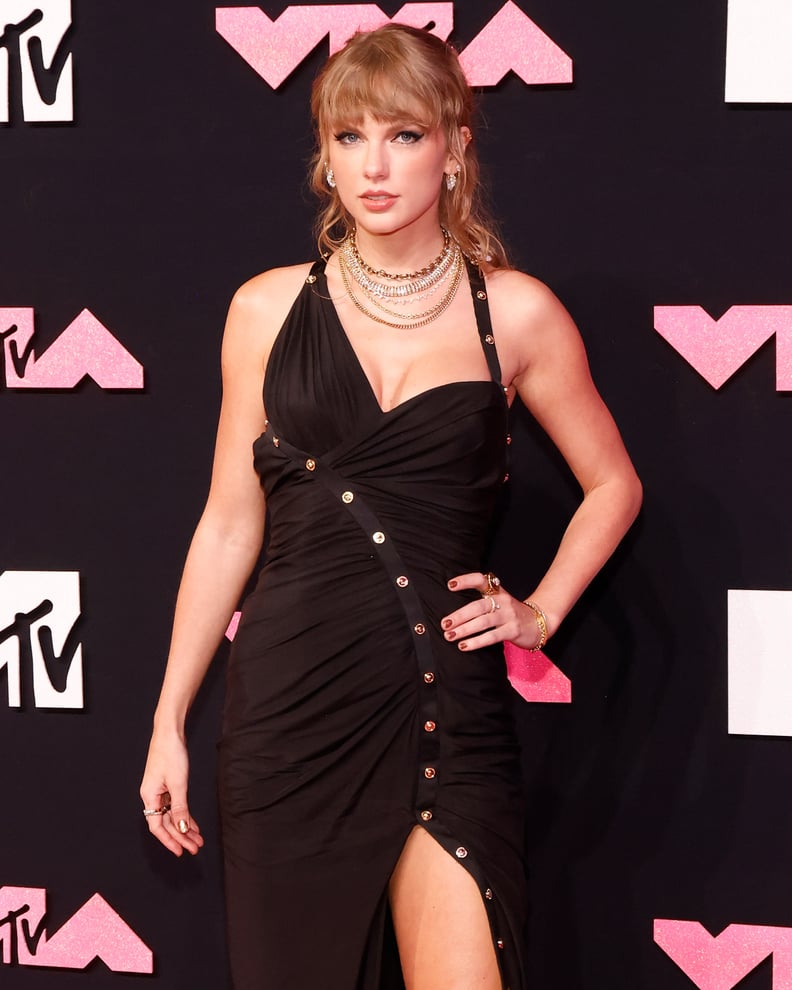 Taylor Swift's Nails at the MTV VMAs 2023
Taylor Swift's entire look felt like a nod to her "Reputation" era, right down to her bronzed nails. The singer stayed true to herself by wearing the reflective gold polish on her natural nails.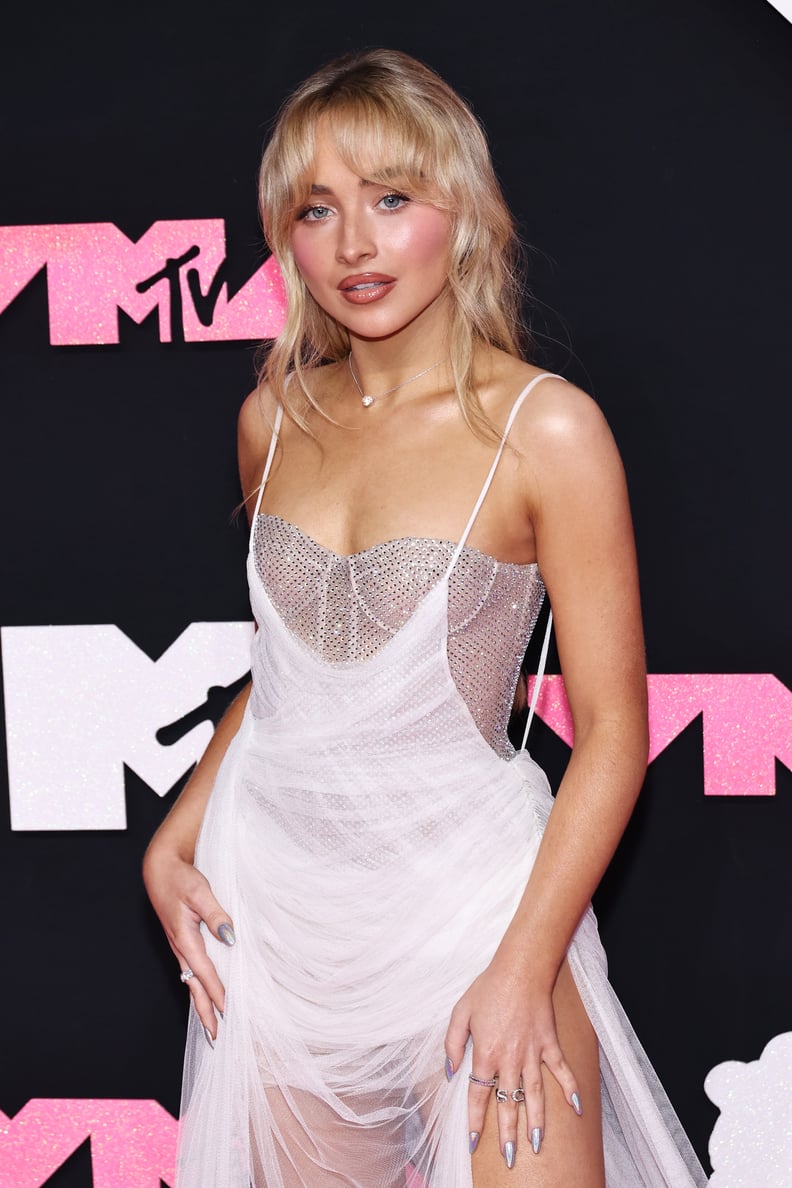 Sabrina Carpenter's Nails at the MTV VMAs 2023
Sabrina Carpenter shone on the red carpet in a crystal-encrusted gown and cat-eye nails. Celebrity manicurist Zola Ganzorigt used OPI products to create the mani. "Considering Sabrina had two different looks for the night, we wanted to create a manicure that seamlessly complimented both her jewel-studded performance look and glamorous red carpet ensemble. Pulling inspiration from her journey on tour, we opted for a pop of sparkle to capture the essence of her 'Bejeweled Era,'" Ganzorigt said in a press release.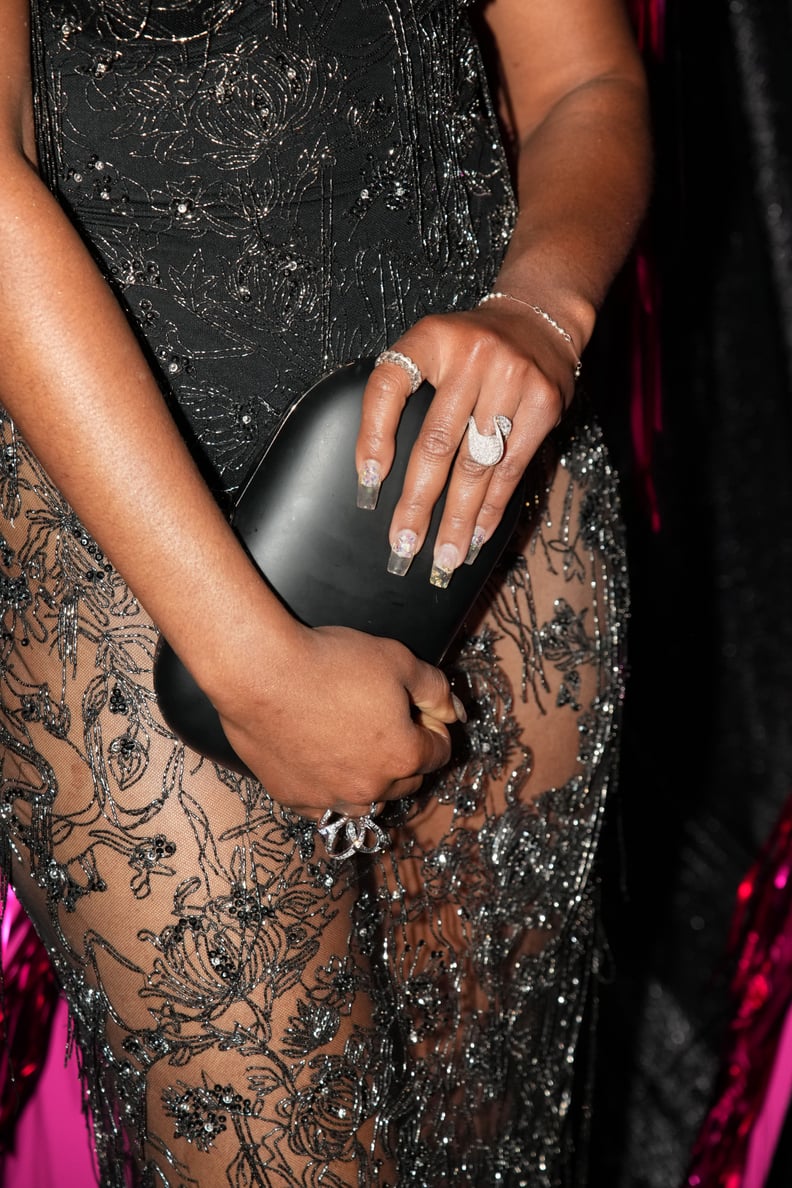 Tiffany Haddish's Nails at the MTV VMAs 2023
Tiffany Haddish leaned into the "naked" fashion trend in more ways than one. In addition to her sheer dress, she wore translucent nails filed into a long, rounded square shape. She accented the tips with tiny mirrored butterfly decals on each finger.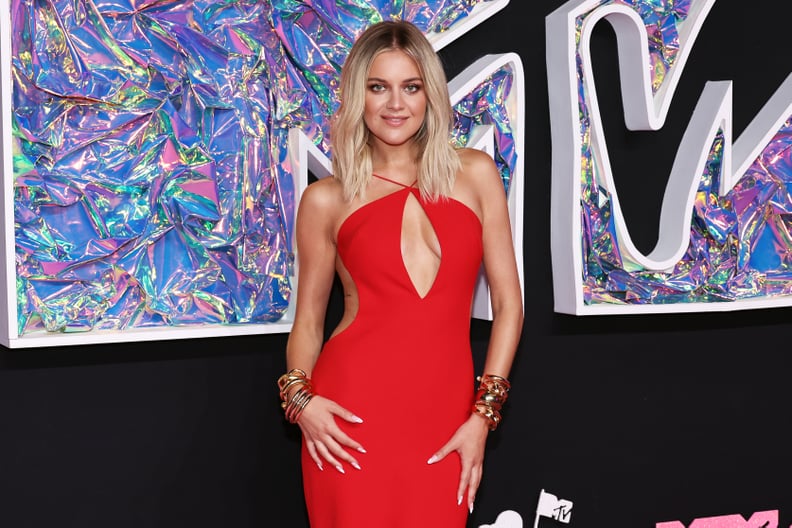 Kelsea Ballerini's Nails at the MTV VMAs 2023
Kelsea Ballerini's epic wardrobe change mid-performance likely distracted you from her nails, but they deserve their own shoutout. Created by Ganzorigt, Ballerini's almond-shaped tips featured a french tip with pearl accents.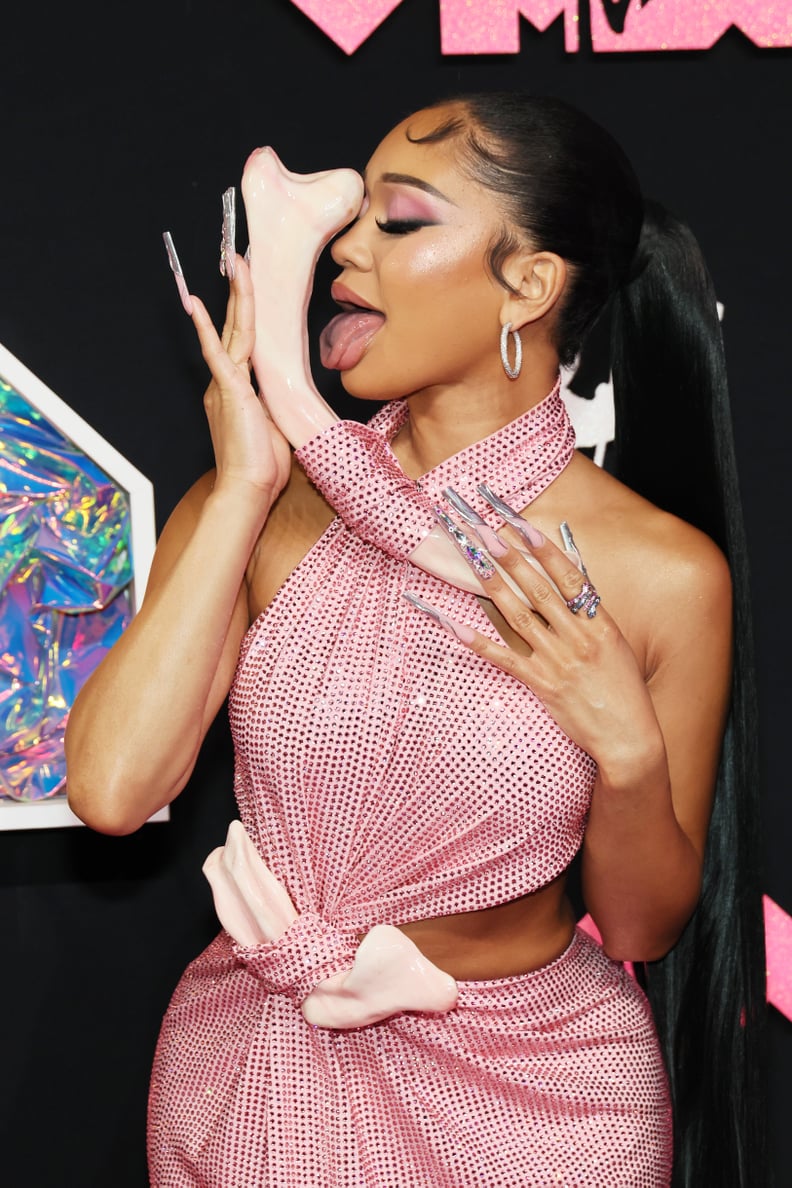 Saweetie's Nails at the 2023 MTV VMAs
Saweetie's Flintstones-inspired dress was paired with an extra-long, coffin-shaped chrome nail look. Celebrity manicurist Temeka Jackson created the design using Aprés Nails.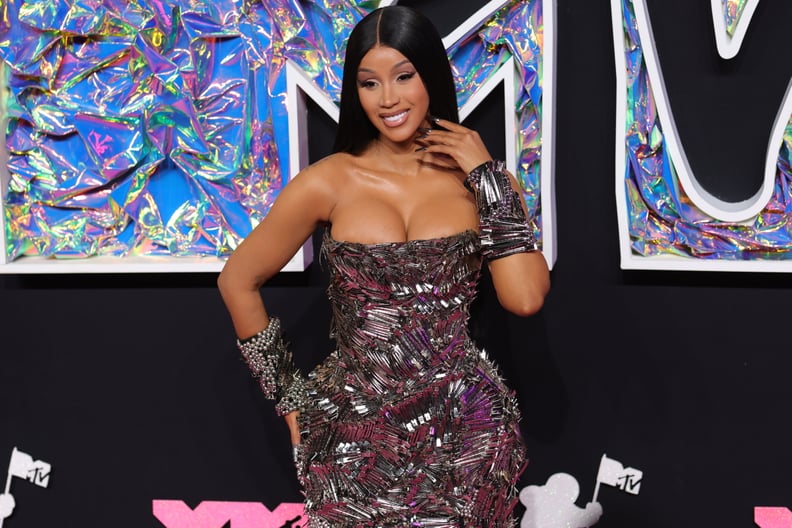 Cardi B's Nails at the MTV VMAs 2023
Cardi B wore an avant-garde duck-clip dress and matched her nails accordingly. Her go-to celebrity manicurist, Jenny Bui, created her chrome nails using Aprés Nails products.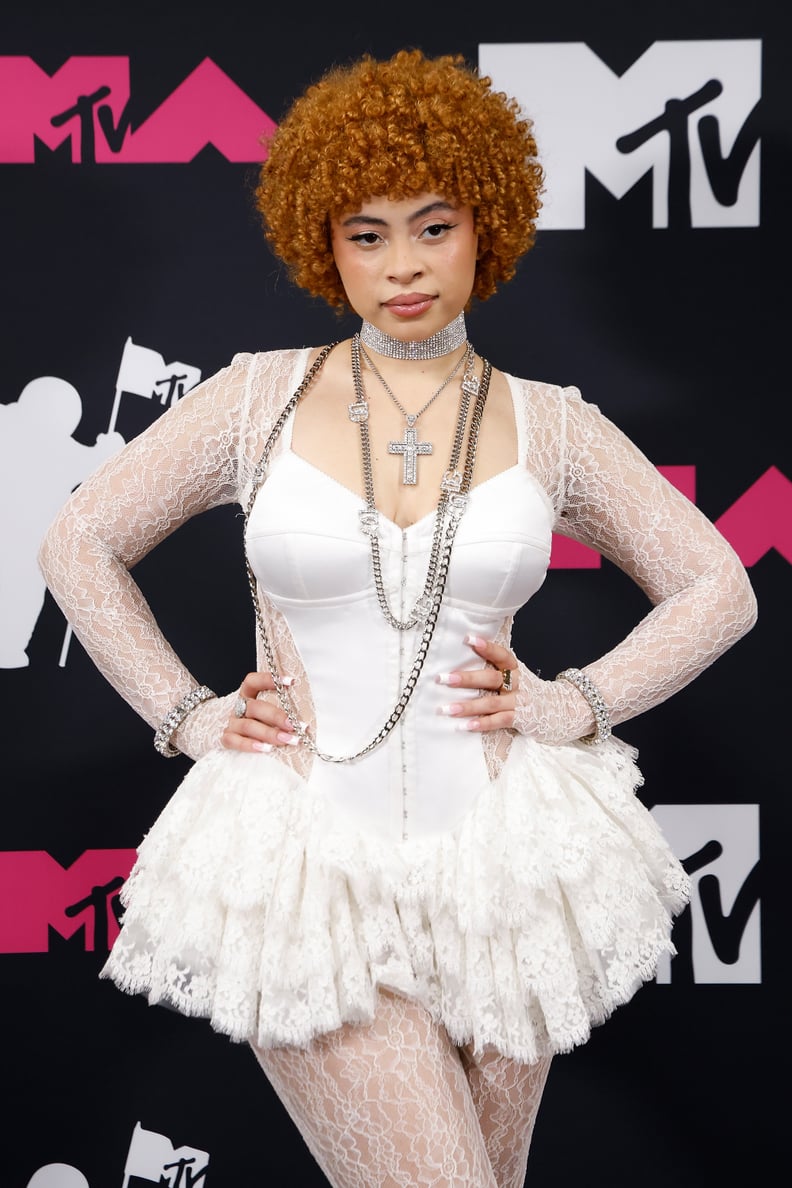 Ice Spice's Nails at the MTV VMAs 2023
Ice Spice went with a Y2K french manicure for the award show and went on to win for the category of new artist. Celebrity nail artist Eri Ishizu created the look using OPI products. "Ice Spice's outfit was inspired by Britney Spears' 2003 VMAs look, featuring her in a white dress and rocking a French mani for her famous performance," Ishizu said in a press release. "OPI is such an iconic brand that it was only fitting to take it back to an iconic moment in VMAs history featuring the pop icon and early-2000's aesthetic with a thick white tip."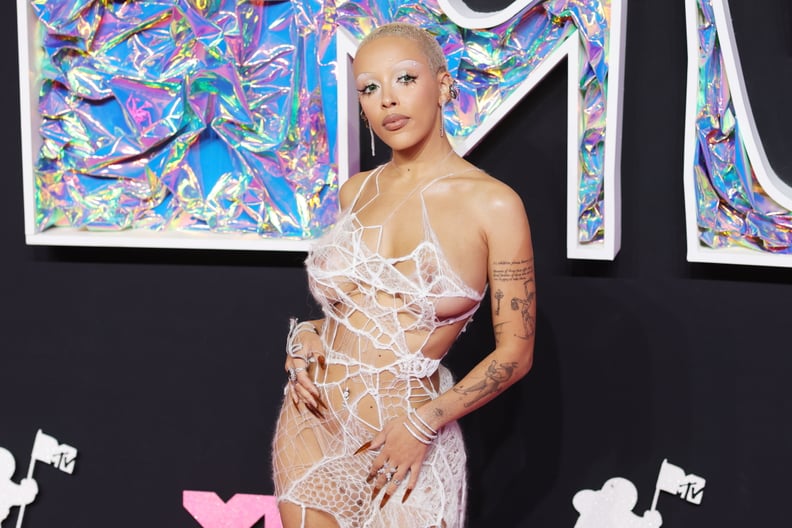 Doja Cat's Nails at the MTV VMAs 2023
Doja Cat went all out with her MTV VMAs look, right down to her translucent amber nails. Created by celebrity manicurist Saccia Livingston using Aprés Nails, the manicure popped against her white spiderweb dress.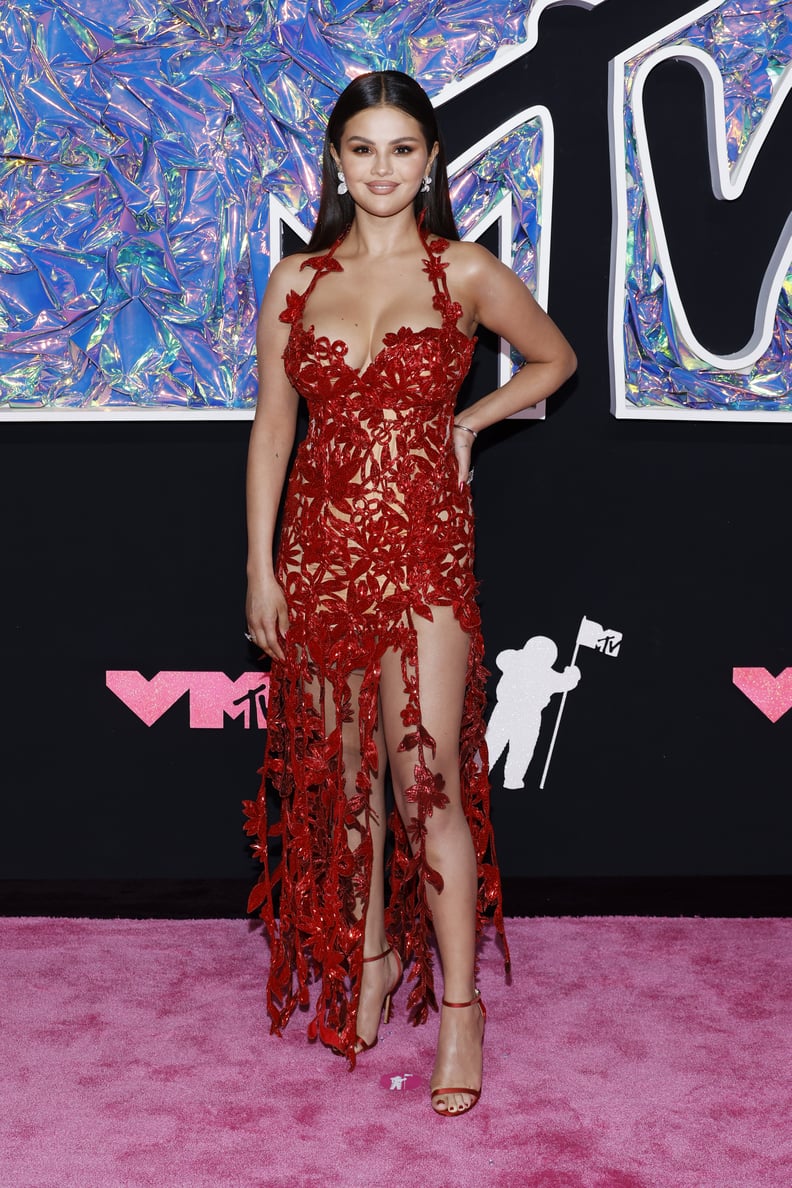 Selena Gomez's Nails at the MTV VMAs 2023
Selena Gomez stepped out in red, the hottest color of the season, from head to toe. Her go-to manicurist, Tom Bachik, created a "golden glazed fire" chrome shade for the occasion using PLA polish.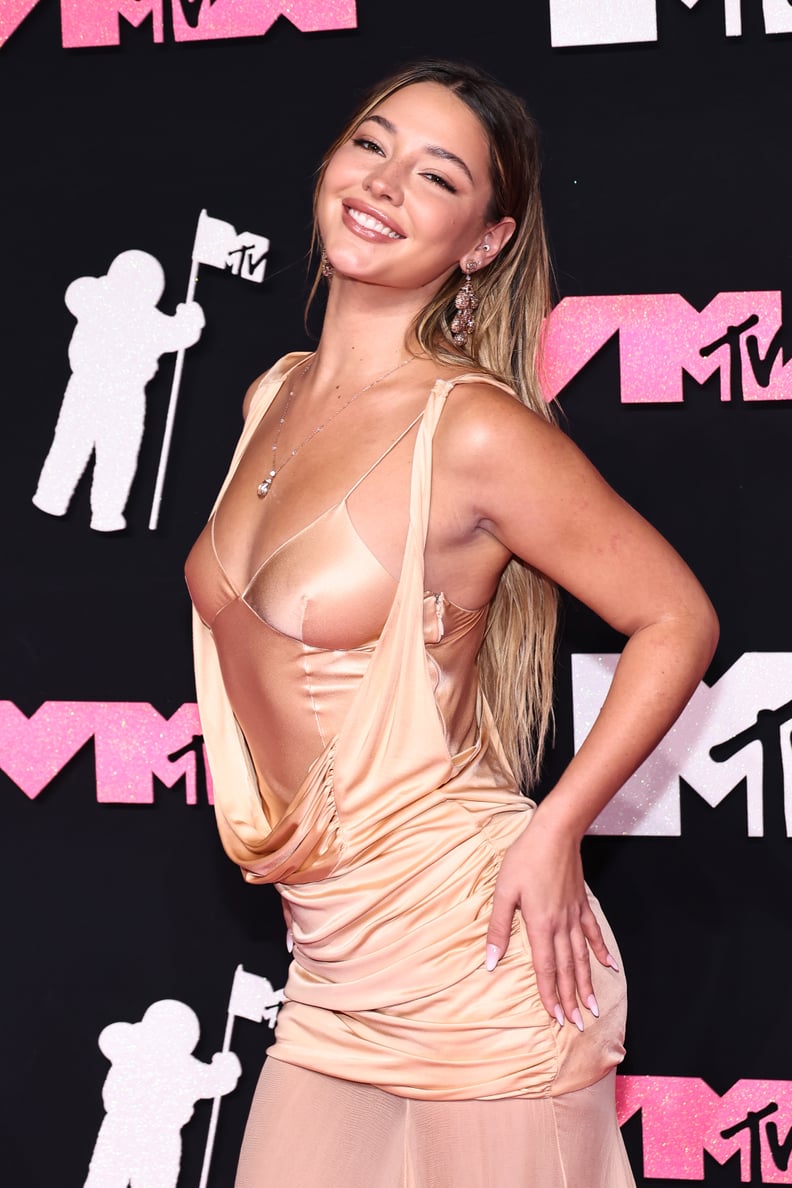 Madelyn Cline's Nails at the MTV VMAs 2023
Madelyn Cline's neutral look carried through to her nails. Using OPI, Ganzorigt created a classic beige ombré manicure. "To capture her natural and timeless beauty, we went with my go-to classic OPI shades to create an elegant manicure that complemented Madelyn's stunning beige Givenchy gown," Ganzorigt said in a press release. "The subtle ombré manicure felt like the perfect way to bring sophistication into her overall look."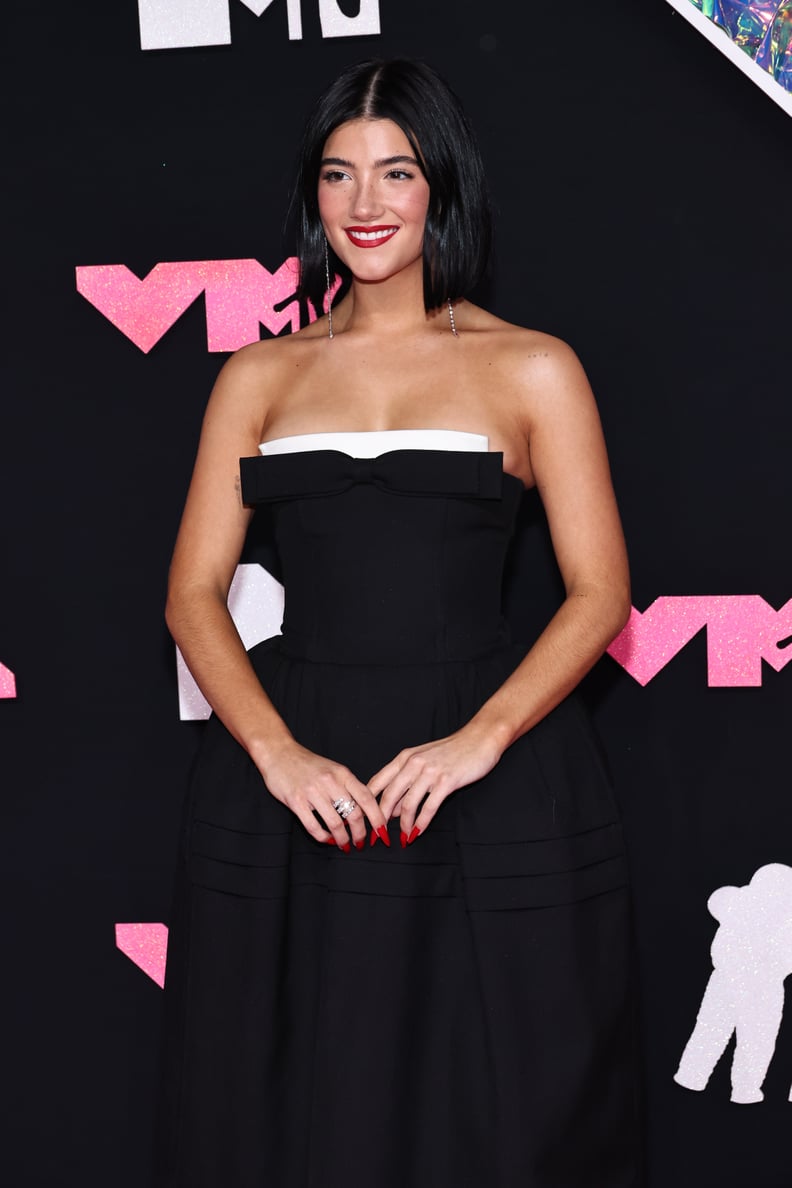 Charli D'Amelio's Nails at the MTV VMAs 2023
Charli D'Amelio's black structured gown was complemented by her red nails (and matching lipstick). Celebrity manicurist Brittany Boyce used Manucurist Paris to create the eye-catching manicure.