I Made the Best At-Home Gel Nail Kit With Amazon Products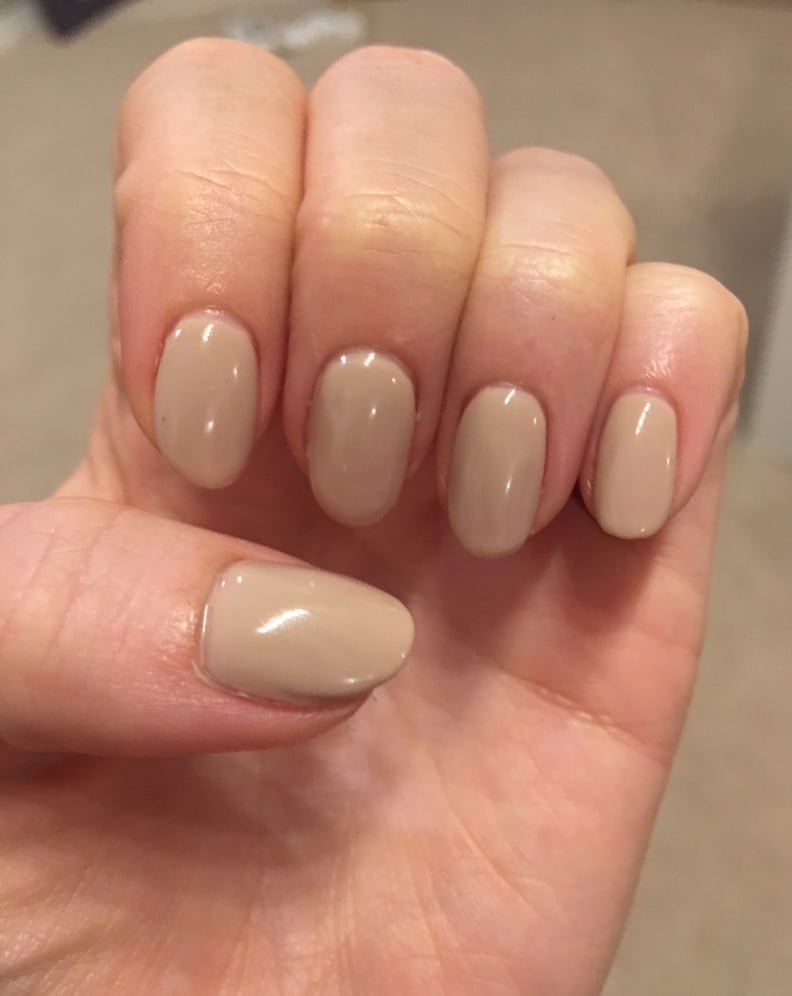 POPSUGAR Photography | Maggie Panos
POPSUGAR Photography | Maggie Panos
As POPSUGAR editors, we independently select and write about stuff we love and think you'll like too. If you buy a product we have recommended, we may receive affiliate commission, which in turn supports our work.
If you want something done well, do it yourself — and if you want to stop paying $35 every two weeks to do your gel nails at home, buy some at-home gel nail kits and learn to do your own manicure without the fuss. Regular manicures can be a very important part of your self-care routine, but the price tag that comes along with getting the shiny gel nails often isn't feasible, even for those with a bit of disposable income. A couple of years ago, after paying $65 for a pedicure and a gel manicure, I hit a wall.
I logged on to Amazon and proceeded to spend two hours piecing together the best at-home gel nail kit. I didn't want to completely overspend — after all, I'm trying to save money here — but I also wanted to buy nice materials that would give me the same quality as a salon manicure. I bought a total of six products, but I also had an existing cabinet full of cotton balls and nail files. That said, if you don't have the basics, you may need to invest slightly more money.
My first go-around was tense. Painting your nails is generally a low-pressure activity when you can just wipe off the polish with some remover, but gel requires a whole new level of precision. If you mess up, the fix may require you to completely file off your polish and start from scratch. I'm not terrible with a polish brush, and I made it all the way to the topcoat layer until really screwed up. I'm a topcoat fanatic, so I heaped healthy dollops on my thumbs . . . then watched the viscous liquid slide down onto my skin and instantly harden under the UV lamp. However, I clipped off the excess and filed down the shellac, and my thumbs looked near flawless. You can see the finished product above — not bad for my first try, hunched over my bathroom sink, eh?
To save you hours of research time, ahead, I rounded up the best at-home gel nail kit items to unleash your inner artist. From the Gelish nail polish that you absolutely need to add to your cart, to the 12-piece nail file set that will become your new best friend — all bases are covered. Whether you're looking to create the best home gel nail kits from scratch or you just need to stock up on a few items, keep scrolling for the best options.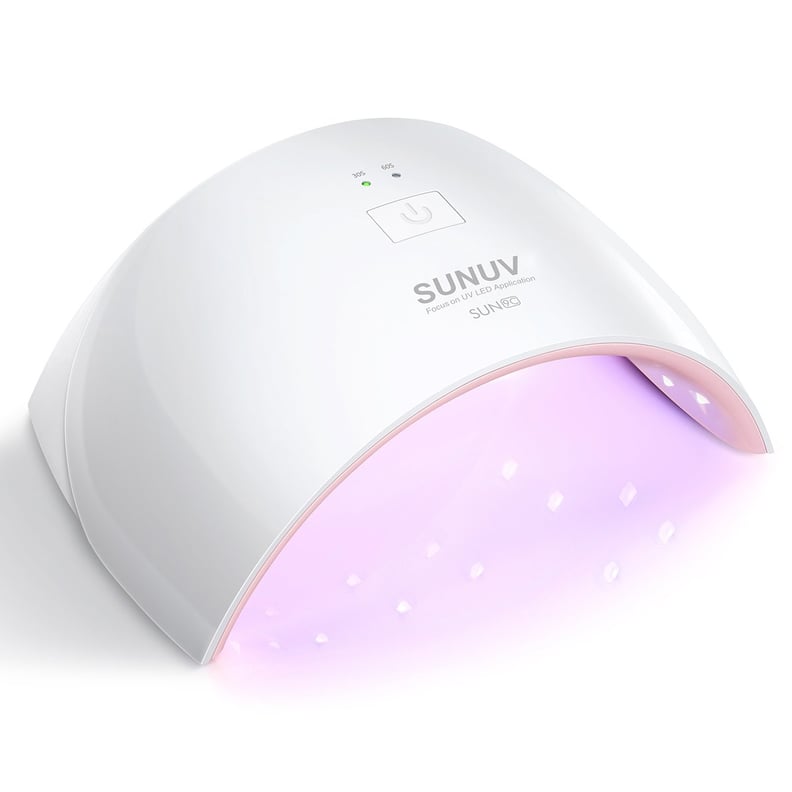 Best At-Home Gel Nail Lamp:
Sunuv Nail Lamp ($28, originally $40)
I looked at a variety of high- and low-end UV lamps, and this seemed to give customers the most bang for their buck. The Sunuv Nail Lamp has a solid 4.5-star rating, and it's super easy to use. You can either turn it on indefinitely or hit the buttons for 30- or 60-second intervals. You can put it on any surface, even your lap, which makes it the perfect option for home gel-nail kits.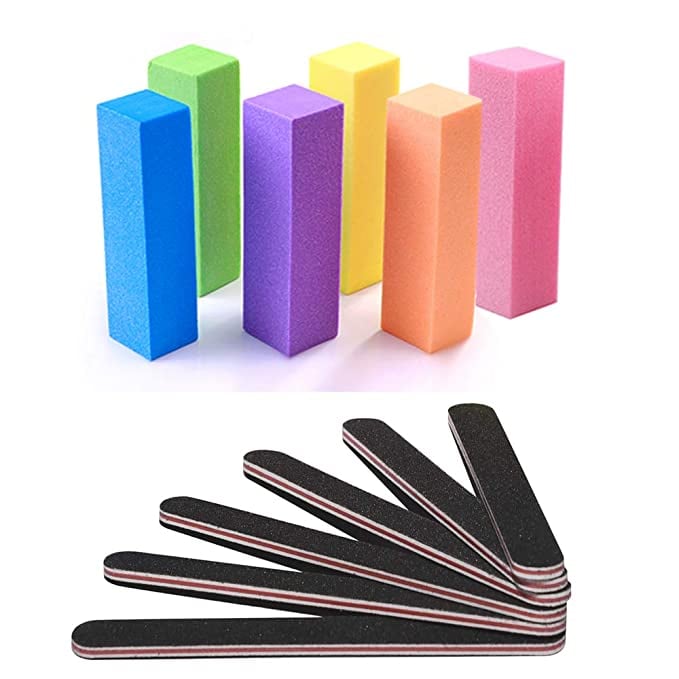 Best At-Home Gel Nail Files:
Nail Files and Buffer Set ($7, originally $10)
I needed a new nail file to add to my gel-manicure kit, and this kit has over 35,000 five-star reviews on Amazon, so I knew it was the perfect pick. It comes with six nail files and six buffer blocks, which is great because I have a habit of losing my nail tools.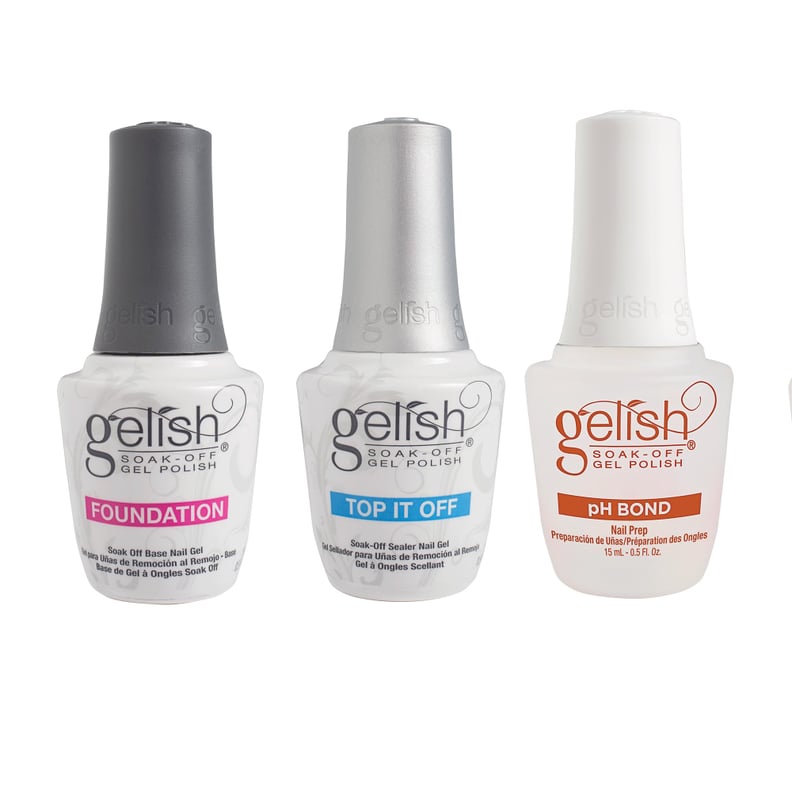 Best At-Home Gelish Nail Polish:
Gelish Terrific Trio Gel Polish Essentials Kit ($38)
If you want to achieve the best at-home gel nails, you need the best gel base and topcoat. The Gelish Terrific Trio Gel Polish Essentials Kit was the one choice that seemed pretty clear from the start. This three-piece set comes with pH Bond (the quick-soaking stuff they put on your nail before any polish), Foundation (aka base coat), and Top It Off (aka topcoat). Efficient, quality, and less than $13 per bottle.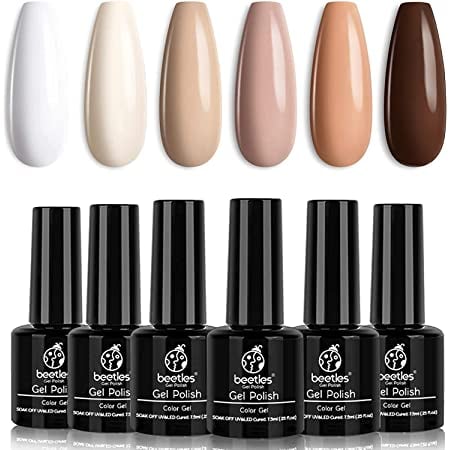 Best At-Home Gel Nail Polish:
Beetles 6-Piece Gel Polish Set ($8)
After scoping out a variety of sets at various price points, the Beetles 6-Piece Gel Polish Set, which has four and a half stars and features several options for color combinations, takes the cake. I wanted to make sure when I was creating my gel manicure at home that I would have lots of colors to choose from, especially neutrals, and this set was perfect.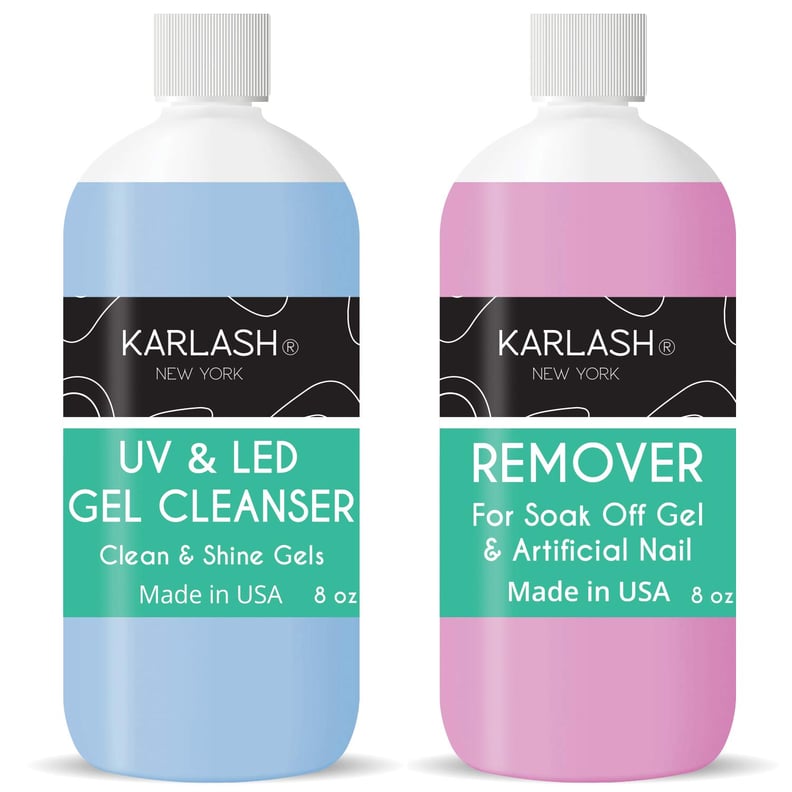 Best At-Home Gel Nail Remover:
Karlash Nail Polish Remover and Cleanser ($18-$19)
Think of the Karlash Nail Polish Remover and Cleanser as the bookends to your home gel-nail kit. You need the remover to take off your previous polish, and the cleanser is to swipe on after your topcoat. Your nails will be sticky even after you've cured your final coat under the UV lamp, so this will make them nice and shiny.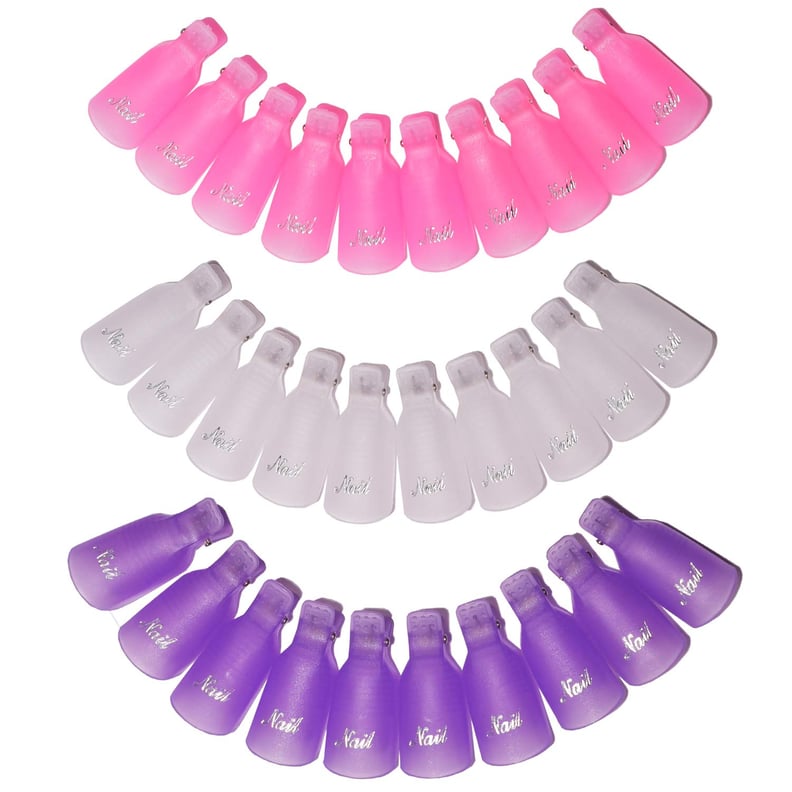 Best At-Home Gel Nail Clips Set:
Nail Polish Remover Clips Set ($7)
Anyone who has ever attempted to remove their own gel polish knows the struggle of wrapping cotton balls and foil on each digit. This Nail Polish Remover Clips Set comes with 30 clips to easily soak off your polish. Although this isn't an at-home gel-nail kit necessity, it does make things a lot easier. You may feel like Edward Scissorhands, but it's better than dripping remover all over your lap.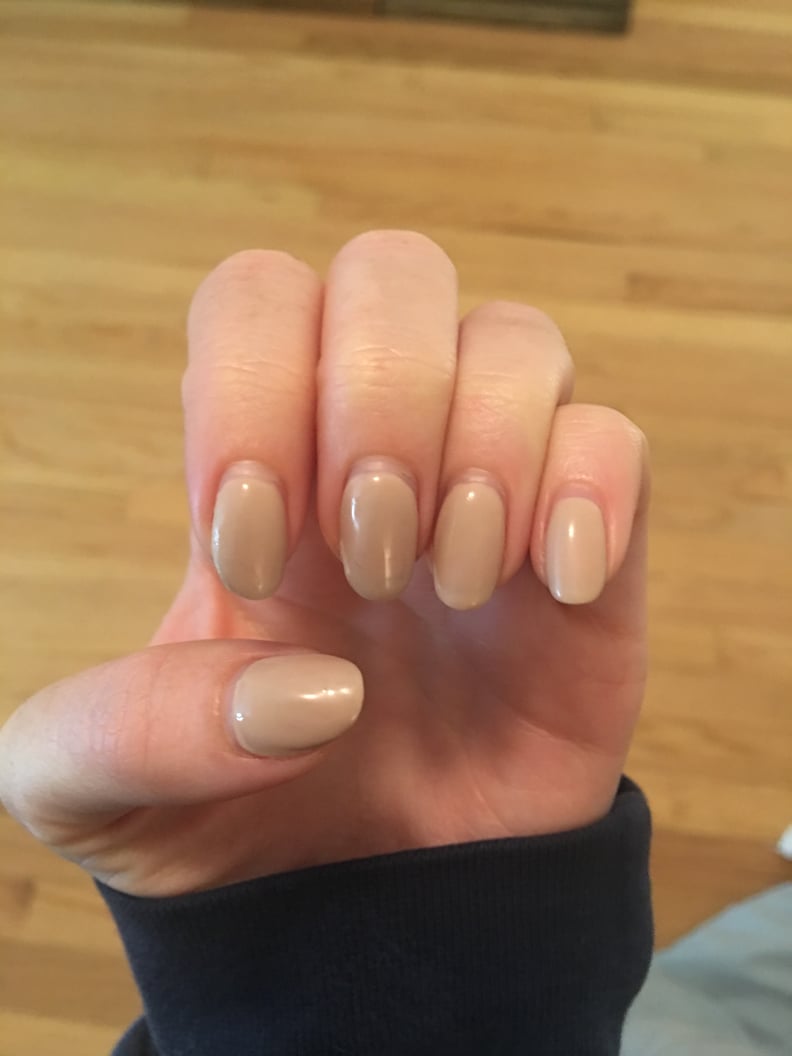 At-Home Gel Manicure: 2 Weeks Later
Nary a chip in sight! This is two weeks (and one day) postmanicure. I'd been on vacation and in and out of a lake and done multiple rounds of dishes.