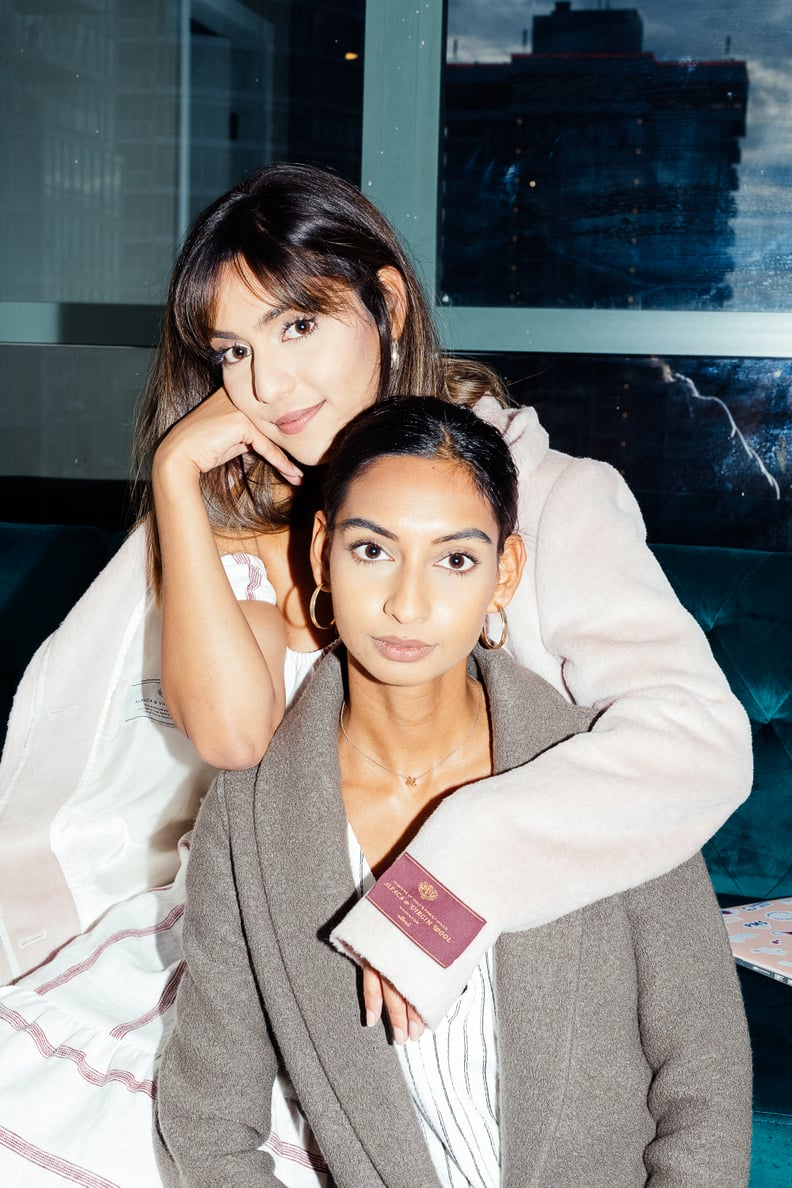 Courtesy of Taran and Bunny Ghatrora
Courtesy of Taran and Bunny Ghatrora
Every editorial product is independently selected by our editors. If you buy something through our links, we may earn commission.
I have dealt with acne for as long as I can remember, and as the years went by, it only got worse. As the only one in my social circles who faced frequent breakouts, I felt out of place. It took me a while to figure out that my acne was connected to my hormones and puberty. Of course, that came with years of trial and error, trying out treatments and prescriptions, and going to aestheticians and doctors. Once I figured out what worked for me, I felt like I had some sort of control over my acne and my health. Although I wished someone would have just sat me down and openly talked about what puberty entails for young women, I wanted to feel less alone in my journey. I wish it had been normalized. Blume and its founders, Taran and Bunny Ghatrora, set out to do exactly that.
After questioning why the world treats periods and women's health like taboo topics, the sisters created Blume to provide clean solutions for all things self-care. They wanted to create a space where people of all backgrounds felt seen and normal — especially when discussing things like acne, puberty, periods, and sex ed. The Ghatroras are on a mission to destigmatize women's health, encourage self-love while redefining self-care, and shift the narrative from perfect skin to healthy skin.
Growing up, I wish I'd had a brand like Blume to provide me with everything I need to get through the bells and whistles of all things puberty and beyond. Luckily, I spoke with Taran and Bunny Ghatrora to discuss it all. Even though I couldn't have this brand as a teen, I'm so glad that Blume is there for the rest of my life, as well as the younger generations. Keep reading to find out more about the founders' journey with acne and self-care, plus learn their tips and tricks as well as their favorite finds from Blume.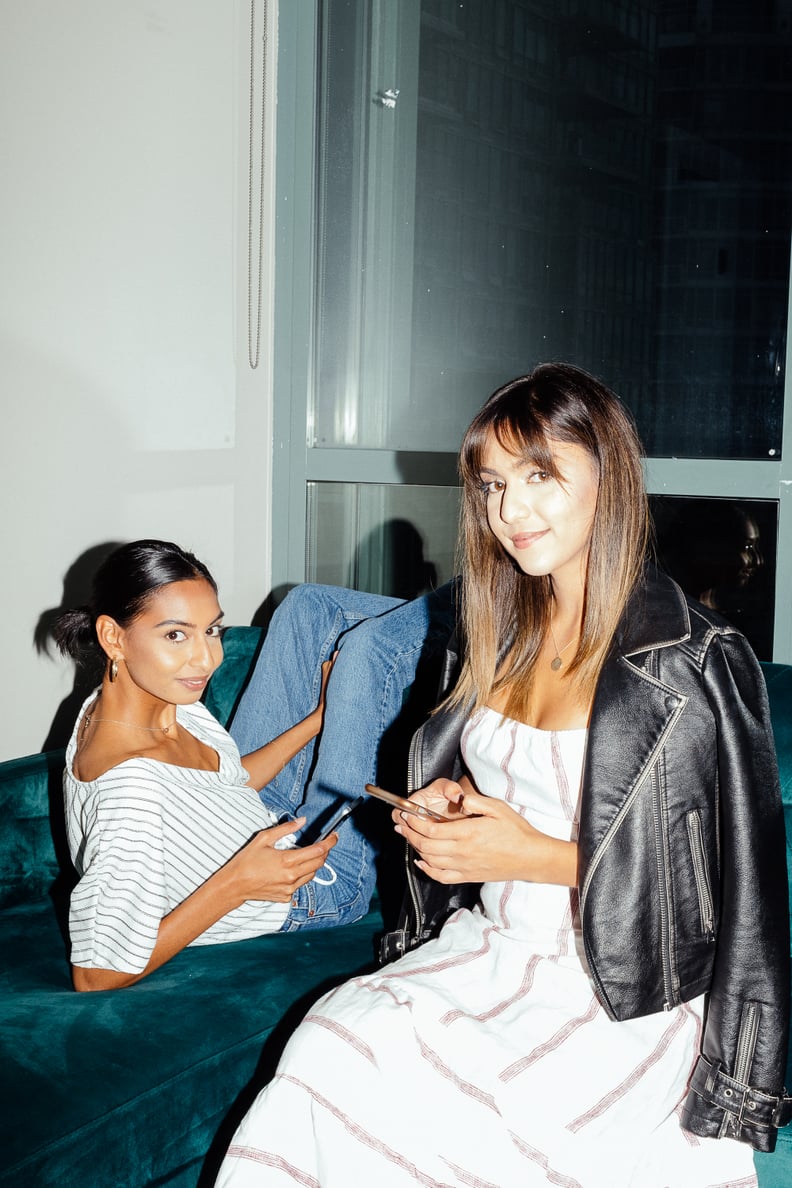 On Their Journey With Acne
Bunny: "I think I probably started getting acne when I cut my bangs in grade nine. I definitely had forehead and cheek acne. I was also a picker, so I still have a ton of scarring and discoloration from that. I always resorted to really harsh treatments for my acne. Toothpaste is the number one thing that our dad told us to use, and we used it for a really long time. The treatments that I did on my acne made the situation worse rather than better. I didn't understand at that time that acne needs to heal.
It wasn't until I turned 20 years old, when I started venturing into clean beauty and actually understanding what my skin needs and what were the things that work for me personally. Then, I started seeing an improvement on my skin, and now I tend to break out generally around my period or when I make the mistake of going to sleep with my makeup on."
Taran: "I relate to so much of it because we both did the toothpaste thing. Very similar to Bunny, I think it was something that I feel like we all kind of went through as teenagers. I definitely just tried too many harsh products. A big thing that I did is probably overexfoliating and using things that were just way too strong. I was a pretty confident kid, even though I was super nerdy, I always had glasses, and acne is probably the one thing that hurt my confidence.
With my acne journey, I kind of always thought, 'Oh, when my acne is gone, then I'll feel more like myself again.' So that's also why one of the things we say at Blume is we use the wording 'naturally brave.' What we mean by that is feeling brave as you are in your real skin despite the days that you have spots and blemishes.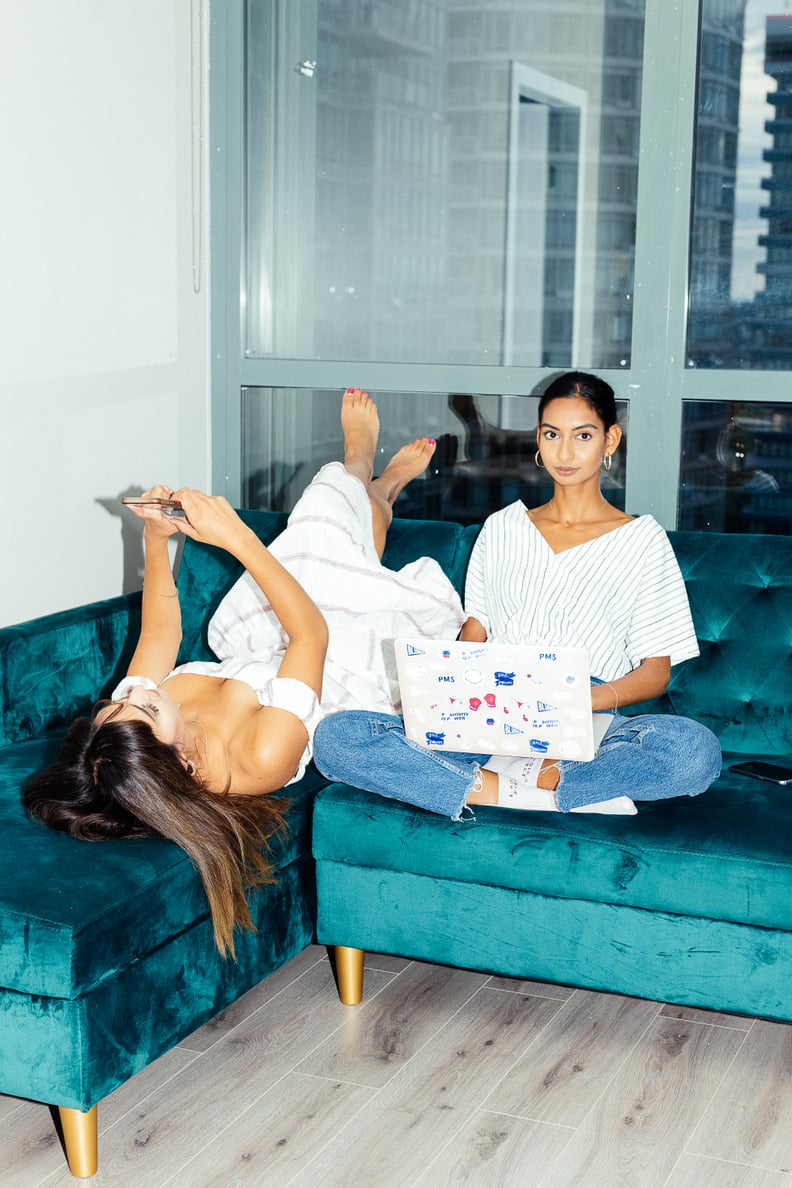 Advice They Would Give Their Teenage Selves About Acne
Bunny: "I think if I had to go back and give my teenage self advice, it would be not to have bangs glued to my forehead and hair covering my whole face and to tie it up when I went to sleep. I had really thick front bangs for a few years, and then I had really thick side-sweeping bangs. I learned later on that hair is a big cause of acne. Definitely keeping my hair out of my face as much as possible and tying it up and letting my skin breathe is a big one that I wish I learned earlier. I feel like so many people can relate because a lot of us had front bangs or side bangs."
Taran: "In relation to skin, I would probably tell myself to get more sleep because I used to stay up late all the time like listening to music, writing, naming stuff on my iPod, and it probably gave me more teenage acne than anything else. Second, less is more. I tried a lot of harsh drugstore skin-care products that just made my acne worse. I would probably tell myself to just sleep more and not use as many harsh products on my face."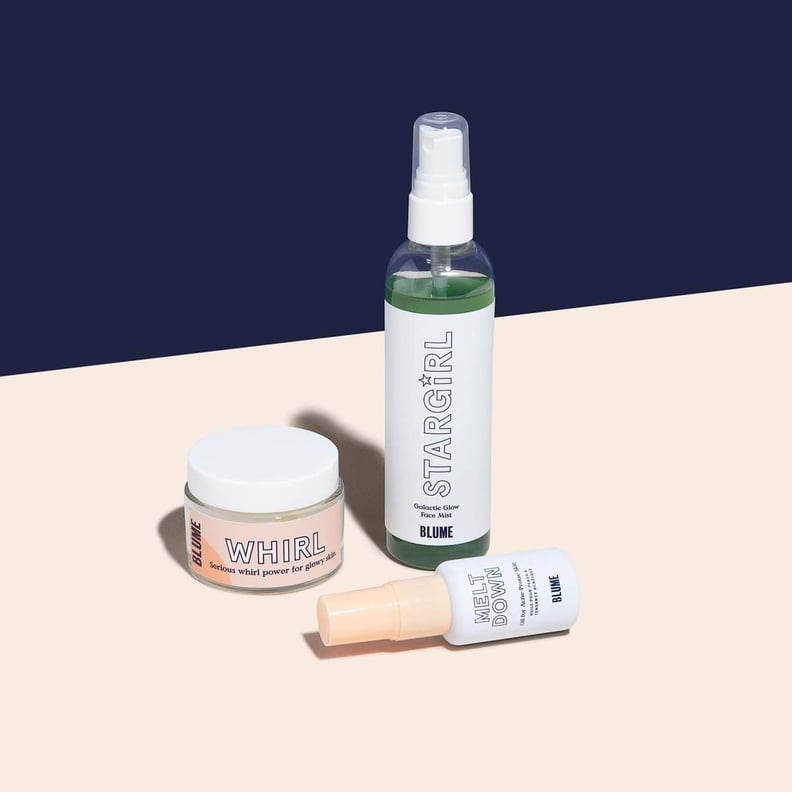 Acne Misconceptions They Would Love to Clear Up
Taran: "My misconception for acne is that if you have acne, your skin is unhealthy. I think you can have very healthy skin and still have a bit of acne. Also, just the fact that you're not supposed to use oils on acne, I think is a myth."
Bunny: "Going off of that, I feel like for so long, I was made to believe that having acne isn't normal, and it's something that should be like locked into a certain period of time, often puberty, and then if you do the right things, and you take care of your skin, it'll go away. I think growing up, I was always like, 'Oh, once I hit 19, I'm not gonna have acne anymore, because it's only for teenagers.' I think that is such a huge misconception, because two things, acne is totally normal and there are so many things that can cause you to have acne that are out of your control, whether it be hormonal, your environment, things that are stress related, something your body's trying to tell you, wearing masks, etc. All these things are something that I wish I knew when I was younger and growing up, because it is totally normal to have acne, and you can do all the 'right things' for your skin and drink all the water and get all the sleep and you still might break out, and that is totally OK."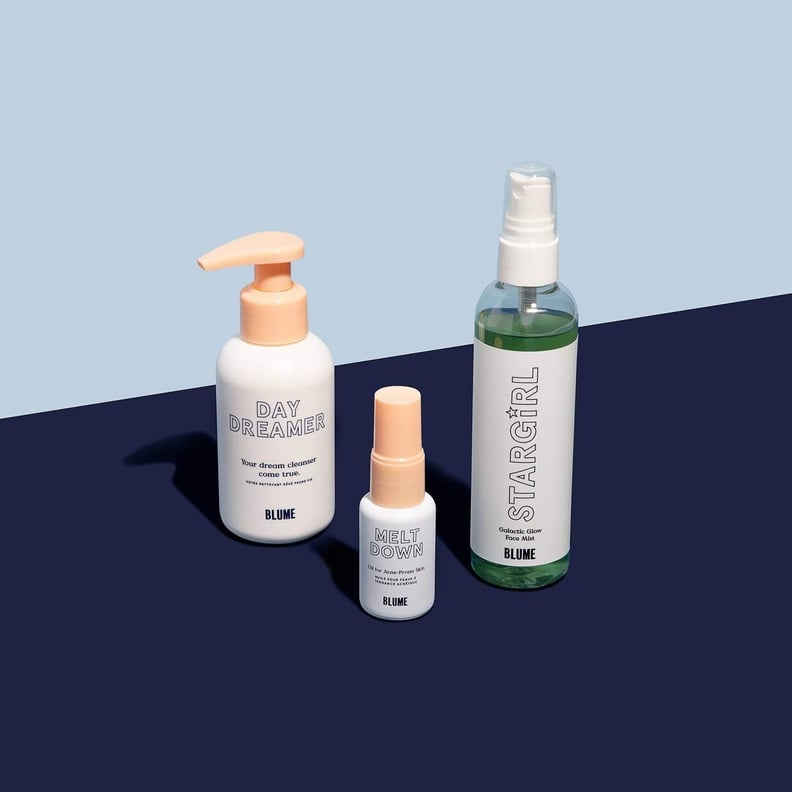 On Their Top Skin-Care Tip
Taran: "Mine is honestly the basics: water, sleep, and using products with minimal ingredients. Our cleanser, Daydreamer Face Wash, is very nonstripping, it doesn't disrupt your skin-care barrier; same with Meltdown. My routine is so simple now, and I think that's what has helped my skin a ton."
Bunny: "I'll also say water is probably number one and then just lots of hydration. Misting Star Girl all day to just keep my skin feeling refreshed. Using SPF, especially when I'm going outside and spending as much time outside, I feel like it helps a lot."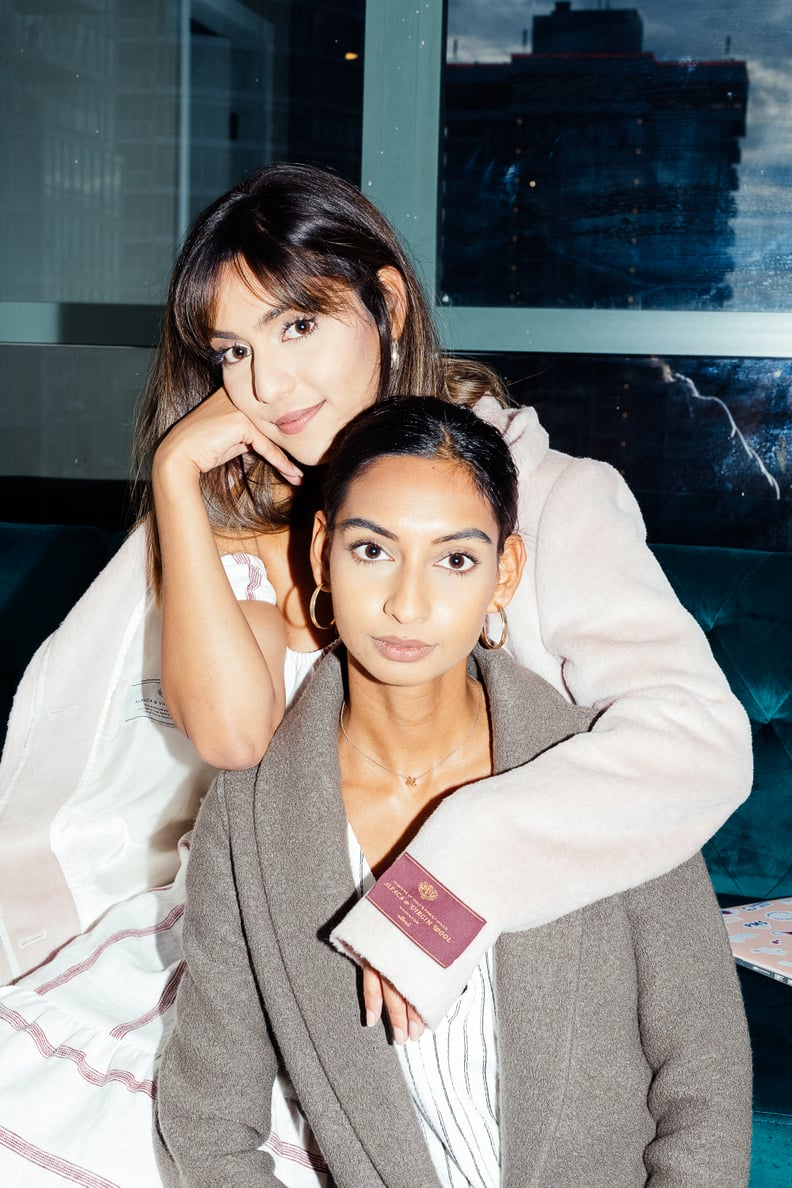 How They Practice Self-Love
Taran: "Definitely when I'm laughing or I can make people laugh, that is when I feel the most self-love and just like the most myself. I don't know if it's just because I just need it so much more or because I've been spending more time in nature, I just feel like I've actually been laughing like I'm in high school again, especially when I just hang out with my boyfriend, playing Nintendo, when I'm with my girlfriends, or playing sports outside."
Bunny: "I think for me, it's definitely being around my favorite people and just doing honestly, anything outside usually just makes me feel really happy. If I'm with my puppy, I always feel really just at peace and grateful for everything that I have. I think being around sunshine, friends, and family is when I feel most myself and most like I'm giving myself self-love, and a really good night of sleep."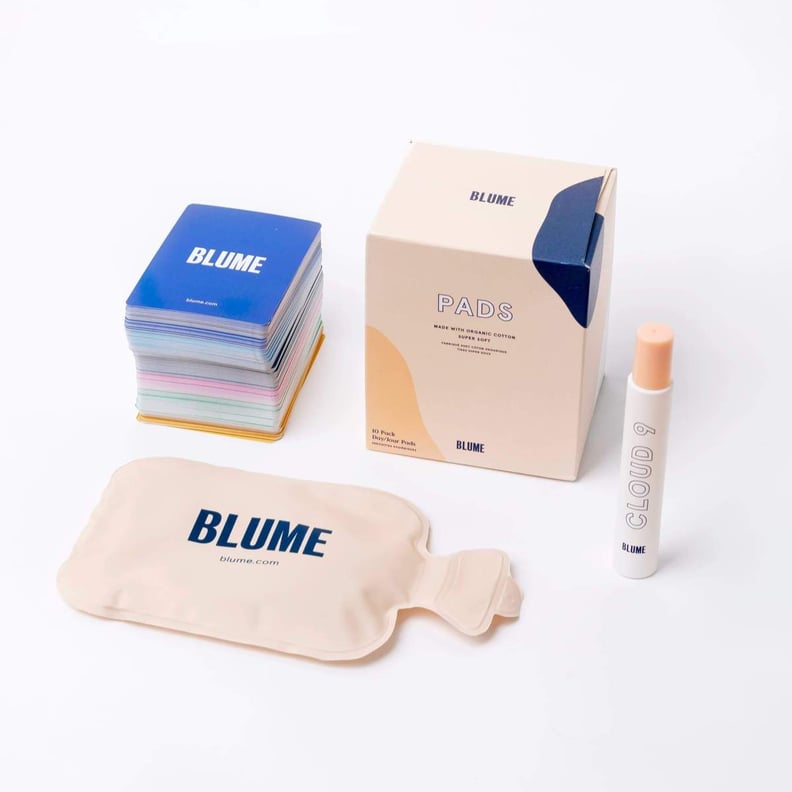 Special Hacks and Routines to Help Alleviate Period Symptoms
Bunny: "I get super-bad period cramps, and I feel like I know three days before I'm going to get my period because I will not get a wink of sleep the entire night. The next day, I just feel off, and then I usually get my period. I rest with a hot water bottle, drink as much water as possible, and substitute tea for coffee for at least a few days. Cloud Nine is our cramp oil, which is an essential-oil blend that really helps to alleviate the cramping and tension that comes along with periods. I apply that to my temples, my abdomen, and my lower back while I'm resting with a hot water bottle. I usually end up spending at least an extra four to five hours lying like that on the first and second day of my period. The biggest part of my routine is just taking it easy. I try to avoid having hard conversations or making super-difficult decisions during that time if I can and really just resting. I also ensure my body is loved by giving it food that feels good and lots of water and hydration."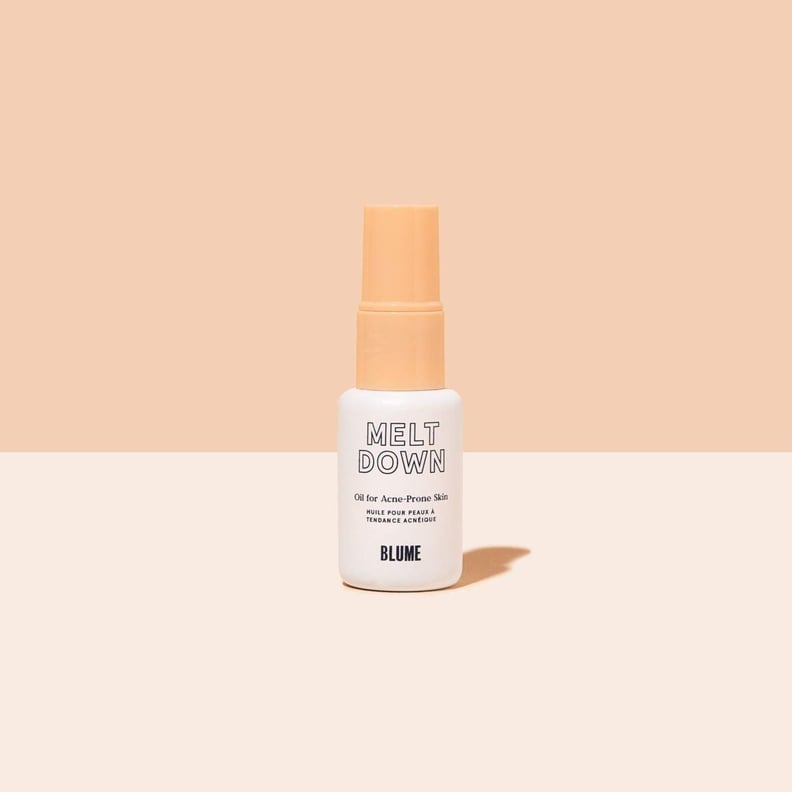 Blume Meltdown Acne Oil
The Blume Meltdown Acne Oil ($28) is not only Taran's go-to Blume product that she uses every day, but it's also an editor favorite. It contains a nourishing blend of rosehip, blue tansy, tamanu, and black cumin seed. You can use it as a spot treatment or mix it into your favorite moisturizer or mask for all-over prevention.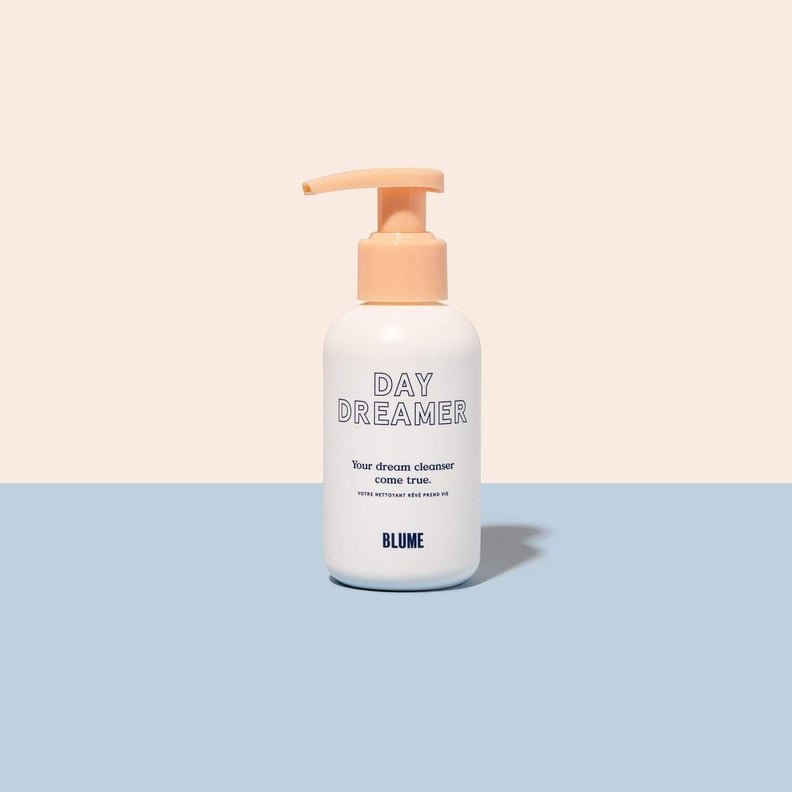 Blume Daydreamer Natural Face Wash
The Blume Daydreamer Natural Face Wash ($16) is a hydrating and gentle cleanser that can take the day off without stripping your skin. It's perfect for all skin types, especially for those who have sensitive skin. The soothing cleanser contains chamomile, lavender, rapeseed oil, and grapefruit extract.
Blume Cloud 9 Period Cramp Oil
Whether she's on her period or not, Bunny loves using the Blume Cloud 9 Period Cramp Oil ($18). "It just makes me feel so much better as a pick-me-up and also super soothing when I do have a headache or period cramps." The relaxing blend contains clary sage, peppermint, lemon, bergamot, and geranium.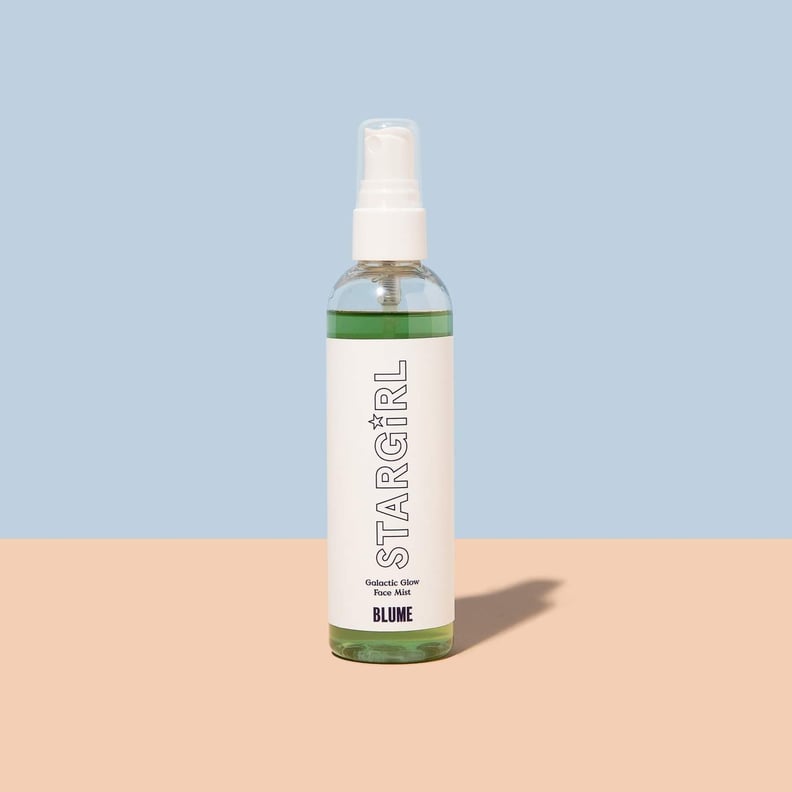 Blume Stargirl Hydrating Face Mist
Nourish your skin with hydration and get that dewy look with the Blume Stargirl Hydrating Face Mist ($24). It has a soothing blend of anti-inflammatory and skin-loving ingredients like aloe vera, witch hazel, rose water, and blue tansy.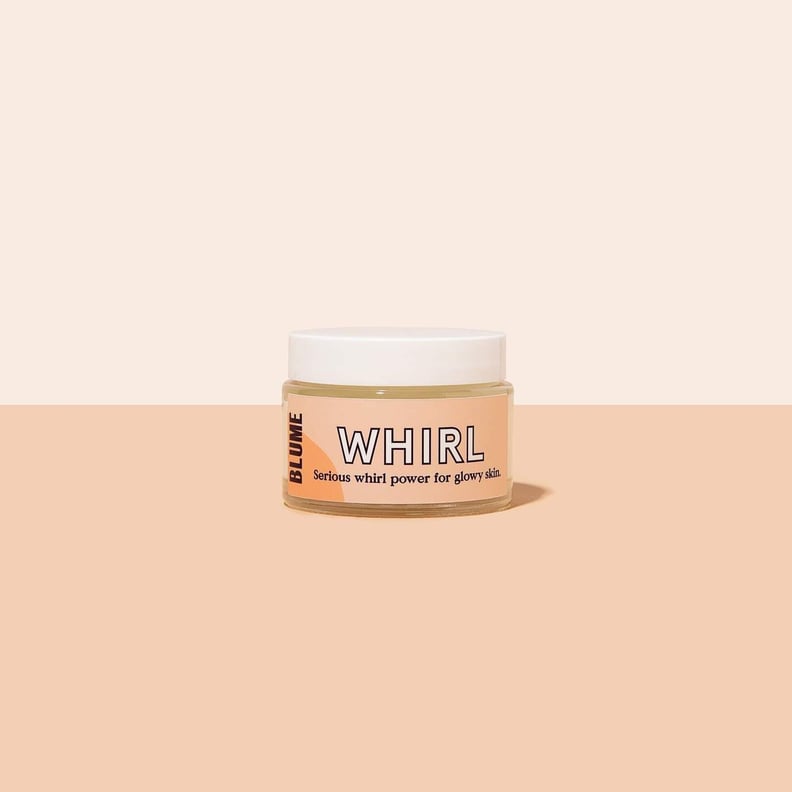 Blume Whirl Natural Moisturizer
Made with a nourishing blend of hyaluronic acid, aloe juice, grapeseed oil, rosehip oil, and prickly pear seed oil, the Blume Whirl Natural Moisturizer ($34) is lightweight and perfect for those with sensitive and acne-prone skin. It even contains skullcap root extract, which does wonders for fighting inflammation and acne.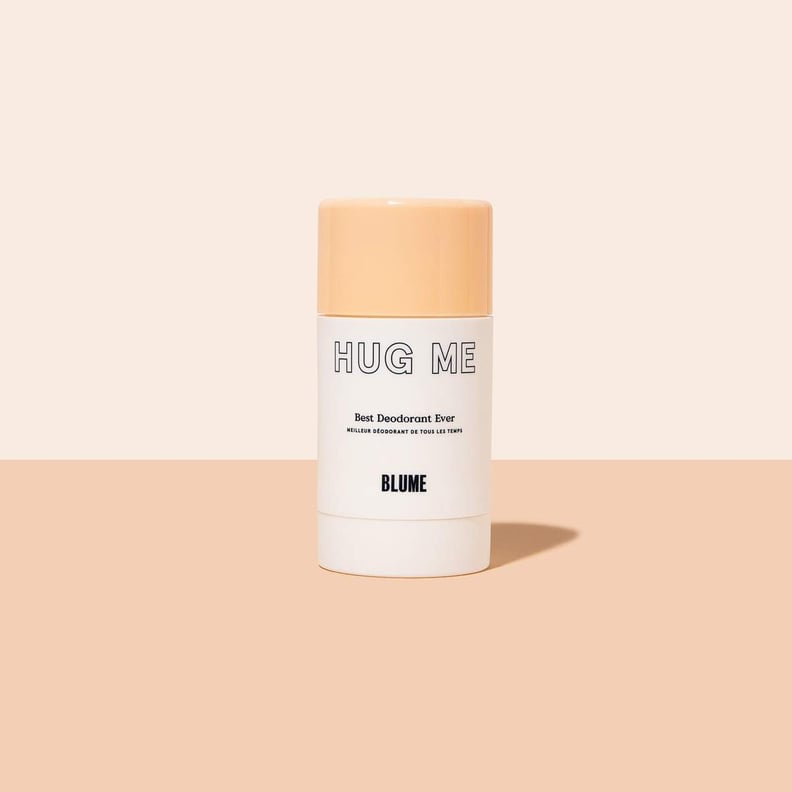 Blume Hug Me Probiotic Deodorant
The Blume Hug Me Probiotic Deodorant ($14) is an unscented and aluminum-free deodorant that not only keeps you feeling fresh but also nourishes your skin. It contains baking soda, probiotics, and coconut oil. Even Gigi Hadid loves this deodorant.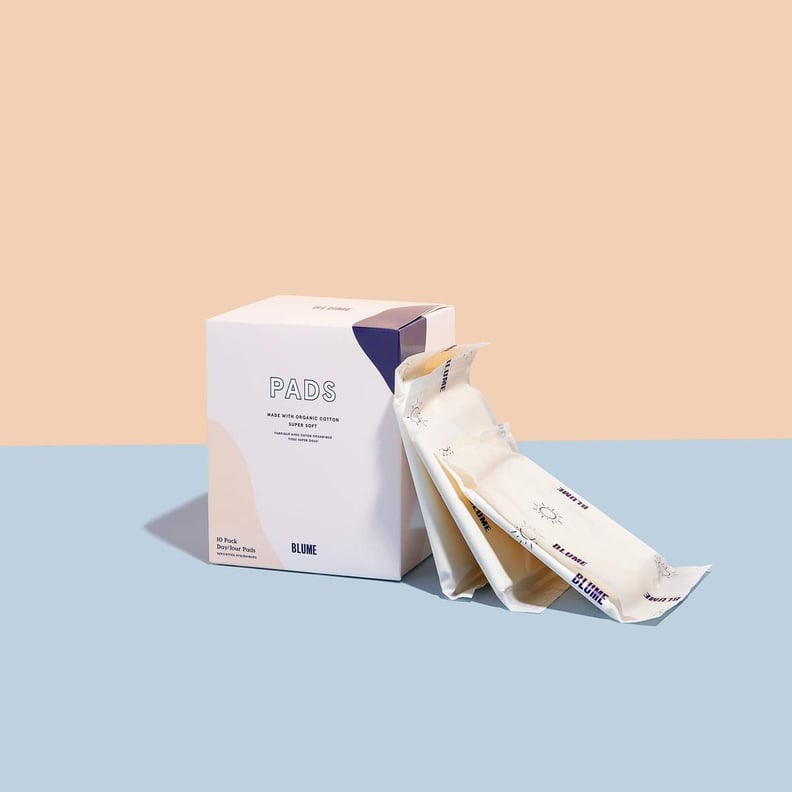 Blume Organic Pads With Organic Cotton — Comfortable & Absorbent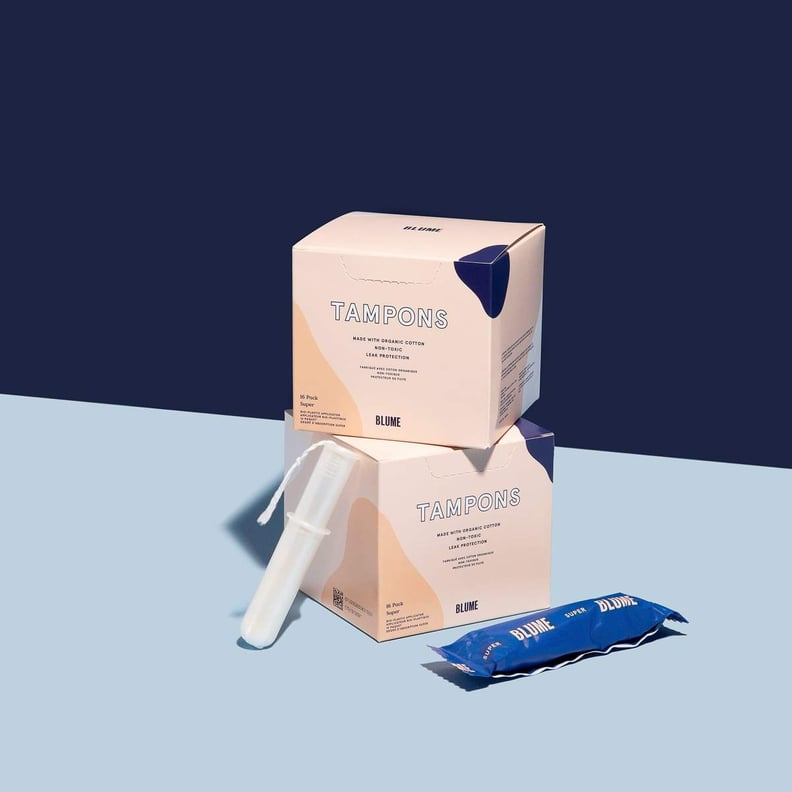 Blume Organic Tampons — Natural 100% Organic Cotton Tampons