As POPSUGAR editors, we independently select and write about stuff we love and think you'll like too. If you buy a product we have recommended, we may receive affiliate commission, which in turn supports our work.
Growing up with acne, I experienced many in-office treatments, from facials to high frequency and lasers, but one of my favorite options to get was a chemical peel. Although I would be on the verge of crying at the moment of application, a chemical peel is the most satisfying treatment. Not only do you get to see the results quicker than other treatments, but also it's gratifying and fascinating to see your face peel and shed like a snake. A chemical peel gives your skin that deep exfoliation that results in a cleaner slate. Pores appear smaller; skin is so much smoother and brighter — it feels like a chemical peel does months of work in just a matter of days.
One of the many aestheticians I went to introduced me to the Obagi brand. Every other facial appointment, I would get the beloved Obagi Medical Blue Peel Radiance peel done in-office, and I loved my post-peel results. I even used products from the brand's ClenziDerm system and Nu-Derm system throughout my journey with acne and hyperpigmentation. When I saw that Obagi released an at-home version of the peel, I knew I had to try it out. Keep reading to see my experience with the Obagi Clinical Blue Brilliance Triple Acid Peel and my results.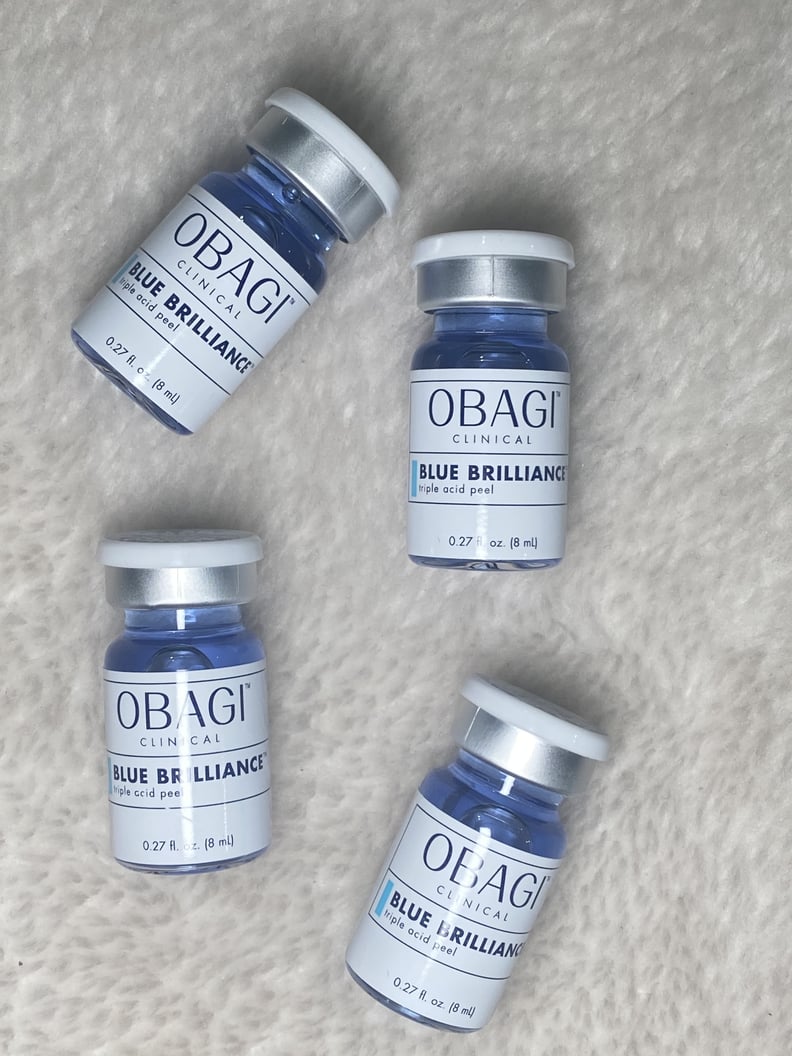 Obagi Clinical Blue Brilliance Triple Acid Peel
The Obagi Clinical Blue Brilliance Triple Acid Peel ($145) contains a potent mix of salicylic acid, lactic acid, and glycolic acid that will exfoliate, smooth out the texture, and brighten the skin. One box contains four vials, and each vial is one treatment. You can space them however you like, but you can use one vial every two weeks.
The box contains specific guidelines and directions for what to do, so I highly suggest reading it thoroughly. After opening the vial, I noticed a strong alcohol scent — that alone told me that this is no joke. The directions say to pour this treatment in a small glass bowl and use a cotton pad or gauze to apply the peel onto your face. Making sure your skin is thoroughly cleansed and dry, dip a cotton pad into the peel and apply the first layer onto your skin. After waiting 30 to 60 seconds, you can apply a second layer if you think you can handle it. After 10 minutes, you can gently rinse it off.
I recommend putting a thin layer of Vaseline or Aquaphor under your eyes or near any sensitive areas you don't want the peel to touch. Once I applied my first layer of the Obagi Clinical Blue Brilliance Triple Acid Peel, I immediately experienced mild tingling, but it was tolerable. I went in with a thin second layer, and my skin tingled even more. This peel is quite potent for my skin. In fact, I could only use half of a vial for my treatment.
Obagi Clinical Blue Brilliance Triple Acid Peel
After I rinsed the Obagi Clinical Blue Brilliance Triple Acid Peel ($145) off my face, I went in with a hyaluronic acid serum and a moisturizer. I kept my skin-care routine as simple as possible during the peeling process with a gentle cleanser, a hyaluronic acid serum day and night, a hydrating moisturizer, and a good amount of sunscreen.
I noticed my skin peeling two days after my peel application around my mouth, chin, and laugh line area, and it continued to spread. The fourth day was when my whole face was very noticeably shedding like a snake. Most of the dead skin came off when I washed my face during the fourth and fifth day. After six days, I finally stopped shedding like a snake.
My skin looked much brighter and smoother. I noticed my skin had less texture and bumps. Several dark spots got lighter if not diminished completely. My skin-care products felt like they were getting absorbed more and sank into my skin. The Obagi Clinical Blue Brilliance Triple Acid Peel definitely gave my skin the boost it needed, almost like a clean slate.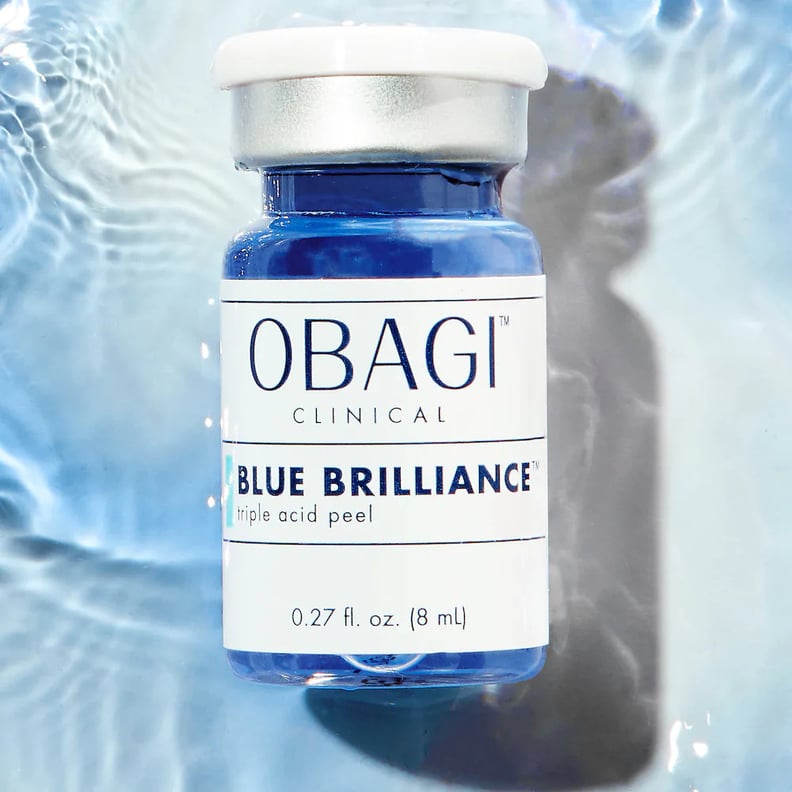 Obagi Clinical Blue Brilliance Triple Acid Peel
Depending on your skin strength and what it can tolerate, you might experience peeling like I did, or not at all. Compared to other over-the-counter peels, like The Ordinary 30% AHA/BHA, the Obagi Clinical Blue Brilliance Triple Acid Peel ($145) felt much stronger. I recommend this peel to anyone dealing with acne or dark spots who needs that boost in their skin-care routine — however, only for those who don't have sensitive skin. If you used chemical peels previously and built up your skin's tolerance, I recommend trying this out. This is definitely not a starter peel.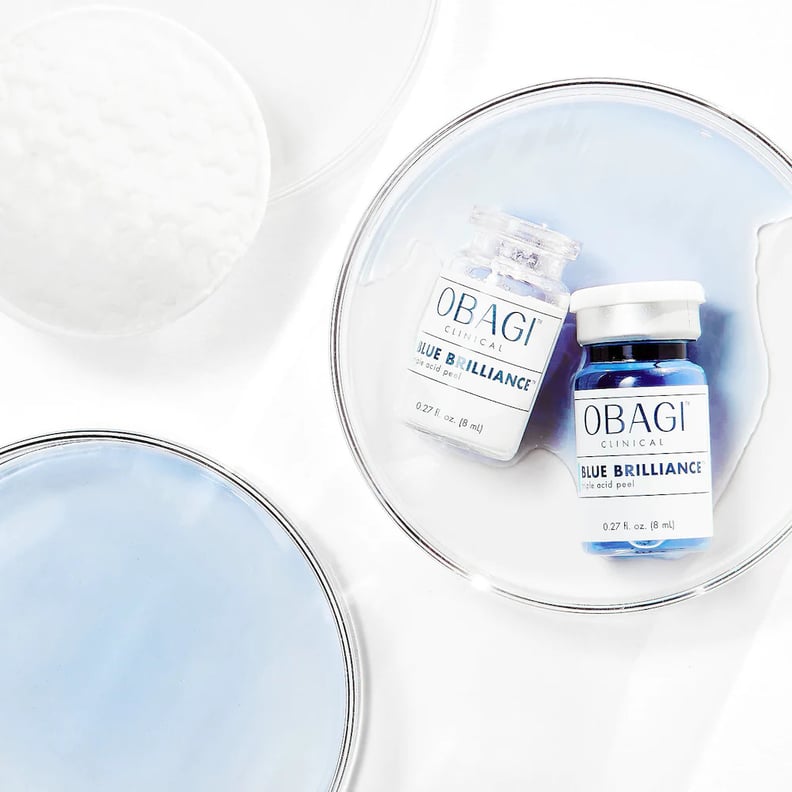 Obagi Clinical Blue Brilliance Triple Acid Peel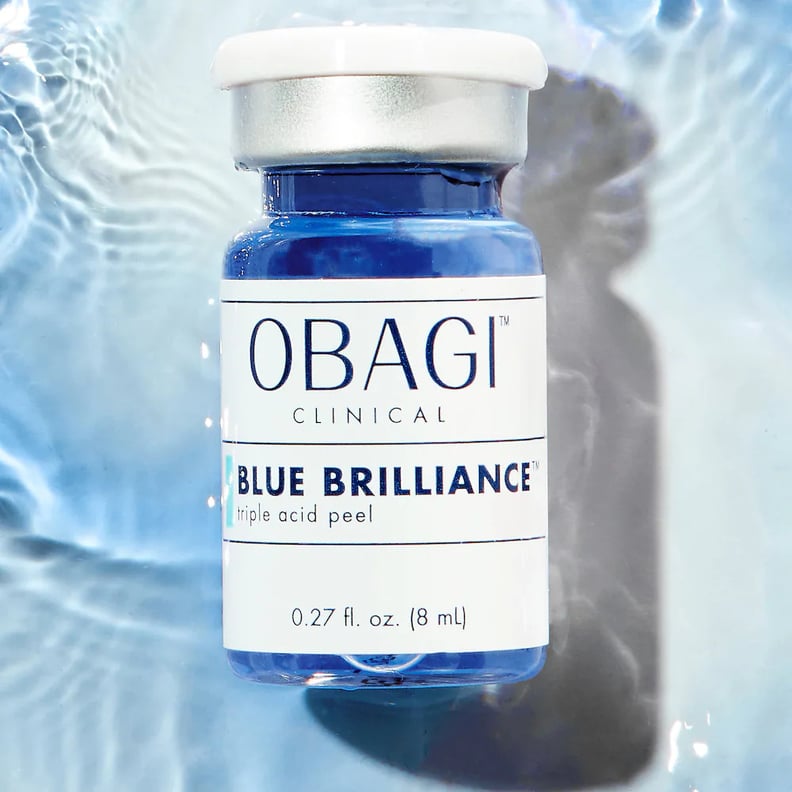 Obagi Clinical Blue Brilliance Triple Acid Peel