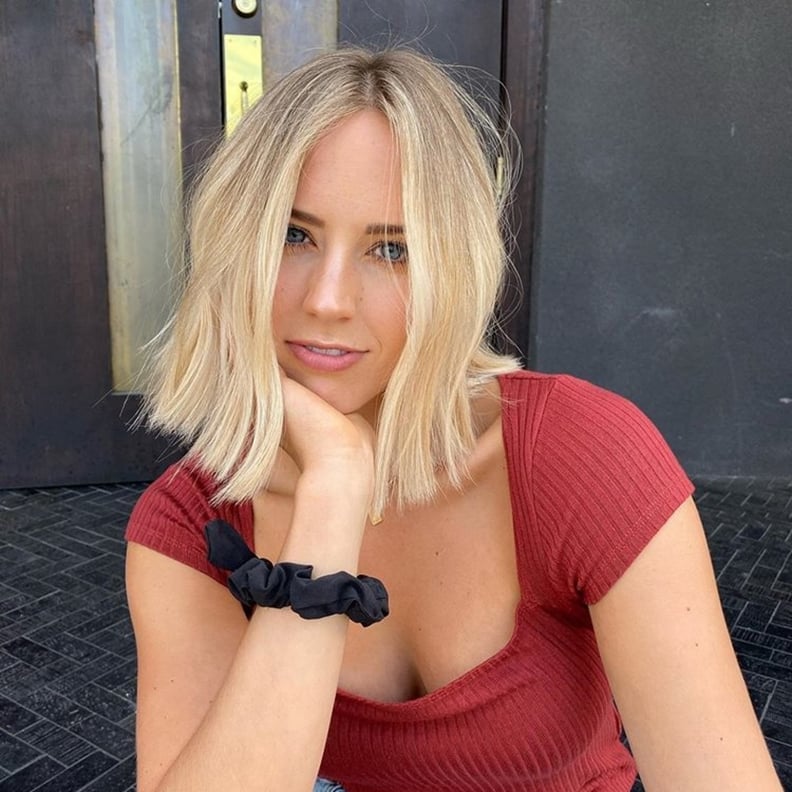 Right now, there's nothing trendier than a bob haircut. You only need to take one look at the fashion runways in London and Paris or any red carpet event — where nearly every celebrity is rocking one — to understand that the hairstyle is having a moment. But unlike celebrities, you may not have the time or the funds to purchase hair extensions should you decide you no longer want a short cut. Changing up your hair is always nerve-racking, whether that's with a cut or a new color, but it doesn't have to be if you do your homework beforehand and know what you're getting yourself into. And that's especially true for bob hairstyles, where the final results (and daily styling maintenance) varies greatly depending on hair texture and type.
There are also quite a few kinds of bobs: there's the classic castle bob, the inverted bob and blunt bob, and then there are curly bobs, choppy bobs, and asymmetrical ones, and each ones requires different styling and upkeep. When choosing the right type of bob for you, it's always best to consult an expert, but we've done some of the research for you to help you reach a decision.
We tapped the brain of hairstylist Paul Windle, owner of Windle London salon, and hairstylist Jason Collier to provide you with as much information as you might possibly need before booking a haircut appointment.
Read on for the pros expert advice on what you should consider before getting a bob.
1. With a Bob, Face Shape Is Important
The first thing to consider is your face shape. "All face shapes can suit a bob, the key is the line of the bob cut," said Windle. "The line of the bob is to accentuate corresponding points and features of the face, which isn't too dissimilar to contouring in makeup."
Windle explained that there are three common bob cuts: curved (best for those with a strong jawline), diagonal (best for those who want to emphasize their jawline), and square (best for those who want to emphasize their cheek bones). But you don't always need to wing it; if your hairdressers has a selection of wigs, go try a wig on, said Collier. "It gives you a really good idea of what kind of bob shape is going to suit your face best" and what you feel most comfortable with when you look in the mirror.
2. Thinking About Your Hair Texture Will Cut Down on Styling Time
Hair texture is equally important when deciding on what kind of bob you want and if you're willing to make the cut in the first place. Discuss your hair texture and your expectations — like how much you want to spend doing your hair every day, for example — with your hairstylist during the consultation portion of your appointment. That way, they can explain which cut will work best for your hair texture in terms of maintenance and styling (and if they don't tell you this, make sure to speak up and ask).
"Generally speaking, finer textures tend to work better with shorter bobs because the shorter the bob, the thicker the hair will look," said Windle. "It's almost like folding a piece of paper; the more you fold it the more dense it appears." Thick hair is better suited to a longer style of bob as it's easier to manage and requires less maintenance and styling.
If you have natural or curly hair, Collier advised to be extra careful when choosing a length. "I would recommend a bob that is slightly shorter at the back and is longer at the front. This gives the bob a stronger shape and prevents it from becoming too round."
3. There's a Certain Amount of Upkeep When It Comes to Bobs
Unlike some high-maintenance hair colors, cuts don't require as much upkeep. However, regular trims are very important with a bob. Windle recommended going in for a trim every six weeks, ideally, especially if you also have a fringe or your bob is asymmetrical, inverted, or features sharp angles.
4. Keep Your Budget in Mind Before Getting a Bob
Again, haircuts don't often require the same upkeep that regular color does; however, short cuts are still an investment. If you want to keep your hair in healthy condition and keep your bob looking fresh, regular cuts every six weeks are recommended. "Longer bobs and curly hair can get away with longer, approximately six to eight weeks," said Windle. But those with shorter or finer hair, you could be looking at every four to five weeks to keep it in perfect condition.
5. Consider How Much Styling You'll Need to Do With a Bob
Before you decide which type of bob to get, it's important to discuss your desired style and what your strengths are when it comes to doing your own hair. Because unless you're one of the few lucky humans whose hair air dries to perfection every single day, the reality is that most bobs require some styling aids, whether that's hot tools or a cocktail of products.
Everyone's hair and style is different, but as a general guide, Windle recommended that those with natural textures and curls use a diffuser and scrunch in a product like Windle London's Curl Enhancer Cream ($29).
For those with a straight bob, brush the hair both forward and backward when blowing drying for a relaxed, loose finish. And for the dreamy beach waves shown here, Collier recommended Shea Moisture Fruit Fusion Weightless Texture Spray ($20) to add a little bit of light texture and wave (Collier is an ambassador for the brand).
If you find that products weigh your hair down, you might find this happens even more with a bob. One small difference you can make is to "condition the hair first, then shampoo it out; that way you're getting the moisture but it's not so heavy on the hair," Collier said.