The Makeup Secrets Behind Netflix's Boo, B*tch
The Makeup on "Boo, B*tch" Is a Masterclass on Y2K Beauty
As POPSUGAR editors, we independently select and write about stuff we love and think you'll like too. If you buy a product we have recommended, we may receive affiliate commission, which in turn supports our work.
Image Source: Courtesy Of Netflix
No matter your preferred genre of TV, you have to admit: there is something about a high school comedy that makes the category a staple. Whether it's the nostalgia of seeing certain social dynamics play out on the silver screen and reliving popular fashion trends that you thought were gone, watching TV shows set in a high school can bring up some feelings. Netflix's "Boo, B*tch" has done just that, and the show has managed to capture the late '90s and early 2000s dynamic of high school with ease. One of the best ways that they drive those nostalgic feelings home, though, is with the show's beauty moments.
From skinny brows to high ponytails, beauty played an integral role in each character's story arc on "Boo, B*tch." The makeup in particular was used as an Easter egg to signal exactly how much Erika Vu (played by Lana Condor) changed throughout the series. "I really wanted to emphasize how much she changes through her physical appearance," Michelle Chung, the makeup department head behind the series, tells POPSUGAR. "I started with her being very fresh-faced and clean, and went on to some really bold looks later on."
Below, Chung breaks down more behind-the-scenes beauty moments from the show — so if you're ready to take a walk down memory lane (and perhaps be tempted to pull out your old frosty eyeshadows), keep scrolling.
The Vision For the Makeup Looks in "Boo, B*tch"
Chung's main goal when it came to the show's makeup was to tell a story of progression. "There was an overall arch for Lana's character, so I really wanted to make sure there was a big change in her makeup look to match her attitude change, from sweet Erika to b*tch Erika," Chung says. "With Gia, I wanted to keep her very ethereal and light, with a bit of a glow, as a kind of Easter egg to what really happened to her."
As for where much of the inspiration for the makeup and "Boo, B*tch" comes from, there's a reason why you may feel a pang of familiarity while watching the show. "I pulled a lot of inspiration from the '90s and early 2000s," Chung says. "Riley's character was in a lot of variations of pink, as a kind of homage to "Mean Girls." Key makeup artist Erin Rosenmann did a beautiful job with her makeup, keeping her pretty in pink."
The "Boo, B*tch" Characters With the Wildest Transformations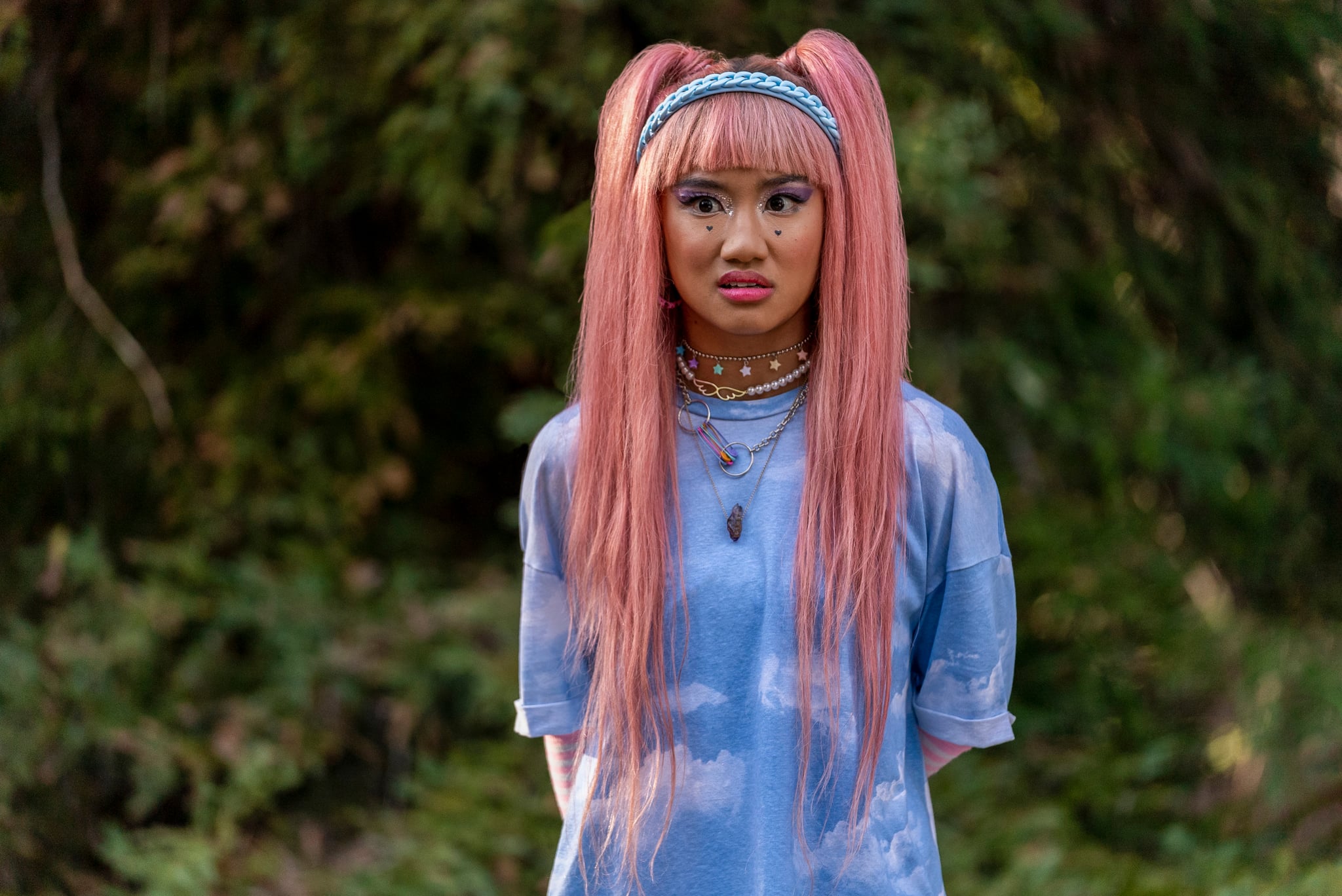 Image Source: Kevin Estrada/Netflix
While Condor's character saw the most progression throughout the series, Chung had to get extremely creative with a few smaller supporting characters on the show. "Erika goes through such a huge change, so we really got to play with some bold eyes and fun different lip colors, but the afterlifers were super creative," Chung says.
The "Afterlifers" were a group of goth kids who were extremely well-versed on ghosts. Since these aren't the goth kids of the early aughts, they of course made some very whimsical changes. "Sail's inspiration was a pastel goth, so we played with pinks and baby blues and also used some fun stamps from Milk Makeup — she had star, moon, and heart stamps on her face. Raven was more traditional goth, but we added some pops of color for a fun, more fresh and updated grunge look."
There were also a few blink-and-you'll-miss-it moments, some of which included subtle prosthetics work. "We had a couple of really small prosthetics on Gia when the audience finally sees her body," Chung says. "They didn't want her looking too scary — but definitely dead." How did they achieve this look? By adding prosthetics that mimic the look of decaying skin.
The Products Used Most on the "Boo, B*tch" Set
It took quite a few tried-and-true products to pull off the looks in the way that Chung needed to on TV. A few of her favorites: "We had some really bold colors, and the MAC Art Library: It's Designer Palette ($49) was great," she says. "For complexion, the Makeup by Mario contour sticks ($28), the Koh Gen Do Moisture Foundations ($77), and the Mac Concealer palettes ($37) were great to throw in set bags." Additional products used included the Tower 28 Beach Please Luminous Tinted Balms ($20), and the Ilia Multi Sticks ($34) to get those rosy cheeks on each character.
With all episodes of "Boo, B*tch" now streaming on Netflix, consider this your essential guide to understanding all of the beauty moments from the show. If you also just so happen to be looking for '90s beauty inspiration to relive your high school glory days, consider this your shopping cheat sheet as well.