Charlotte Tilbury Beautiful Skin Foundation Review
Go Ahead, Snap a Pic — Charlotte Tilbury's New Foundation Has Me Fully Camera Ready
As POPSUGAR editors, we independently select and write about stuff we love and think you'll like too. If you buy a product we have recommended, we may receive affiliate commission, which in turn supports our work.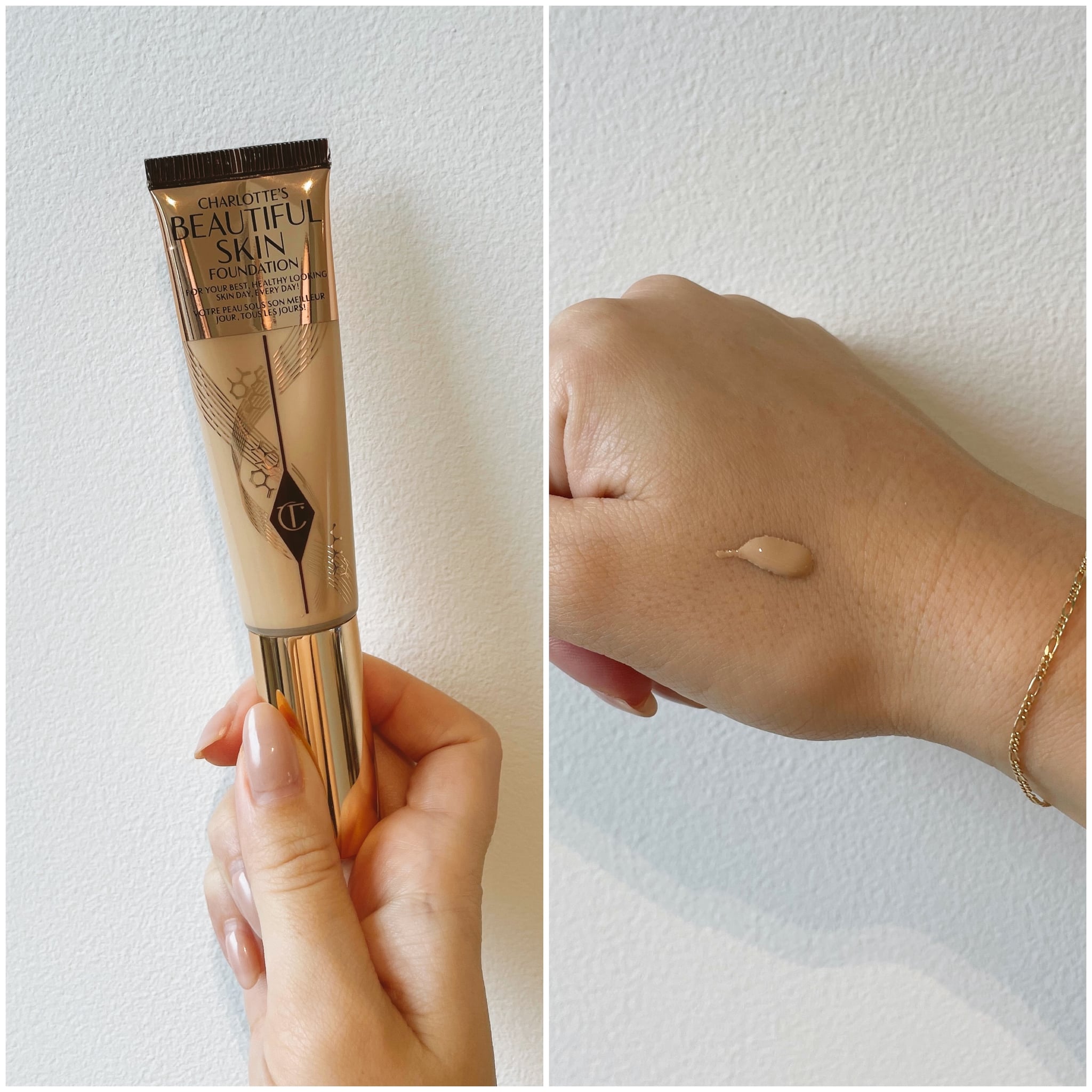 Charlotte Tilbury just dropped a brand-new product, the Beautiful Skin Foundation.
The foundation comes in 30 shades and combines skin care and makeup in one.
One editor tried the foundation and loved the results.
I have pretty high standards when it comes to base makeup. I'm not a huge fan of foundation in general — you're more likely to see me reaching for my favorite bronzer or blush before you catch me applying a layer of foundation — so when it comes to a product I'm planning to slather all over my face, it needs to be good. I dream about finding the perfect everyday foundation: I'd love something lightweight with medium coverage that leaves my skin looking dewy but not greasy. I've searched high and low, but I've never found a product that I absolutely love — until I tried the Charlotte Tilbury Beautiful Skin Foundation ($44).
I first heard Charlotte Tilbury was launching a new foundation while scrolling TikTok, and one beauty influencer described it as the brand's Flawless Filter in foundation form. I purchased Flawless Filter about a month ago, and I've been using it every time I do my makeup as a primer for my foundation. It gives my skin the best glow, so I was excited at the prospect of achieving that luminosity with just a foundation.
First, a little bit about the formula: It's a medium-coverage foundation that combines skin care and makeup to give you the best of both worlds: hydrated, smooth, even-textured skin with coverage. It's made with hyaluronic acid to deliver that extra moisture, damask rose water and oil to reduce signs of dullness, and coconut extract to help strengthen the skin's barrier. It's available in 30 different shades, and it comes packaged in a recyclable tube that has an easy-to-use pump top.
I have dry, acne-prone skin, so I have to be careful about the products I use, especially when it comes to my face. Some makeup can break me out after just one use, and others can cause extreme dryness around my nose and cheeks. When it comes to foundation, I often opt for products that give me a dewy finish. I also choose products that offer light to medium coverage, because I hate when my makeup looks caked on or too heavy.
The first time I applied this foundation, I pumped it directly onto my face and smoothed it out with a foundation brush, then blended out any harsh lines with a beauty blender. I immediately noticed how easily it spread — the formula is thin but hydrating, all while being lightweight. I needed quite a few pumps to cover my entire face, so I would say this product is more light to medium coverage versus a true medium-coverage foundation.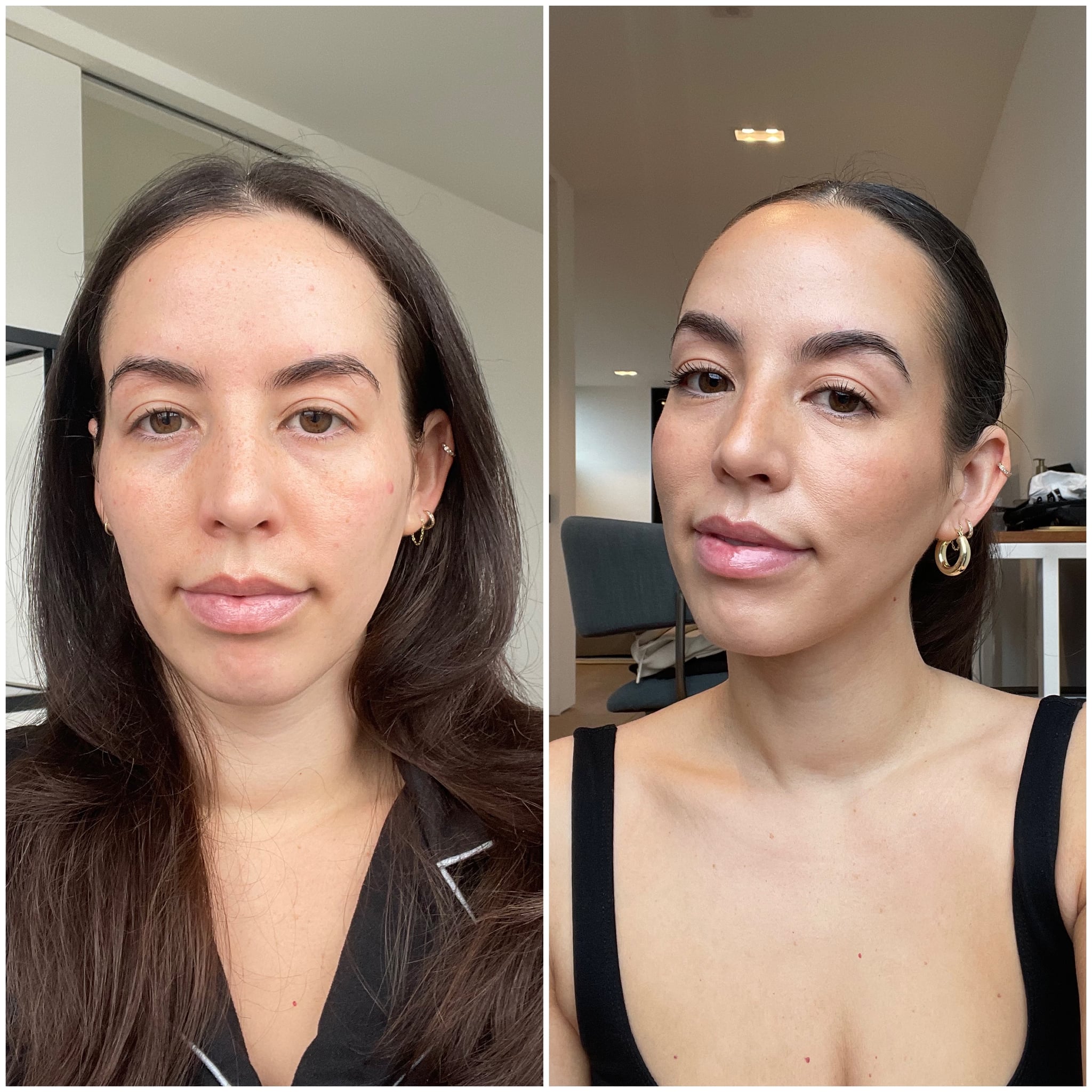 After application, I chose not to set this foundation with setting powder, because I wanted to see how well it wore throughout the day, and I have to admit: I was impressed. It left my skin looking glowy, supple, and radiant, and it lasted flawlessly for almost the entire day. It did start to fade a bit around hour six, but only in two areas: my T-zone and my nose. Ultimately, for the majority of the day, I looked like a more hydrated, luminous version of myself, which is exactly what I'm looking for when it comes to base makeup.
Also, I did eventually end up testing it out with a setting powder, and the coverage lasted a full eight hours. I also tried applying it with my fingers instead of a foundation brush and beauty blender, and I noticed there was a lot more coverage the second time around. I'm happy to have a bit less coverage, so I think I'll continue using my foundation brush/beauty blender combo, but I love knowing that when it comes to application, I have options.
My favorite thing about this foundation was that it left my skin looking hydrated and glowy without looking greasy. I've often found that some base makeup that promises a luminous look actually leaves my skin looking more oily than anything else. I also loved that the formula was buildable because I'm not a huge fan of heavy coverage when it comes to base makeup.
As for comparing it to the Charlotte Tilbury Flawless Filter, the similarities are definitely there. Although it isn't as luminous, it does offer a healthy glow with much more coverage. This product is definitely a great option if you (like me) have been searching for Flawless Filter in foundation form.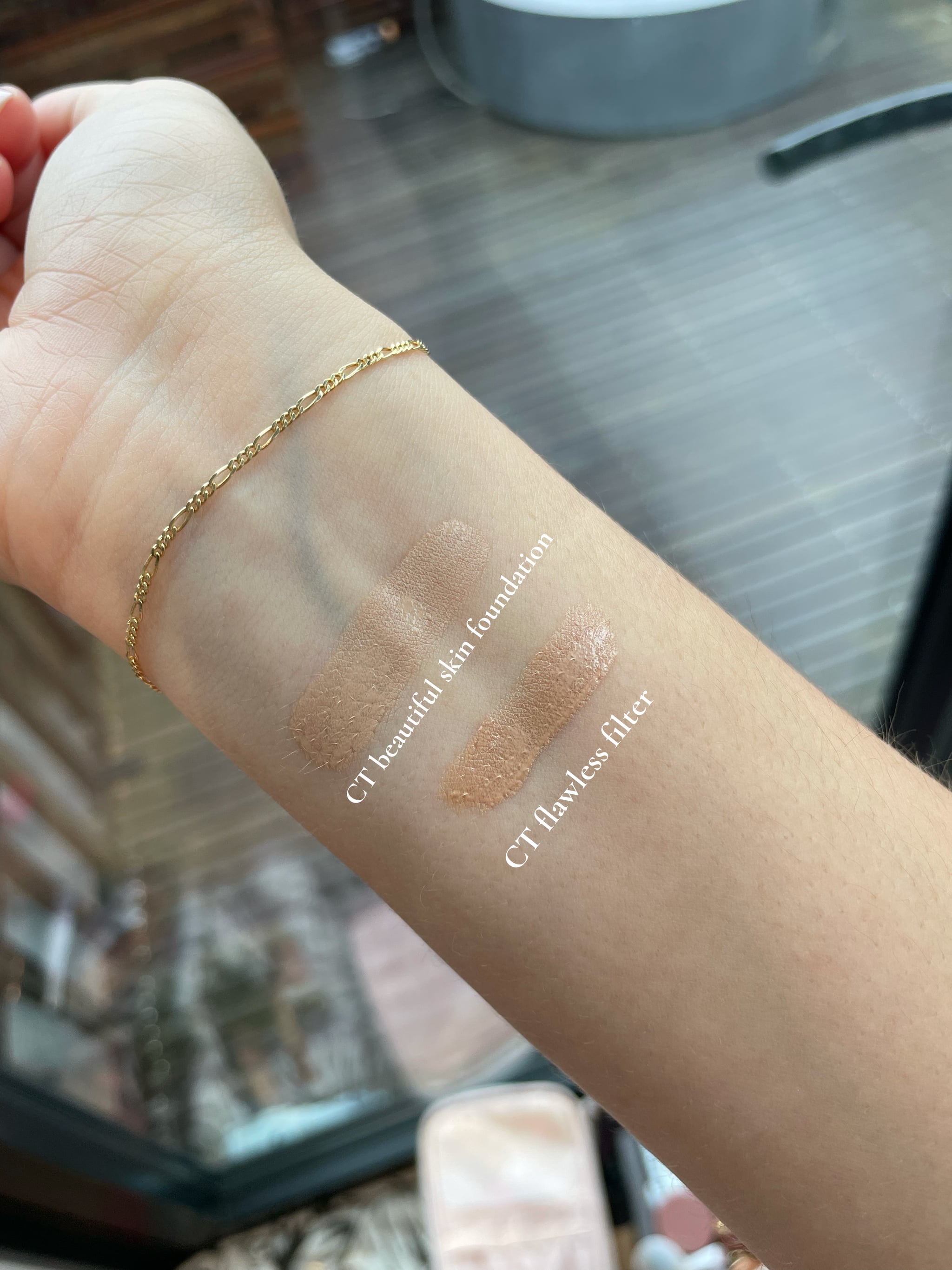 The bottom line? This product is a great option for those with dry skin or combo skin, and especially for those looking to brighten up their complexion. It has hydrating ingredients and a long-wear formula that make it the perfect pick for an everyday foundation. At $44, it's priced similarly to other luxury foundation products, and for me, it's worth every penny.
Rating:

Image Source: POPSUGAR Photography / Renee Rodriguez