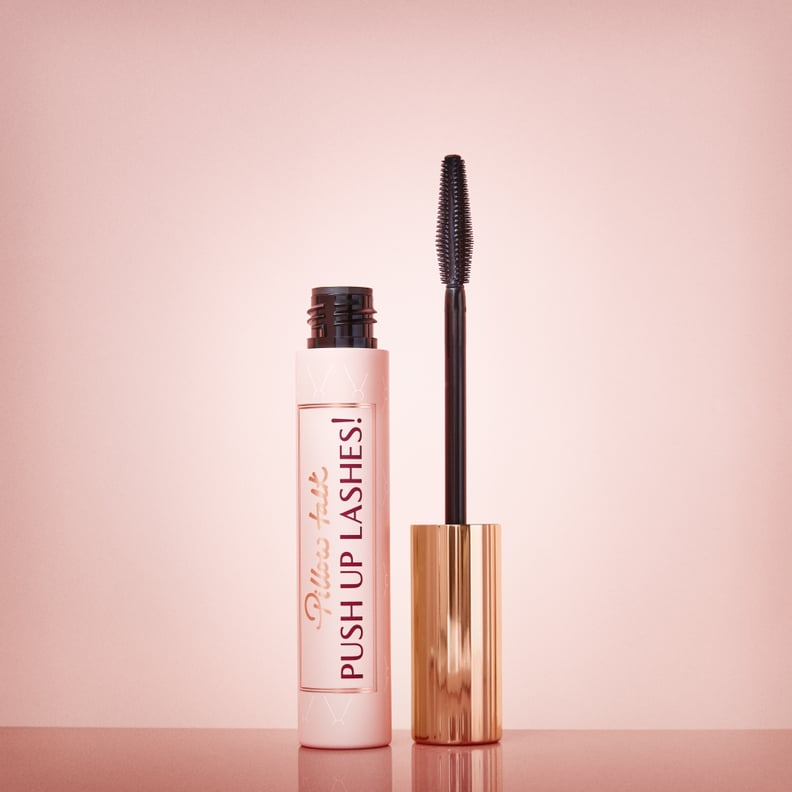 As POPSUGAR editors, we independently select and write about stuff we love and think you'll like too. If you buy a product we have recommended, we may receive affiliate commission, which in turn supports our work.
Pillow talk went from being something we did in the bedroom to something we wear all over our faces, all thanks to one woman: makeup artist Charlotte Tilbury. Back in 2013, Tilbury launched the now-iconic Pillow Talk Lip Liner, which quickly became a bestseller and it remains so today. Fast-forward a couple of years, and the lip liner has now expanded into an entire range, including extended lip shades to cater to all skin tones, a Cheek to Chic Blush, a beautiful Pillow Talk Palette of Pops Eyeshadow. This month, however, Tilbury announces probably the most exciting addition to the range: the Charlotte Tilbury Pillow Talk Push Up Lashes Mascara ($29). And you better believe we got our hands on it as soon as we could.
This mascara is lengthening and volumizing, which promises a 24-hour smudge- and budge-proof lift. But did it live up to its high-performing Pillow Talk sister products and our high expectations? For me, it ticks all three of those boxes.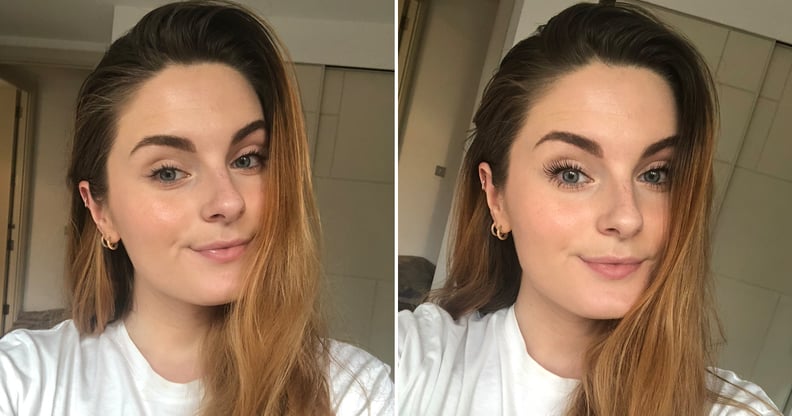 Full disclosure: I religiously use RevitaLash Advanced serum alongside my mascara.
Image Source: POPSUGAR Photography / Tori Crowther
The jet-black formula is wet but thin, so it dries down quickly with zero clumps. However, the packaging's wiper system isn't the most effective, so I did have to remove some of the excess formula from the flat sides of the wand. The claim of a "24-hour lift effect" won the most brownie points in my eyes because my lashes stayed lifted the entire time I wore it — though I can't speak on its ability to do this for an entire 24 hours (I won't be sleeping in mascara if I can help it). Typically, my lashes tend to lose their curl after a few hours, especially in hot weather. I tried this mascara in London's glorious (read: horrendous) heat, so I can vouch for its humidity and smudge-proof claims, too.
As for the wand, I've never seen a shape quite like this one. It's silicone and tapered — like many mascara wands on the market — but two sections of the brush are completely flat, featuring no bristles whatsoever. If the wand has four faces, two of the faces are completely flat and two feature bristles that are short and organized in evenly spaced, uniform rows. The varying sizes (seriously, some of the bristles are practically microscopic) and spacing of them means no matter how small your lashes are, each one gets evenly coated in mascara.
Before applying the mascara, I honestly felt a bit "meh" about the flat sides, but now I actually really like that element. As the brush is dual-sided, the wand wasn't totally overloaded with bristles, and because of this, I found that it gave me more control over exactly where I wanted to apply the mascara. In turn, this meant my lashes weren't totally coated in formula and clumpy as a result. Charlotte Tilbury actually recommends using the flat side of the wand to coat the lashes in formula, then using the bristled side to comb and lift them. I found I didn't need to do this with my lashes, but if yours are on the shorter side, this will probably work wonderfully for you.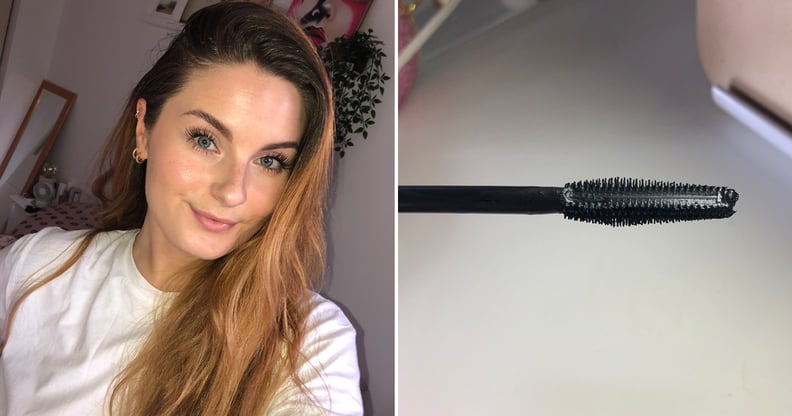 It's the combination of perfectly spaced bristles and a lightweight, comfortable formula that truly lifts and locks in curls that makes the Pillow Talk Mascara formula such a great everyday formula. A couple coats of it give your lashes beautiful, natural-looking length and volume. If you like a little more drama, however, just swipe on another coat and you've got even more volume, and still with no clumps. Remember what makeup artists always say — it's easier to add than to take away. The buildable nature of this mascara makes lashes look like they've doubled in density and length, resulting in dramatic yet fluffy eyelashes. Oh, and it's super lightweight, which makes it incredibly comfortable to wear.
Lastly, let's talk packaging. I was surprised that the entire mascara wasn't encased in its iconic ribbed gold packaging, which may be to avoid similarities with the Charlotte Tilbury Legendary Lashes Volume 2 Mascara. Nevertheless, it's instantly recognizable as CT due to the ribbed gold lid and light pastel pink tube with gold letter detailing.
If you're looking for a high-performing mascara that's a good all-rounder, this is the one. With one coat, you'll have natural-looking, fluffy lashes, and with a second and third coat you'll be left with a dramatic set of eyelashes without a clump in sight. All encased in pretty-in-pink packaging.
The Charlotte Tilbury Pillow Talk Push Up Lashes Mascara retails for $29 and launches on August 26.