Chris Hemsworth has five known tattoos so far.
His ink is mostly placed in various areas of his arms, from his biceps to his forearms.
Many of Hemsworth's tattoos are dedications to his family.
Chris Hemsworth is best known for his work in multiple blockbuster hits, from "Thor" to "Snow White and the Huntsman" and more. What casual fans may not know, though, is that between the bulging muscles and layers of Hollywood-quality concealer, Hemsworth bears multiple tattoos.
Sometimes, Hemsworth's onscreen job, high-quality suits, and full-coverage wetsuits cover up his tattoos. Other times, he has additional or substitute tattoos painted on for roles, including Thor's tattoos in "Thor: Love and Thunder." Yet eagle-eyed fans may know he has five known tattoos — or clusters of ink — including a recent addition. Hemsworth tends toward crisp, simple designs in stark black lines, some of which seem to have faded over the years. Most of his tattoos are on his arms, particularly his forearms, but he does have one on his rib cage as well.
These days, the Australian actor, campaign spokesman, exercise-and-fitness-app creator, and Member of the Order of Australia makes time to showcase his love for his wife and three children through both his social media posts and his body ink. While Hemsworth hasn't always shared the direct meanings behind all of his tattoos, we've rounded up all five and provided the reasons for his choices where we can.
Chris Hemsworth's Dr. Seuss Tattoo
On the inside of Hemsworth's left bicep, he has a tattoo of a character from the Dr. Seuss book "Oh, the Places You'll Go." While he has not spoken about the meaning behind the tattoo directly, Hemsworth has said he read the book to his daughter often. Tattoo artist Dillon Forte, who has inked the actor before, told Nicki Swift, "I think it's about his passion for travels and being on sets and those awesome adventures around the world."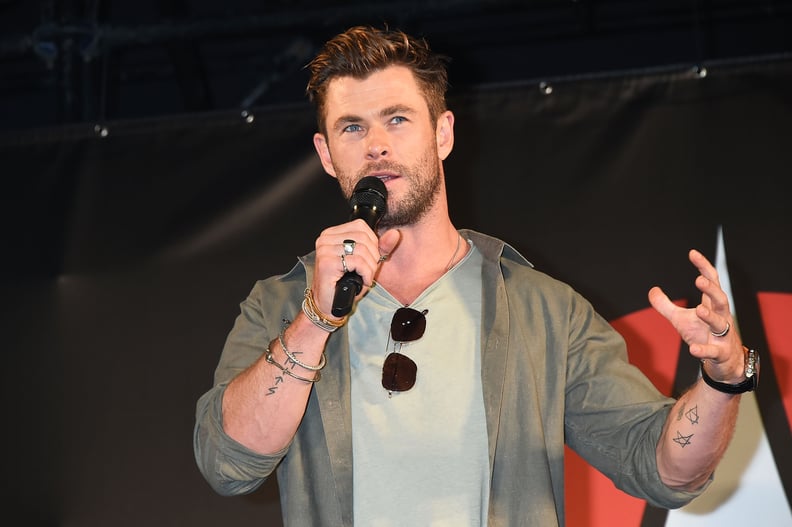 Chris Hemsworth's CEITS Tattoo
Hemsworth and his wife, Elsa Pataky, both have tattoos on the outside of their forearms. The letters vertically spell out C-E-I-T-S for Chris, Elsa, daughter India, son Tristan, and son Sasha.
Chris Hemsworth's Avengers Tattoo
In 2018, Hemsworth and all five of his original Avengers costars reunited. Five of the six got matching tattoos of the Avengers logo. Hemsworth's tattoo is on his right side near the bottom of his rib cage.
Chris Hemsworth's Dharma Wheel Tattoo
The three tattoos on Hemsworth's left forearm — two stars and a dharma wheel — were completed in the same sitting as the sacred geometry on his right forearm. Tattoo artist Forte told Nicki Swift, "[Hemsworth's] young daughter was there with him and really liked the design ideas and started sketching out her own little interpretations of them."
Chris Hemsworth's Geometric Tattoo
For his latest ink, Forte tattooed a large geometric tattoo on Hemsworth's inner-right forearm. According to Forte's website, he's recognized "primarily for his contemporary style of sacred geometry in tattooing." Hemsworth hasn't shared the meaning behind this tattoo.