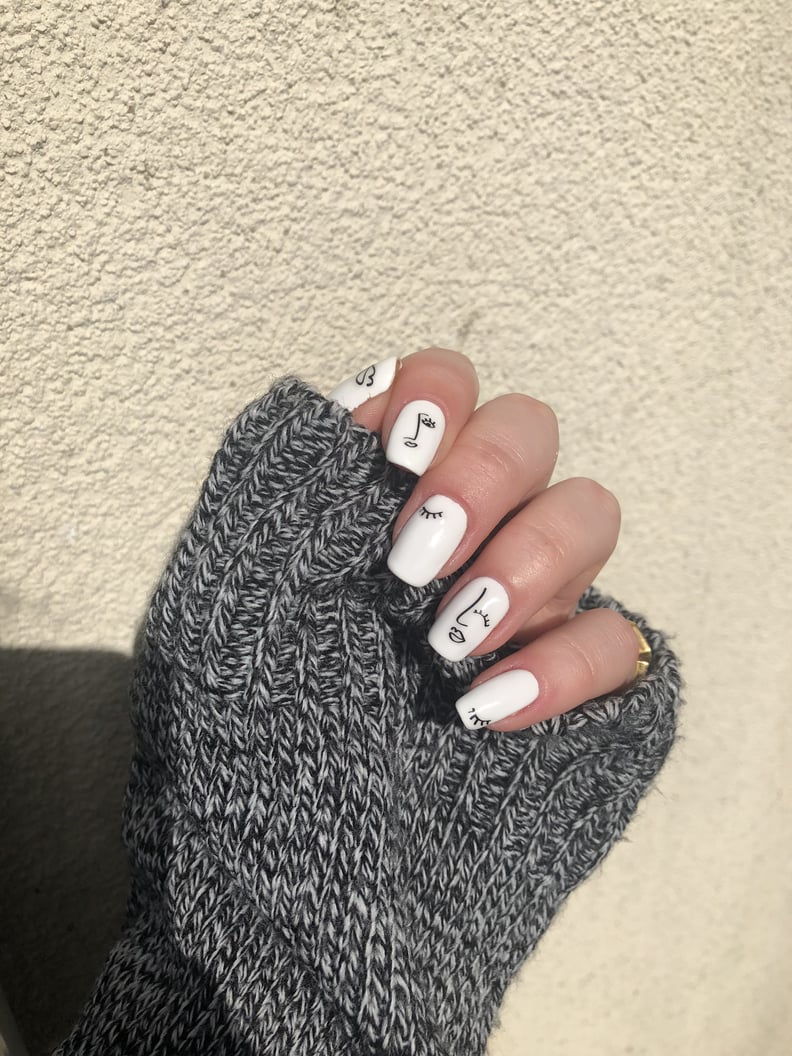 POPSUGAR Photography | Tori Crowther
As POPSUGAR editors, we independently select and write about stuff we love and think you'll like too. If you buy a product we have recommended, we may receive affiliate commission, which in turn supports our work.
With all this extra leisure time, I've found myself trying out more at-home manicures than I can keep track of — and I'm not the only one. The nail category has seen a huge increase in sales since lockdown began in March, proving that while we might not be visiting our nail tech for a while, nothing is stopping us from treating ourselves to a manicure at home. But after weeks of DIY polish jobs, I was starting to get bored. I missed the intricate, pretty nail art that I used to get in the salon. That is, until I found my new secret weapon: the Ciaté Cheat Sheet Nail Stickers ($18). They're the perfect way to create snazzy (and professional-looking) nail art without messing around with special tools and complicated techniques.
I heard about the Ciaté Cheat Sheets months before they launched and was a little skeptical about the product living up to its promises: "easy-to-use nail sticker sheet designs that can be applied to either dry, painted nails or bare nails," it claimed. Even better, the stickers don't require a top coat if you don't have one (although they last longer and look better with one). The application process couldn't be simpler, and I can confirm that it lives up to its promises. In short: the stickers let you pretend you have the skills and patience of a nail artist, when the reality is, well, far from it.
Read on to see my thoughts, photos, and tips on creating the perfect at-home manicure using the Ciaté Cheat Sheet Nail Stickers.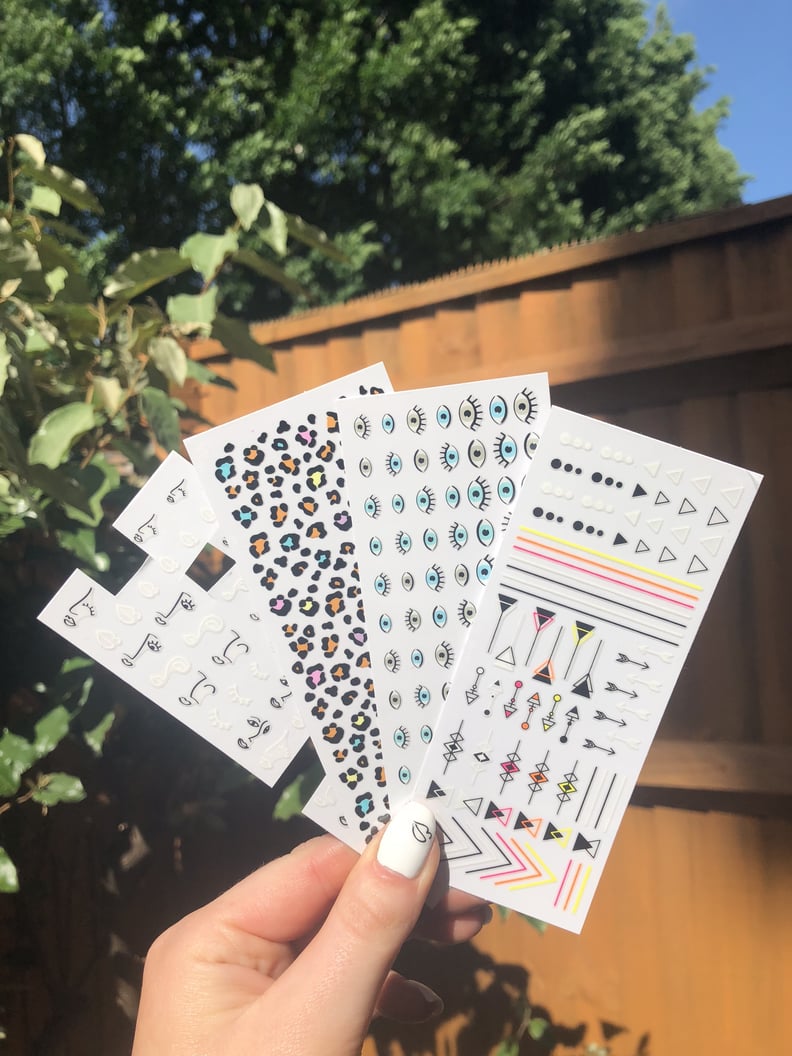 Ciaté London Cheat Sheet Nail Sticker Designs
The cheat sheet pack comes with four different designs: abstract faces and facial features, pastel leopard spots (Carole Baskin-approved), evil eyes, and neon geometric lines and chevrons. Each sheet is filled with different shapes and variations of the pattern so you can create your own unique manicure using the stickers.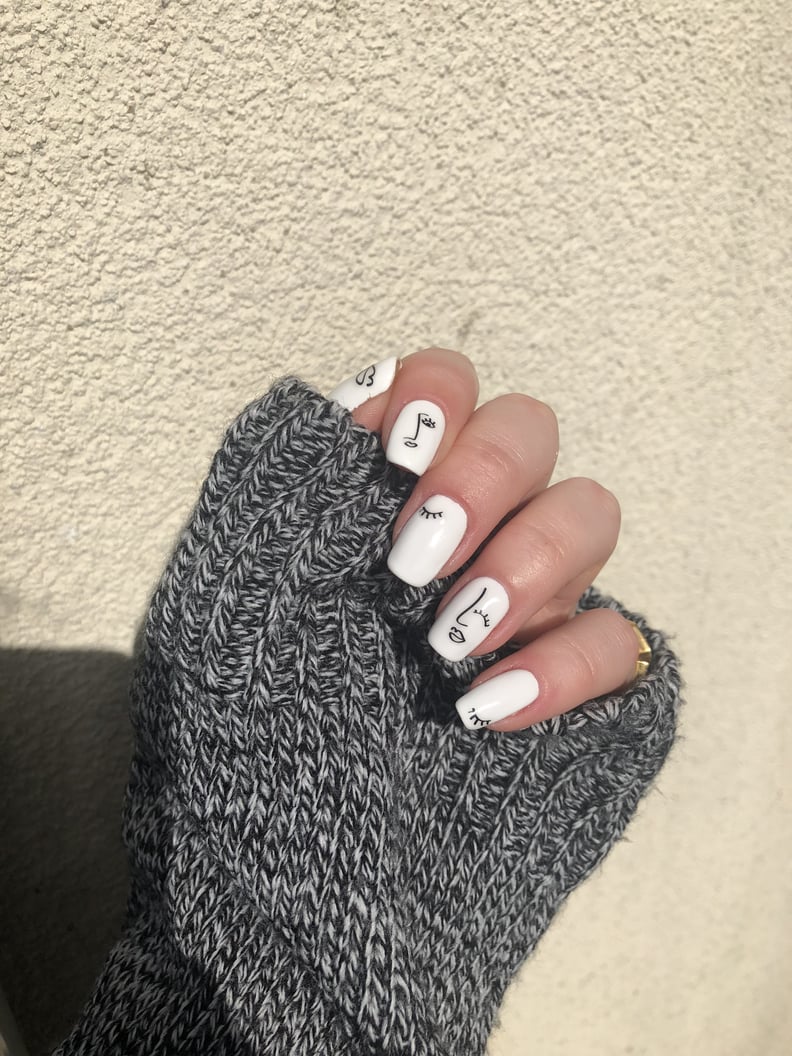 Ciaté London Cheat Sheet Nail Sticker Results
To create the abstract manicure pictured, I applied a base coat followed by two coats of CND Shellac polish in Cream Puff (although normal nail polish will also work great if you don't have a gel system at home). I finished with a supershiny topcoat.
When the topcoat is fully dry, this is where the magic happens — and where it gets a little finicky. Decide which stickers you want and carefully cut each design out from the sheet (as you can see I did from the picture in the previous slide). This will make it easier to peel off.
When you're happy with your chosen stickers, take a pair of tweezers and peel the sticker off from the sheet and place it onto your nail. After you've placed it down, carefully press it (using tweezers or your fingertip) to make sure it's fully stuck onto your nail. Take extra care to make sure there are no air bubbles or lifted edges, which will make it easier for the stickers to start peeling off, thus shortening the wear time.
Once all of the stickers are in place, add another layer of clear topcoat to seal it all in and make the edges of the stickers look seamless. When the final topcoat is dry, all that's left to do is snap a nail pic and marvel at your excellent work.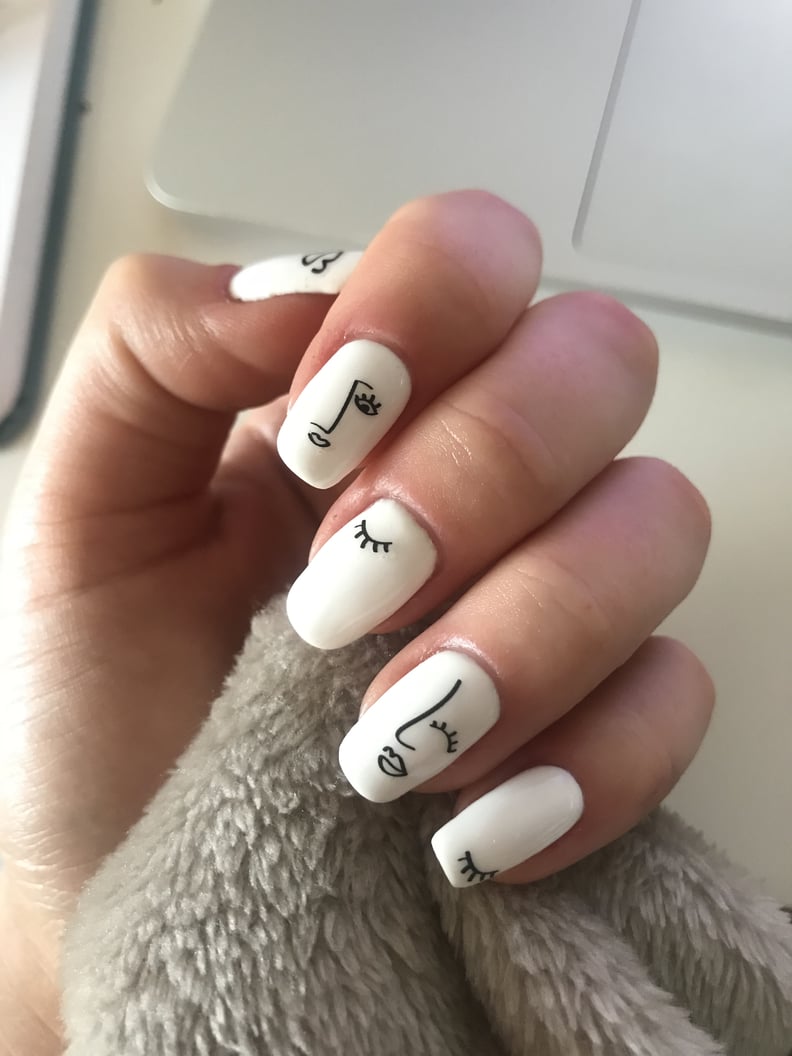 Close-Up Shot of the Ciaté London Cheat Sheet Nail Stickers
As you can see from the picture, some of the stickers are much smaller than others, so be prepared for it to be a little tricky at first — though you'll soon get the hang of it. If you're hesitant about the smaller stickers, rope one of your family members or roommates in to help (especially when applying them on your nondominant hand). Also, make sure you have a clean work surface beneath you so that if you drop a sticker, you can easily find it again to reapply.
It's fair to say these stickers are my new favorite nail-art trick; my boyfriend thought they were hand painted before I told him otherwise, which I will take as a huge compliment. They will definitely spice up my at-home manicure (and maybe even pedicures if I'm feeling particularly over the top). The design possibilities are endless; maybe just enough to see us all through lockdown.