Why You Shouldn't Cut Your Cuticles, According to a Derm
Why You Shouldn't Cut Your Cuticles, According to a Dermatologist
As POPSUGAR editors, we independently select and write about stuff we love and think you'll like too. If you buy a product we have recommended, we may receive affiliate commission, which in turn supports our work.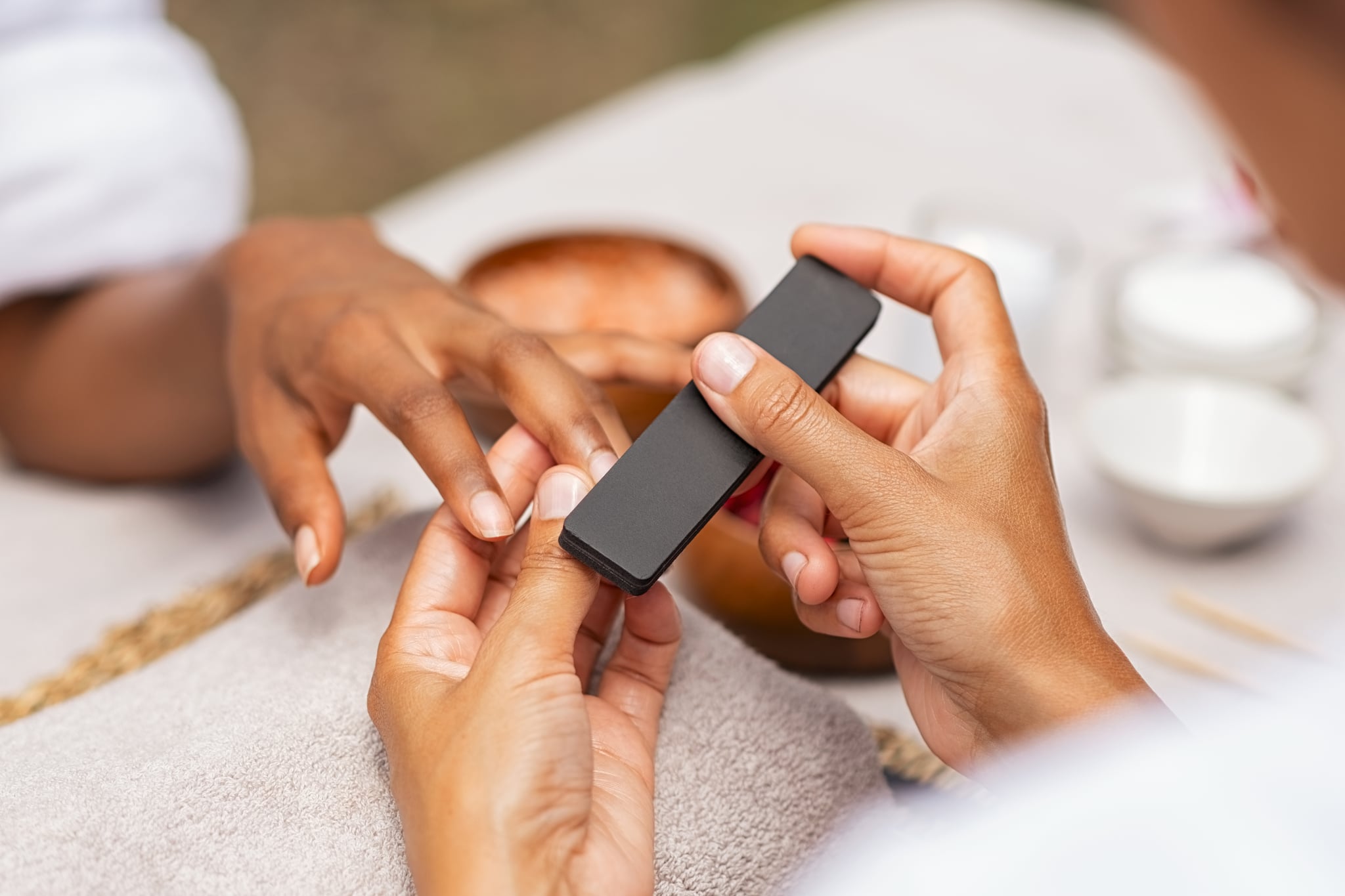 Cuticle cutting is a common practice at some nail salons, but many manicurists and dermatologists recommend against it.
There are common risks associated with cutting your cuticles.
Learn why cuticles are important and how to properly care for them to prevent infections.
"Do you want your cuticles cut?" is something many of us have been asked before by a nail technician, and usually, we respond depending on our personal preference. Some people like to cut their cuticles for aesthetics, others don't because they have sensitive skin, but many dermatologists say there's actually a reason you should respond "no, thank you" to that question when asked.
Cuticles may not be something you've given much thought to outside of the nail salon, but they actually serve an important purpose. "The function of the nail cuticle is to protect the new nail from bacterial and fungal infections as they grow out from the nail root," Corey L. Hartman, MD, founder of Skin Wellness Dermatology in Birmingham, AL, told POPSUGAR. This is imperative because nails are more susceptible to damage, such as getting dried out or infected, during that initial growth phase. Dr. Hartman called the cuticle the "first line of defense" for the nail plate (which is your fingernail itself), the nail matrix (where your nail growth begins), and the nail fold (the tissue that surrounds the matrix).
For that reason, Dr. Hartman and many other dermatologists and manicurists don't recommend that you cut your cuticles under any circumstance, no matter if you're at the nail salon or at home. The practice can potentially open up your nails to numerous infections. "If they are dry, cracked, cut, or interrupted, dirt and bacteria can more easily enter the nail bed and cause skin disorders that require prescription management and, in extreme cases, surgical procedures to treat." Common nail infections include nail fungus and paronychia, which is an inflammatory infection that occurs at the nail fold.
That doesn't just go for cutting cuticles with a traditional cuticle trimmer, either. "Cuticle damage can occur if the nails are picked or bitten, as well as during manicures if they are aggressively pushed back or cut," Dr. Hartman said. When given an option of the two — cut or push back — the latter is the safer option, but he added: "an intact cuticle that is allowed to grow as normal and adhere to the proximal nail fold is the best method of managing the cuticle."
To support healthy nail growth, there's one thing you can do to care for your cuticles (aside from not cutting them). Dr. Hartman recommended you nurture the skin around your fingers by applying a cuticle oil or cream "to lock in hydration and reinforce the skin barrier" — especially in dryer climates, like in the winter, and during times of excessive handwashing.
You can pick up a cuticle oil or cream at your local drugstore or beauty retailer. We like the JinSoon Extract Honeysuckle Primrose Cuticle Oil ($35) (which is a POPSUGAR Beauty Award winner), the Beekman 1802 Pure Goat Milk Cuticle Cream ($12), and the Sparitual Slow Beauty Cuti-Cocktail Vegan Nail & Cuticle Oil ($20).
"Isdin SI Nails ($32) is my favorite nail and cuticle conditioner that can be applied daily or several times a week," Dr. Hartman said. "It is dispensed from a convenient click pen with a soothing brush on one end and saved the hands and cuticles of many of my patients during the pandemic."
Adding this small step to your regular beauty routine can help keep your cuticles healthy, which Dr. Hartman defined as smooth and intact to the nail plate, as well as "uniform in color and free of cuts, abrasions, and rough edges."