8 Top Dermatologists Share Their Winter Skin-Care Routines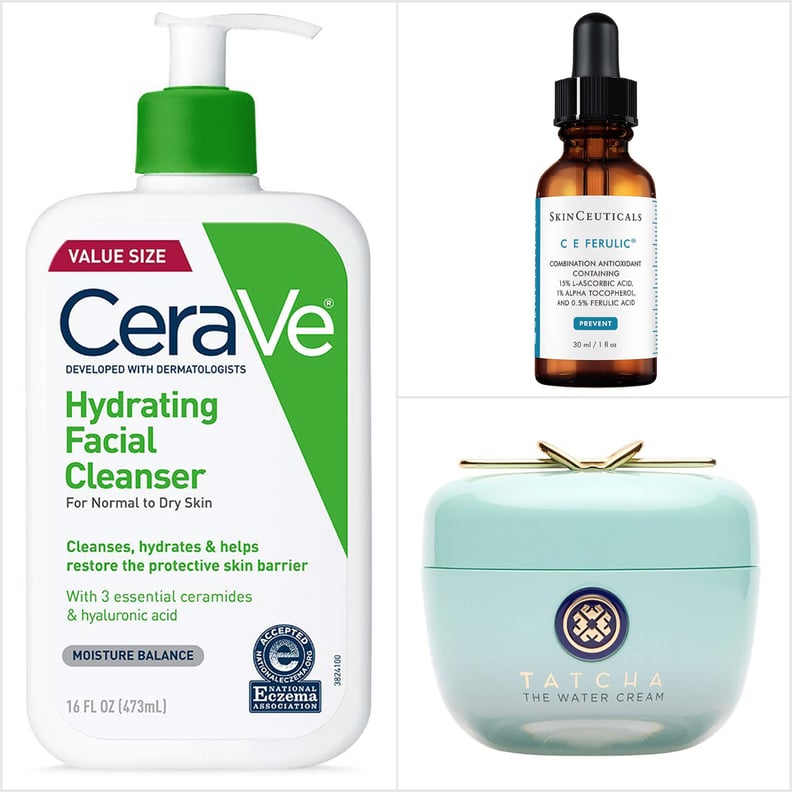 As POPSUGAR editors, we independently select and write about stuff we love and think you'll like too. If you buy a product we have recommended, we may receive affiliate commission, which in turn supports our work.
There's no one we trust more with our most burning skin-care questions than a dermatologist. They spend all day treating their patients' skin-care concerns and recommending treatments, so it's safe to say they know their stuff. With winter — otherwise known as the particularly challenging season for anyone with dry, itchy, or sensitive skin — coming up, we were curious to find out what they personally use every day to keep parched, flakey, and irritated skin away.
As experienced beauty professionals, dermatologists are able to sift through the noise of the industry with ease and find the products that really work. After all, they're motivated by ingredients and science, not passing trends. When the temperatures start to drop, dry winter skin rashes can start popping up, which can be both annoying and painful. However, these dermatologists know how to keep dry skin away in the winter.
With access to the best-of-the-best facials, peels, prescriptions, lasers, and professional-grade products, you can trust that when they say a product works, they really mean it. However, it's a common misconception that dermatologists only use expensive, prestigious brands in their morning and nighttime skin-care routines, when in fact, they love a good drugstore beauty product just like us.
Ahead, we asked eight top dermatologists to share their winter skin-care routines, and you may be surprised by the popular — and affordable — products that made the cut.
Dr. Corey L. Hartman
Corey L. Hartman, MD, FAAD, is a board-certified dermatologist and founder of Skin Wellness Dermatology in Birmingham, AL.
Morning: In the morning, Dr. Hartman starts with the LaRoche-Posay Lipikar Wash AP+ ($15), followed by the Cyspera Intensive Pigment Corrector, a product you can only get through a provider, to fight hyperpigmentation and promote an even skin tone. "It is as powerful as hydroquinone without any of the side effects, risks, or stigma," Dr. Hartman said. Because his first product is a wash-off treatment, he follows up with the Revision Skincare Brightening Facial Wash ($38), which has alpha and beta acids, vitamins C and E, and white-tea extract. Next, for a serum, he uses the Heraux Molecular Anti-Inflammaging Serum ($250).
For eye cream, he calls the Skinbetter EyeMax Eye Cream ($115) "a game changer because it is an eye cream that contains retinol but is not irritating." Then comes a hydrating serum: the SkinMedica HA5 Serum ($105). Dr. Hartman said it's worth the splurge because "with a consistency like no other hyaluronic acid, it delivers the hydration without the stickiness."
Lastly comes SPF by way of the ISDIN Eryfotona Actinica ($60). Dr. Hartman said it's the best sunscreen he's used.
Evening: Dr. Hartman likes to start his evening routine with the Revision Skincare Pumpkin Enzyme Mask ($50), which exfoliates the surface of the skin with micro-exfoliating powders and pumpkin enzymes. He then moisturizes with the Biossance Squalane Probiotic Gel Moisturizer ($52).
Dr. Hartman's nighttime treatment of choice is the Arazlo Tazarotene Lotion, which is prescription. "I attribute 75 percent of my skin's appearance to Tazarotene, which I've used consistently since dermatology residency in 2003," he said. "If I was forced to choose only one product to use daily after SPF, it would be Arazlo all day long."
Neck cream comes last. Dr. Hartman uses the SkinCeuticals Tripeptide-R Neck Repair ($126) and said, "Once I turned 40, I realized that I could no longer ignore my neck."
Dr. Joshua Zeichner
Joshua Zeichner, MD, is the associate professor of dermatology and director of cosmetic and clinical research in dermatology at Mount Sinai Hospital in New York City. "I always recommend a simple skin-care routine to my patients and stick to one myself," he said. "After cleansing, I like to limit a routine to two steps."
Morning: Dr. Zeichner's biggest tip for a great morning routine: "Think of your morning routine as a time of skin protection and prevention of damage." He starts with the Simple Moisturizing Facial Wash ($10). "This ultragentle cleanser uses mild cleansing ingredients and soothes the outer skin layer with vitamin E and chamomile extract," he said. Next up is a vitamin C serum. He likes the Bliss Bright Idea Vitamin C Serum ($25) best.
As a final step in his morning routine, Dr. Zeichner uses the Solara Time Traveler Ageless Daily Face Sunscreen ($42) to moisturize and protect against UV damage. "This all-mineral sunscreen is a great option for winter," he said. "Besides zinc-only protection, it helps protect the skin barrier with prebiotics, ceramides, and squalane."
Evening: At night, the goal of Dr. Zeichner's routine is to hydrate and repair. He starts with the Rodan + Fields Daily Foaming Cleanser ($45) to remove dirt and oil that build up after wearing a face mask all day at work. The Lano Face Base Cream ($24) is his go-to winter moisturizer.
Last, and most importantly, he uses the RoC Retinol Correction Capsules ($33). "I apply retinol every night — it is the best ingredient on the market to address lines and wrinkles," Dr. Zeichner said.
Dr. Adeline Kikam
Adeline Kikam, DO, FAAD, is a board-certified dermatologist and the creator behind the Instagram account Brown Skin Derm. "The goal of my winter skin-care routine is to maximize moisturization and hydration," Dr. Kikam said.
Morning: First things first: cleanser. Dr. Kikam likes to use the CeraVe Hydrating Facial Cleanser ($14) because "it's a very gentle non-moisture-stripping cleanser with ceramides and hyaluronic acid." While her skin is still wet, she sprays the Avene Thermal Spring Water ($14), which fortifies the skin's microbiome. Then, also on slightly wet skin, Dr. Kikam layers on a hyaluronic-acid serum: the FaceGym Hydro-Bound Hydrating Hyaluronic Acid + Niacinamide Serum ($68). "It's a two-in-one product with hyaluronic acid for hydration and niacinamide, which is calming to skin, replenishes moisture barrier, and targets dark spots." Once that absorbs, she applies a vitamin C serum. Right now her choice is the Skinceuticals Phloretin CF ($169) for antioxidants.
For moisturizer and sunscreen, Dr. Kikam likes the La Roche-Posay Toleriane Ultra Soothing Repair Moisturizer ($31) followed by the Tizo Photoceutical AM Replenish SPF 40 ($48).
Evening: At night, Dr. Kikam uses the same cleanser but follows up with a prescription retinoid. For moisturizer, she uses the Epara Brightening Night Balm ($140). "The balm contains argan and sweet almond oil to seal in much-needed moisture while I sleep," she said.
Dr. Y. Claire Chang
Y. Claire Chang, MD, is a board-certified cosmetic dermatologist at Union Square Laser Dermatology in Manhattan, New York. Her approach to treating her skin in the winter is simple and only includes five steps.
Morning: First up is a gentle cleanser. "I use gentle cleansers rather than harsh soaps or scrubs that can irritate and further dry out the skin, especially in the wintertime," said Dr. Chang. Her go-to is the CeraVe Hydrating Facial Cleanser ($14). "It is formulated with ceramides, which reinforce the skin barrier and locks in moisture, as well as hyaluronic acid to attract water to the skin surface."
Next up is an antioxidant serum, followed by a hydrating serum. The SkinCeuticals C E Ferulic ($169) is her favorite for evening skin tone, protecting against environmental pollution, and fighting free radicals. Then she moves on to the No7 Protect & Perfect Intense Advanced Serum ($28). "I add a hydrating serum in the wintertime for a boost of moisture, especially as the weather gets colder and your skin becomes drier," said Dr. Chang.
To moisturize, she uses the CeraVe Moisturizing Cream ($17) in the winter for its thick formula. "Creams have a higher oil-to-water content than lotions to lock in moisture," she said. Lastly, comes EltaMD UV Clear Face Sunscreen SPF 46 ($31).
Evening: At night, Dr. Chang uses the same CeraVe cleanser as she does in the morning, followed by another dose of the SkinCeuticals CE Ferulic serum. Then she uses a prescription retinol for antiaging (for an over-the-counter option, she likes the No7 Advanced Retinol 1.5% Complex Night Concentrate ($30)), and then uses the Neocutis Lumiére Illuminating Eye Cream ($97) to help with undereye puffiness.
Dr. Dendy Engelman
Dendy Engelman, MD, FACMS, FAAD is a Mohs Surgeon and New York City-based dermatologist at the Shafer Clinic.
Morning: First, Dr. Engelman uses the Isdin Micellar Solution Cleansing Water ($35) to wash her face. "I always go to bed with a clean face, so washing my skin in the morning is more about removing the products I applied before bed and [having] a clean canvas for my daytime products," she said. Next, she uses five drops of the dermatologist-favorite SkinCeuticals C E Ferulic ($169).
Following her serum, she uses the Revision D·E·J Eye Cream ($109). "My philosophy is to spend the money on the things that you will keep on your face the longest," said Dr. Engelman. "The eye area is one of the most important areas to treat because it is 40 percent thinner than the rest of the face, meaning it can be the first to show signs of aging."
To moisturize she uses the Elizabeth Arden Hyaluronic Acid Ceramide Capsules Hydra-Plumping Serum ($54) before applying the Elizabeth Arden Prevage City Smart Broad Spectrum SPF 50 Hydrating Shield ($72) to protect against UV/UB rays. To reapply throughout the day, she uses the ISDIN Mineral Brush ($55). "It helps absorb excess oil and can be applied right over my makeup," she said.
Evening: Dr. Engelman starts her nighttime routine off with a double cleanse, first using the Farmacy Green Clean Makeup Removing Cleansing Balm ($24) followed by the Epionce Lytic Gel Cleanser ($40), which she loves because it has willow-bark extract (a natural anti-inflammatory) and balances the skin's pH.
Then she uses the Biologique Recherche Lotion P50 Original 1970. "This is a beauty-lover cult-favorite that I have used and loved for years," said Dr. Engelman. After that comes Elizabeth Arden Retinol Ceramide Capsules ($92) for antiaging.
Dr. Shari Marchbein
Shari Marchbein, MD, FAAD, is a New York City-based dermatologist and clinical assistant professor of dermatology at the NYU School of Medicine.
Morning: Dr. Marchbein uses the Neutrogena Ultra Gentle Daily Facial Cleanser For Sensitive Skin ($4) to wash her face every morning. "[I] use lukewarm water, not hot, so as to not strip the skin of moisture and pat the skin gently afterward to dry it," she said.
She uses two serums: the SkinCeuticals Phloretin CF With Ferulic Acid ($169) and the SkinCeuticals H.A. Intensifier ($106). "Hyaluronic acid serums are key in the wintertime since [the ingredient] is a humectant, which attracts and binds to water molecules and increases the water content of the skin," said Dr. Marchbein.
For SPF, she uses the Alastin HydraTint Pro Mineral Broad-Spectrum Sunscreen SPF 36 ($60) which has a light tint.
Evening: After cleansing with her Neutrogena cleanser again, she uses the SkinCeuticals Discoloration Defense ($102) to help with hyperpigmentation. "I also apply peptides for my eyelids and face at night to help boost production of collagen and elastin, which improves the appearance of fine lines and wrinkles," said Dr. Marchbein. Her two go-tos are the Skinbetter Science InterFuse Treatment Cream Eye ($110) and Alastin Restorative Skin Complex ($199).
To apply her prescription retinol, she uses the "sandwich technique," which involves layering a moisturizing product first, then retinol, followed by another moisturizing product. To do this, she ends with the CeraVe Moisturizing Cream ($17).