Dull, Tired-Looking Skin? This Serum Works Wonders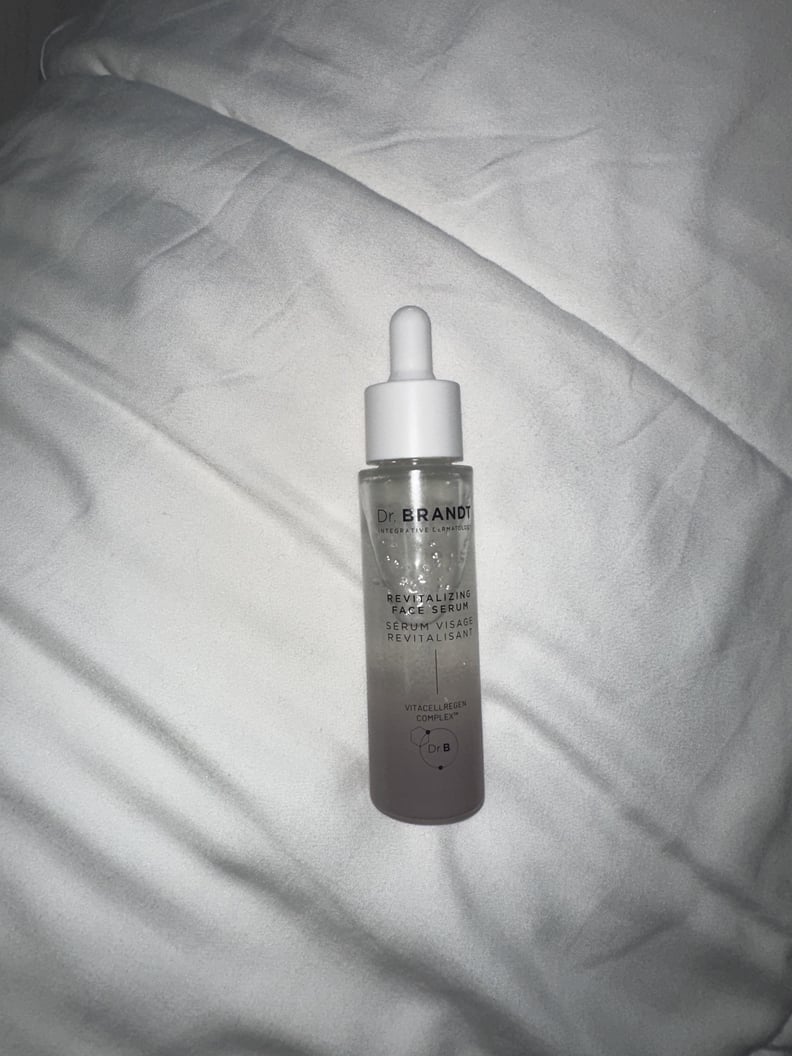 Taylor Augustin
Taylor Augustin
As POPSUGAR editors, we independently select and write about stuff we love and think you'll like too. If you buy a product we have recommended, we may receive affiliate commission, which in turn supports our work.
My fiancé regularly tells me I have a hoarding problem when it comes to skin care, and while he's (sort of) joking, I can't help myself. Part of my job as a beauty writer is testing out new products, and 2023, in particular, has been full of some pretty major launches.
Whenever something new hits the market, I immediately consider the brand's credibility as well as the product's ingredients list, and I was completely blown away by the new Dr. Brandt Revitalizing Face Serum ($135). Because it's a dermatologist-founded company with science at its core, I knew I could trust its claims that it was formulated to treat fine lines and signs of aging.
Now that I've been using the serum for the last three weeks, I can confirm: I have already noticed a significant improvement in my skin's radiance, but that's not all. Keep scrolling for my honest review of the Dr. Brandt Revitalizing Face Serum.
About the Dr. Brandt Revitalizing Face Serum
It's formulated with ingredients like Japanese rose stem cells, oligopeptides, and nasturtium stem extract, which work together to target collagen loss and improve the skin's barrier.
Every drop is microencapsulated with 20,000 optimal-release pearls, which the brand claims allows the serum to penetrate the skin on a deeper level.
The product has no synthetic fragrance and has a naturally derived, light rose smell.
What I Like About Dr. Brandt's Revitalizing Face Serum
I'm a sucker for pretty packaging, and Dr. Brandt's Revitalizing Face Serum meets all of my needs in that department. It looks right at home on my acrylic shelves and comes in a sturdy glass bottle, which I appreciate.
But the best part of the serum in my opinion has to be the feel of the product itself. It has a super-lightweight and almost watery texture, allowing for it to easily absorb. I've been looking forward to this particular step in my skin-care routine every day since I first started using it and already noticed a change in my skin's feel and appearance. Not only does my skin look more radiant and less dull, but the serum also hasn't caused any sensitivity or irritation.
At this point in my life, I don't have a ton of fine lines (thanks, Botox); however, I'm a year shy of 30, and I do believe in preventative skin care, which is why I plan on using every last drop of this face serum.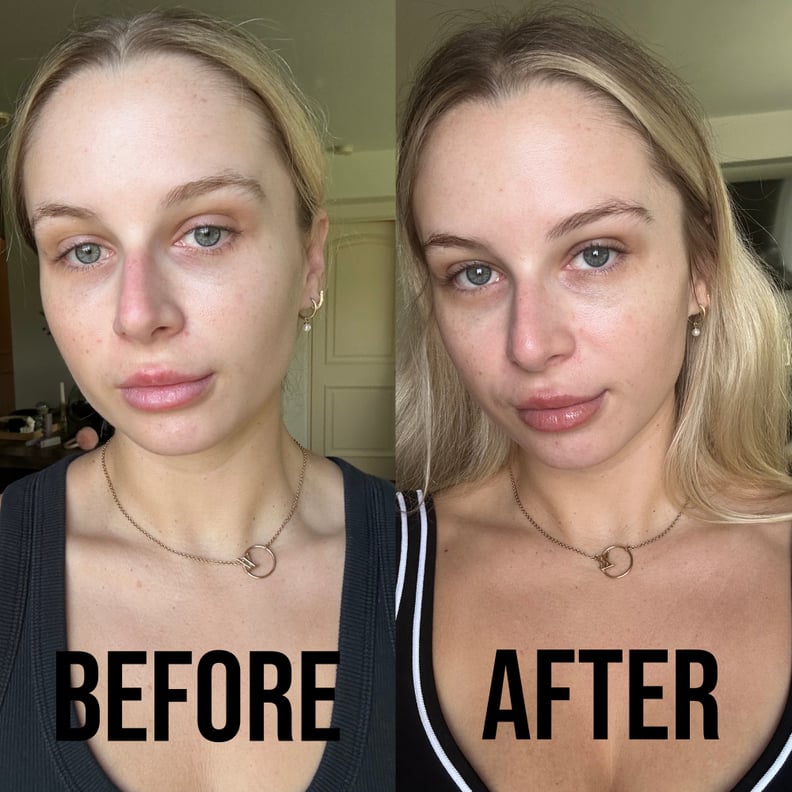 How to Use Dr. Brandt's Revitalizing Face Serum
If you ever find yourself confused about what order to apply your skin-care products, just know that the general rule of thumb is to go from lightest to heaviest in terms of texture. With that in mind, I personally like to follow the order of cleanser, toner, serum, moisturizer, then oil.
So after using my favorite cleanser and toner, I go in with Dr. Brandt's Revitalizing Face Serum. I squeeze the dropper in the bottle, which picks up about half a syringe worth of product, and empty it out into my hand. I rub my palms together and massage the serum onto my face in upward motions, which the brand suggests doing. This particular formula can be used both day and night, which is how I've been incorporating it into my skin-care routine for the last three weeks.
What to Consider Before Trying Dr. Brandt's Revitalizing Face Serum
Because its ingredients mostly target collagen loss and are meant to treat fine lines, you probably don't need this product if you're under the age of 25. However, for anyone experiencing the above and other signs of aging like dullness and a lack of elasticity, chances are you would be best suited for this serum.
Is Dr. Brandt's Revitalizing Face Serum Worth the Splurge?
It's worth noting that this product is not cheap. That is true, but I'm also a firm believer in investing in your health, whether that's going to therapy, getting a gym membership, or splurging on skin care. If it makes you feel better and brings back confidence, and you have the means to comfortably make the purchase, why wouldn't you invest in yourself? I'd much rather put my money into products that continuously give back to me over expensive cocktails at a bar, but that's just me. And while I know $135 for a bottle of serum is definitely on the pricier side, I say it's well worth the splurge and would recommend it to anyone who has fine lines or dull skin.
Rating:
★★★★☆