This $435 LED Mask Is Worth Every Damn Penny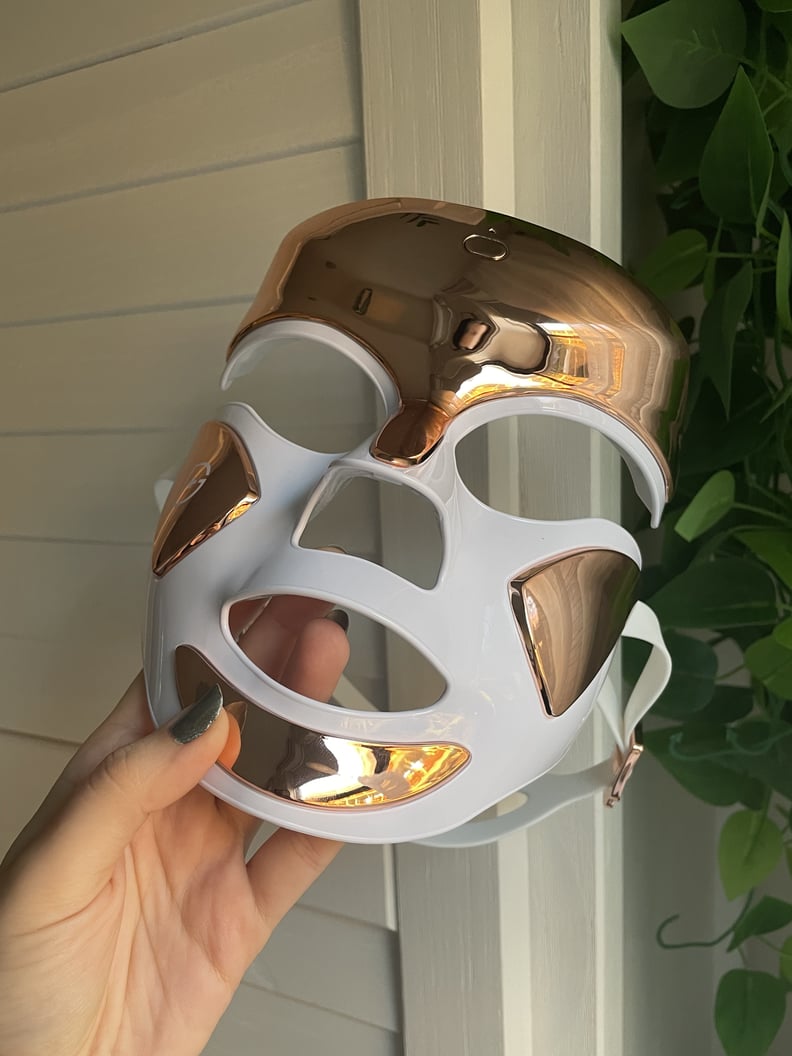 POPSUGAR Photography | Jessica Harrington
POPSUGAR Photography | Jessica Harrington
As POPSUGAR editors, we independently select and write about stuff we love and think you'll like too. If you buy a product we have recommended, we may receive affiliate commission, which in turn supports our work.
The Dr. Dennis Gross Skincare DRx SpectraLite FaceWare Pro is a great LED light-therapy treatment.
The mask is an at-home, hands-free skin-care device.
The LED mask has three light settings: red, blue, and both colors together.
I have a weakness for beauty tools. Nail tools, makeup apparatuses, skin-care tech — you name it, I love it. But even with my unwavering fascination for all beauty gadgets, I know that not all are created equally. Some tools will give you short-term benefits, like a lift or subtle glow, while others invoke change under the skin leading to longer-term changes. LED masks fall into the second category and are great for everything from treating acne to increasing collagen production. I've used my fair share of smaller LED tools and gotten the treatment done professionally during a facial, but I had been wanting to get a good, full-size LED face mask to use at home. The Dr. Dennis Gross Skincare DRx SpectraLite FaceWare Pro ($435) ended up being perfect.
Let me address the elephant in the room: I realize this product is hundreds of dollars, which might make it out of many people's budget, but if you can swing it, here's why I think it's worth it. Unlike some LED masks on the market, the SpectraLight FaceWave Pro mask was created by a dermatologist-owned brand and is an FDA-approved treatment, so you can trust that it's really doing what it promises. It works in just three minutes to target fine lines, blemishes, and redness with three light settings: blue, red, and red and blue together.
The blue mode targets acne-causing bacteria to treat and help prevent future blemishes, as well as minimize redness and inflammation from current and past breakouts. The red mode, on the other hand, supports natural collagen production. When used in the red-and-blue mode, you get all of the above benefits, plus reducing the appearance of wrinkles and fading discoloration for a brighter, more even skin tone. The device is controlled by a single button at the top middle of the mask, making it incredibly simple to use.
What sets the SpectraLight FaceWave Pro apart from other options (aside from its FDA stamp of approval) is how the mask fits on the face. It perfectly conforms to your forehead, cheeks, and chin, and is secured with an adjustable strap behind the head so you can use it just as easily laying down as you can while walking around the house. It comes in a storage bag with a USB charging cord. To use it, you first secure it on your face before pressing the power button. To cycle through the different modes, you just press the same button until you land on your desired light setting. From there, the treatment automatically starts and will go for three minutes, then shut off automatically when the time is up.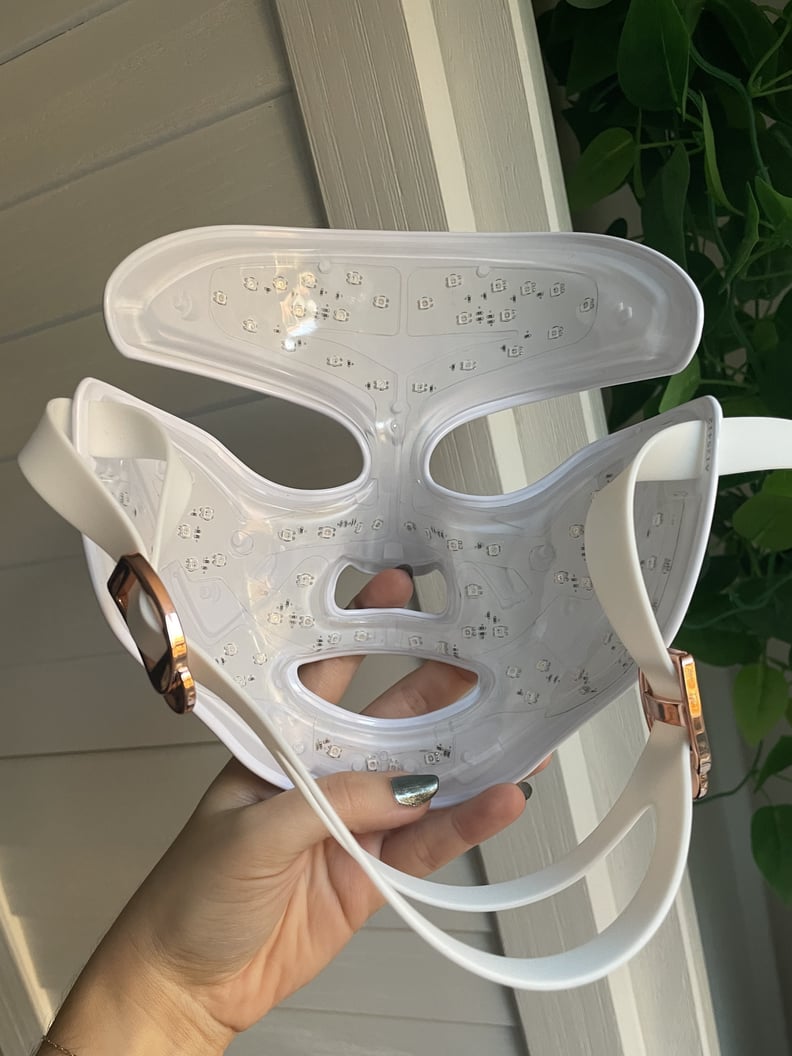 There are a number of things that I love about the Dr. Dennis Gross Skincare DRx SpectraLight FaceWave Pro. First is the fit. Most LED masks that I've tried slip and slide around on my face, making them only usable when laying down and holding them in place. I can put this one on and go about my day, from watching TV to folding laundry. I also love how easy it is to use. There aren't any overcomplicated settings — you simply press a button and it begins to work its magic. Though LED light therapy takes a little while to see the benefits — Dr. Dennis Gross Skincare recommends you use it for 10 weeks to see results — I feel the blue-light treatment immediately reduces any redness I'm experiencing.
I like to use the LED mask as part of my nighttime skin-care routine after cleansing. I put it on, then occupy myself for three minutes while the lights do their thing. After the time is up, I finish the rest of the steps in my regimen. I was once recommended by an aesthetician to use it like this: three nights on, one night rest, and repeat. I rotate through the different colors and choose the treatment based on what my skin needs on that given day. If I feel a breakout coming on, I use the blue light; if my skin feels pretty balanced, I'll use the red and blue; if I'm already having a great skin day, I'll do the red.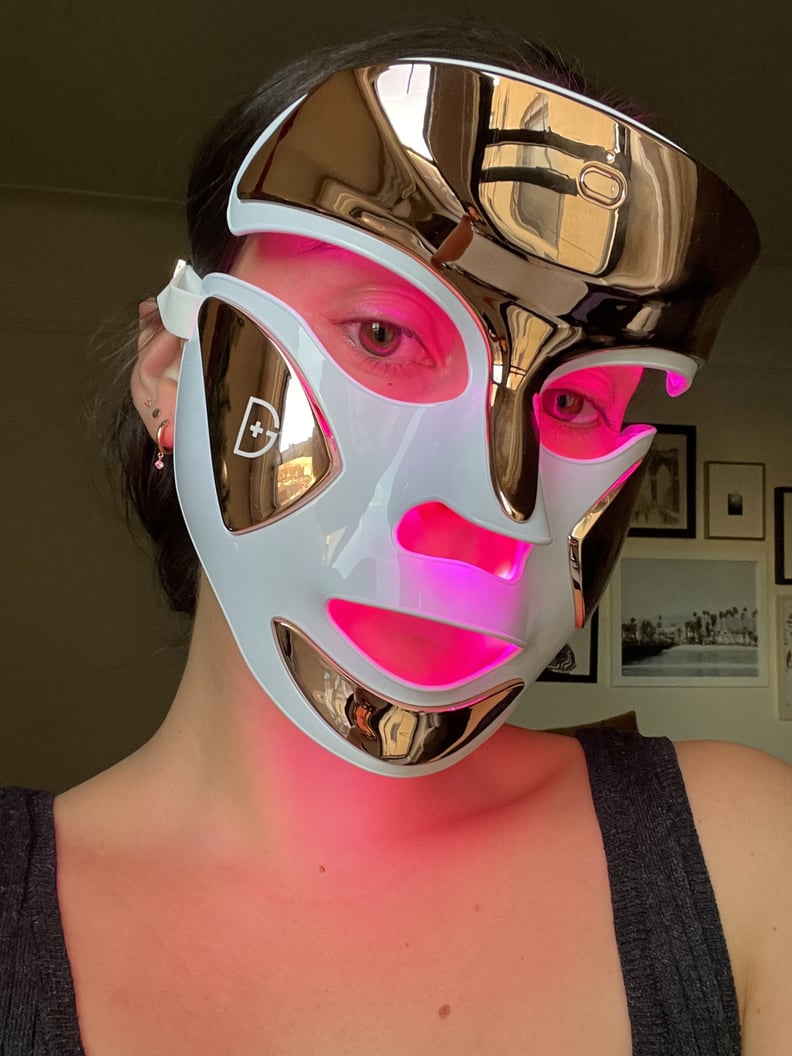 Whether you're shopping for yourself or looking for the perfect gift for the skin-care-obsessed person in your life, if you have some extra money to splurge, the Dr. Dennis Gross Skincare DRx SpectraLite FaceWare Pro won't disappoint.
Rating:★★★★★