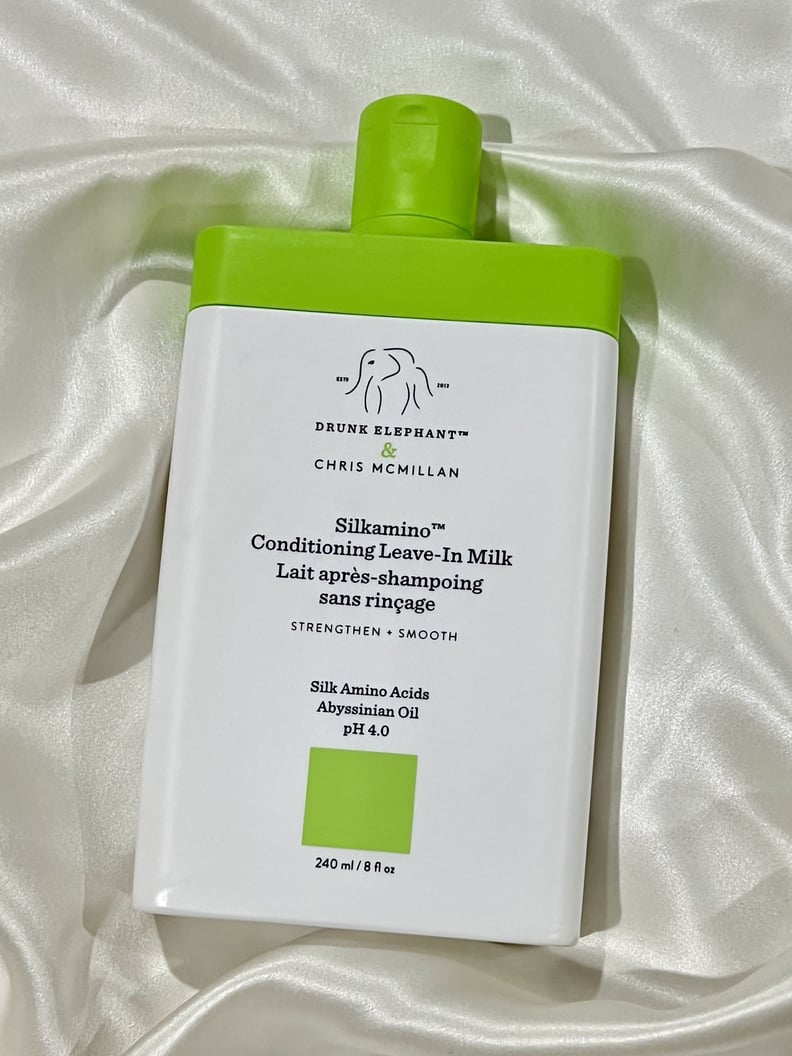 POPSUGAR Photography | Anvita Reddy
POPSUGAR Photography | Anvita Reddy
As POPSUGAR editors, we independently select and write about stuff we love and think you'll like too. If you buy a product we have recommended, we may receive affiliate commission, which in turn supports our work.
We've all had those days where your hair doesn't listen to you. It just does the exact opposite of what you want. I realized that using the right leave-in conditioner can significantly help how my hair cooperates when going from wet to dry. Just like how a hydrated complexion or a proper primer can make all the difference in a flawless makeup application, a good leave-in conditioner preps your hair for your styling needs, whether it's a '90s blowout or effortless beachy waves. It can truly make or break how your hair looks and feels and even impacts how easy it is to style and manage. Drunk Elephant is coming out with a new leave-in conditioner that is supposed to deeply hydrate, strengthen, and smooth out your hair while maintaining movement and volume.
The Silkamino Conditioning Leave-In Milk ($32) is a multitasking product that combines the best parts of a leave-in conditioner, a styling milk, and a heat protectant. It's supposed to deeply moisturize, strengthen and protect the hair, and smooth it out for a soft-as-silk feel, and it does not disappoint. It contains silk amino acids and proteins, Abyssinian oil, argan oil, and marula oil for hydrated, manageable ends and a frizz-free, shiny finish. I got a chance to test it out firsthand, and it's worth every penny.
How I Use the Drunk Elephant Silkamino Conditioning Leave-In Milk
The leave-in has a creamy-jelly-like texture that feels thick at first but becomes lightweight and fast absorbing when I distribute it onto my towel-dried, damp hair. It has a light, sweet, vanilla-like scent, but it's not overwhelming; you can barely notice it. I use around a quarter-size amount for my hair, concentrating it on the ends and slowly working my way up to the roots. Since the Silkamino Conditioning Leave-In Milk is fast absorbing and deeply hydrating, I add a smaller amount specifically to my scalp. My scalp tends to get dry and flaky, especially when I heat-style or blow-dry my hair. Doing this helps retain the hydration of my scalp; it feels like putting a lightweight moisturizer or hyaluronic acid on my scalp. However, the leave-in conditioner doesn't feel heavy or greasy and doesn't really affect the volume of my roots, either. I even use a tiny bit on my dry hair to tame my flyaways and replenish and moisturize my ends on day-two and -three hair.
How the Drunk Elephant Silkamino Conditioning Leave-In Milk Performs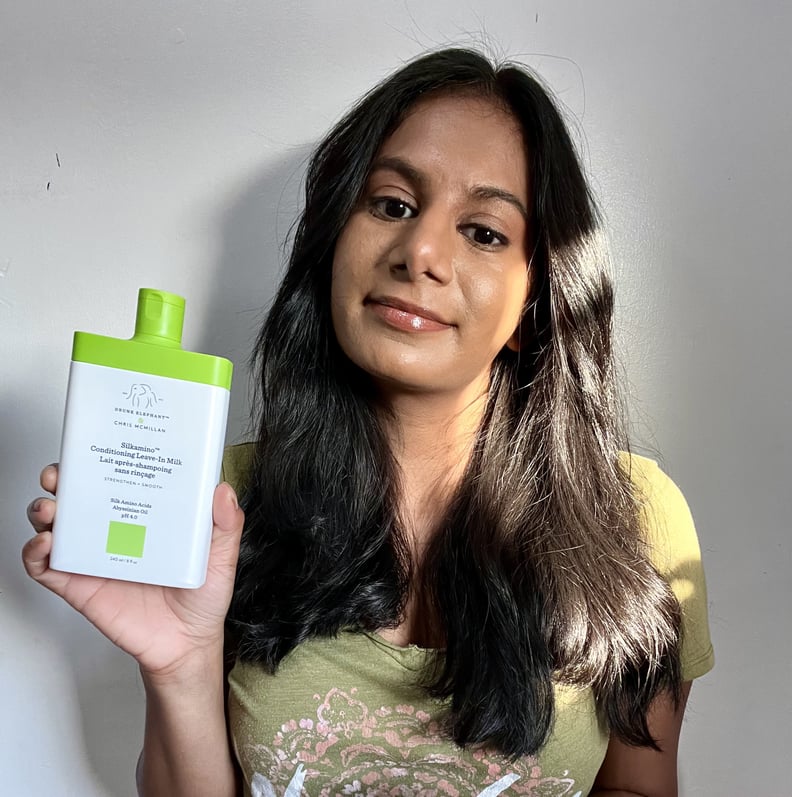 As I was combing through my hair with my fingers distributing the product evenly, I noticed that the leave-in was doing a pretty good job at detangling and retaining the hydration of my hair. While blow-drying my hair, I didn't come across a single snag. My hair instantly felt conditioned and soft; each piece just slipped through my hands and brush. The blow-drying process was a breeze. My hair came out feeling silky soft with no frizz and a shiny finish. The only place I used a flat iron was to style my bangs. The Silkamino Conditioning Leave-In Milk even helped my hair stay frizz-free during the summer heat. The picture above was taken about five hours after styling and after I was outside in mid-70-degree weather for two hours.
The Drunk Elephant Silkamino Conditioning Leave-In Milk instantly became a staple in my hair-care routine. With this leave-in, my hair listens to me; it's so easily manageable. It flips and sets the way I want it to while diminishing frizz. My hair stays detangled and oh-so-silky soft for days. It is deeply conditioning and adds hydration to my hair, yet it doesn't impact volume and movement; it feels weightless. I love that it's so versatile and multifunctional. I highly recommend the Silkamino Conditioning Leave-In Milk for everyone, especially those with drier ends or damaged hair, whether it's from color-treating or heat-styling. The leave-in conditioner makes your hair more manageable for easy styling, plus it feels softer and silkier than ever. You can shop the Silkamino Conditioning Leave-In Milk at Ulta ($32) and Sephora, along with the new Silkamino Mega Moisturizing Shampoo and the new Silkamino Mega Moisturizing Masker right now.
Rating:
★★★★★