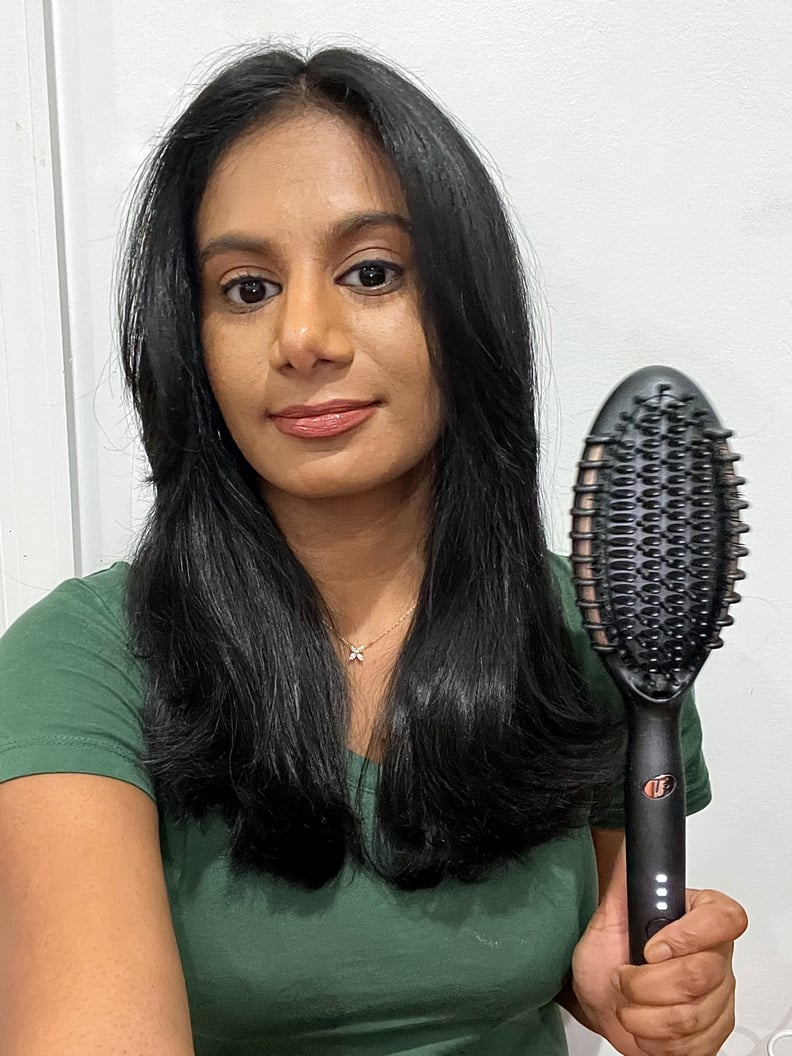 POPSUGAR Photography | Anvita Reddy
POPSUGAR Photography | Anvita Reddy
As POPSUGAR editors, we independently select and write about stuff we love and think you'll like too. If you buy a product we have recommended, we may receive affiliate commission, which in turn supports our work.
Heated hairbrushes are going viral on TikTok for getting that effortless, blowout-like look without putting in much work. One editor, for example, loves the results the GHD Rise Volumizing Hot Brush delivers in just 10 minutes flat, while another has raved about the under-$50 option from Revlon.
It's clear that people love heated styling brushes, and I had to try one out for myself. My biggest goal is smoothing frizz and flyaways, which I struggle with year-round. No matter what hair tool I use, my hair never listens — until I got a chance to try the T3 Edge Heated Straightening Brush ($100, originally $150). Now, I'm convinced it's worth the hype, and guess what? It's more than 30 percent off for Amazon Prime Day, but act fast — the sale only lasts through July 12.
What Is the T3 Edge?
The T3 Edge is a heated styling paddle brush that's supposed to straighten hair while smoothing frizz and flyaways — exactly what I needed. It has three heat settings ideal for all hair types and textures. If you already have fairly straight hair that needs a refresh, you can use the lowest heat setting. If you've got wavy hair, go for the second heat setting. The highest heat setting is best for those with curly hair. However, all hair types can use any heat setting according to what their hair needs at the moment. It's a versatile hair tool that functions like a paddle brush, a flat iron, and a blow-dry brush.
The heated hairbrush has ceramic plates with a bristle-like structure that delivers even heat through the hair shaft. It has a built-in ion generator that's supposed to reduce frizz and flyaways, boost shine, and give that blowout-like appearance. Plus, the outer portion of the paddle brush is lined with nylon bristles to help separate, detangle, and smooth the hair. It has an extended heated edge on either side of the paddle brush, great for creating a smooth, shiny look. It comes in handy for creating flips and curls at your ends without kinks or bends, unlike a clamp curling iron. The heated edge portion has ridges that help separate the hair and prevent you from accidentally burning yourself.
How to Use the T3 Edge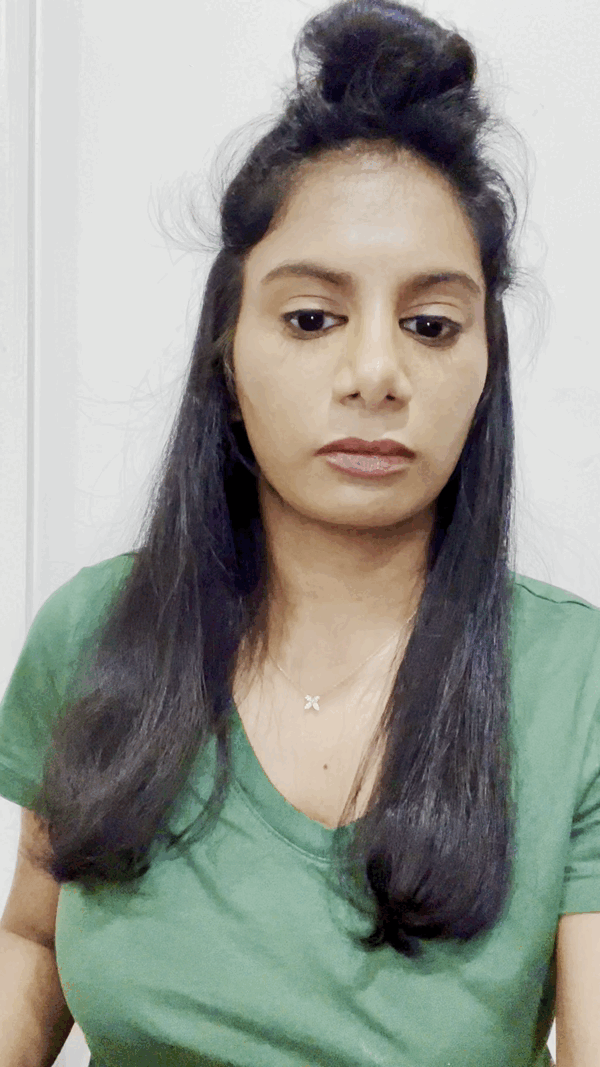 I found this hair tool is incredibly simple to use, which is meant to be used on dry hair. Select your ideal heat setting, and wait a few minutes for it to heat up. In the meantime, part your hair into smaller sections to make it easier to reach every strand from root to tip. Take a two-inch portion of your hair, start from the root, and slowly glide down to the tip. That's it.
In just one go-around, hair looks more polished, smooth, and even shiny with barely any frizz. If you want to increase the volume and lift at the root, I place the curved part of the paddle brush near the root and lift upward and outward and follow through with the curve for a full-bodied look. Sometimes, I even hold it near the root and lift it for height. Also, to create a flip or a curl, I like to curve the paddle inward or outward when I get toward the bottom of my hair to give it an effortless shape.
Why I Like the T3 Edge
This heated hairbrush is my new go-to styling tool. I styled my hair at a much faster rate than using a hairdryer brush or a flat iron. We're talking from frizz to fully styled in less than 15 minutes. It's the perfect blend between a flat iron and a hairdryer brush, especially if you want to get that salon-blowout look. A traditional flat iron can smooth out frizz and straighten your hair for a sleek look. However, if you want volume and bounce, this smooths out my hair without diminishing that. Unlike a hair-dryer brush, this heated hairbrush comes in handy for touching up second-day or third-day hair. Plus, I noticed that this heated straightening brush doesn't produce flyaways, unlike flat-ironing my hair or blow-drying it.
The bristle design helps detangle, and the controlled heat revives the hair for a polished yet voluminous look. The nylon bristles at the edges add grip and tension for optimal styling and control. Although it's a heat styling tool, it isn't as intense as traditional hot tools or a blow dryer. I feel like it gives me the desired look without using so much heat, and therefore, it seems less damaging to my ends in the long run.
Another plus point is that it's convenient to travel with, especially if you're in a climate with high humidity. The T3 Edge is not massive like a hairdryer brush, and it's not clunky like a blow dryer. It can fit nicely in a weekender bag without having to play Tetris. Fix the frizz in just minutes, or refresh your hair from day to night with one versatile tool. It's all you need to bring.
The T3 styling brush has replaced my flat iron and blow-dryer brush. It's efficient, it's not as damaging, and it tames frizz and flyaways while giving me a shiny, healthy-looking, fresh blowout with volume for days. On top of all that, you're less likely to burn yourself using this tool. I highly recommend this to anyone who needs to downsize their hair routine or wants something that fits their on-the-go lifestyle.
Ratings:
★★★★★