The Hair and Makeup in "Emily in Paris" Season 3 Is Bolder Than Ever Before
As POPSUGAR editors, we independently select and write about stuff we love and think you'll like too. If you buy a product we have recommended, we may receive affiliate commission, which in turn supports our work.
Netflix's "Emily in Paris" returned for a third season on Dec. 21 and, things are getting interesting. Emily Cooper (played by Lily Collins) finds herself playing double agent for her American boss, Madeline (Kate Walsh), while also being pulled in a different direction by her French boss, Sylvie (Philippine Leroy-Beaulieu). Not to mention, she has a new love interest, Alfie (Lucien Laviscount), in the picture, yet Gabriel (Lucas Bravo) is still hanging around in the background.
But the love triangles, work drama, and European escapades with best friends Mindy (Ashley Park) and Camille (Camille Razat) aren't the only reasons to watch. Season three, just as the two before it, is bursting with lavish outfits and runway-worthy hair and makeup moments (and yes, those aspirational eyebrows).
"We wanted to elevate the hair and makeup this season," Aurélie Payen, the show's makeup department head, tells POPSUGAR. "Seasons three is very different — Emily is more mature, and she has decisions to make." She's fully transformed, both on the inside and outside, leaning into the Parisian lifestyle and classic French girl beauty.
Ahead, Payen shares some behind-the-scenes beauty details from "Emily in Paris" season three, including more context on Emily's new bangs hairstyle.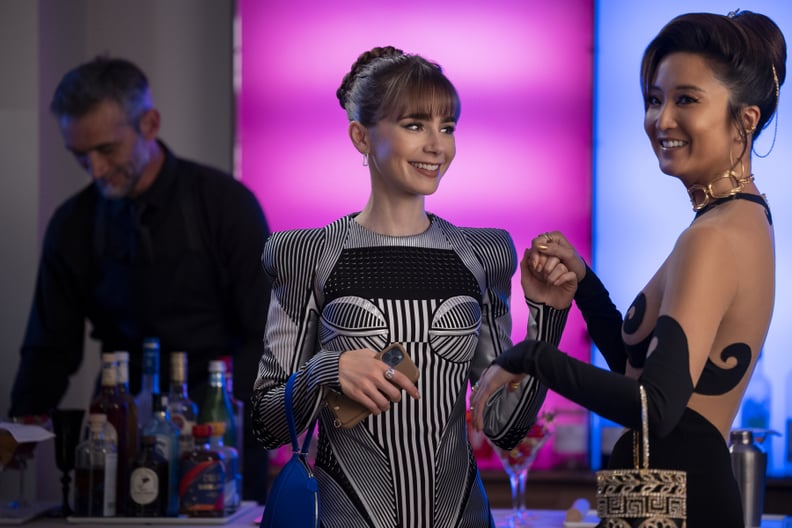 What Makes the Hair and Makeup in Season 3 Different
In general, the makeup is much bolder and more colorful this season. "We played more with the makeup — the lips, the eyes," says Payen. "We did crazy fluorescent eyeliner, for example, for some characters. We did graphic eyeliner as well." But that doesn't mean you won't see your fair share of classic French-inspired trends make an appearance.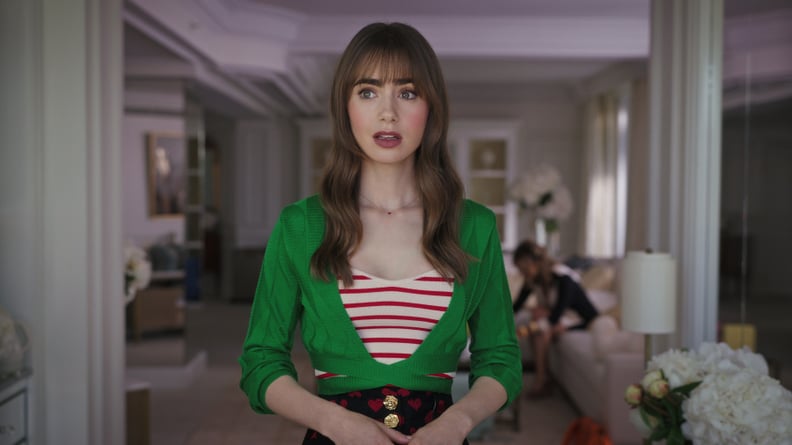 Emily's New Bangs Prove She's Loving the Parisian Lifestyle
Right out of the gate, the biggest change in Emily's appearance is her bangs. "They bring a little bit more of the French culture in the hair look," says Payen. While the rest of Emily's hairstyle stays relevantly the same — long, with loose, cascading waves — the bangs add an extra touch of cool French girl attitude. They're a personification of just how well Emily is settling into her new life in Paris.
The bangs also give Emily an Audrey Hepburn quality, especially when she has her hair styled in an updo.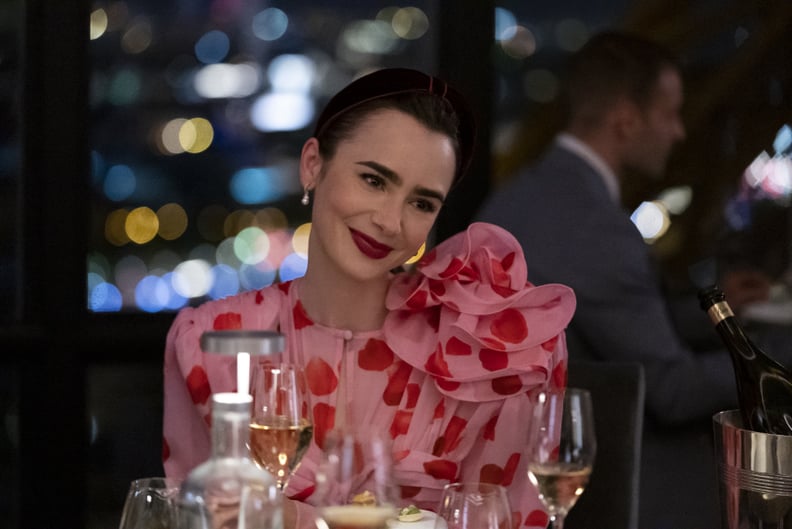 Emily's Red Lipstick Represents Her Dedication to Her Career
Emily's love life may be blossoming but make no mistake: she's in Paris for work and she's still very focused. Being a motivated, powerful career woman is who Emily is at her core, so Payen wanted her makeup to represent that. "We use red lips in France to go out — for example, when you have a party at night, you want to put on a red lip and eyeliner," she says. It's also not uncommon to see powerful businesswomen in France rocking bold, red lipstick to signify their power and confidence in the workplace.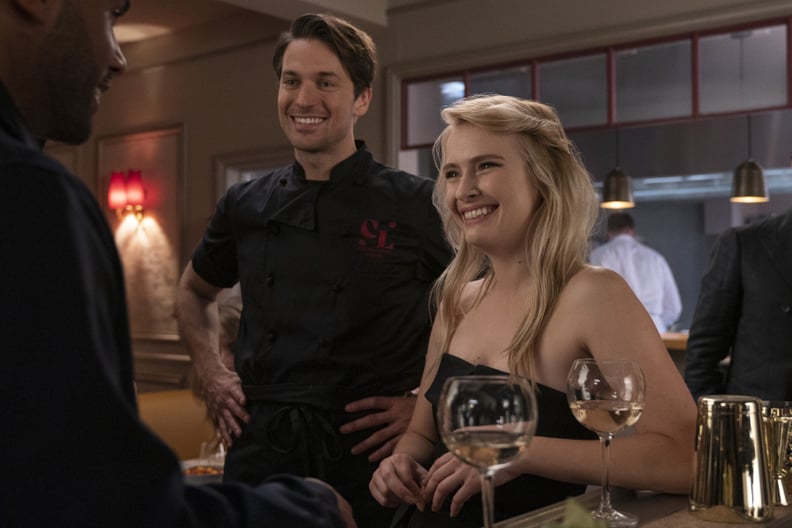 Camille Does French Girl Beauty Best
No one does French girl beauty like Camille for obvious reasons. "She's the Parisian woman by excellence," says Payen. As a twenty-something-year-old actor born in Toulouse, France, Razat isn't far off from the character she plays. For her beauty look, Payen wanted to keep it classic and chic. The goal was to keep Camille's appearance "very low key and natural and French," at first, but she does branch out a bit with fun eyeliner moments as season three goes on — especially as she begins to experiment a bit more with her clothes.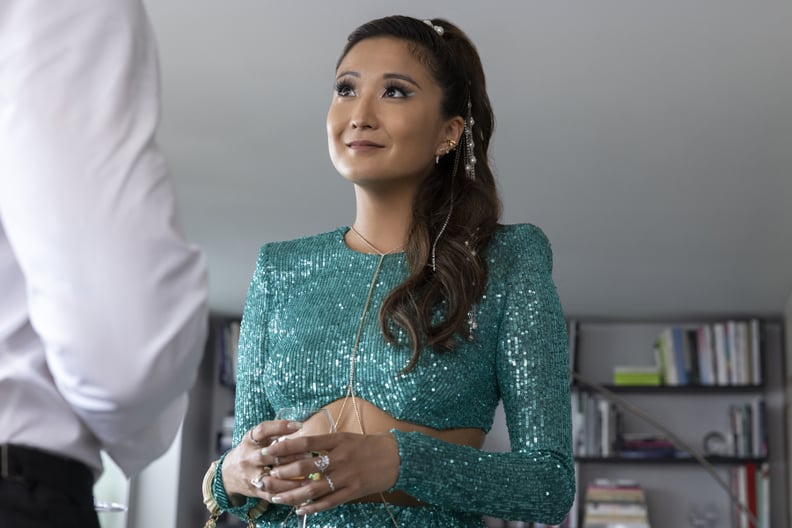 Mindy's Makeup Style is Bolder Than Everyone Else
Mindy has a whole different vibe about her. Inspired by more American beauty trends, Payen really wanted Mindy to be playful with her hair and makeup — especially when she's working as a cabaret singer. "She will have beautiful fluorescent-colored eyeliner; she will have rhinestones, she will have fake eyelashes," she says. She's not afraid to stand out and be the star of the show — she'd prefer it.
Payen's favorite makeup look on Mindy is the florescent green eyeliner she wore in one of the cabaret scenes. "She's wearing all-black, and we only see the eyeliner and it's very beautiful," she says.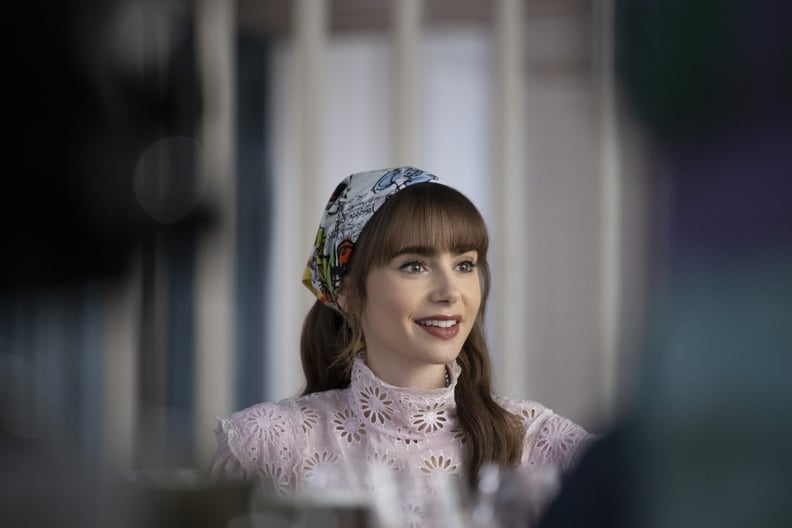 The Secret to Emily's French Girl Makeup Look
Collins is a face for Lancôme Beauty, so it should come as no surprise that Payen used the Lancôme L'Absolu Rouge Drama Matte Lipstick ($32) on her — but she can't share the exact shade. "Sometimes I mix them to create my own color," she says.
She also used a combination of cream blush and powder blush to give Emily a rosy glow. For a monochromatic look, she'd continue the shade on the eyes, too. Aside from that, Emily's go-to makeup look was completed with lots of mascara. "Because she has a bang now, so I couldn't play too much with the eyes without losing the whole face," says Payen. She used layers and layers of Hypnôse Volumizing Mascara ($29) to give Emily a doe-eyed look.