Emma Stone has "Superbad" to thank (or perhaps blame) for her now-signature hair color. In a new oral history in Vanity Fair timed with the teen comedy's 15th anniversary, it was revealed that Stone only dyed her hair red, which is often mistaken to be her natural hair color, to differentiate her character, Jules, from the other romantic lead, Becca, played by Martha MacIsaac.
Judd Apatow, who produced "Superbad," said, "There was a concern that she had the same color hair as Martha MacIsaac's. And I said, 'Well, maybe it could be like red or something.' So we dyed her hair red, which I think she had never done before." He added, "And since then, she has cursed me because now people love her with red hair and she's had to live with that for a lot of her adult life."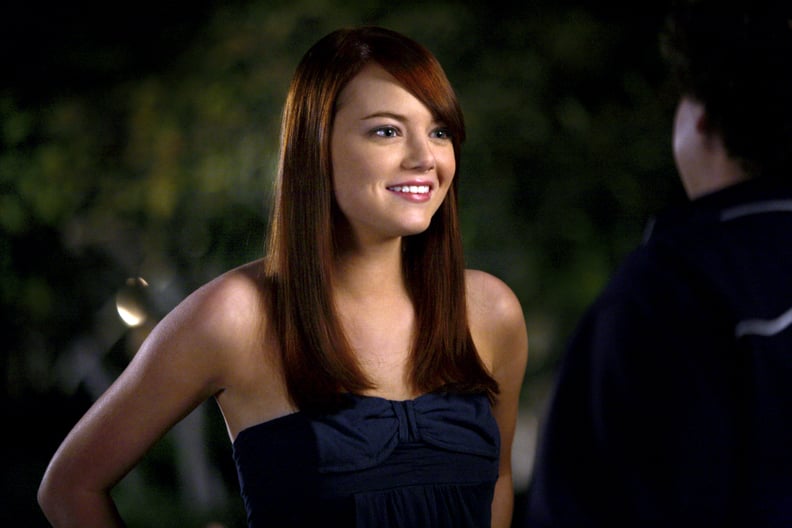 Stone's natural hair color is blond, although over the years, she's tried all sorts of shades including copper, chestnut, and strawberry blond. Celebrity hairstylist Tracey Cunningham was responsible for dyeing Stone's hair red for "Superbad" in 2006. Cunningham previously told POPSUGAR, "One of my other favorite memories was when Emma Stone came to me for 'Superbad' and we made her a redhead. It was so beautiful. I loved it."
The fiery hair color has stuck, however, and Stone has appeared as a redhead in several subsequent films, most notably "Easy A," "Crazy, Stupid, Love," and "La La Land," which earned her an Oscar.