As POPSUGAR editors, we independently select and write about stuff we love and think you'll like too. If you buy a product we have recommended, we may receive affiliate commission, which in turn supports our work.
In "Enola Holmes 2," Millie Bobby Brown is back alongside Henry Cavill and Helena Bonham Carter for another round of mystery-solving. After establishing herself as a detective in her own right, Enola Holmes (played by Brown) sets out to open her own agency only to find herself still fighting to get out of the shadow of her uber-successful older brother, Sherlock Holmes (played by Cavill).
However, once Enola gets her first case about a missing girl, she ends up needing the help of her friends, her brother Sherlock, and her mother, Eudoria (played by Bonham Carter). Much like "Enola Holmes," this Netflix sequel is a period piece set in early 1900s England. But it has a few thoughtful modern touches — like breaking the fourth wall — and the beauty looks definitely follow suit. We went straight to the source to find about the hair and makeup choices you can expect to see in "Enola Holmes 2," which hits Netflix on Nov. 4. Keep reading to find out what we learned from the film's hair and makeup department head, Peter Swords King.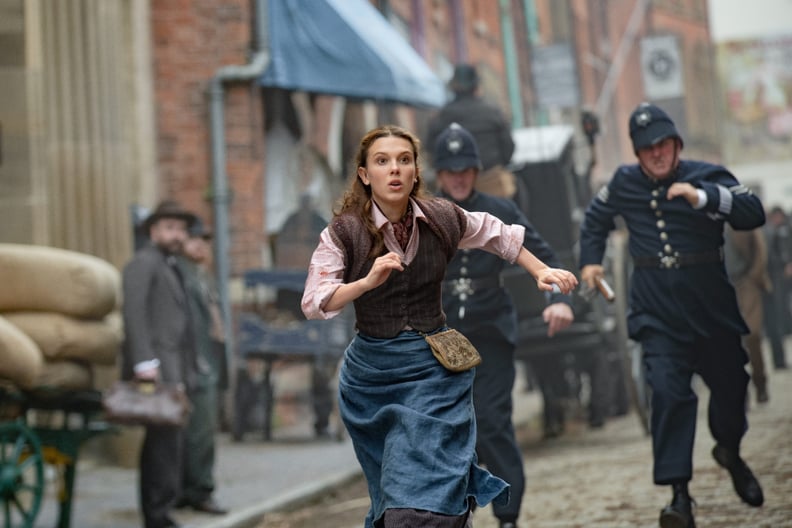 Enola Holmes's Hair Is Influenced By Her Mother's
Enola is a rebel who marches to the beat of her own drum. She can't be concerned with what girls are supposed to be doing at her age — she has more important things to worry about, like finding a missing matchstick girl. That's why, even though she's matured a bit more since we last saw her, Enola still isn't conforming to the traditional beauty standards of the period. Instead, her entire beauty look screams practical. "We had to keep it very simple," King says. Enola can't look like she just spent an hour-plus in her hair and makeup chair (even if Brown did). This is most obvious in Enola's hair, which is almost always loose and down. During the early 20th century, when a girl turned 16 or 17, she began to emulate her mother and the other older women in her life by pinning her hair up. "Her hair wouldn't be down — that's much more associated with someone much younger," King says. "So to have her hair down is going against the rules of the day, but that's very much her character. It's important to do that with her rather than just fit what everyone else does."
In Enola's case, this makes sense because her mother also doesn't conform to beauty standards. "She comes from a slightly eccentric background with her mother," King says.
What's more, the many chase scenes Enola takes part in would look very different if her hair were up in a tight bun. "We wouldn't get that movement, that sort of intensity of her emotions," King explains. "So in that sense, her hair being down, although not correct for the period, is actually very useful for us."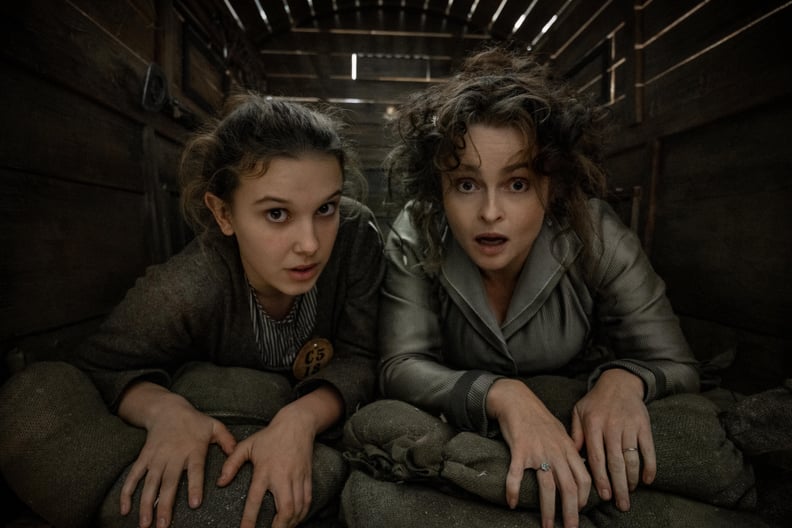 Eudoria's Hair Represents Her Rebellious Spirit
Like mother, like daughter: Eudoria has a rebellious spirit that carries over into her look. Despite the societal pressures she would have inevitably faced as a woman living in this period, she doesn't care about her looks — she's much more concerned with her feminist agenda. "She is the inspiration to Enola Holmes, to a certain extent," King says. "She is the rebel. . . she has never been conventional."
We see this most visibly at the ball that Eudoria and Enola end up attending. "Everyone's hair is very coiffured and everything, and it's very on-period — it's lovely," says King. "And she will have nothing to do with that because it's not important to her. It's important to put a pin in it and keep it out of the way maybe, but that's it." Eudoria's political and women's rights endeavors are far more important and worthy of her time than her hair, which is why it's wild and untamed.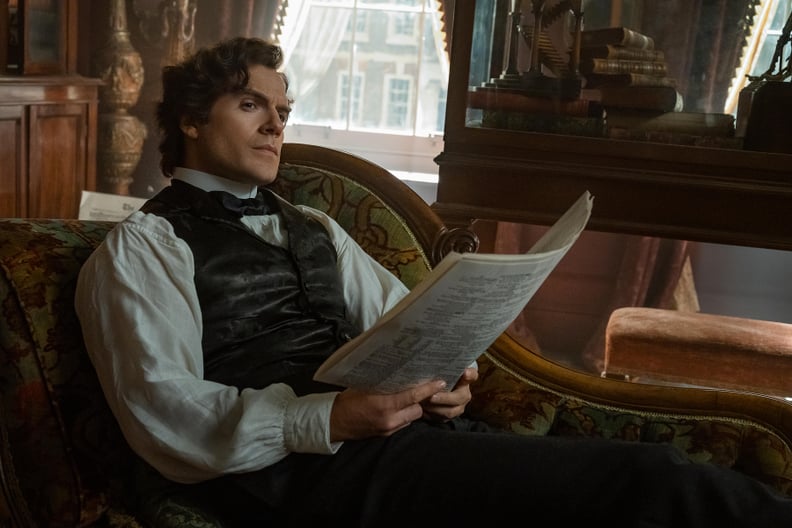 Sherlock Holmes's Hair Adds Softness to His Character
In the first movie, Enola endeared herself to her brother, Sherlock. In the sequel, he's now stepped into the role of her legal guardian. "He's a very likable character, so we have to make him look attractive and soft, not hard," King explains. Sherlock's hair plays an important role in telling this storyline and adds another layer to his character. "He is suave, sophisticated, [and] lovely," King says. "So although [his hair is] sort of controlled, it's wonderful because it's quite loose at the same time." This also allowed the hair team to manipulate it as needed to reflect his character's mental state at various points in the film. "It's very easy to portray that sudden unkemptness about him" in instances when he was drunk or feeling a bit disheveled, says King.
The product they relied on the most to style Cavill's hair for the role was Captain Fawcett's Classic Pomade ($19).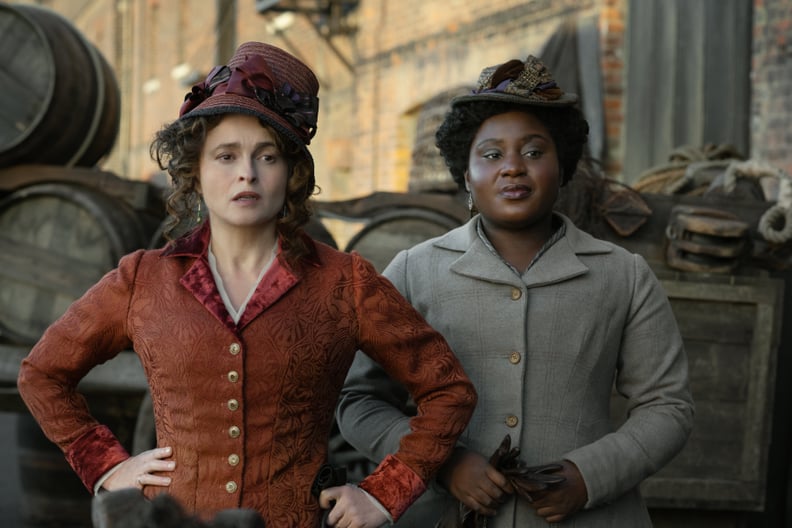 Eudoria's Makeup Look Features This $20 Product