Ephemeral Specializes in Tattoos That Fade in Six Months
This Company Specializes in "Made to Fade" Tattoos That Disappear After a Year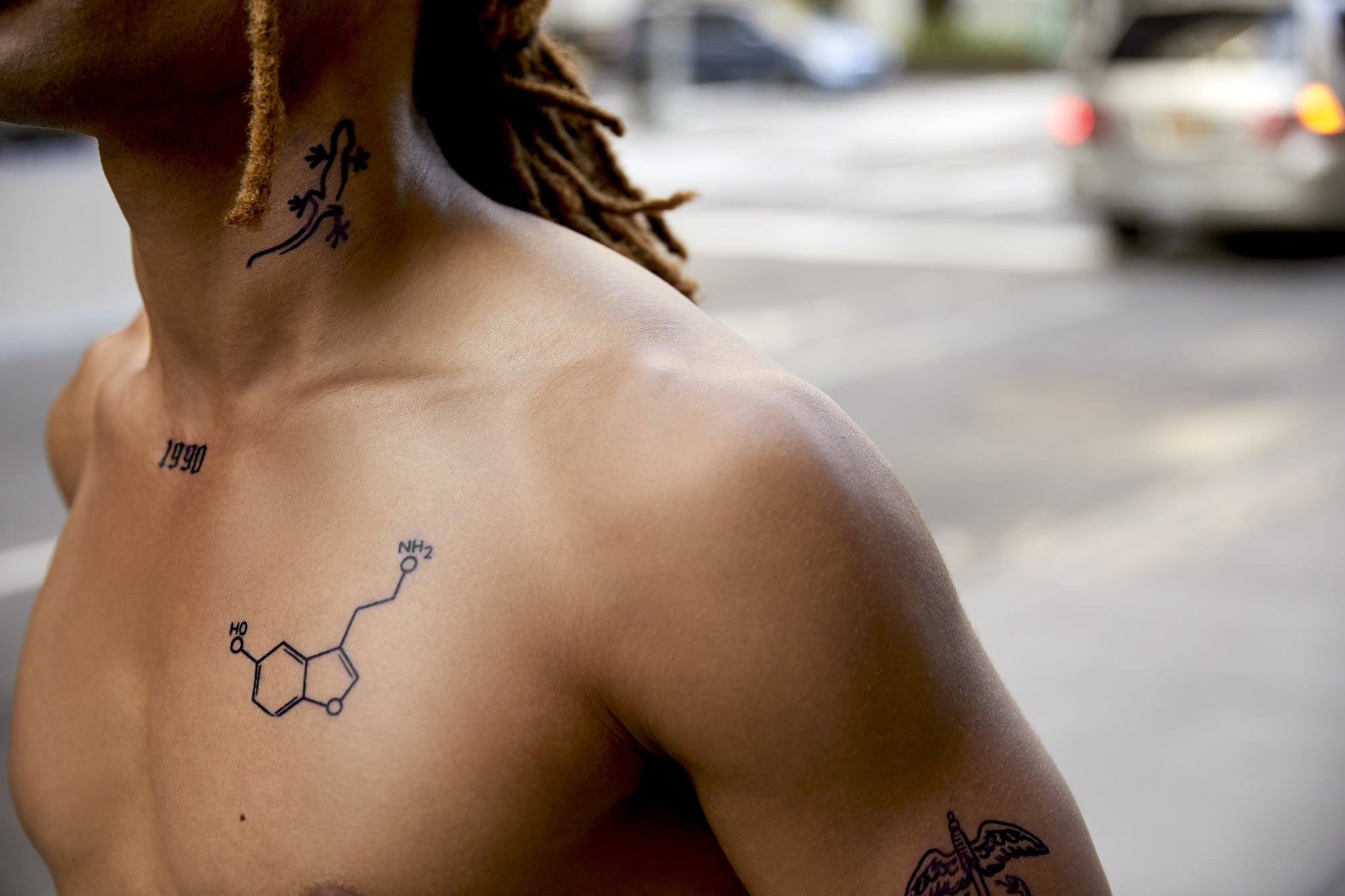 When I told my mom I was getting my first tattoo at 18, some of the only things I can remember about her response were her consistent reminders that "tattoos are forever," and that I should very carefully choose a design that I wouldn't mind seeing on my body years down the line. (After all, getting a piece of ink removed sounds like more of a pain than getting one.) While my mom's spiel is true, there's one company here to remind us that it doesn't always have to be.
Ephemeral is a new brand that specializes in semi-permanent, "made to fade" tattoos that are created using ink that's supposed to fade after nine to 15 months. You can think of them like temporary tattoos, except they don't begin to fade or peel off after just a few days. So, how does it work? We're breaking down all your need-to-know questions about ephemeral tattoos here.
How Do Made-to-Fade Tattoos Work?
"Ephemeral tattoos are made with an ink designed by chemical engineers that fades in a year, though results can vary depending upon the individual," the company's CEO Jeffrey Liu told POPSUGAR. "[They're] made from medical grade, bioabsorbable, and biocompatible polymers, with carefully chosen high-quality pigments that are routinely used in foods, cosmetics, and other products."
Unlike permanent tattoos, these are created using pigment that's designed to be broken down by your body naturally. "The thing that makes permanent tattoos permanent is your body's inability to break down the dye," Liu said. "Traditional tattoo ink clumps together. Too large to be removed, your body 'walls off' the area and the ink stays."
How Are Ephemeral Tattoos Different From Normal Tattoos?
While the type of ink used in both processes differs, the same rules that apply to getting a permanent tattoo also apply to getting an ephemeral tattoo: they're drawn by trained tattoo artists at the company's brick-and-mortar tattoo studios (more on available locations below). In the same way that you must be 18 to get a permanent tattoo, you must also be 18 to get a semi-permanent one.
How Much Does an Ephemeral Tattoo Cost?
While ephemeral tattoos are slightly more expensive (in part because the studios are mostly in larger cities) it's worth noting that just like any other tattoo studio, the exact price depends on the size and detail you're particular piece requires. Smaller ephemeral tattoos can cost you around $200, but can go up to $500 for larger designs. It's best to check with the studio for exact pricing.
How to Get an Ephemeral Tattoo
There are currently three studios where you can book an appointment to get an ephemeral tattoo, located in Brooklyn, Los Angeles, and San Francisco. (They have plans to open studios in a handful of other cities as well.) An ephemeral tattoo studio is also set to open in Atlanta, Georgia, later this spring, but interested customers can book an appointment now with a $20 deposit.
Should you Get An Ephemeral Tattoo?
We're not in the business of telling people what to do, but if you're interested in getting some new ink but aren't exactly sure what to get or where to get it, this sounds like a good way to experiment.
Image Source: Courtesy of Ephemeral