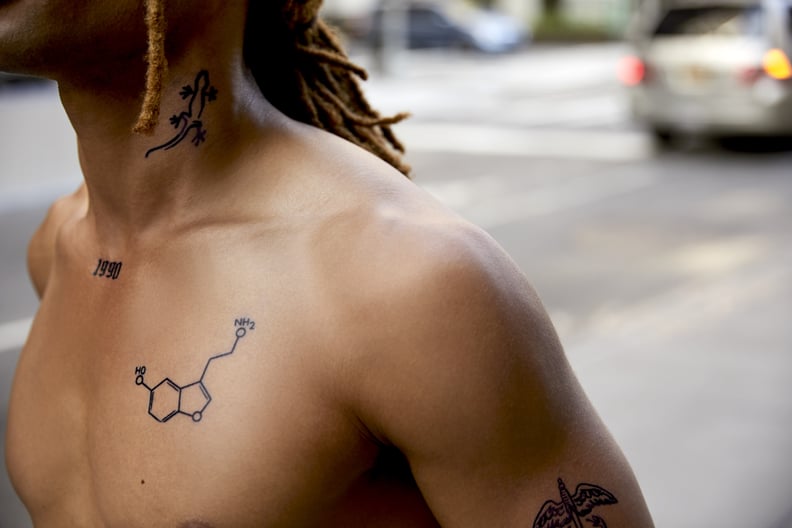 Courtesy of Ephemeral
Courtesy of Ephemeral
Update: Nearly two years after the launch of Ephemeral tattoos, the first "made to fade" ink that promises to disappear after nine to 15 months, the company has clarified some of its claims. In response to reports that designs are not disappearing as quickly as initially thought, Ephemeral CEO Jeff Liu said this is due to a number of variables, including the client's individual skin type as well as adjustments made to the ink itself.
"Since launching in 2021, we've made numerous improvements to Ephemeral's ink, in both vibrancy and transfer, enabling a breadth of tattoo designs and placements previously thought impossible — from fine lines on wrists to big, bold shaded rib tattoos. In doing so, we've introduced a number of new variables that can affect tattoo fade times," Liu said in a statement. "Now that we've tattooed more than 10,000 customers over 20 months, we've seen a broader range of fade journeys. This can be attributed to amounts of water in different parts of the body, differing ink saturation requirements based on tattoo design type and of course, the uniqueness of each wearer's immune response." Despite this, he clarifies that the ink will eventually disappear and "we continue to be committed to innovating our ink. Our community's feedback has been instrumental in that process."
You may have also seen a few TikTok videos noting an Ephemeral lawsuit, which a representative confirms to POPSUGAR was a rumor that "went viral without supporting information." There are currently no pending lawsuits against the company.
Original post: When I told my mom I was getting my first tattoo at 18, some of the only things I can remember about her response were her consistent reminders that "tattoos are forever," and that I should very carefully choose a design that I wouldn't mind seeing on my body years down the line. (After all, getting a piece of ink removed sounds like more of a pain than getting one.) While my mom's spiel is true, there's one company here to remind us that it doesn't always have to be.
Ephemeral is a new brand that specializes in semi-permanent, "made to fade" tattoos that are created using ink that's supposed to fade after nine to 15 months. You can think of them like temporary tattoos, except they don't begin to fade or peel off after just a few days. So, how does it work? We're breaking down all your need-to-know questions about ephemeral tattoos here.
How Do Made-to-Fade Tattoos Work?
"Ephemeral tattoos are made with an ink designed by chemical engineers that fades in a year, though results can vary depending upon the individual," the company's CEO Jeffrey Liu tells POPSUGAR. "[They're] made from medical grade, bioabsorbable, and biocompatible polymers, with carefully chosen high-quality pigments that are routinely used in foods, cosmetics, and other products."
Unlike permanent tattoos, these are created using pigment that's designed to be broken down by your body naturally. "The thing that makes permanent tattoos permanent is your body's inability to break down the dye," Liu says. "Traditional tattoo ink clumps together. Too large to be removed, your body 'walls off' the area and the ink stays."
How Are Ephemeral Tattoos Different From Normal Tattoos?
While the type of ink used in both processes differs, the same rules that apply to getting a permanent tattoo also apply to getting an ephemeral tattoo: they're drawn by trained tattoo artists at the company's brick-and-mortar tattoo studios (more on available locations below). In the same way that you must be 18 to get a permanent tattoo, you must also be 18 to get a semi-permanent one.
How Much Does an Ephemeral Tattoo Cost?
While ephemeral tattoos are slightly more expensive (in part because the studios are mostly in larger cities) it's worth noting that just like any other tattoo studio, the exact price depends on the size and detail you're particular piece requires. Smaller ephemeral tattoos can cost you around $200, but can go up to $500 for larger designs. It's best to check with the studio for exact pricing.
How to Get an Ephemeral Tattoo
There are currently three studios where you can book an appointment to get an ephemeral tattoo, located in Brooklyn, Los Angeles, and San Francisco. (They have plans to open studios in a handful of other cities as well.) An ephemeral tattoo studio is also set to open in Atlanta, Georgia, later this spring, but interested customers can book an appointment now with a $20 deposit.
Should you Get An Ephemeral Tattoo?
We're not in the business of telling people what to do, but if you're interested in getting some new ink but aren't exactly sure what to get or where to get it, this sounds like a good way to experiment.