Image Source: Doniella Davy
Kat's Black and Red Winter Formal Look
Image Source: Kirsten Coleman
Kat's Winter formal look is subtle yet bold. The linework on her eyes will take some precision to re-create but can absolutely be done with a steady hand. Check out this look on the show here, as well as a couple shots from behind the scenes.
Using an eyeliner brush and a lot of patience, draw on the black eyeliner into a wing and an inverted cat eye.
Also with the eyeliner brush, use any bright color on the bottom of your eye to complete the inverted cat eye. Davy said they used a combination of two Suva Beauty neons for this look.
Apply rhinestones using lash glue.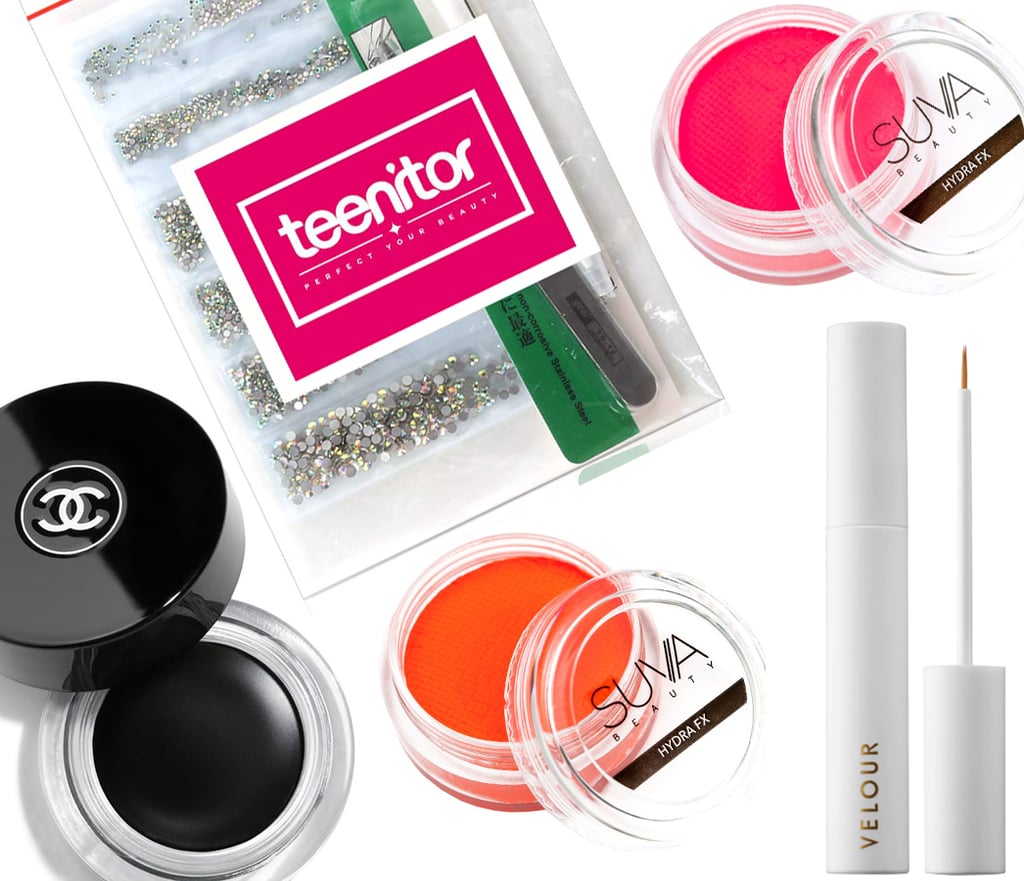 Image Source: Chanel, Amazon, Suva Beauty, Sephora
Products you'll need to re-create this look:
Image Source: Doniella Davy
Jules looks oh so ethereal as Juliet for Halloween, down to her perfectly glittery makeup look. This face requires a good bit of sparkle and shine, and Davy told POPSUGAR, "I always use glitter gels, not loose glitter glue, because it is a nightmare."
Buff a light-colored eye shadow onto your lids, and layer it up to give almost a raccoon-like circle around your eyes. Davy said she brought the color about an inch below the eyes to really emphasize the shape.
Blot the glitter gel into the eyebrows.
Using tweezers and lash glue, attach the metallic flakes around your eyes.
Draw a thin line down your eye with the liquid liner.
Layer on plenty of your favorite mascara to get a chunky finish.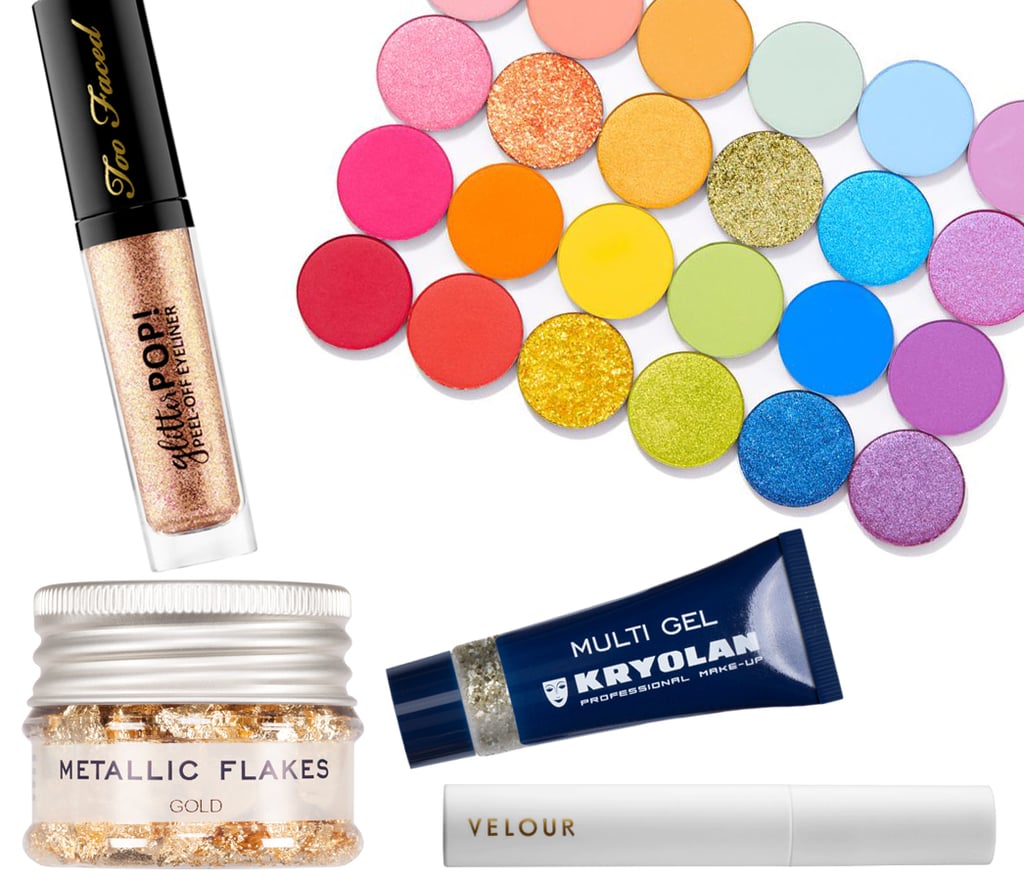 Image Source: Sephora, ColourPop, Kryolan
Products you'll need to re-create this look:
Maddie's Rhinestone Eye Look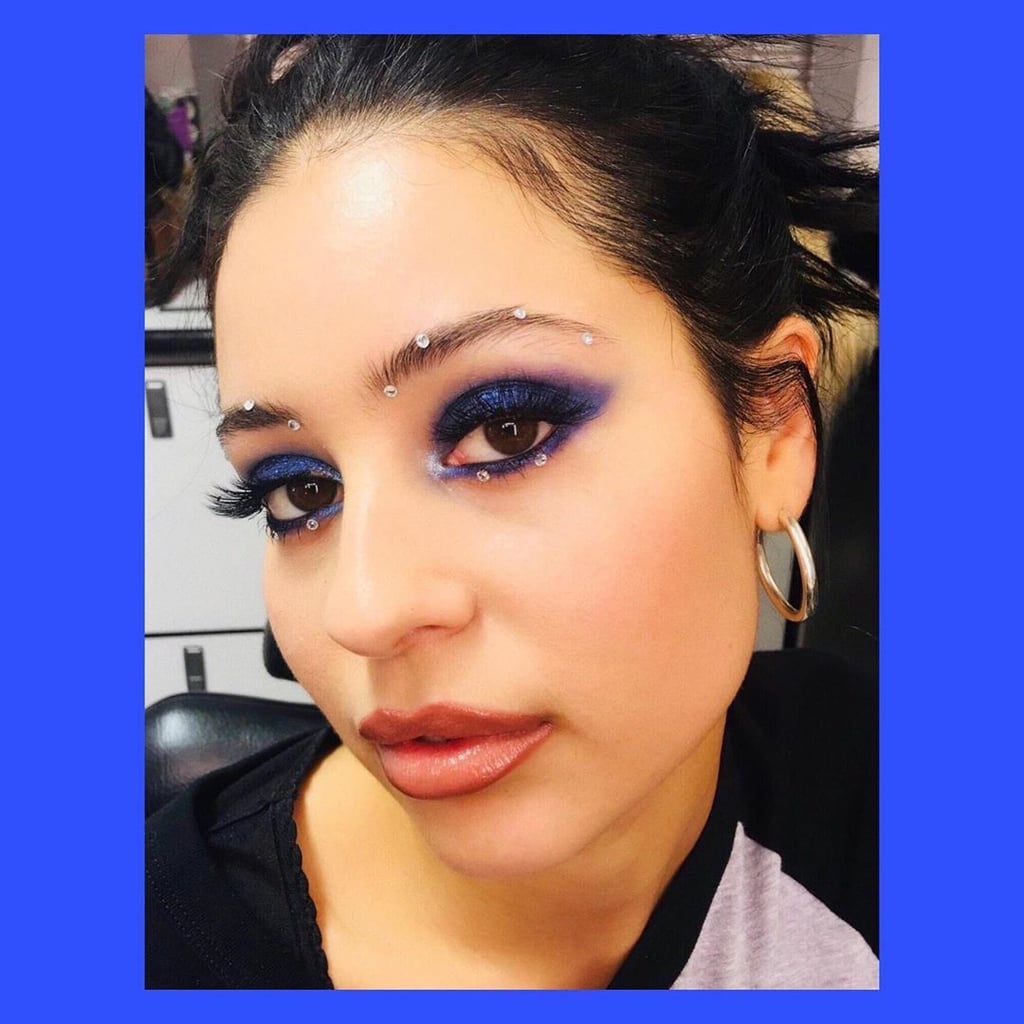 Image Source: Doniella Davy
What's great about Maddie's makeup looks is that though they look intricate and tricky, they're actually "very user friendly," Davy told POPSUGAR. "Maddie probably has the easiest looks to re-create."
Start by layering on a dark base eye shadow. Maddie's look has a navy base, like the Dark Matter color in the Pat McGrath Mthrshp Subliminal Dark Star palette. Blend it out into a cat eye.
Blend a similar color over top of this. Davy layered a ColourPop shadow over it, like Dare Super Shock Shadow.
Add a pop of highlight into the inner corner of your eye using a light shadow. Entice in the same Pat McGrath palette works well here.
Using lash glue, affix small rhinestones wherever you'd like. For a subtle rhinestone look like this one, just use a few. If you're going all out, you can use a ton.
Swipe on your favorite mascara to complete the look.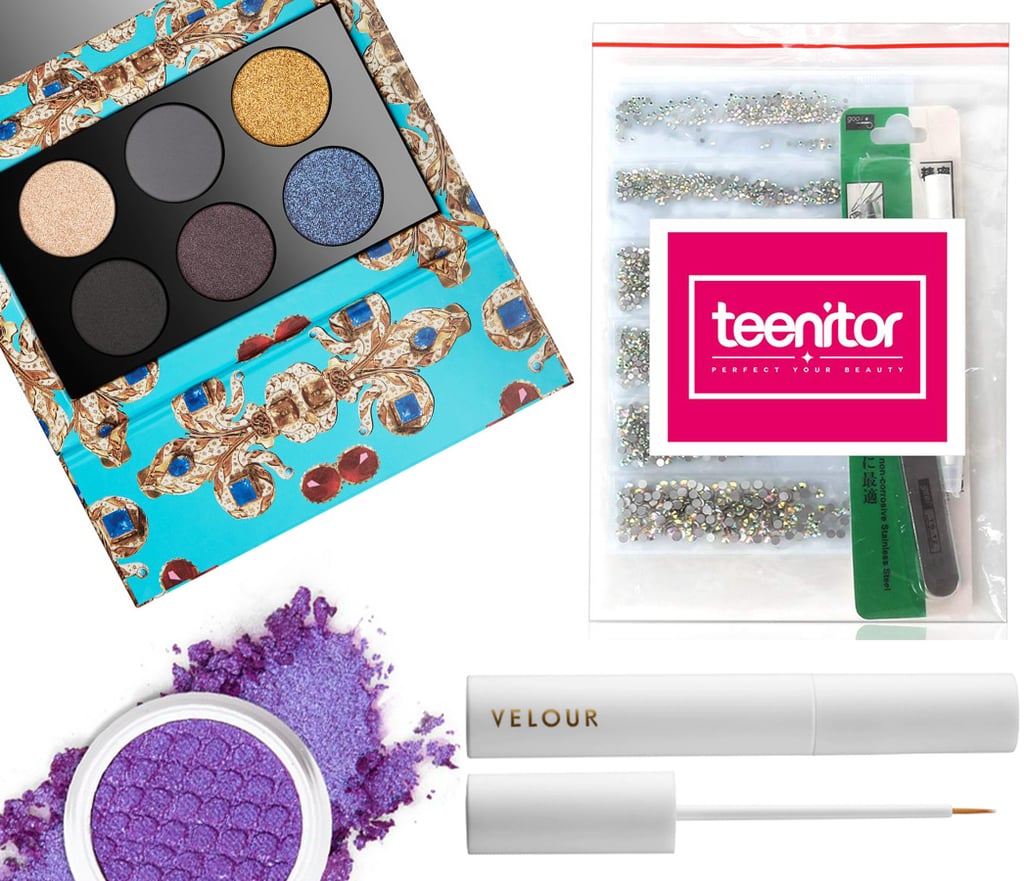 Image Source: Pat McGrath, Amazon, ColourPop, Sephora
Products you'll need to re-create this look:
Jules's Subtle Neon Eye Look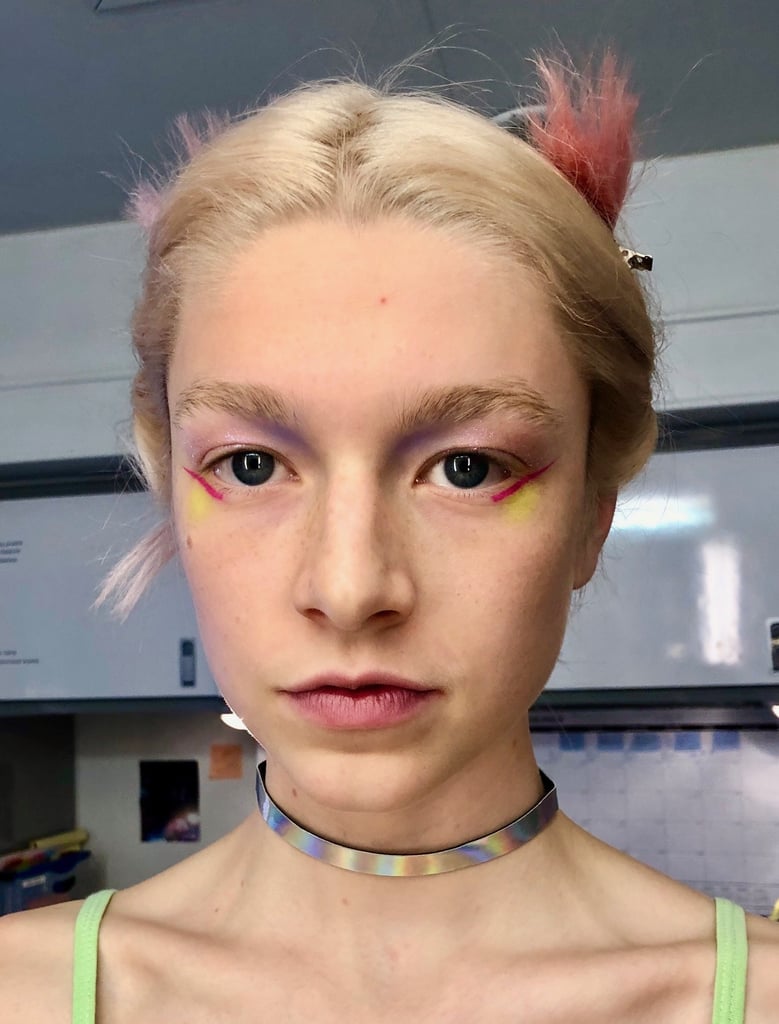 Image Source: Doniella Davy
Jules's looks are always bright and fun. This is one of the simpler ones to re-create because you can use your fingers to put your colors wherever you want.
Using your fingers, apply a shimmery color to your lid. Davy used Stila's Glitter and Glow Liquid Eye Shadow in Tulip Twinkle here.
Also using your finger, dot on a couple other colors of your choice on the inner and outer parts of your eye.
Using an eyeliner brush and cream eyeliner, draw a neon line on the outer part of your eye.
"The components of all Jules's looks are a pastel, something shimmery, and a neon. It's her formula." — Doniella Davy, Euphoria makeup artist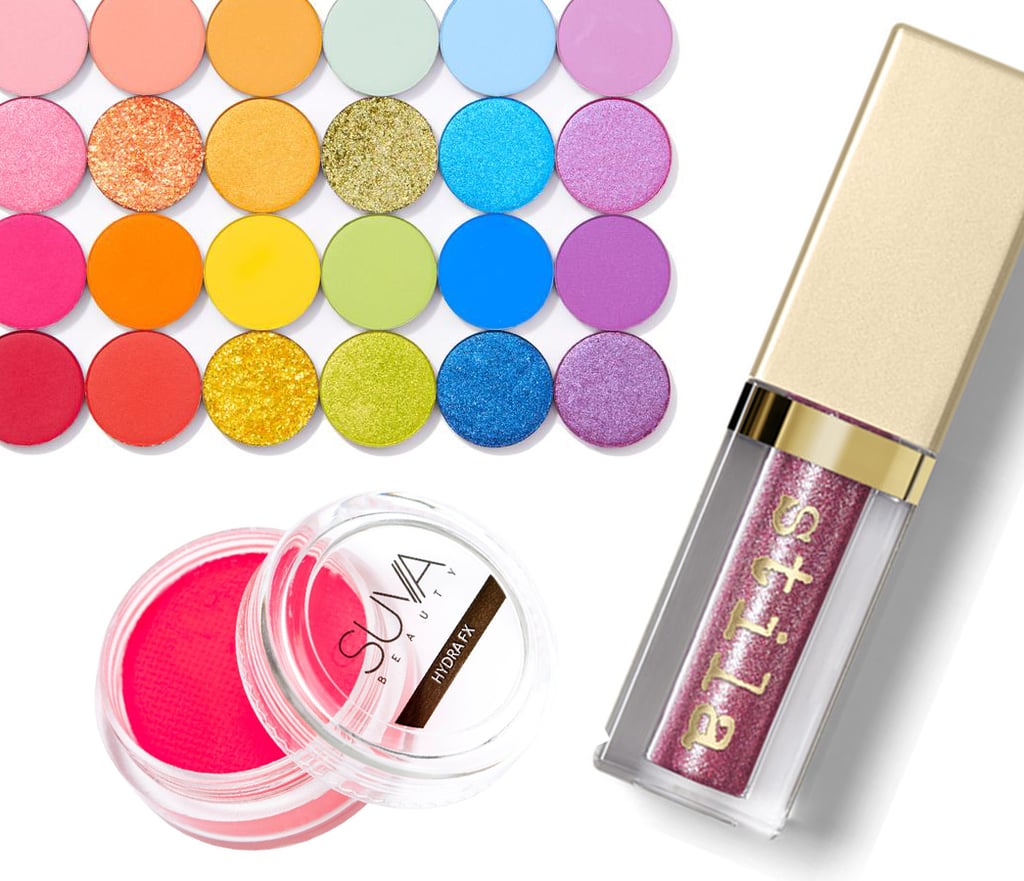 Image Source: ColourPop, Stila, Suva Beauty
Products you'll need to re-create this look:
No Euphoria look is complete without some glitter, especially if you're re-creating Rue's iconic glitter tears. They're actually very easy to do, and according to Davy, this look from the carnival is the absolute easiest. Rue's other tears from the show could also be an adventure to try, but Davy warns that they're also incredibly messy.
Start with blending an eye shadow onto your lid. You can use any color you'd like here, but Davy used a burgundy shade from the Kevyn Aucoin Electropop Pro palette (no longer available). ColourPop's Zodiac palette has some fun colors to try here.
Smudge black eyeliner on the waterline.
Using your glitter, draw triangles below your eyes. Davy used Revlon PhotoReady Eye Art here and insisted it will hold through all of your Halloween festivities.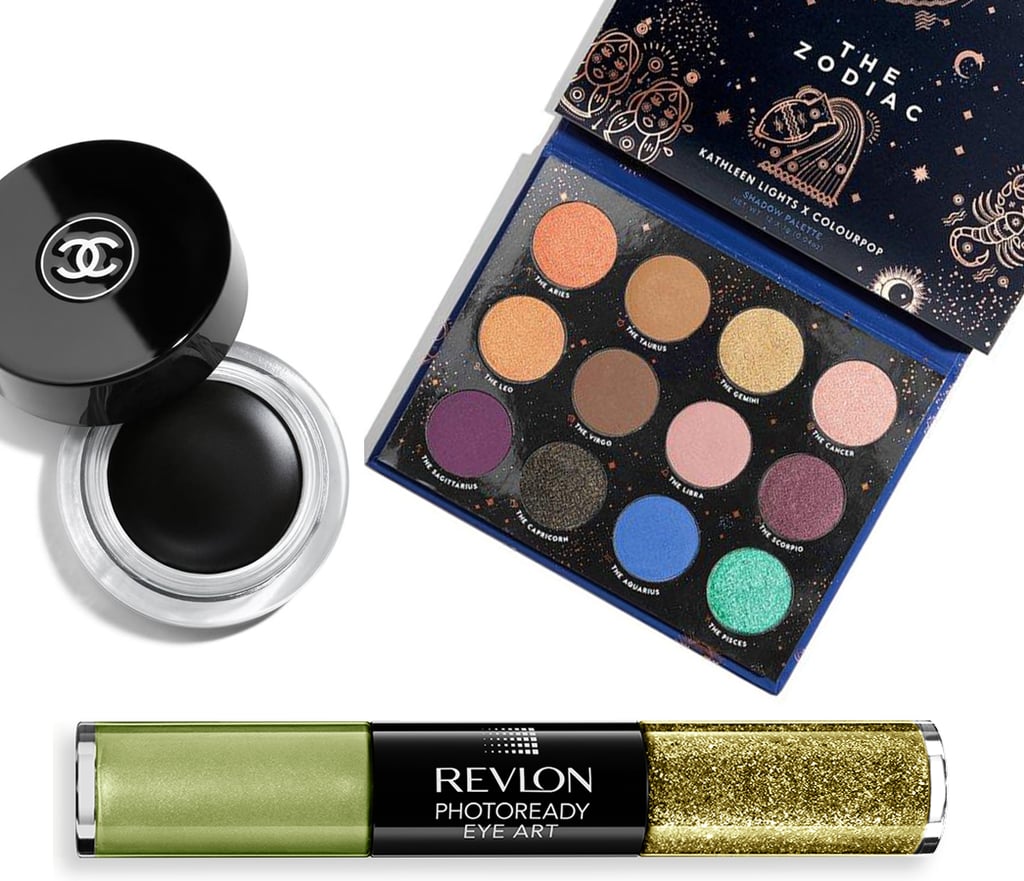 Image Source: Chanel, ColourPop, Revlon
Products you'll need to re-create this look: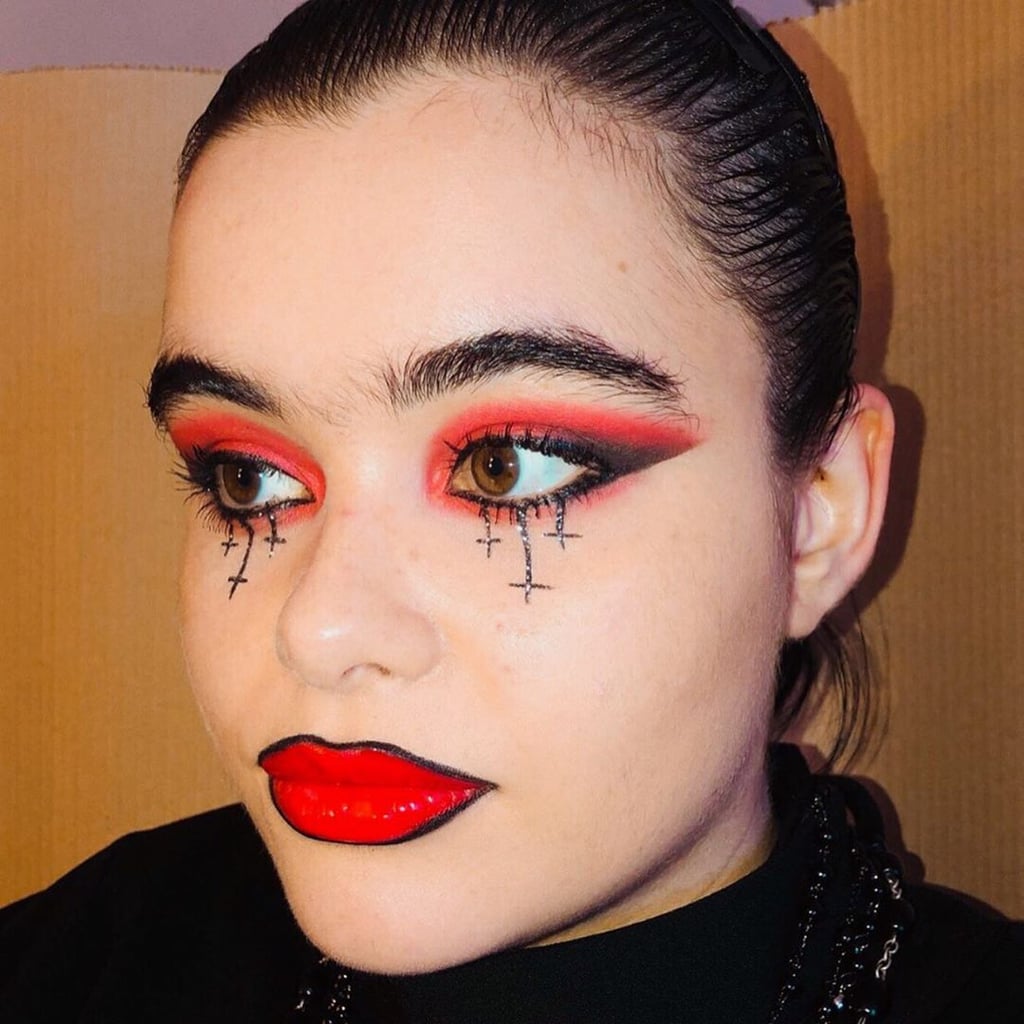 Image Source: Kirsten Coleman
Kat goes all out for her Halloween costume of Thana in Ms. 45. Her makeup look requires precision and dedication, but it looks badass when done. Davy said her best advice for this one is to use tape to create a sharp line on your cat eye.
Apply the tape to the corners of your eyes for a line to guide your cat eye.
Using a small fluffy brush, apply red shadow on your lids. Davy and Coleman used the Claropsyche palette.
Bring the red shadow around to the bottom of your eyes as well.
Also using a fluffy brush, smoke out your lids into a cat eye.
Reinforce the liner with a cream eyeliner and an eyeliner brush.
Using a small eyeliner brush, carefully draw the crosses under the eyes with black cream eyeliner.
Go over the cross shapes with a liquid glitter eyeliner.
Line lips with a black eyeliner pencil, like Urban Decay 24/7 Glide-On Pencil.
Fill in your lips with a bright red. Davy and Coleman used Nars Powermatte Lip Pigment in a bright red, like Light My Fire.
Give your lips a real pop with a high-gloss finish like Limecrime Wet My Cherry Gloss in Tangy Cherry.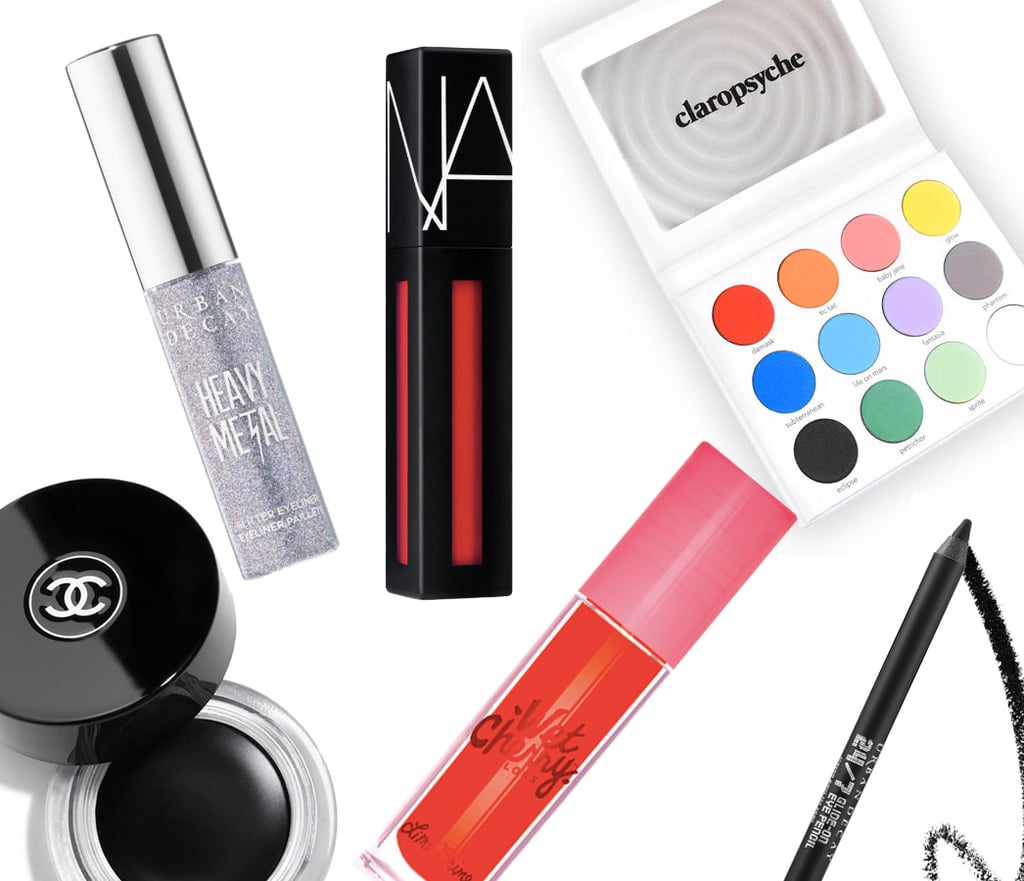 Image Source: Sephora, Claropsyche, Limecrime, Chanel
Products you'll need to re-create this look: