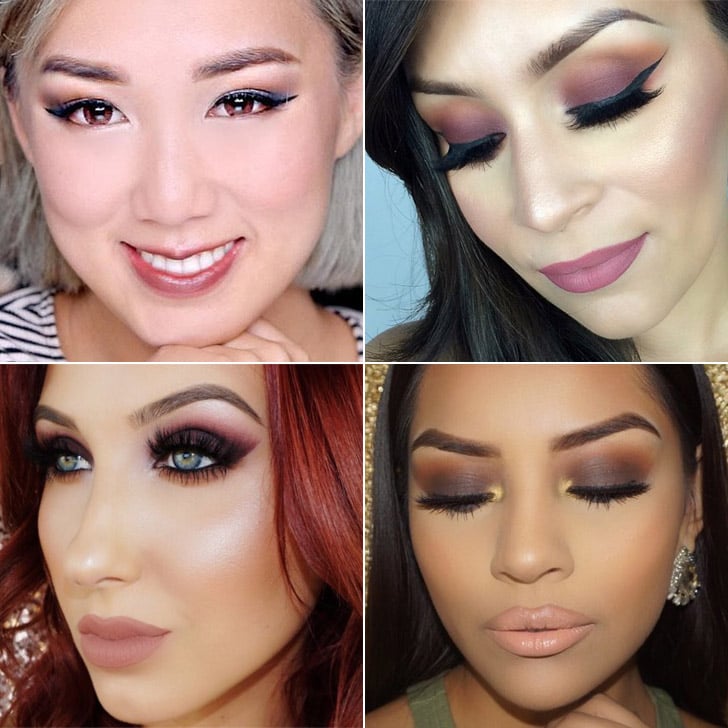 If there's one thing to be said about a smoky eye, it's that it's an incredibly versatile look. The combination of liner and shadow used in this dramatic technique allows for seemingly infinite possibilities of combinations and styles.
Though any season is acceptable for a smoky eye, the smoldering look is one of our favorites for Fall. Using shadows in colors reminiscent of autumn — olive green, plum, orange, brown, red — can create your best Fall face yet!
To help you get in the mood for boots, sweaters, and pumpkin spice lattes, we've rounded up 12 YouTube tutorials that explain how to nail every version of an Autumn-inspired smoky eye.
Fall Smoky-Eye Tutorial
Beauty expert Jaclyn Hill uses red, copper, and wine shades to create her cold-weather look. This tutorial is especially helpful because she tells viewers exactly which brush she uses at every step — making it that much easier to perfectly replicate her success.
Olive Green Smoky-Eye Tutorial
In this video, vlogger Manny Mua shows how to blend olive green shades to create a subtle-yet-sexy eye. Even though the eyes are the focus of the tutorial, he gives you a step-by-step guide to get the complete face from the ground up.
Fall Smoky-Eye Tutorial For Hooded Eyes
When it comes to making up Asian eyes, draw inspiration from YouTuber IAMKARENO. This video reveals a gorgeous DIY featuring purple shades, dramatic eyeliner, and shimmery highlights.
Purple Smokey Cat Eye Tutorial
Popular beauty YouTuber Jaclyn Hill combines two classic makeup techniques: the cat eye and the smoky eye. This variation of the cat eye is ideal for those who struggle with the sharp, winged look — she creates this effect using tape and shadows instead of eyeliner.
Brown Smoky-Eye Fall-Look Tutorial
Vlogger Sarahy Delarosa uses brown and burnt orange shadows and gold highlights to create a bold look. She also shows how to put on a matching nude lip that is equally suited for this season.
Autumn/Fall Glitter Smoky-Eye Tutorial
This video from Rachel Leary explicitly focused on a nighttime style for Fall that is perfect for a night out with the girls. It includes heavily glittered lid to give you a mesmerizing stare.
Fall Green Smoky-Eye Tutorial
The shimmery, fun look concocted by Rachel Leary combines the drama of a smoky and cat eye in a shimmery green color palate. Highlighter will make your peepers pop!
Fall Plum Smoky-Eye Tutorial
Vlogger cflowermakeup pairs orange and plum shadows — one of our favorite Fall color combinations. She also accents her lids with a winged eyeliner, making the complete style even more sultry and sophisticated.
Red Mahogany Smoky-Eye Tutorial
YouTube makeup artist Lauren Curtis starts this video bare-faced, and offers a start-through-finish glimpse at the routine used to create this red eye makeup look. This step-by-step, thorough tutorial is perfect for everyone from beginners to professionals.
Olive Smoky-Eye Fall Makeup Tutorial
This DIY explains how to use multiple shadows to create a fresh color — YouTuber ThatGirlShaeXO layers green, teal, and brown shadows to create the gorgeous olive shade seen in her final product.
Fall Dark Smoky-Eye Tutorial
Instead of the obvious reds and oranges of Autumn, sonjdradeluxe opted for a slightly more classic version of the smoky eye. She uses classic golds and blacks to nail this edgy makeup style.