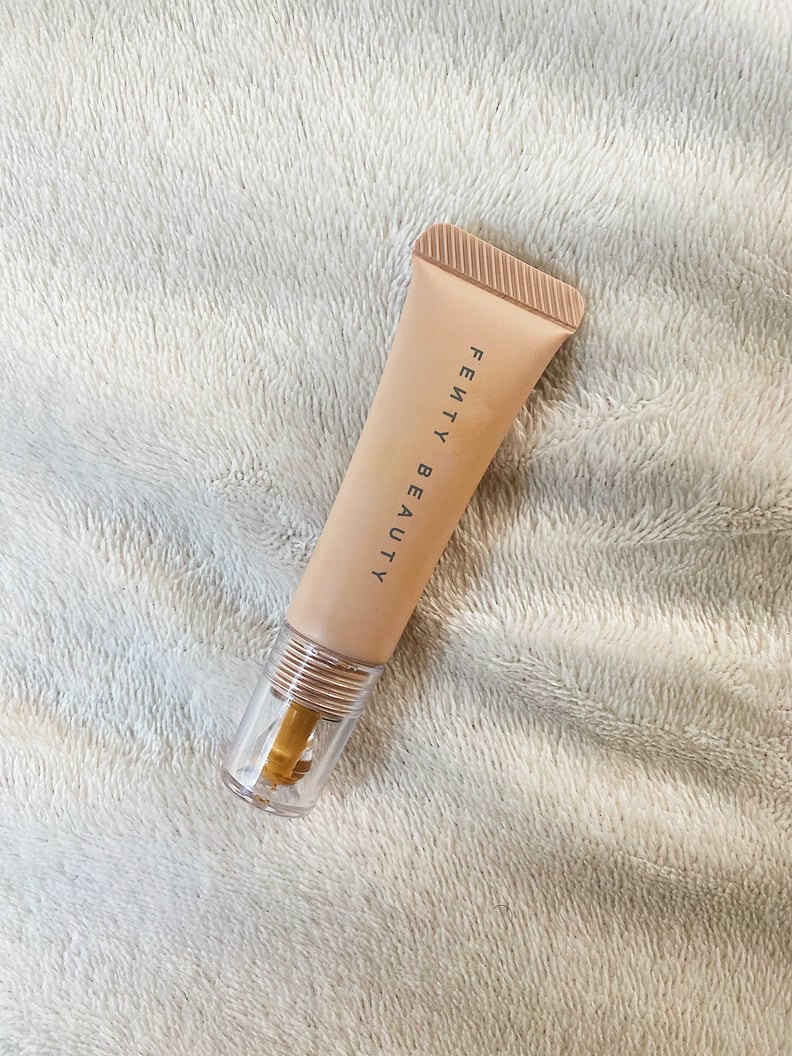 POPSUGAR Photography | Rachael Edwards
POPSUGAR Photography | Rachael Edwards
As POPSUGAR editors, we independently select and write about stuff we love and think you'll like too. If you buy a product we have recommended, we may receive affiliate commission, which in turn supports our work.
If you were to look at my makeup drawers, you'd quickly learn how much of a complexion enthusiast I am. Whether it's color correction, foundation, tinted moisturizer, or concealer, it matters that I stay true to the under and overtones of my skin. Even with less running around due to the pandemic, and more Zoom meetings than I care to count, I still rely on my base products to keep me looking bright, plump, and fresh as possible. Still, I have had nightmarish experiences with undereye concealers. That's why I knew I had to try Fenty Beauty's new Bright Fix Eye Brightener ($25).
The legacy of Rihanna's beauty brand is built on ensuring makeup wearers with darker skin tones can find their perfect shade. I'm a huge fan of Fenty Beauty's Pro-Filt'r Concealer and hydrating foundation, so hearing that the new eye brighteners come in 16 shades, including four that operate as color correctors, comes as no surprise.
The multi-hyphenate talent is no stranger to elaborate, avant-garde, trend-setting makeup but there is another beauty feature I've always noticed: her undereye area always looks hydrated. It is typically one of the drier parts of the face, and while there are tricks to evading the unsightly "separated makeup" look (like applying eye cream right before concealer or using a hydrating mist after applying foundation) it can still be hard to manage. This tinted formula is packed with a blend of sodium hyaluronate (aka hyaluronic acid) and jojoba oil, both of which restore moisture. This sounded quite promising to me because I hate retouching or reapplying makeup throughout the day.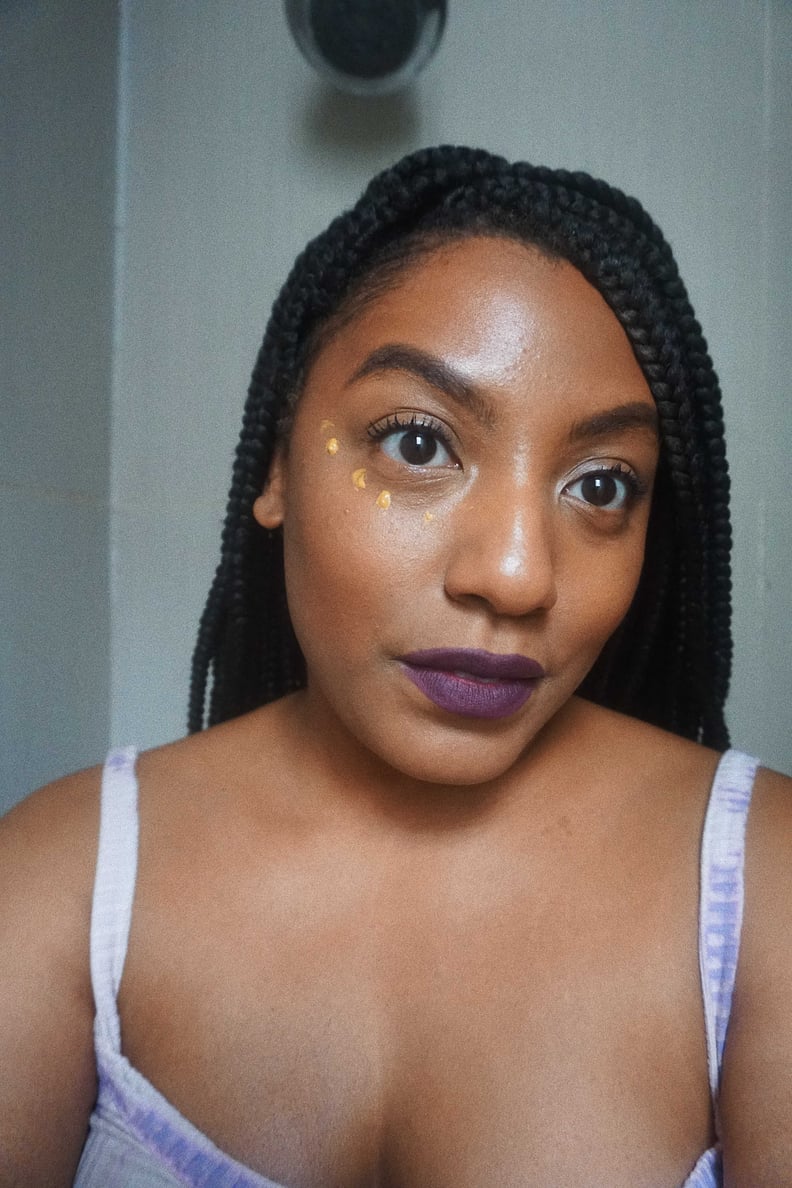 The brightening concealer comes in a small, light pink tube with a clear top that would be easy to carry in my makeup bag for touch-ups. Since it promises to create a no makeup-makeup look, with sheer to buildable coverage, I decided to opt for a lighter base and apply a tinted moisturizer with a sponge.
Then, it was time to put the eye brightener to the test. Just like the brand's Pro'filter concealers, this product promises to blur and correct undereye darkness. I chose the shade "honey mustard," which is a warm olive color for medium-deep to deep skin tones. As soon as I dropped some of the formula on a clean finger, it felt like a skin-care product because of how serum-like the texture was. As a medium to full coverage makeup girl that worried me, but I placed four to five small dots on my face and was pleasantly surprised it wasn't runny at all.
The instructions say to tap, not swipe, the product so instead of using my Beautyblender, I channeled my inner influencer and tapped the formula onto skin. I'll admit that the product was super pigmented so it wasn't the easiest to blend, but the temperature of my finger seemed to help warm it up for easier application. (It only took a minute or two to fully blend in with the rest of my makeup, you just have to really press it in so that the brightening feature doesn't compromise your overall look.)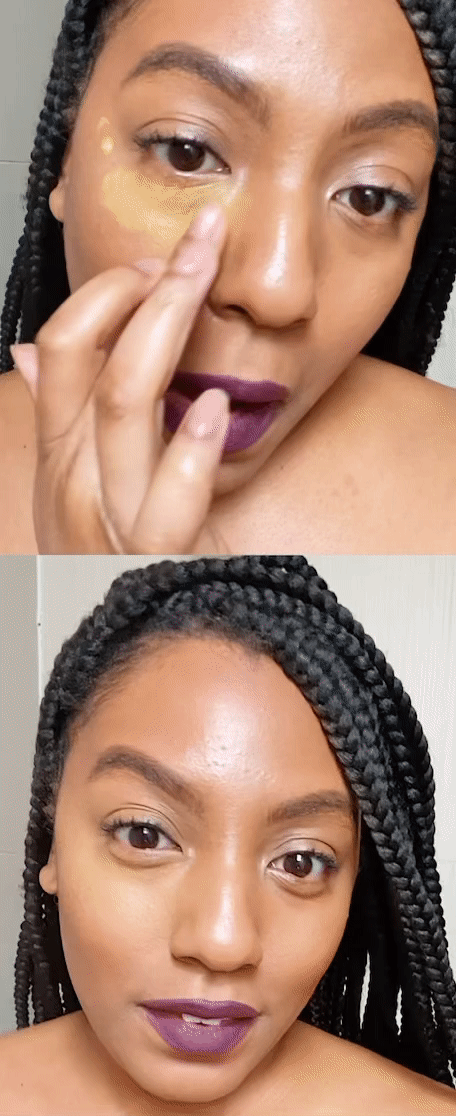 Within mere minutes, my undereye area looked so much brighter. Despite the lighter coverage it completely hid my dark circles. Plus, because of the lightweight silky texture, it did not feel as dry or tacky as a thick, heavy duty coverage concealer.
The end result made me confident that it would not dry out, so I decided to use a damp sponge to dab a little translucent powder right on top and was thoroughly pleased at how fresh it looked. If you're more of a full-coverage person, you can easily layer it on without it looking cake-y. I would suggest using a tool like a sponge or concealer brush instead of your hands for better control and making sure the product absorbs.
I will 100 percent be restocking this product because of the instant results and long wear. I did a wear test during a heavy meeting day and was pleased that I only had to reapply once with less product than the initial application. I liked that I chose to use a dewy to lighter base because it worked well with the overall no-makeup makeup look. Fenty Beauty's Bright Fix Illuminator is definitely one I'll be keeping in my complexion makeup collection, and I love that it dropped right before the warmer months because the hotter it gets, the lighter I prefer my makeup to be.
Rating:
★★★★★