As POPSUGAR editors, we independently select and write about stuff we love and think you'll like too. If you buy a product we have recommended, we may receive affiliate commission, which in turn supports our work.
Considering that Rihanna's Fenty Beauty only made its debut in September, there hasn't been much time for the line to develop an ultimate vault like many cosmetics brands offer during the holidays. But with so many cult-favorite products available for dedicated beauty babes and Rihanna fans, we felt it was about time to narrow down the "greatest hits" from Fenty Beauty into our dream vault.
These picks are the best of the best from Fenty Beauty — minus the full-coverage foundation, which offers such a diverse range of shades that we could never pick just one — and you'll want them all in your makeup arsenal ASAP. Check out the must haves from Rihanna's line so far!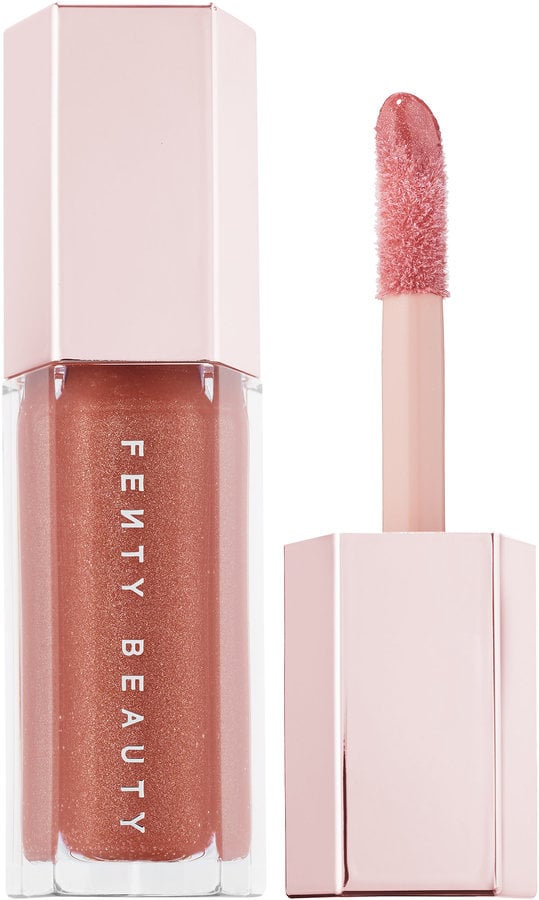 Gloss Bomb Universal Lip Luminizer
Why it belongs in "the vault": They're not kidding when they call this lip gloss ($18) universal — it actually flatters every skin tone. (Trust us, we tried it!) It would be foolish to leave a product so versatile out of an ultimate Fenty Beauty vault, no?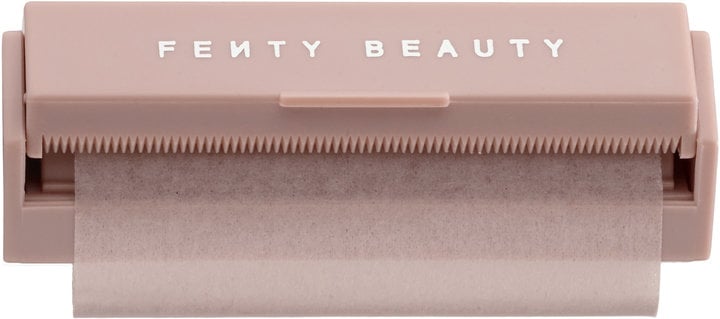 Invisimatte Blotting Paper
Why it belongs in "the vault": This blotting paper pack ($16) is like a beauty babe's secret weapon, allowing you to effortlessly banish oils throughout the day. Anybody can make good use of blotting sheets, which makes them a perfect addition to our vault.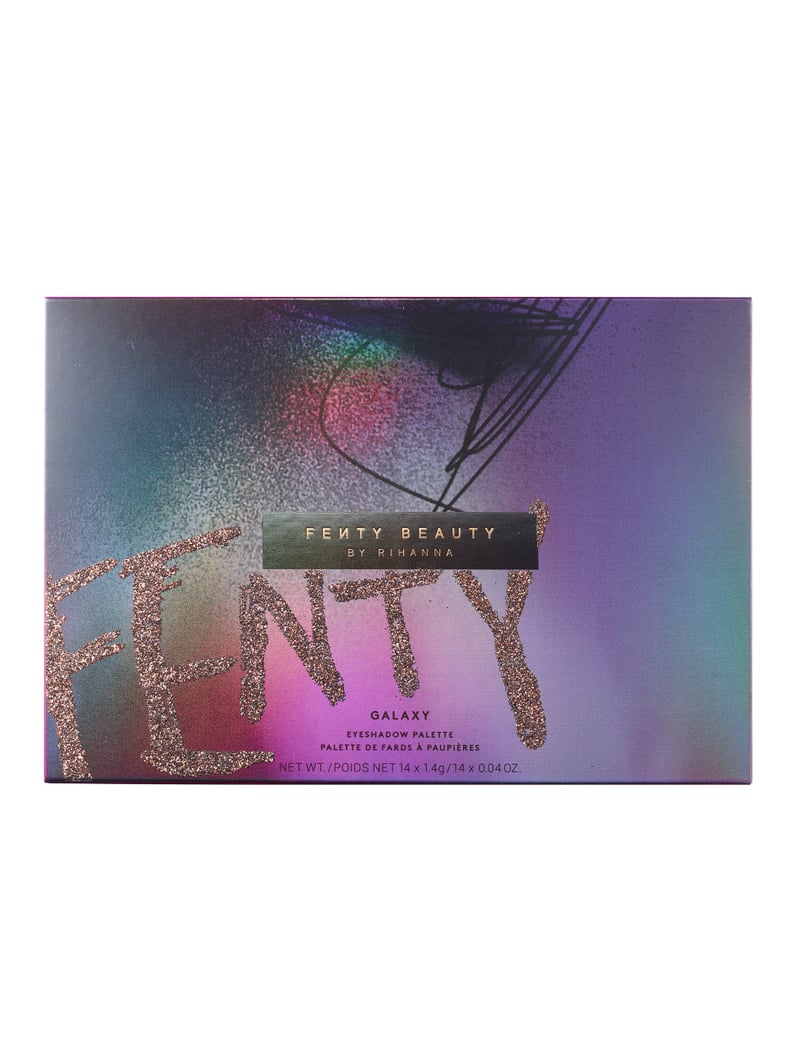 Galaxy Eyeshadow Palette
Why it belongs in "the vault": This mega-Instagrammable palette ($59) includes 14 hyperreflective, sparkly, colorful shades. The colors work for an array of looks, from a neutral golden smoky eye to a wild, hot pink eye look. With so many unique hues to choose from, this palette is broadly appealing.

Galaxy 2-Way Eyeshadow Brush
Why it belongs in "the vault": What's the use of a palette without a complementary shadow brush? This oil-slick brush ($24) is double-ended, allowing for multidimensional eye looks and easy shadow application.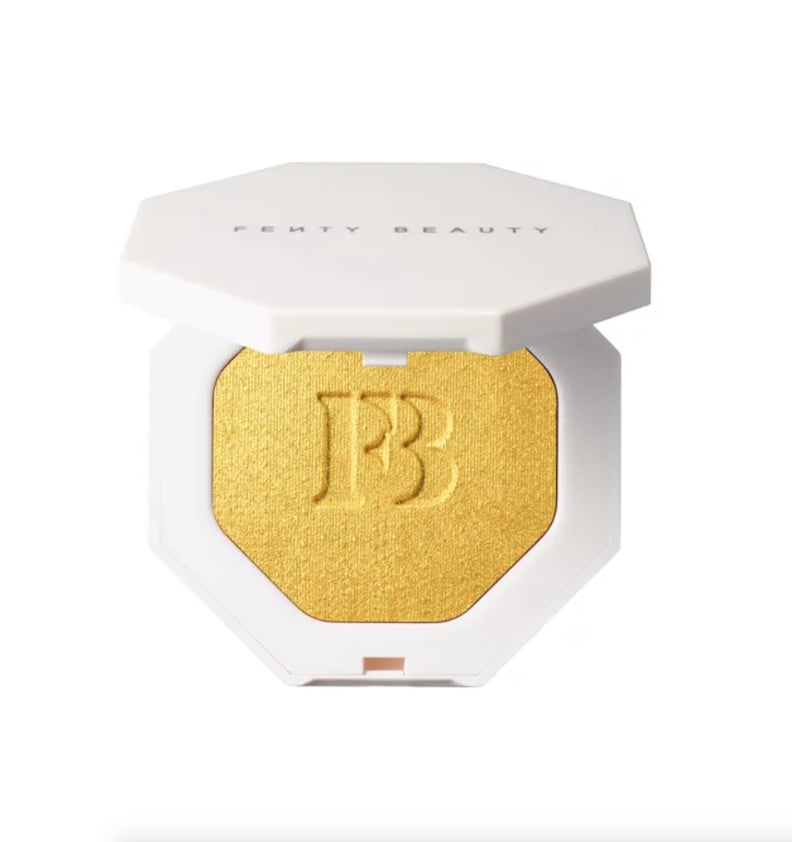 Killawatt Freestyle Highlighter in Trophy Wife
Why it belongs in "the vault": It might be "extra," but this fan-favorite highlighter ($34) is also extremely versatile, flattering a range of skin tones and also serving as a killer eye shadow in a pinch. As the most recognizable product from Fenty Beauty so far, we'd be remiss to leave it out of this vault.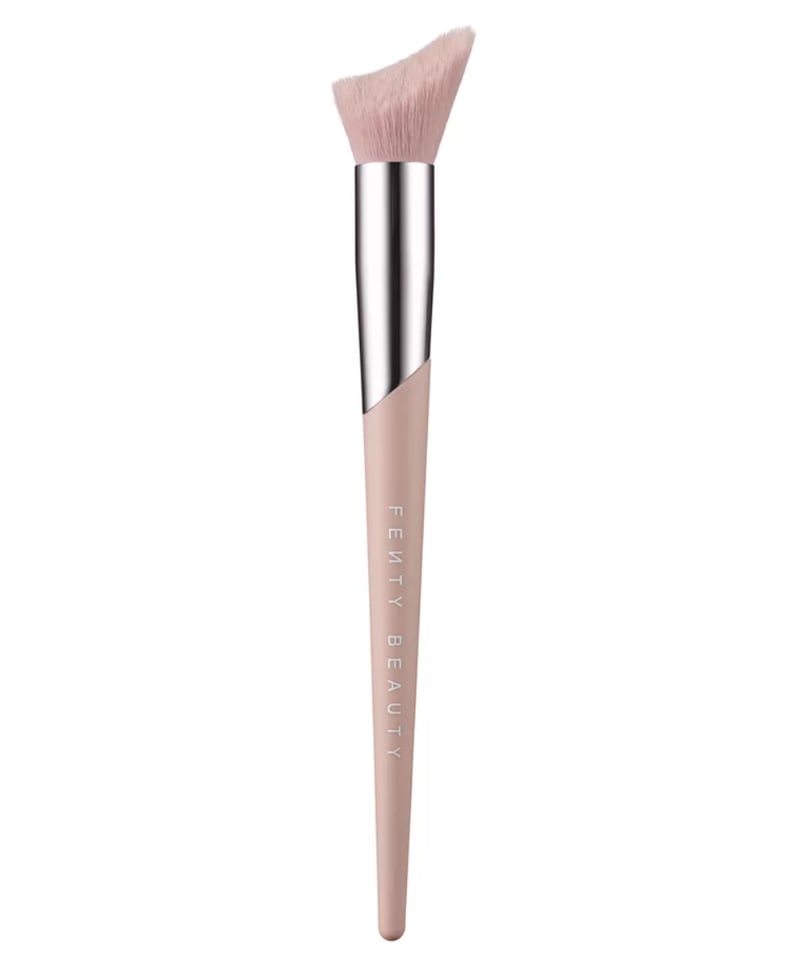 Cheek-Hugging Highlight Brush 120
Why it belongs in "the vault": You can't load up a beauty vault with highlighter and not include a highlight brush ($32)! The curve of this tool creates a contour that makes it seamless to get your glow on, even allowing you to use the tip for your eyelids. It's a powerhouse for your makeup bag!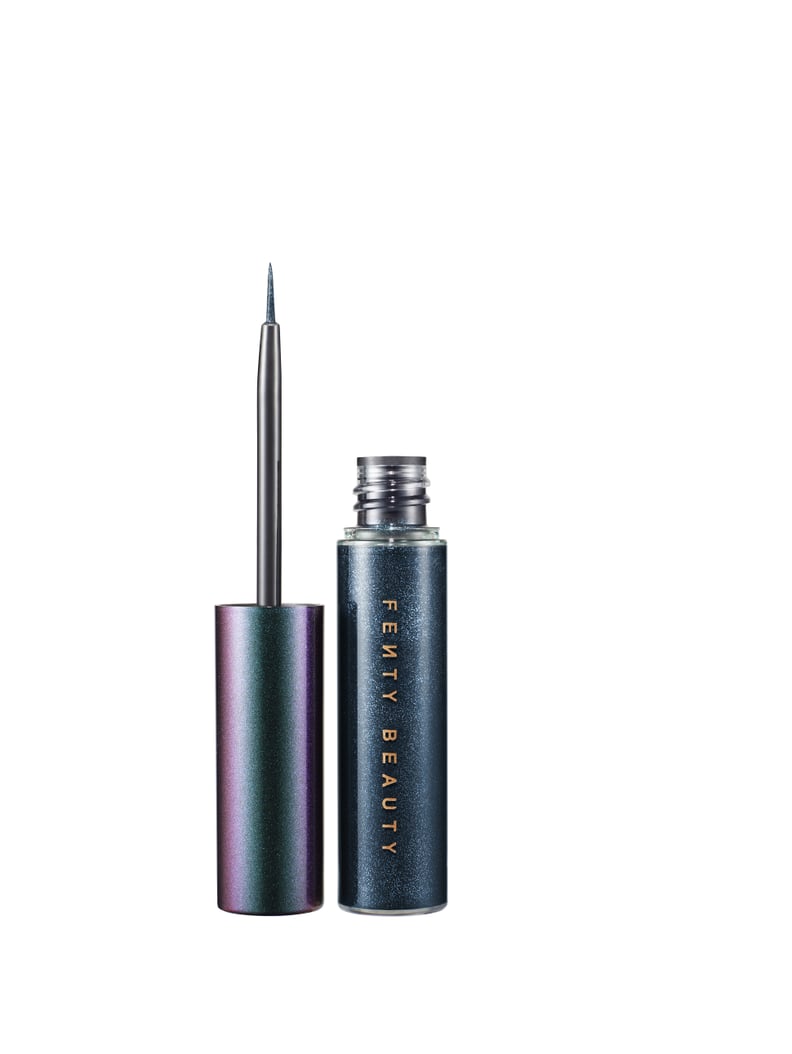 Eclipse 2-in-1 Glitter Release Eyeliner in Alien Bae
Why it belongs in "the vault": Speaking of versatile products, this liquid liner ($20) does double-duty for day and night looks by transforming when you rub it with an angle brush! Any beauty babe will appreciate watching the liner morph from a subtle blue-black to a festive navy glitter, easily transitioning from the office to a night on the town.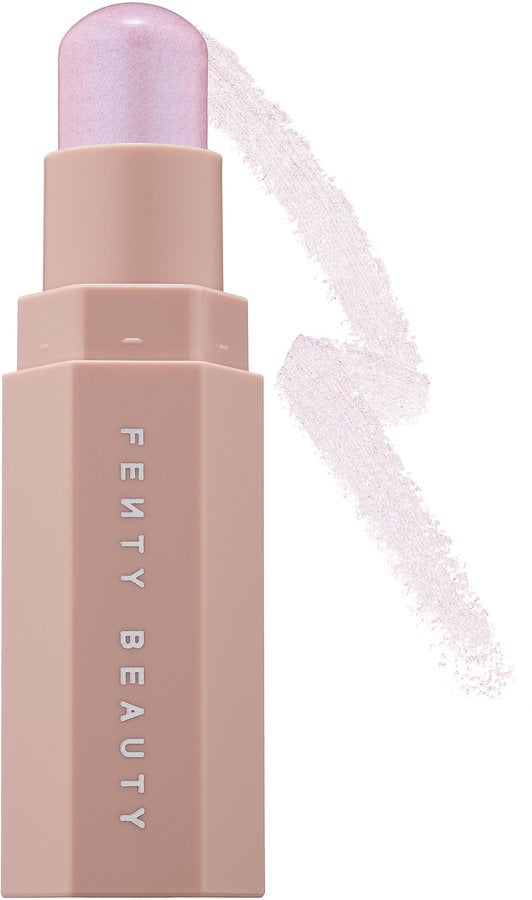 Match Stix Shimmer Skinstick in Confetti
Why it belongs in "the vault": This iridescent highlighter stick ($25) only requires one swipe to create an alien-chic glow and easily fits into your purse for on-the-go glam sessions. It's one of the most fun products in Rihanna's line, so we had to include it!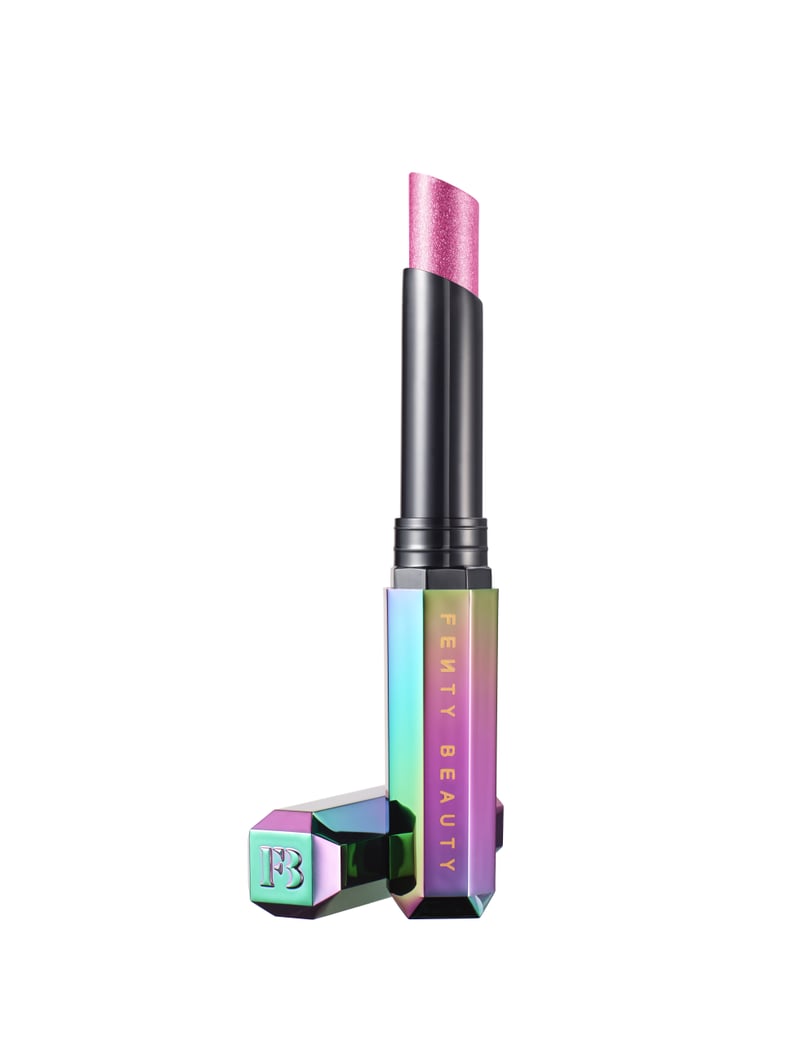 Starlit Hyper-Glitz Lipstick in Gravity
Why it belongs in "the vault": No beauty collection is complete without a flattering pink lipstick, and this hot pink shimmery hue ($19) is perfect on any complexion. Plus, its oil-slick, geometric packaging is a must for the vault!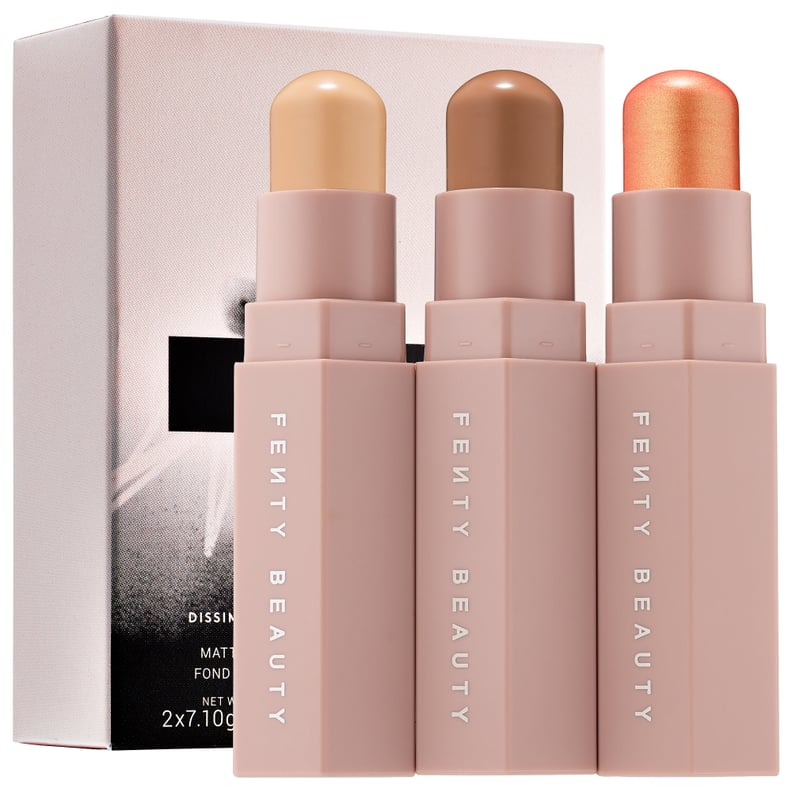 Match Stix Trio
Why it belongs in "the vault": This trio is all you need to nail a perfect contour, and these sticks have earned praise for their density and texture from Sephora reviewers and editors alike. This assortment of sticks ($54) is a one-stop shop for highlighting your bone structure!
Full-Bodied Foundation Brush 110
Why it belongs in "the vault": This brush ($34) is ideal for applying foundation, but it's also perfect for blending out the contour, concealer, and highlighter from the Match Stix trio set. The bristles are so exceptionally soft that you'll want to touch the brush all day!