Florence Pugh Was "Wheezing Intensely" Opening Up an R.E.M. Beauty Package From Ariana Grande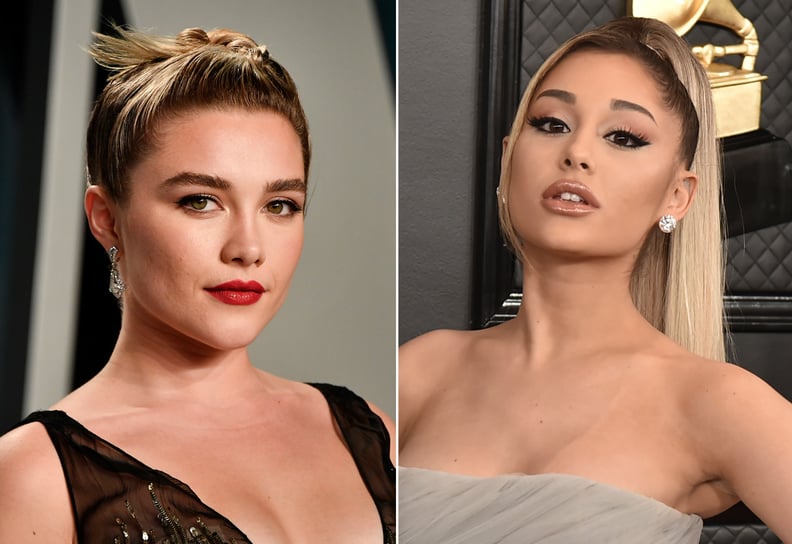 Getty/Frazer Harrison
As POPSUGAR editors, we independently select and write about stuff we love and think you'll like too. If you buy a product we have recommended, we may receive affiliate commission, which in turn supports our work.
Florence Pugh could hardly contain her excitement while opening her R.E.M. Beauty mailer from Ariana Grande — and her reaction was so relatable. Pugh, who documented the entire experience in Instagram Stories videos shared on Jan. 8, received a package containing the R.E.M. Beauty helmet filled with makeup and was "wheeeezing intensely" as she unboxed it. She wasted no time breaking it open, and of course, to remark on how cool the helmet itself was. "I'm gunna wear this helmet even if you didn't intend for me to do that," Pugh wrote, tagging the Positions singer.
Pugh then dipped into the assortment of products and selected the Midnight Shadows Eyeshadow Palette ($24) in the shade Babydoll for her eyes (and applied it with her fingers) and the On Your Collar Matte Lipstick ($19) in Wine n Dine. When the Black Widow star applied it on camera for everyone to see, the deep, rich chestnut-mauve shade had a visibly satin matte finish and contrasted nicely with her bleach-blond hair.
It just so happens that Pugh was simultaneously enjoying a glass of red wine, which she held up at the end of the video. "'Wine and dine and twinkly thing' . . new vibe," Pugh wrote.
See a play-by-play of Pugh unboxing her R.E.M. Beauty package from Grande ahead.