As POPSUGAR editors, we independently select and write about stuff we love and think you'll like too. If you buy a product we have recommended, we may receive affiliate commission, which in turn supports our work.
My Afro hair was yearning for a bit of lockdown TLC, and thankfully for me (and anyone else in the same boat), award-winning hairstylist Lee Stafford has come through with a new vegan hair range: For the Love of Curls, which is developed for wavy, curly, and coily types 2A to 4C. Because I have thick, 4C kinky coils, I'm usually rather apprehensive when it comes to trying out new hair products due to the common lack of Afro-hair inclusivity in the market, but with the standout hot-pink packaging and equally bold claims of being for all curly hair types, I was really interested in putting this range to the test.
"I wanted to develop a range that gave curls life, rather than controlling, flattening, or straightening them," Stafford told POPSUGAR of the range, which retails from $10 to $14. "I have always had a passion for curls — I love how every curl can be completely different on each and every person."
The For the Love of Curls products are split into three different categories — wash day, refresh, and style — and include products like shampoo, conditioner, serum, leave-in conditioner, gel, oil, and a custard cream. The products incorporate ingredients like shea butter, cacao, and coconut water, a combination that gives the creams, lotions, and cleansers a delicious slightly tropical scent. They're also carefully formulated without any heavy silicones, sulphates, drying alcohols, mineral oils, or waxes in a bid to not dehydrate and weigh down curls.
According to Stafford, For the Love of Curls was a long time coming. "I worked alongside my development teams, formulating and testing every product until we were confident that each one would pass the high standards of our testers," he said. And to ensure his products lived up to their claims, Stafford enlisted the help of people with different curl types to test out the range.
"We carried out the largest home-user testing trials we have ever completed before, with incredible results; 1,700 women across the entire spectrum of curl types (2A-4C) tested the products to help us identify which curl type each formulation was suitable for. They were also blind-tested with no marketing or packaging, so the phenomenal feedback given was based purely on the stand-alone formulations," Stafford explained. Each product is made with only naturally derived and sustainably sourced ingredients to give your curls all the TLC.
The wash day, refresh, and style breakdown is perfect for me due to the fact I wash my 4C hair biweekly and still need to maintain it in between washes. I recently tried out the wash day products, which include shampoo, conditioner, and a hair mask, and they left my hair feeling beautifully hydrated and incredibly soft. Each product felt lightweight and lathered up nicely into each curl.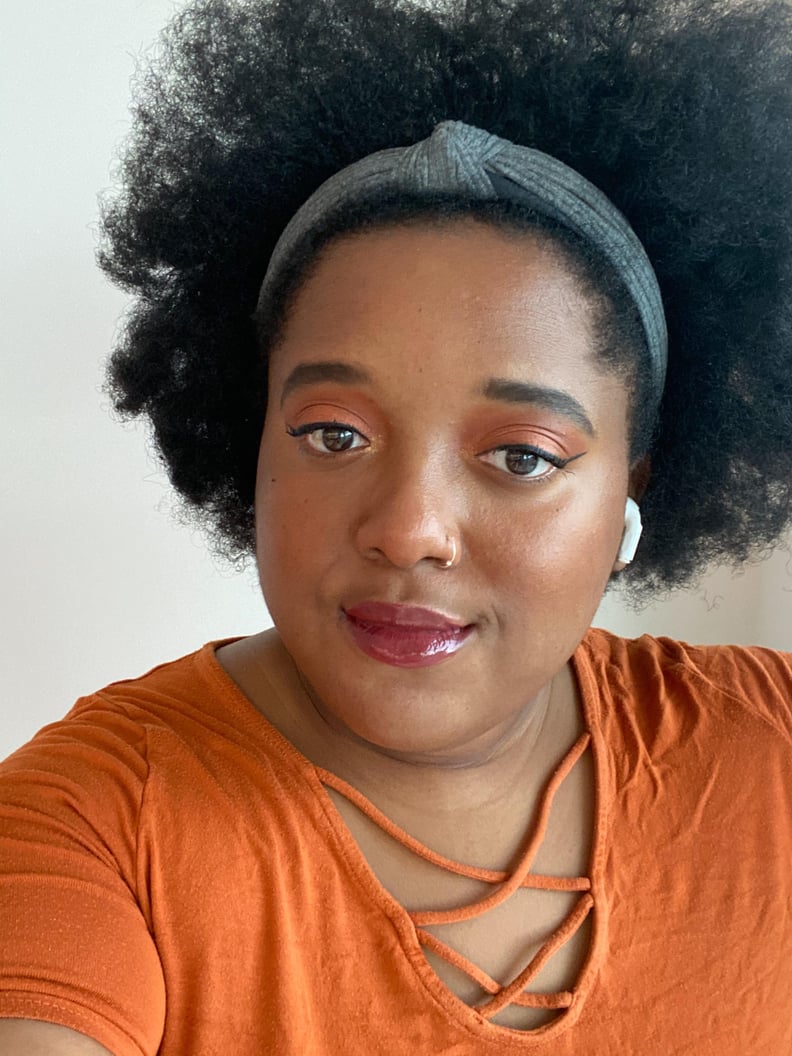 Two products that really stood out to me, however, were the Serum Lotion ($11) and Leave-In Conditioning Moisture Mist ($8). The serum felt so light and didn't leave me with that instant weighted greasy feeling (the photo above shows how my hair looked afterwards). The packaging also includes Stafford's top tips for getting the best from each product. The tip for applying the serum is to "spend a few minutes making your curls look amazing wet. The better they look wet, the better they will look dry." Following Stafford's advice, I can confirm that is entirely true. My curl pattern has definitely become a lot more defined since using the products and following his advice, and my love for the leave-in conditioner has grown due to its ability to detangle each strand with minimal breakage.
I, for one, can't wait to continue incorporating these products into my hair routine. It's so important that every hair type is represented when you go shopping for products — whether you're walking through the drugstore or the salon — because there is no such thing as one hair type or one kind of curly texture. It's 2020, and we need to start seeing more inclusivity across the beauty industry as a whole. So if you're in the market for a variety of inexpensive products to give you the very best for all your waves, curls, and coils, then look no further.
For the Love of Curls is currently only available in the UK, but it's only a matter of time until it comes to the States!