Skincare Rituals So Fun, They'll Turn You Into a Morning Person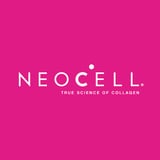 Not a morning person? We've partnered with NeoCell to show you that all it takes is the right wake-up ritual to bring you joy — even in the early hours.
Real talk: I can't tell you how many times "become a morning person" has topped my list of personal resolutions. In fact, it's still at the top of my list. But I have a feeling 2020 is my year! If you can relate, I'll let you in on a hot tip I've only recently discovered myself: the secret to instilling one big habit is to focus on the multiple small ones that add up to it.
In the case of the morning miseries, the idea is to create an AM ritual that brings you so much joy, you'll welcome the chance to get out of bed everyday. For me, anything that involves beauty, or more specifically skin care, is worth the sacrifice, even those extra minutes of precious shuteye. From a delicious pick-me-up to a nourishing shower situation, here are the fun, small rituals that just might turn you into a morning person. Some may call it extra, but I just call it a good time.