Did Gemma Arterton Actually Shave Her Head in Black Narcissus? Well, Kind Of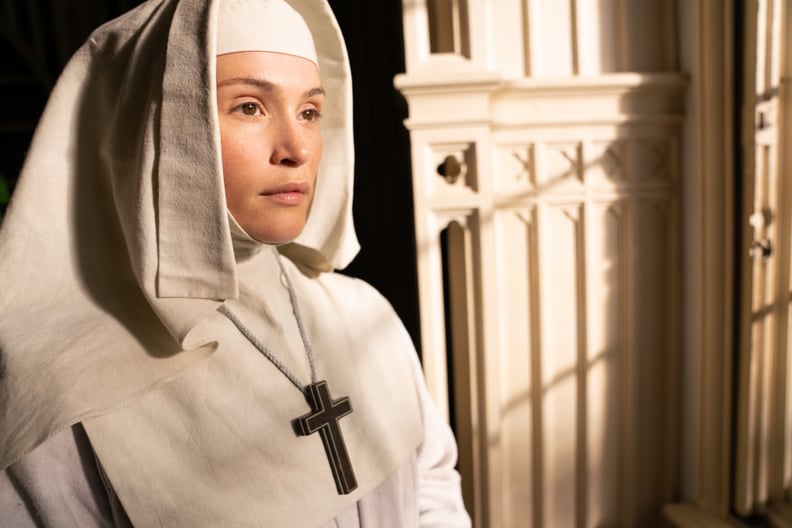 BBC
BBC
There have been some incredible shows on TV in 2020, and one that has quickly captured our fascination is Black Narcissus (now on Hulu). The story follows a group of anglo-catholic nuns in the 1930s who travel to the Himalayas to set up a mission at an abandoned, remote palace in a fictitious location called Mopu. Leading the group is sister Clodagh, played by Gemma Arterton, who is the youngest superior in the order.
During a scene of the show, we see sister Clodagh with her hair shaved. These days, most catholic nuns don't shave their heads, but in the '30s it was fairly common practice. Cutting their hair often symbolized a gesture to God; a renouncement of vanity, if you will. This scene instantly had us wondering: did Gemma Arterton actually shave her head for filming? Luckily, she answered our burning question during a virtual drop-in on The One Show last week.
When presenter Jermaine Jenas asked, "There's one scene where you shaved your head like nuns would've done at that time, did you really take the plunge?" to which Arterton replied, "I wish I could take the credit, but I didn't." However, it turns out that she did shave some of her hair. "I shaved parts of my hair, the underside and the sides."
So, how did they make the scene look so realistic? A classic television trick: a body double. In addition to a body double, Arterton explained that they had incredible wigs. "I have to give credit to the amazing makeup artist Nicole Stafford because you can't tell that it's a wig, it's amazing." Arterton confessed "I was very grateful that I didn't have to shave it all off but I did bits and bobs."
If you're wondering, all of her shaved "bits and bobs" hair has now grown back. "It's grown pretty quickly during lockdown," Arterton added. So there you have it, while she didn't shave her head completely, the hairstylists did manage to get the clippers on some of her hair.