Glow Recipe Plum Plump Hyaluronic Acid Moisturizer Review
Glow Recipe's Plum Plump Hyaluronic Acid Moisturizer Is Perfect For Combination Skin
As POPSUGAR editors, we independently select and write about stuff we love and think you'll like too. If you buy a product we have recommended, we may receive affiliate commission, which in turn supports our work.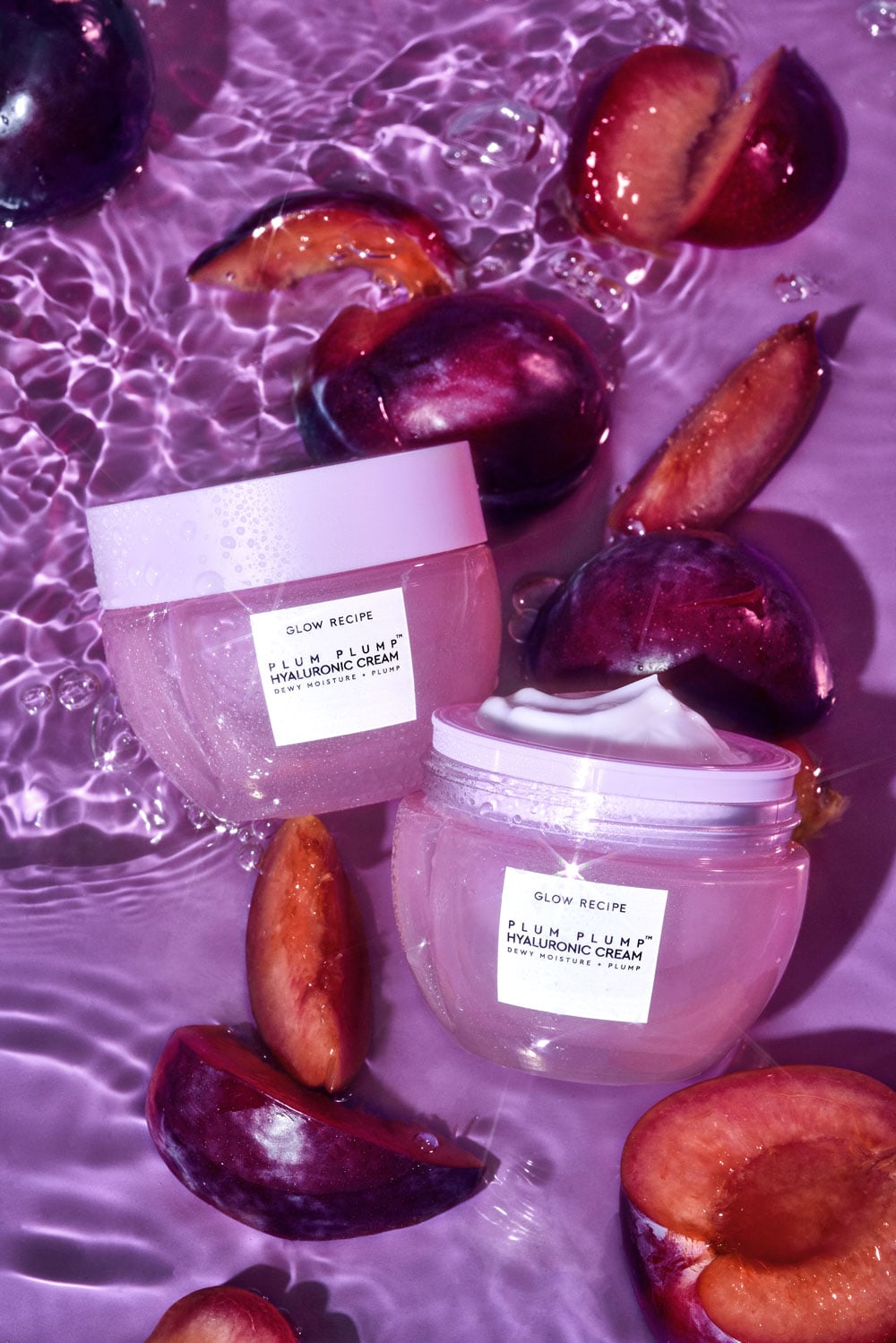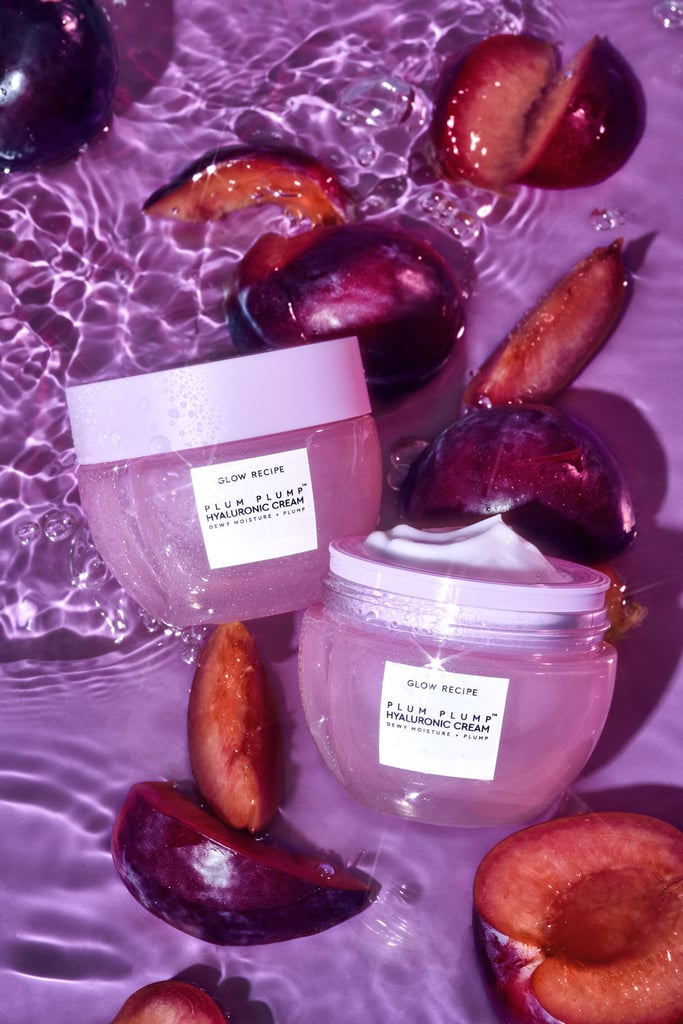 Glow Recipe launched a new face cream called the Plum Plump Hyaluronic Acid Moisturizer.
The product is designed for combination skin and is a gel-cream formula.
It's also the brand's first refillable product.
Anyone with combination skin knows that finding a good face cream can be a headache. Too lightweight and your dry spots stay dry. Too thick and your T-zone becomes greasier than a slice of Domino's pizza. It's this combo skin struggle that Glow Recipe — the K-Beauty-inspired brand that knows a thing or two about creating great moisturizers — has set out to solve with its newest launch: Glow Recipe Plum Plump Hyaluronic Acid Moisturizer ($39), the second product in its Plum Plump range.
"We wanted to create something that could be the Goldilocks of moisturizers," Glow Recipe cofounder Christine Chang told POPSUGAR. "It speaks to combination skin because it's able to give you hydration but in a lightweight way, without clogging pores or feeling heavy."
"There are moisturizers for oily skin, moisturizers for dry skin, or moisturizers that claim that they're for everybody, but it's actually hard to find a really balancing moisturizer," added cofounder Sarah Lee, who herself has combination skin. "We get a lot of emails from our customers asking for advice for acne-prone skin that is also dry, because typically you associate acne with oily skin. And when we saw how much our customers loved the Plum Plump serum, we thought, let's extend that journey and seal all that hydration in with a moisturizer, and make sure that even the most unpredictable, finicky skin can enjoy it."
The Plum Plump Hyaluronic Moisturizer has the same consistency as yogurt and feels super silky as you spread it across your face. "A gel cream is never enough hydration, but then a cream-cream is too heavy. This one acts like a cream in terms of long-wear moisture, but it feels like a gel," Chang said of the creamy gel texture. Like the original serum, the cream features a warm, plummy scent and incorporates three different types of plum extracts (all of which are full of skin-protecting antioxidants), in addition to containing five different molecular weights of hyaluronic acid — the reason both formulas are so hydrating.
Another key ingredient in the formula is polyglutamic acid. Similar to hyaluronic acid, polyglutamic acid is a humectant that grabs onto water and keeps skin hydrated. The differences are that it's an amino acid (hyaluronic acid is a sugar molecule), and our bodies do not naturally produce it (our bodies do produce hyaluronic acid). "It's such a key ingredient because it holds an incredible amount of moisture, but it works synergistically with hyaluronic acid to create this barrier for longer-lasting moisture," said Chang.
"Some of the moisturizers out there that seem very lightweight, they have this nice water break moment in the beginning, but then they absorb almost instantly and don't feel hydrating after a while. When it comes to the Hyaluronic Face Cream, our diversity advisory board — the amazing panel of industry experts that test our products from a very early stage — loved that the product felt like it hydrates the skin for a really long time. That's because of the power of polyglutamic acid," added Lee.
I'm the ideal candidate for testing this face cream because I have textbook combination skin — my nose and chin are very shiny and oily (and get easily congested), while under my eyes and across my forehead gets pretty tight and dry. I have loads of cleansers, face masks, and serums that I love, but after over a decade as a beauty editor, I still only have a short list of face creams that truly make my skin look and feel better. After speaking to Chang and Lee about the Plum Plump Hyaluronic Acid Cream, which is also vegan and cruelty-free, it sounded like something my skin would like.
When you apply the cream, it really does feel like you're giving your face a big glass of water. Your skin immediately feels soothed, hydrated, and satisfied. And as the founders said it would, that happy, hydrated feeling stays for hours. I know because, in addition to how my skin feels when using the Plum Plump cream, it also looks more moisturized throughout the day. Usually the makeup under my eyes, around the sides of nose, on my cheeks, and across my forehead starts to get dry and a little flaky by the end of the day. When using the Plum Plump cream, my makeup still looks pretty smooth and seamless long after lunchtime.
My skin can be a bit reactive (thanks to years of trying out too many skin-care products), and not once in the three weeks I tried the moisturizer did my skin get red or irritated. I experienced zero breakouts, and my skin was noticeably less red. My only qualm was that when my skin got really dry — like during a trip home to see my family in New York City with a seven-hour flight under my belt and the temperature dipping below freezing while steam radiators sucked my skin dry — I found the Plum Plump Hyaluronic Acid Cream wasn't quite thick enough, and I switched it out for a richer, creamier moisturizer. Also, if you're someone who prefers their skin care to be fragrance-free then this moisturizer may not be for you, although it's important to note that it is free of synthetic fragrances and essential oils.
In addition to being a great formula, the Plump Plump Hyaluronic Cream also marks Glow Recipe's first foray into refillable products. Like all of the brand's products, the jar is colored glass (in this case it's pale purple and kind of shaped like a plum), but this one features a pod that can easily be popped out and replaced with a new one when you've finished the contents. The pod is made of 50 percent post-consumer recycled material and costs $33, while the glass jar is created with 20 percent post-consumer recycled materials and costs $39. The goal, according to Chang and Lee, is to make more of the range refillable in the future.
Rating:

Image Source: Glow Recipe