Glow Recipe Watermelon Glow Niacinamide Sunscreen Review
Glow Recipe's First-Ever Sunscreen Leaves a Luminous Glow Without the White Cast
As POPSUGAR editors, we independently select and write about stuff we love and think you'll like too. If you buy a product we have recommended, we may receive affiliate commission, which in turn supports our work.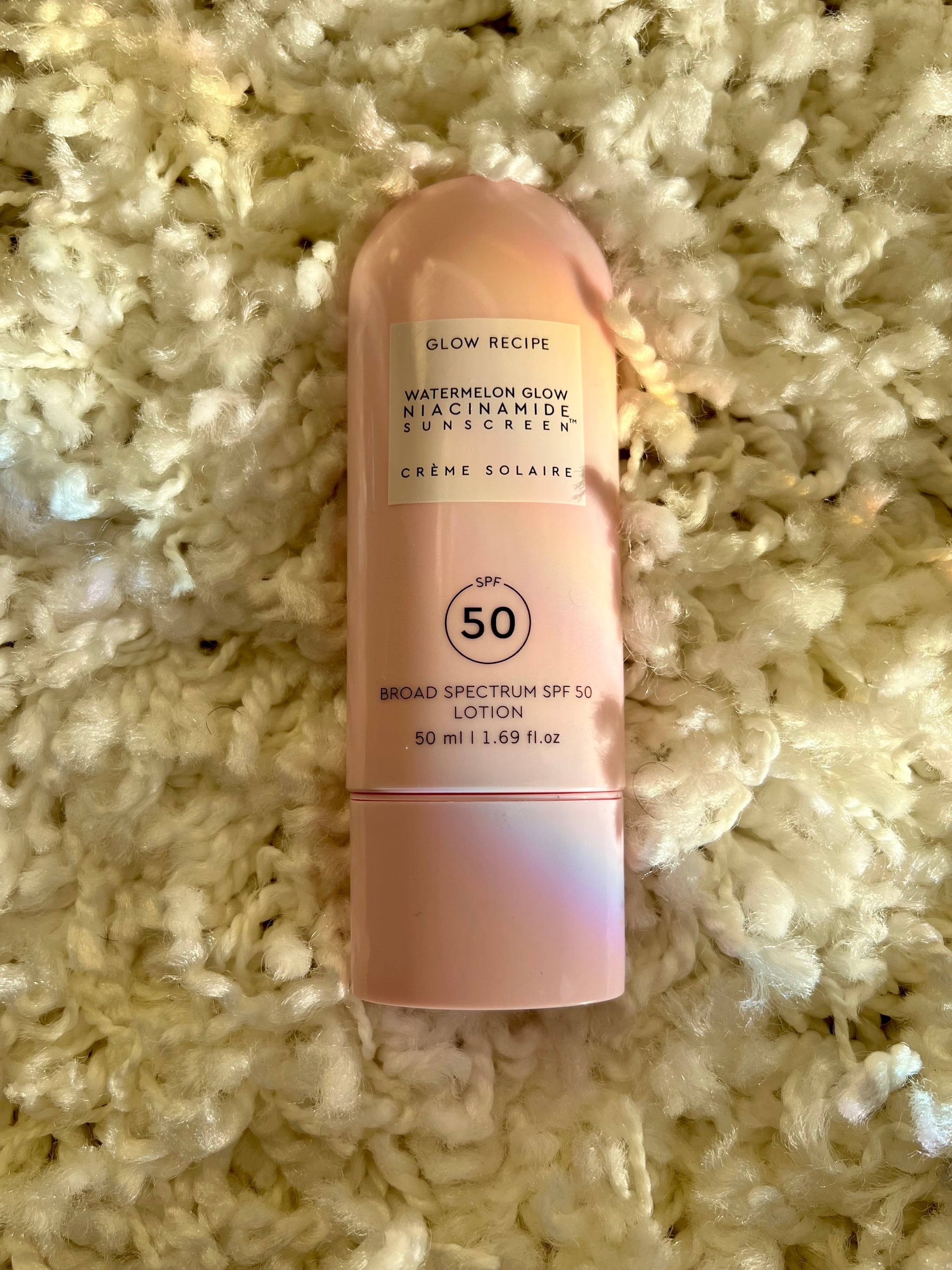 Sunscreen is a huge part of my skin-care routine. I'm always on the hunt for a formula that's the perfect fit for my skin type and needs. I have normal to dry skin that gets easily irritated and is prone to breakouts as a result. However, a big concern for me is fading my dark spots and hyperpigmentation. One of the best ways to keep your skin healthy and diminish hyperpigmentation is the consistent use of sunscreen, which is hard to do if you're not a fan of the way it feels or looks on your skin.
One of my favorite skin-care brands, Glow Recipe, just launched its first-ever sunscreen. The Glow Recipe Watermelon Glow Niacinamide Sunscreen SPF 50 ($34) is a hybrid UV filter formula packed with hydrating ingredients. After falling in love with the Glow Recipe Guava Vitamin C Dark Spot Treatment Serum, I knew I had to try out this sunscreen. After just one use, I was beyond impressed with the wear and formulation of this sunscreen. It's lightweight and hydrating, and it doesn't leave a white cast. I found a sunscreen that fits my skin type and needs, and it now has a permanent spot in my morning skin-care routine.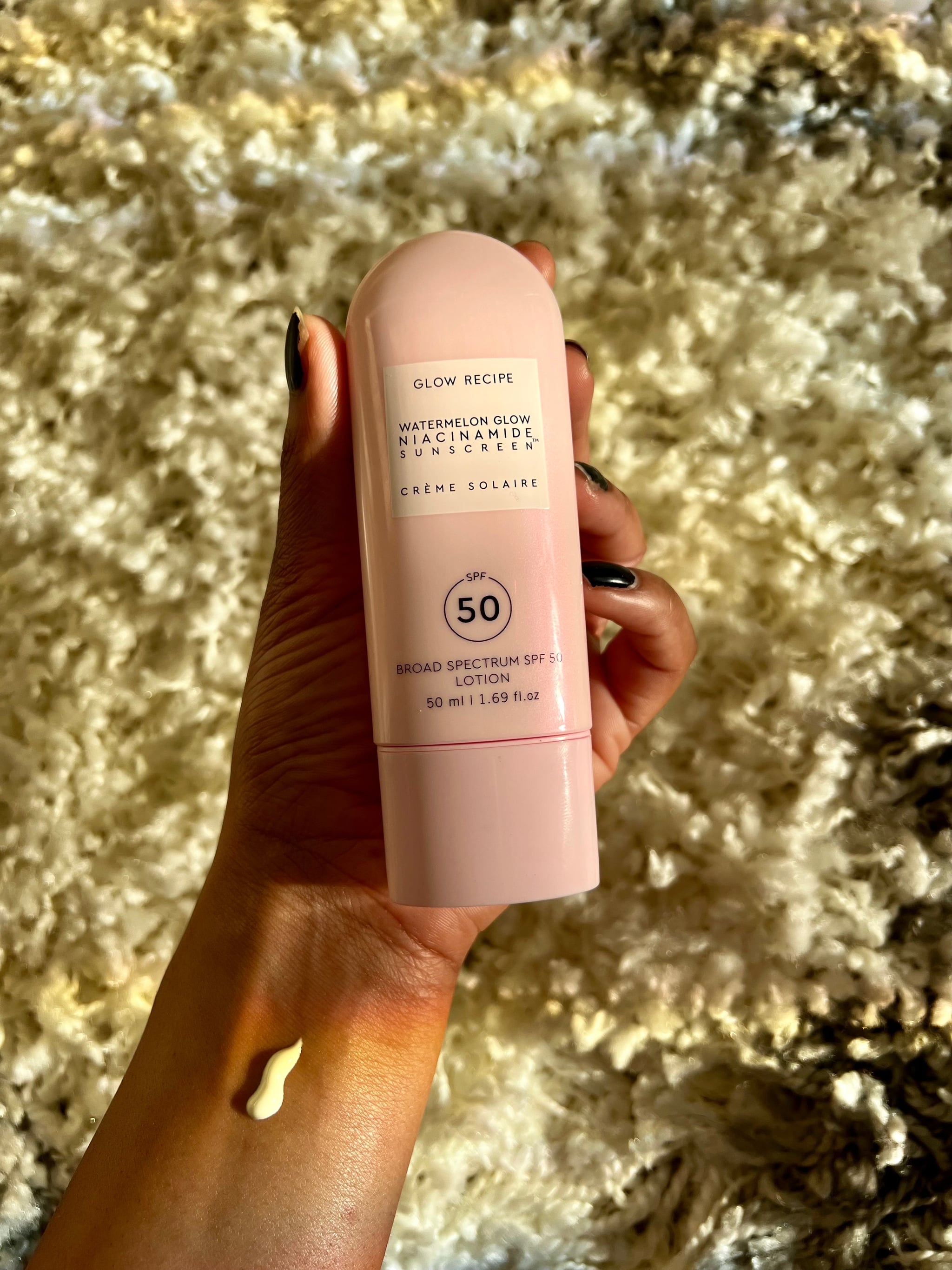 Glow Recipe's new Watermelon Glow Niacinamide Sunscreen SPF 50 is packed with hydrating and soothing ingredients like aloe, hyaluronic acid, and watermelon extract. This caught my eye since my skin leans dry, and I have fairly sensitive skin that gets irritated easily. It also contains niacinamide, which is a powerhouse ingredient that can help minimize acne, diminish the appearance of dark spots, and balance out the skin. I deal with hyperpigmentation and post-acne marks, so having niacinamide in the formula was a big plus for me. The sunscreen has a blend of physical UV filters like non-nano zinc oxide and chemical UV filters like homosalate, octisalate, and octocrylene. Using both physical and chemical UV filters makes the sunscreen easy to work with daily and consistently wear. After all, it's important to apply sunscreen every morning to see progress in your skin's appearance and health, especially when dealing with evening out the skin tone and diminishing hyperpigmentation.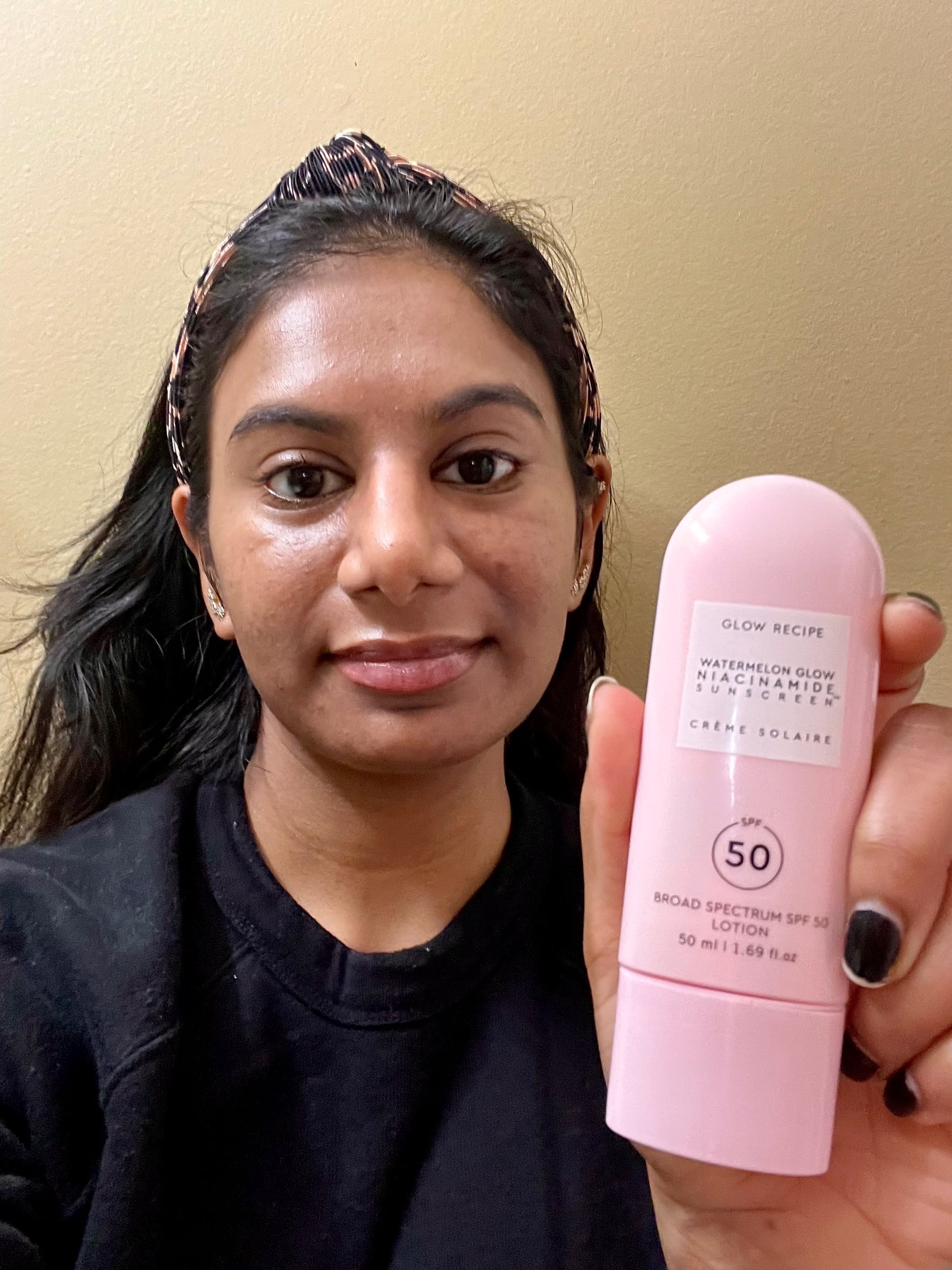 After my morning serums, I applied a sufficient amount of Glow Recipe's new sunscreen on my face and neck, around the length of two fingers. The sunscreen is hydrating and lightweight and has a silky texture that feels more like a moisturizer than a traditional sunscreen. It's not thick and rich, nor is it runny like a serum. It goes on the skin smoothly and easily blends without feeling heavy or greasy. My skin leans more on the drier side, and this sunscreen is moisturizing enough for me to use in place of moisturizer. However, if you'd like to use a separate moisturizer, the sunscreen works well with other products and doesn't pill. When I first applied the Watermelon Glow Niacinamide Sunscreen SPF 50 and blended it into my skin, I noticed a slight white cast. However, once I let it sit and settle on its own for a minute or two, the white cast disappeared, leaving behind a glowy, luminous finish.
It's difficult to find a purely physical sunscreen that doesn't leave a white cast and feels lightweight and flexible on the skin, especially with an SPF of 50. The blend of chemical and physical UV filters brings the best of both worlds for an elegant sunscreen you want to wear every day. The sunscreen doesn't feel heavy or greasy, and it doesn't clog my pores, irritate my skin, or sting my eyes, either. I highly recommend Glow Recipe's new Watermelon Glow Niacinamide Sunscreen SPF 50 to anyone in the market for something hydrating and lightweight. If you're already obsessed with the Watermelon Glow line from Glow Recipe, this sunscreen is the cherry on top!
Rating:

Image Source: POPSUGAR Photography / Anvita Reddy