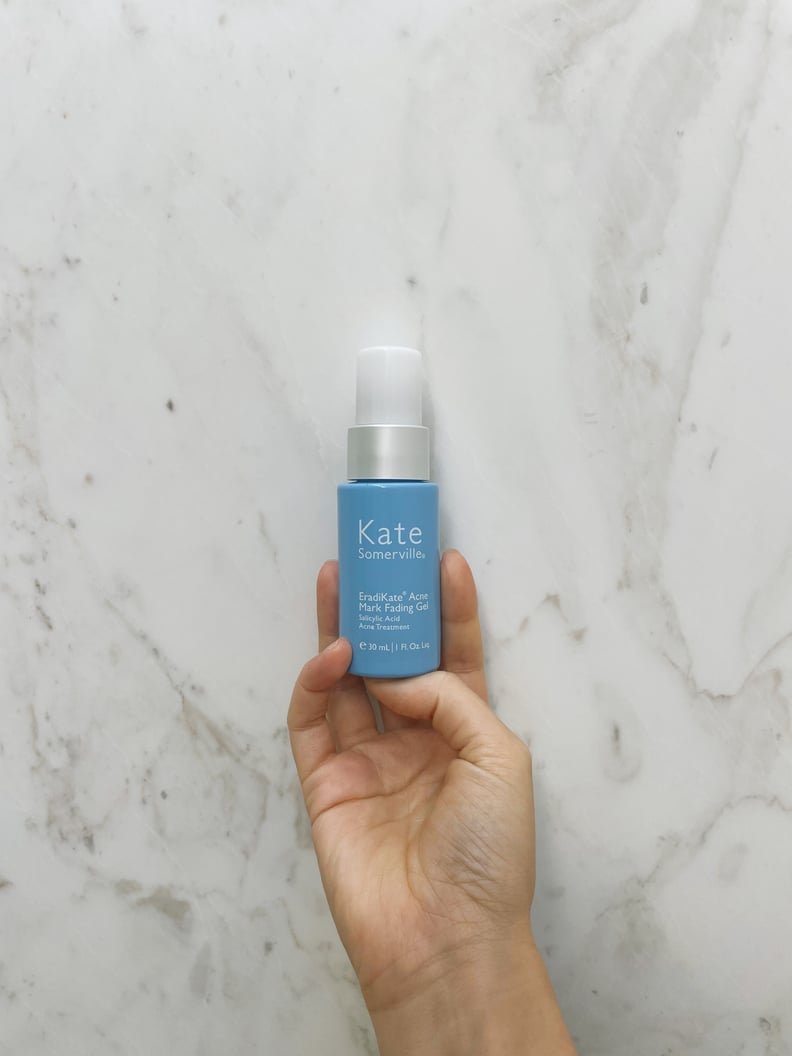 POPSUGAR Photography | Renee Rodriguez
POPSUGAR Photography | Renee Rodriguez
Every editorial product is independently selected by our editors. If you buy something through our links, we may earn commission.
Kate Somerville recently launched the EradiKate Acne Mark Fading Gel With Salicylic Acid.
The product promises to minimize post-acne marks and prevent future breakouts.
One editor tested the gel treatment and saw noticeable results.
As I've gotten older, I've noticed that my skin concerns are continuously changing. I used to be worried about dry skin and how best to repair moisture barrier. For a while, I was experiencing hormonal acne and trying every product on the market to fix it. Recently, my main focus has been trying to find ways to heal dark marks on my face either from past breakouts or hyperpigmentation. When I heard about the new Kate Somerville EradiKate Acne Mark Fading Gel ($68), I quickly added it to my list of products I needed to try ASAP.
The formula combines 2 percent salicylic acid to dissolve any acne-causing oils or dirt in pores, niacinamide to brighten, and a prebiotic complex to hydrate — all of which are supposed to work in tandem to treat acne flare-ups and minimize the dark marks they sometimes leave behind. The gel is also cruelty-free and formulated without parabens, phthalates, or sulfates.
For the last few years, I've started noticing that every time I get a pimple, even once it's scabbed over and "healed," it takes almost a month for my acne marks to fully fade. The time I spend with dark acne marks on my face actually ends up being much longer than the time I had the blemish on my face in the first place. I've tried popping the pimple (and yes, I know this is not recommended), I've tried leaving it alone, and I've tried a slew of different acne patches and treatments, but nothing both gets rid of the breakout and gets the lingering mark. Whenever I notice a pimple forming, I have to mentally prepare for the month-long visitor who will be permanently residing on my face.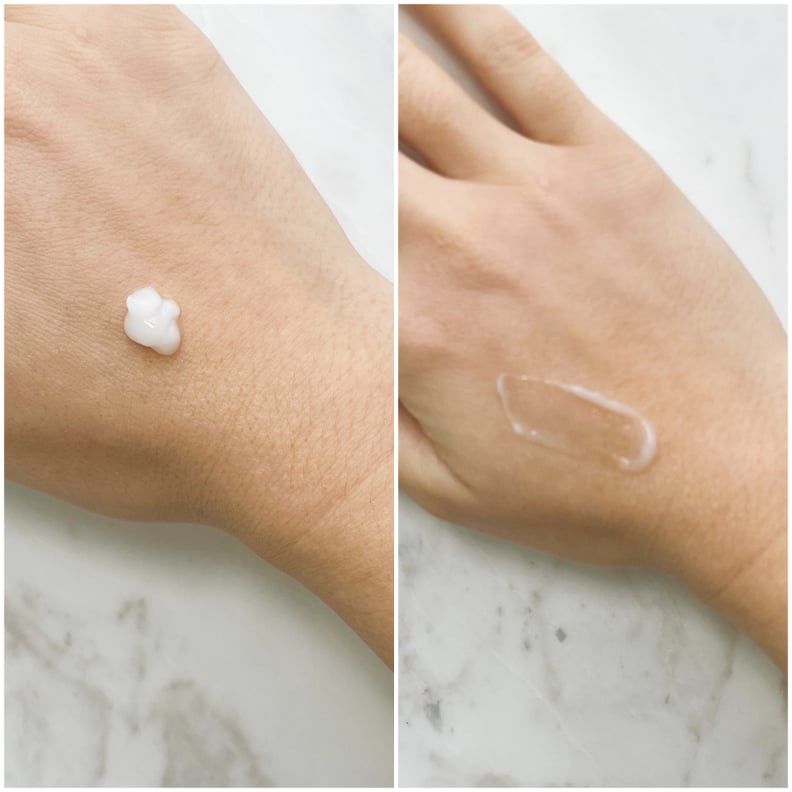 The first time I heard about this product, it immediately piqued my interest because it was almost exactly what I had been looking for: a way to finally fade my post-acne marks quickly and efficiently. When I received it in the mail, I sprinted upstairs to my bathroom so I could apply it immediately. This product can be used both in the morning and at night, and it can be used either as a spot treatment on targeted areas or it can be used all over the face. I opted to use it as a spot treatment because I had a very large post-acne mark on my upper right cheek that I was ready to be rid of ASAP. I washed and dried my face, then I squeezed a tiny bit of the gel onto my finger, tapped it over my acne mark, let it sit and dry for a few seconds, and then completed the rest of my morning routine.
I didn't feel any stinging or burning after application, which I have noticed with some salicylic acid products I've used in the past. Overall the texture of the product was slightly creamy (even though it's a gel), without being too thick or too sticky. It didn't leave any residue behind on my face, and it absorbed into my skin within a few seconds after application.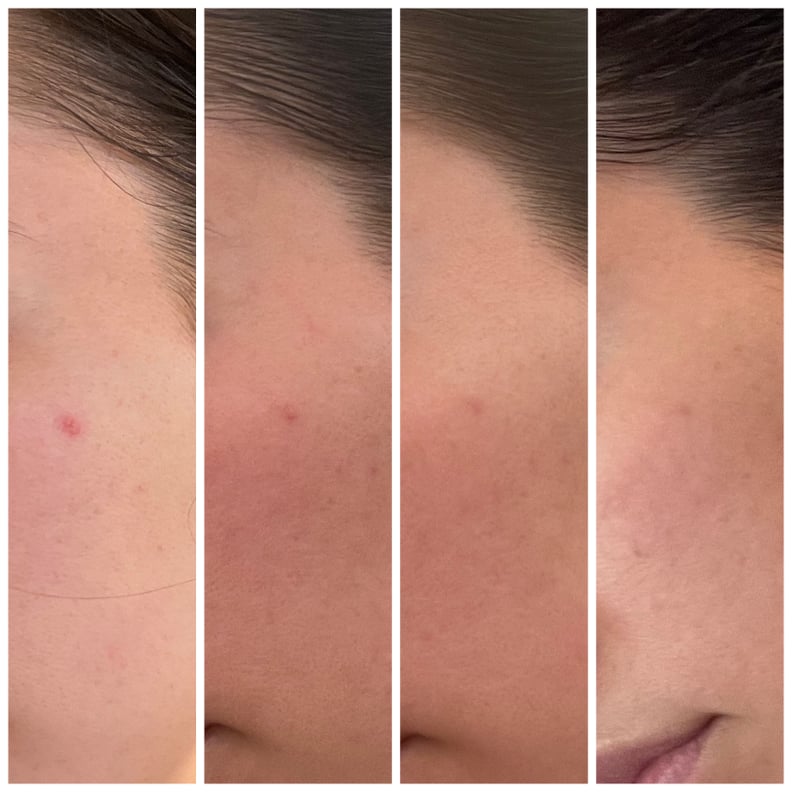 In the two weeks since, I've attempted to take a photo each night in order to track my progress, and I have to admit: I'm impressed. As I mentioned, it typically takes over a month for my post-acne marks to fully fade, but this product has definitely helped speed up the process. It hasn't been magic — nothing works overnight — but it's a vast improvement from how long I normally have to wait before seeing any signs of my marks lightening. I've even skipped a few nights of using the product, so I think my results would have been even better had I used it daily.
The only downside was that I did notice some dryness around my acne mark (hence why I skipped a night here and there), so you'll want to spot test and use it according to your specific skin type. That means it might be too harsh for my sensitive skin to use all over, but I still love it as a spot treatment and will continue to use it that way. If you've been looking for a way to fade your post-acne marks that is safe and actually works, I would definitely recommend this product.
Rating:
★★★★☆