I Tried Gwyneth Paltrow's Latest Goop Creams, and Now My Biological Age Is 3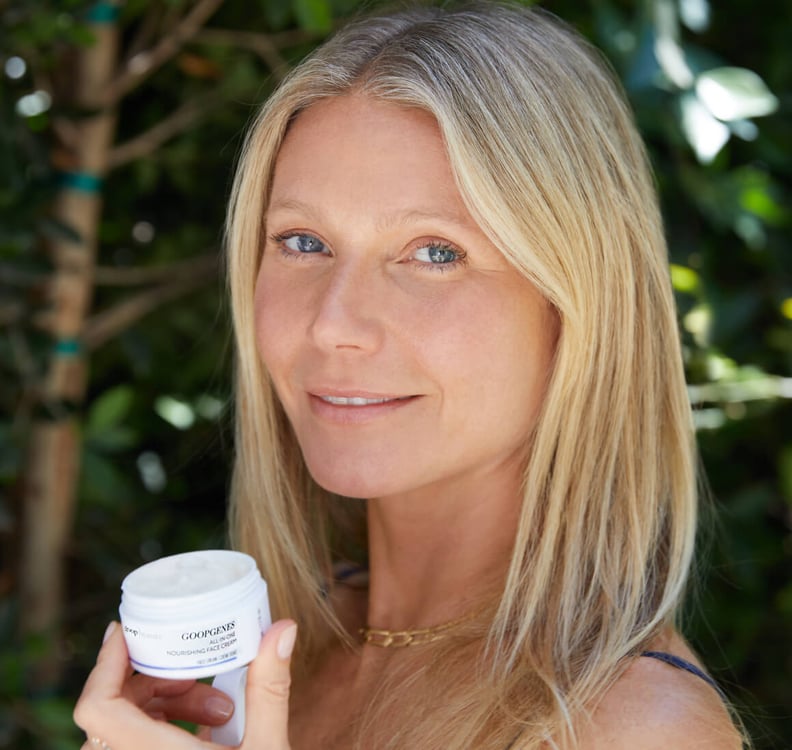 shop.goop.com
Every editorial product is independently selected by our editors. If you buy something through our links, we may earn commission.
Welcome to Goop, where the self-love is steamy, the candles are anatomical, and, now, the science is backed. For all the controversy around the efficacy of Gwyneth Paltrow's wellness brand and its Netflix docuseries, The Goop Lab, I dove into the cool waters of Goop like Wim Hof into a polar plunge. Who doesn't want to be dewy? It's what my friend and skin-care guru, L'Oréal's Meghan Corr, calls that "just stepped out of the womb" glow, and I think I feel a new biological age coming on.
The new products are the Goopgenes All-in-One Nourishing Face Cream ($125) and All-in-One Nourishing Eye Cream ($70), high-octane "supercreams" the brand claims are clinically proven to "address five key signs of skin health to keep your skin nourished, smooth, firm, even-toned, and glowing."
Here's how it works. Both All-in-One formulas include ceramides, which hydrate skin from the inside out and are clinically proven to improve its appearance (which comes down to moisture, elasticity, and texture). Both formulas also include schisandra berry, a mainstay of traditional Chinese and Kampo medicines and one of the first adaptogens to ever be studied. Per Torii Labs, it's known to make skin supple, "[reduce] the appearance of fine lines," and "give skin a "youthful glow."
All-in-One Face Cream boasts seven active botanicals, including: illipe butter, derived from a tropical tree native to the Borneo rainforest; caviar lime, to break up dead skin cells with alpha hydroxy acids and reveal brighter, clearer-looking skin; and pomegranate flower extract. All-in-One Eye Cream includes arjuna, a popular Indian herbal astringent; knotgrass extract, to save sensitive skin from UV and infrared damage; and Persian silk tree extract, to boost cell energy and improve the look of crow's feet, fine lines, and wrinkles.
It's Goop, so the branding is spot on. But the clean beauty ethos should be an easy sell, too: no parabens, no artificial dyes, no fragrances, and no cruelty. As far as texture goes, both creams are rich and not at all, goopy: turn the Face Cream jar upside-down and there's no jiggle. It takes very little product to do a full face of both creams, actually, considering how long each lasts.
Goop describes its All-in-Ones as a "second skin," and after a week of daily use, that checks out. I dab my T-zone, nose, cheeks, and down my neck after showering, and I've still got a glow 24 hours later and after a run, even. The Goop All-in-Ones don't absorb as quickly as, say, the Kiehl's Ultra Facial Moisturizer, and the benefit is the lacquer that's left over: light enough to be subtle, but with enough staying power to keep skin dewy.
For all the buzz around Goop, the All-in-Ones live up to the hype. I don't sleep amazingly, so undereye bags are just par for the course. But the Eye Cream depuffs my undereyes enough that I can use way less cover-up on my less-dark circles. (I dab Supergoop! Daily Correct CC Cream in Light onto the skin beneath and around my eyes after I moisturize.) My face looks healthy and hydrated after this week, and I like the feel of both products. In all, Goop's All-in-One Face Cream and Eye Cream makes for a quality clean-beauty regimen backed by science and high-grade ingredients. And, Gwyneth Paltrow's new-age seal of approval doesn't hurt, either.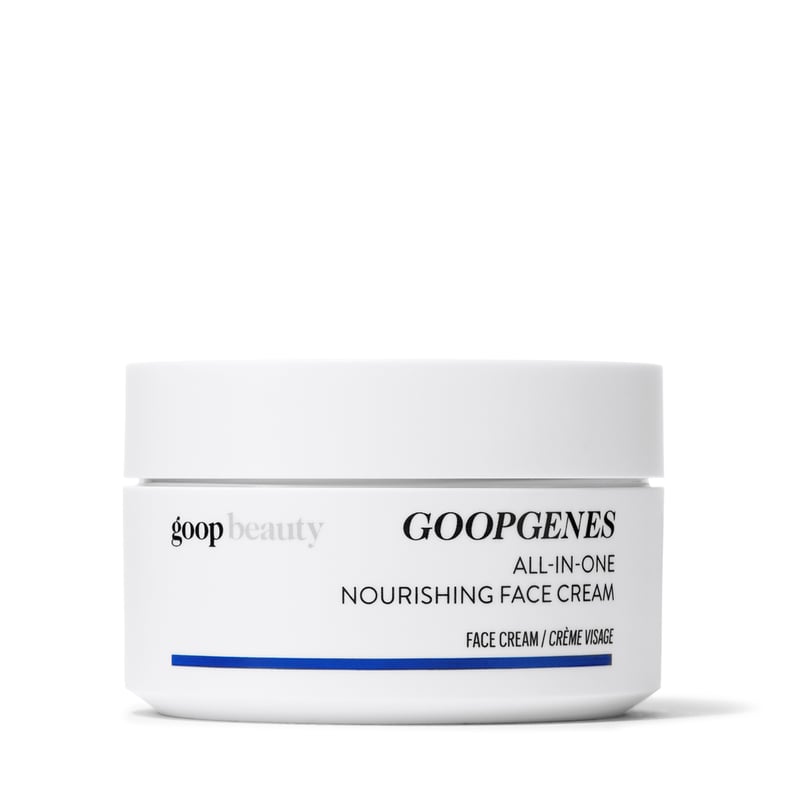 Goopgenes All-in-One Nourishing Face Cream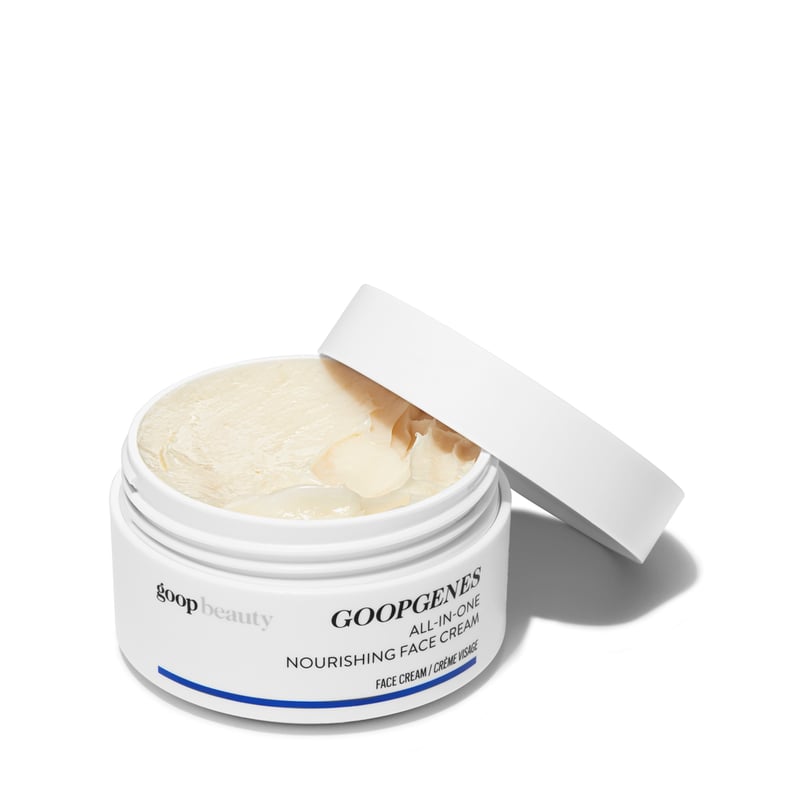 Goopgenes All-in-One Nourishing Face Cream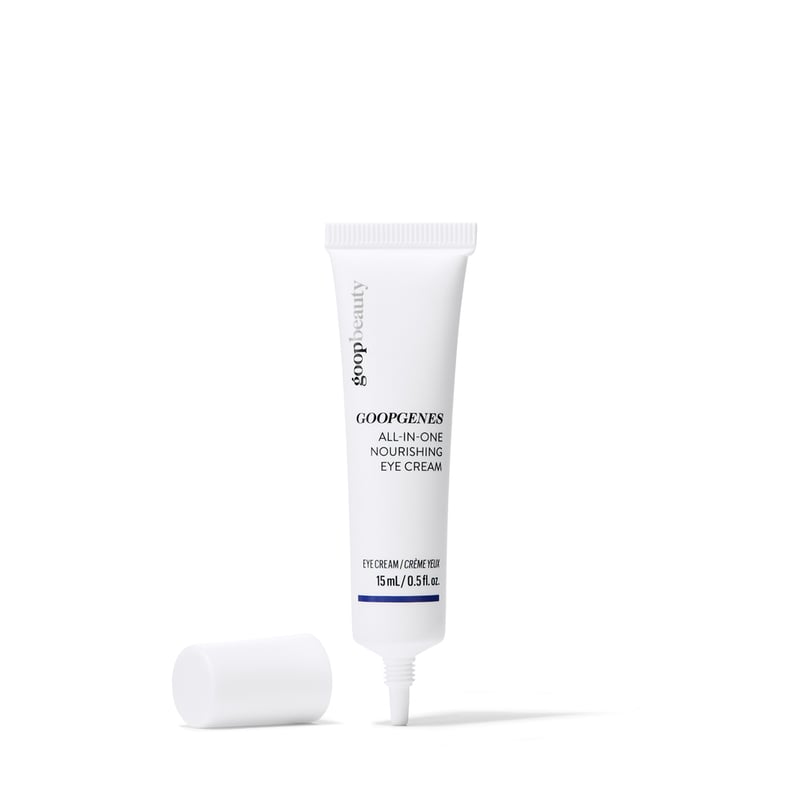 Goopgenes All-in-One Nourishing Eye Cream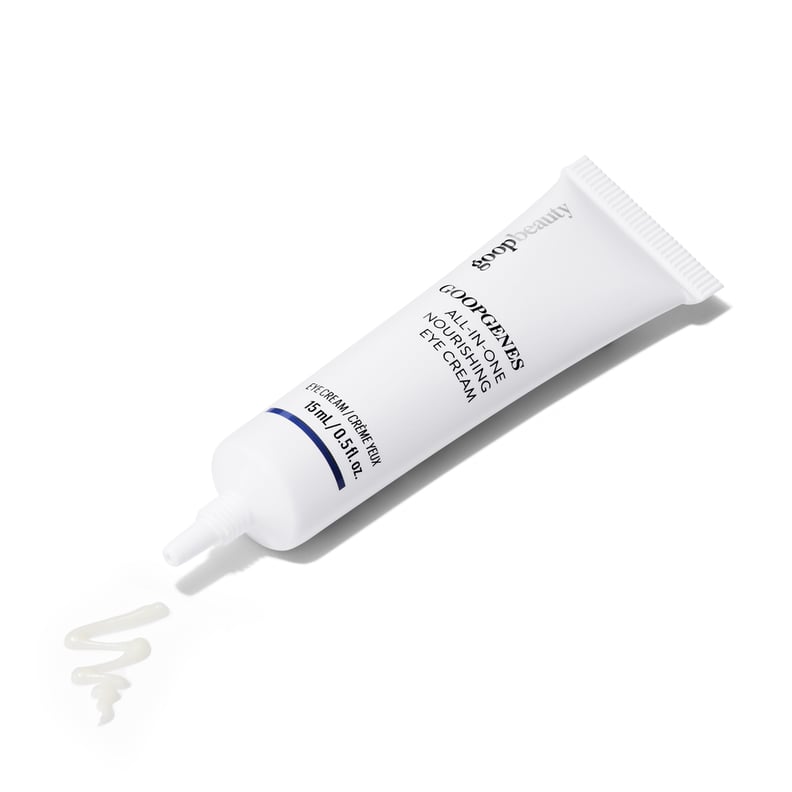 Goopgenes All-in-One Nourishing Eye Cream