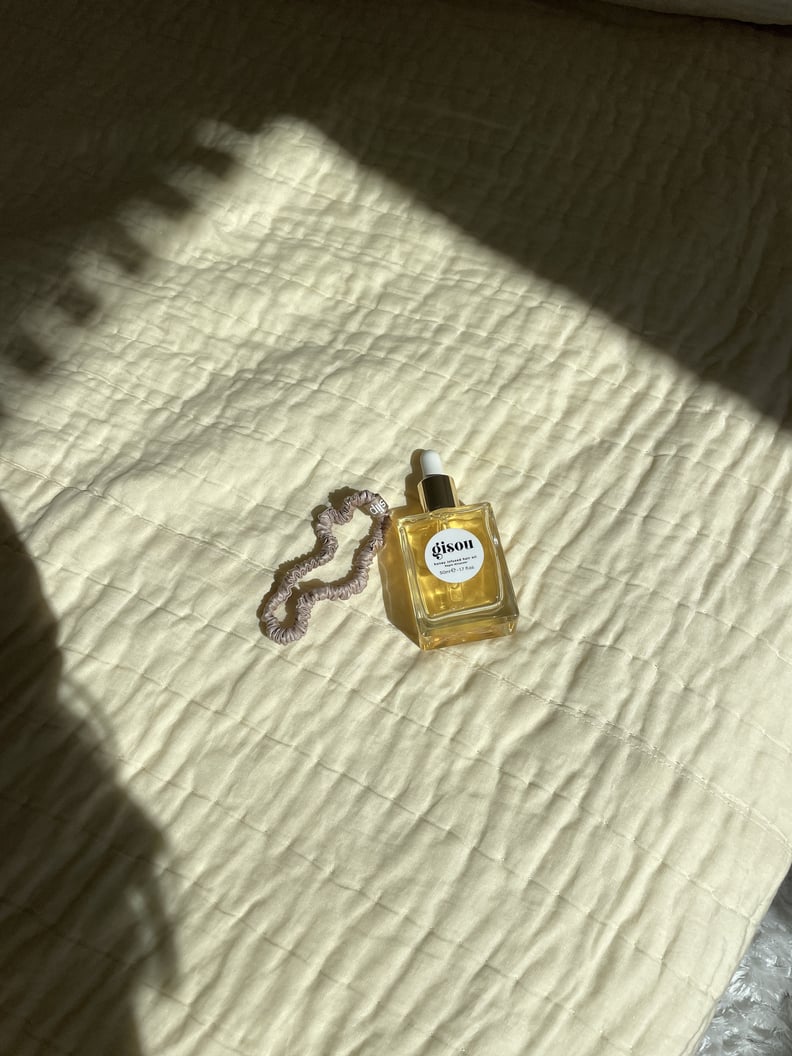 POPSUGAR Photography | Renee Rodriguez
POPSUGAR Photography | Renee Rodriguez
As POPSUGAR editors, we independently select and write about stuff we love and think you'll like too. If you buy a product we have recommended, we may receive affiliate commission, which in turn supports our work.
"Hair slugging" is a beauty hack going viral on TikTok.
Originally called hair oiling, an ancient South Asian practice, it involves applying oil to your hair and putting your hair in a sock before going to bed.
One editor tested the viral hair hack and was impressed with the results.
If you've scrolled through TikTok in the last few months, you've probably seen at least one person talking about "skin slugging," a Korean skin-care technique that promises to leave you with glowing, hydrated skin. Over the past few weeks, a new type of slugging has taken TikTok by storm: "hair slugging." To put it simply, hair slugging entails adding a treatment to your nightly hair-care routine and then placing something over your hair to protect it while you sleep.
Historically speaking, the practice of hair oiling dates back thousands of years, with women in South Asian cultures creating homemade oil concoctions as part of their weekly hair rituals. "Traditionally the ritual is practiced by women of different generations, helping build a deeper sense of community and female bonding. This isn't done to solve a specific hair problem but done regularly to promote healthy scalp and hair," Shalini Seneviratne, founder of Wildpatch, a beauty and wellness brand, tells POPSUGAR. "The practice dramatically improves scalp health that results in thicker, stronger hair that grows faster. It can even prevent hair loss and slow down greying."
I heard about hair slugging for the first time while watching TikTok user Monique Rapier's video, in which she uses a light oil on her hair and then places it in a fuzzy sock overnight. Apparently, the sock helps prevent friction and damage that happens during the night and also helps lock in moisture. After seeing tons of TikTok users comment about how the hack made their hair shinier than ever, I decided to give it a try.
For the last two years, I've put extra time into taking great care of my hair. I have air-dried it as often as possible, haven't washed it as much, and have limited the amount of time I spend using hot tools. However, I recently had my hair lightened to try the translucent-brown hair trend, and because I hadn't dyed it in so long, it gave me a lot of damage and split ends. I knew it needed more TLC to get in shape.
There are two ways to go about this hair hack. The first way is to use a lightweight oil that you don't need to wash out the next day. You apply the oil to the ends of your hair, wrap it in a fuzzy sock, secure it with a scrunchie, and sleep in it overnight. The second way is to apply a heavier oil from roots to ends and then apply a hair mask on top of it. From there, you wrap your hair in a sock and secure it with a scrunchie. When you wake up, you rinse it out.
Since it would be a few more days I needed to wash my hair, I decided to use a lighter oil and just apply it to the ends of my hair. To start, I brushed my hair and then dispensed about four drops of Gisou's Honey Infused Hair Oil ($46) into my hands. (Pro tip: whenever I apply oil to my hair, I first rub it between my palms and in between my fingers, like I'm applying hand lotion. From there, I comb my fingers through my hair. This helps me disperse the oil evenly instead of getting clumps of liquid in just one or two sections.)
After applying the oil to just the ends of my hair, I split my hair into two sections. In order to test whether or not hair slugging worked for me, I left one-half of my hair loose as I normally would. I don't own a fuzzy sock, so I wrapped the other half of my hair in a silk pillowcase and secured it with a scrunchie. I slept on a different silk pillowcase and ran to the mirror in the morning to survey the results.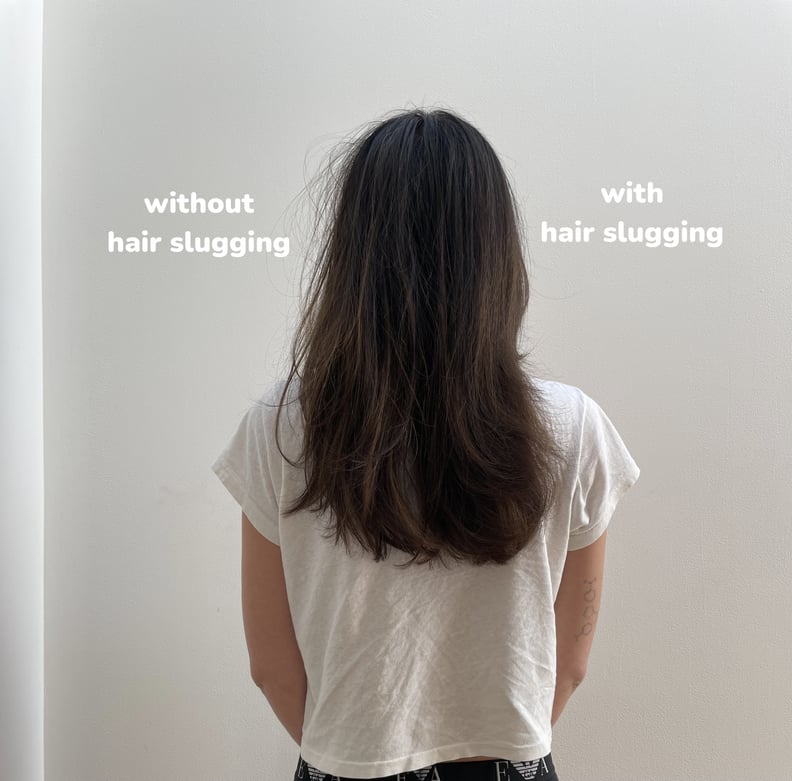 The half of my hair that I left out overnight looked like a hot mess. While my ends didn't look too dry, my hair was still frizzy and knotty; I'm pretty sure I even found a few stray pieces of fuzz in it. It seemed that just sleeping on a silk pillowcase wasn't enough to keep my hair looking fresh.
When I took the "hair slugging" half of my hair out of the silk pillowcase, I definitely noticed a difference. There was less frizz, I had practically no knots, and after a quick brush, my hair looked noticeably shinier.
I would recommend this hack for those with extremely dry, damaged hair or those with thick or frizzy hair. Slugging just the ends of your hair with a light oil should work for most hair types, but slugging with heavy oils and hair masks might not be great for those with thin hair, since the excess product could weigh your hair down if you don't rinse it out the next day.
While the results weren't dramatic, there was enough of a difference that I'll certainly continue sleeping with my hair "slugged" for the foreseeable future. I'm also excited to test out the more intense version of hair slugging with a heavier oil and a hair mask.