Halle Berry on the Lessons Her Career Has Taught Her: "Beauty Alone Doesn't Get You Very Far"
Every editorial product is independently selected by our editors. If you buy something through our links, we may earn commission.
Halle Berry's beauty has been celebrated for as long as we can all remember — she's been name-checked in so many rap songs that you can find playlists featuring them all on Spotify. But even as an entire generation of musicians have so loudly expressed their infatuation with her over the years, Berry can tell you herself that being beautiful goes far beyond what the eye can see.
"Beauty is as beauty does," she told POPSUGAR. "Beauty alone doesn't really get you very far. It's very superficial, and it gets you to a certain point, but it takes more than beauty to be successful at anything."
That, of course, is the kind of wisdom we'd expect to hear from a legend like Berry, and luckily for us, it doesn't stop there. Read ahead as the actress opened up about the biggest beauty lessons she's learned, the skin-care products she'll never use again, and her views on body hair.
On the Evolution of Her Beauty Routine
Throughout her decades-long career, Berry said, her beauty routine has stayed the same for the most part — although she's not afraid to admit that, like many of us, she too has been a victim of harsh exfoliants.
"I used to always use an exfoliant, but I no longer do that anymore," she said. "I used to [exfoliate] my skin thinking I had to scrub a layer off, and then I realized along the way that that's not really good for your skin, so I found gentler products that do that."
One of those products is the Finishing Touch Flawless Cleanse Massager ($36) (she's currently partnering with the hair-removal brand), an exfoliating face massager that can be used to remove excess dirt, oil, and makeup from the face.
"My newest discovery is how to cleanse the skin without taking off a whole layer," she said. "As I've grown and technologies have changed, I've always stayed on top of new products. I'm always down to see what works for me, and the truth is not everything works for everybody, so I have to figure out which of these new products actually works for me and my skin type and which ones don't."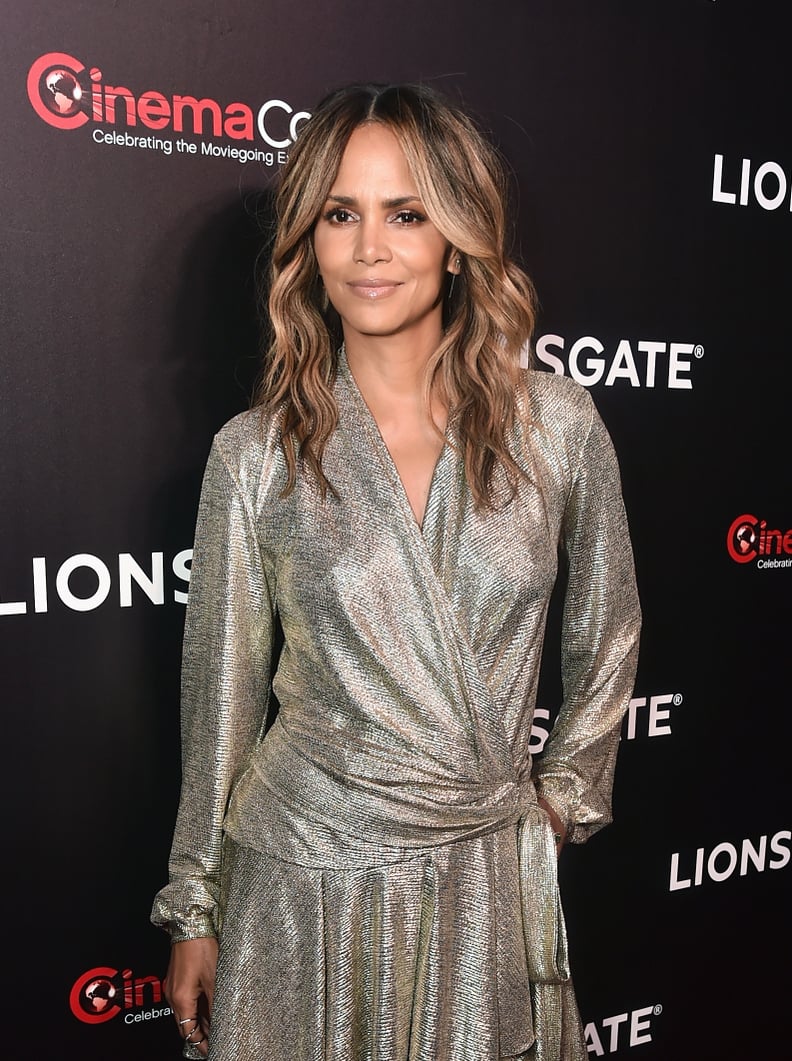 On Body Hair and the Stigma Attached to It
In recent months, we've seen a wave of celebrities writing off unrealistic beauty standards and embracing their body hair in selfies and even red carpet photos. Berry admitted that growing up, she was slightly embarrassed of the hair that grew on her body, detailing the few tricks she employed to remove it.
"I used to use depilatory creams on my lip, and I would burn myself every time, and it was so frustrating for me because I didn't really have any other choices," she said. "I wasn't going to shave my lip with my big razor, so I would do this to myself and it would be so frustrating. And the very thing I was trying to get rid of — this dark mustache — would then leave a dark burn that would last six months. I'd be trying to shave my little side burns. Shaving my legs as a kid, I would cut and nick them — I still have a few nicks on my shins that came from the first times I ever tried to shave and I dug the razor into my shin bone."
These days, Berry approaches the topic of body hair with the same sort of "you do you" attitude as most celebs, recognizing that whether or not you remove the hair is a deeply personal choice.
"Do whatever makes you feel like your best self," she said. "Culturally, we all come from different places where certain things are deemed acceptable or beautiful or not, and we all have to decide what makes us feel good. That's the Flawless mentality: put your best self forward, and whatever that is, you decide it."
On the Importance of Staying True to Yourself
The biggest beauty lesson she's learned throughout her career? Being her authentic self.
"I don't really give over to trends and beauty fads, and I'm not one to jump on the bandwagon," she said. "I've worked really hard to stay myself through all of this that's going on and to stay true to what I think beauty is so that I can feel my best self."