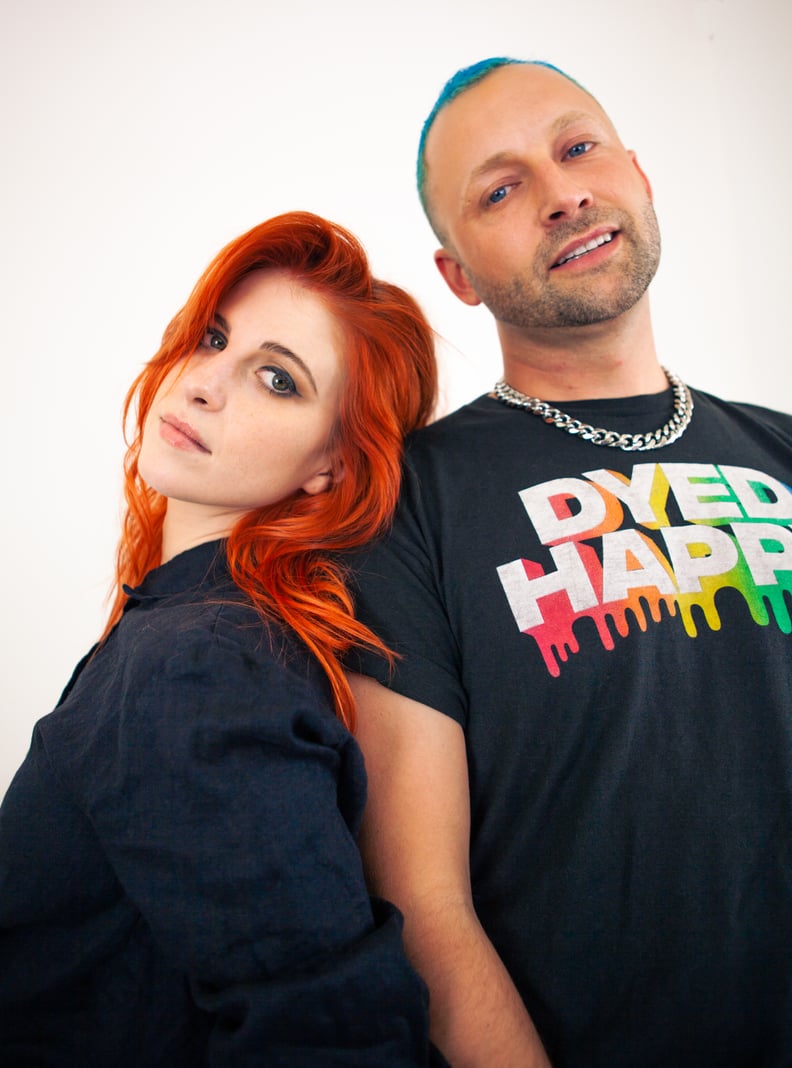 Lani Parrilla
Lani Parrilla
Hayley Williams is best known as the badass frontwoman in Paramore with the killer voice, but we'd argue that she is just as famous for her iconic Y2K pop-punk beauty looks. Need proof? Just take a look at every one of her ever-changing hair colors (how can we forget her signature copper color?) and rainbow makeup. Whether you were a fan or not, the Grammy Award-winning singer embodied everything about that aesthetic during the late '90s and early aughts.
Fast forward to 2021, and Williams is still staking her claim in the beauty world. She and her longtime one-man glam team, Brian O'Connor, have a vegan and cruelty-free hair-color brand called Good Dye Young, which specializes in the same bright and bold hues we loved seeing on Williams back in the day. (Most recently, the duo dropped a line of metallic hues for their Metalheads collection.)
Now with everything from butterfly clips to chunky highlights joining the mix of Y2K trends taking center stage again (thanks, TikTok), naturally, we thought: who better to ask about the resurgence than the original herself?
Ahead of her and O'Connor's Sally Beauty DIY University class for Halloween, Williams revealed one of the Y2K trends she's glad to see back, and it's the opposite of smudged eyeliner. "[When] I think about the late '90s/early 2000s, [there was] the glam side of it, but there was also a side of it that was natural," she told POPSUGAR.
While it's true that there was more-is-more makeup in the early aughts, there was also a minimalism to beauty at the time (think: Almost Famous), which has taken 2021 by storm, too.
One star she thinks is doing a good job at this minimal makeup trend? None other than Billie Eilish. "She has a look that she's famous for, but it also involves her features," she said. "It's not so much [that] she's known for wearing a lot of blush, contouring her face, or wearing bright lipsticks all the time. She just kind of always looks like herself."
"I remember loving Aaliyah, TLC, and Missy Elliott and how they were ushering in other kinds of sexy into the mainstream. I see more of that lately."
As a result of the neutral makeup resurgence, there's been a big uptick in skin positivity, too — and Williams is all on board for it. "I really love seeing people embrace their own features and flaws," she said. "It doesn't mean it's wrong to dress yourself up to the nines or contour your face to the gods, but I do love that we're starting to see more people [embracing] really natural parts of themselves, whether that's a feature they love that they want to play up or whether it's, 'I have a zit, let me put a star sticker on it.' I feel like that's really cool — star stickers feel very Y2K to me, and I love that."
For Williams, that love-myself attitude is reminiscent of the Y2K era, when self-expression and self-experimentation through fashion and beauty were at their pinnacle.
"It's really, really amazing to think back on all the artists over time who have played with presentation in ways that were really brave," she said. "Around the year 2000, I remember just loving Aaliyah, TLC, and Missy Elliott and how they were ushering in other kinds of sexy into the mainstream. I feel like I see more of that lately."
One trend she thinks can stay in the 2000s? Overplucked eyebrows. "It's amazing that I have eyebrows," Williams joked. "Especially in the middle — we want to see those little baby hairs."
Fair enough.
Tune into Good Dye Young Presents: Metal Daze Halloween Craze: A-Hair-Ican Horror Story: A Semi-Perm Hair Tutorial on Friday, Oct. 22, at 2 p.m. ET on Sally Beauty to learn more about the Metalheads collection and DIY costume ideas with Williams and O'Connor.