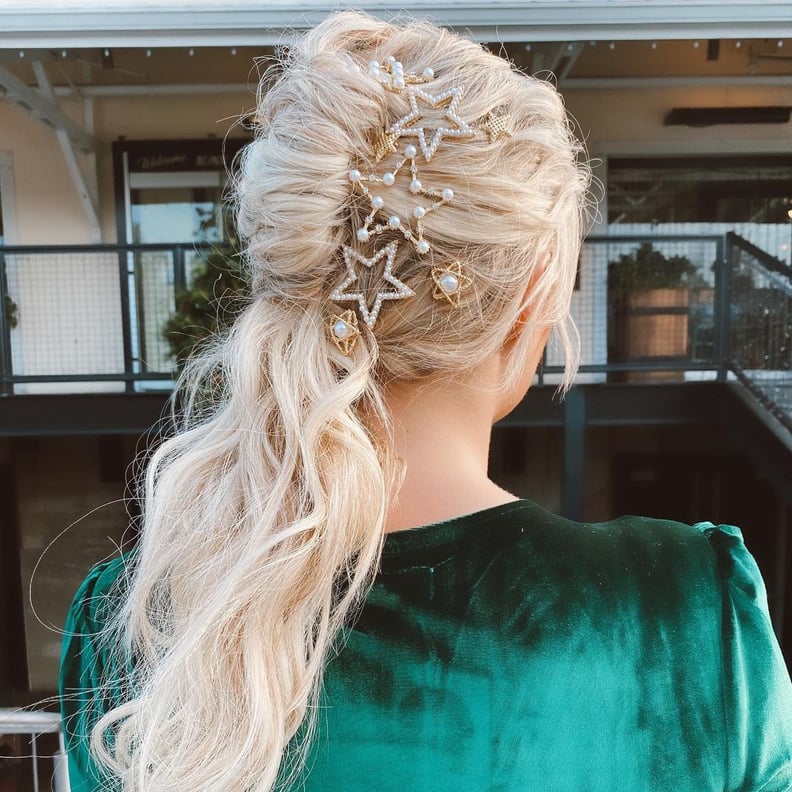 Deciding what to do for the holidays is hard — not just in terms of plans, but also with your hair, makeup, nails, and outfit. Do you go ultraglam and make a statement, or keep it simple and go with a minimal look? Between that and trying to find the best gifts for everyone on your list, the holidays can be a real challenge if you're an indecisive person. That's why you might prefer to be matched with the perfect holiday hairstyle based on your zodiac sign.
Oftentimes, overthinking a decision like what to do with your hair can leave you feeling stumped, but if you sit back and let the stars decide for you, a new, creative look can just present itself to you. From dramatic updos to more low-key, wavy styles, there's a festive hairstyle that matches your personality and beauty vibe in the roundup ahead. Just look for your astrology sign to find your match (and when in doubt, you can never go wrong with a sparkly hair clip).
Capricorn (Dec. 22-Jan. 19): Ponytail With Hair Clips
As a Capricorn, you tend to be reserved and practical. Adding a hair accessory to a simple holiday hairstyle, like a curled ponytail, will make you feel dressed-up but also comfortable.
Aquarius (Jan. 20-Feb. 18): Sleek High Ponytail
You're an independent person who likes to express yourself and show off your personality every chance you get. A sleek high ponytail is the perfect dramatic choice to help you stand out.
Pisces (Feb. 19-March 20): Loose Braids
Pisces are imaginative and kind spirits. A loose braid will show off your sensitive side and match with your go-to minimal makeup look.
Aries (March 21-April 19): Sleek Low Ponytail
As an adventurous and energetic Aries, you need a hairstyle that matches the energy you put into the world. Try pulling your hair back into a sleek low ponytail to showcase the bold makeup that you'll undoubtedly wear.
Taurus (April 20-May 20): Updo With Hair Clips
You may come off as someone who has a strong personality, but inside you're also very creative and sensitive. Dressing up an updo hairstyle with lots of sparkly hair clips is the perfect romantic look for you.
Gemini (May 21-June 20): Hair Down With Minimal Hair Clips
As a Gemini, you like versatility in your beauty look. Leaving your hair down and dressing it up with minimal accessories is a great option for you because you can switch it up and readjust throughout the day as needed.
Cancer (June 21-July 22): Hair Up or Down With a Headband
As an imaginative and sensitive Cancer, utilizing a headband in your holiday hairstyle will make you feel most like yourself and also touch on your nostalgic side.
Leo (July 23-Aug. 22): High Ponytail With Oversize Bows
Nothing suits a dramatic Leo better than over-the-top, oversize hair accessories. Try wearing your hair in a ponytail and adding a bow, or three, to really make your look pop.
Virgo (Aug. 23-Sept. 22): Dressed-Up Messy Bun
Virgos are typically practical and modest, which translates perfectly to a dressed-up messy bun. It will keep your hair out of your face while still looking beautiful.
Libra (Sept. 23-Oct. 22): Half Up, Half Down
An easygoing going person like yourself should try a half-up, half-down hairstyle for the holidays. The look is casual and romantic.
Scorpio (Oct. 23-Nov. 21): Sleek High Bun
A sleek high bun matches the bold, magnetic personality of a Scorpio best. You'll feel most like yourself while turning heads with this hairstyle.
Sagittarius (Nov. 22-Dec. 21): Loose Curls
As a fun-loving, free-spirited Sagittarius, you need a hairstyle that embodies your care-free personality, like loose curls. Add a few hair clips as a finishing touch and you'll be good to go.