3 Easy Ways to Remove Gel Nails at Home
As POPSUGAR editors, we independently select and write about stuff we love and think you'll like too. If you buy a product we have recommended, we may receive affiliate commission, which in turn supports our work.
Whether you're someone who frequently visits the nail salon for manicures, or if you just get them once in a blue moon, there often comes a time when you need to remove gel polish at home. If you've never done it before, the process can be a little daunting. Unlike a basic manicure, gel manicures involve a special type of polish that is cured to the nail using a UV light. Gel polish doesn't typically chip, but the grow-out can look a little wonky if you wait too long to take it off.
If you aren't in a position to visit a salon, don't have the time, or you just want to know how to remove gel nails at home, don't worry — we've got you covered. Ahead, find everything to know about gel manicures, including how to remove a gel manicure easily and safely so you don't damage your nails.
What Is a Gel Manicure?
Although a gel manicure is similar to a basic manicure, instead of regular nail polish, gel nail polish is applied to the bare nail and cured under a UV lamp. If multiple layers of gel polish are applied, each layer needs to be cured under the UV light. There is no extra drying time after the nails cure under the UV light, which makes gel manicures both quick and convenient.
Still, gel manicures can only last for so long, so when life gets hectic, it can be hard to find time to squeeze in a removal appointment before you resort to just peeling the paint off altogether.
How Long Do Gel Nails Last?
Gel manicures can last anywhere from two to four weeks with the proper nail prep and care. To get the most out of your gel manicure, make sure you frequently lotion your nails, apply cuticle oil daily, and don't pick at the gel. Be gentle with your nails, and minimize your nails' exposure to hot water.
Potential Damage From Removing Gel Polish
You've probably already heard a million times on end that picking off your polish is a no-no, as tempting as it is, and we're not just telling you that for your health. According to celebrity nail artist Rita Remark, your nails can actually suffer from you picking off gel polish.
"The reason why manicurists stress this rule so frequently is because we can almost guarantee that you will be left with nail damage. This is because gels are formulated to bond much tighter to nails than traditional nail polish," she tells POPSUGAR. "It makes the manicure last much longer, but it requires a bit more patience to remove. I think it's a fair exchange."
How to Remove Gel Polish at Home
If you're in a time crunch or just can't get to a salon to get your polish removed, read ahead for a few polish-removal tips you can follow at home.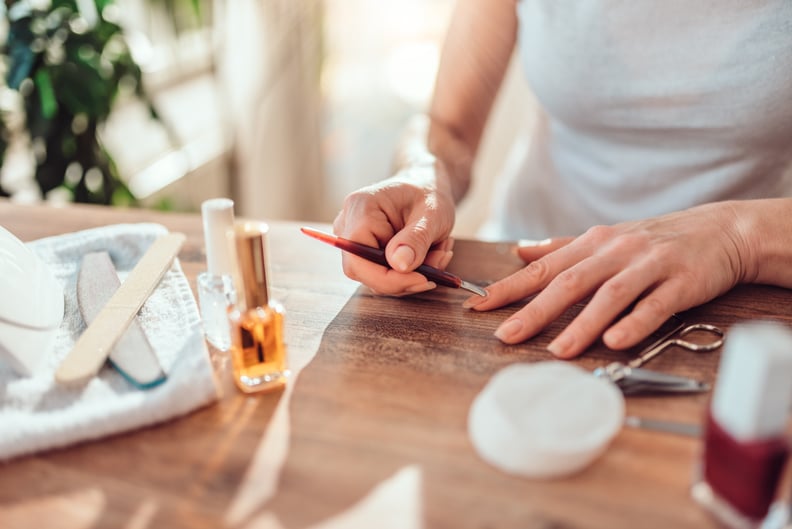 How to Remove Gel Nails at Home: At-Home Removal Kits
If you can't get to a salon but desperately need to remove gel nails at home, you can opt for an at-home removal system like Red Carpet Manicure Removal Kit ($10) to get the job done.
These are usually pretty inexpensive, and thankfully, they're also really easy to use. Most of them come with all the materials you need for you to give yourself a salon-worthy gel-polish removal that doesn't require you to leave your home.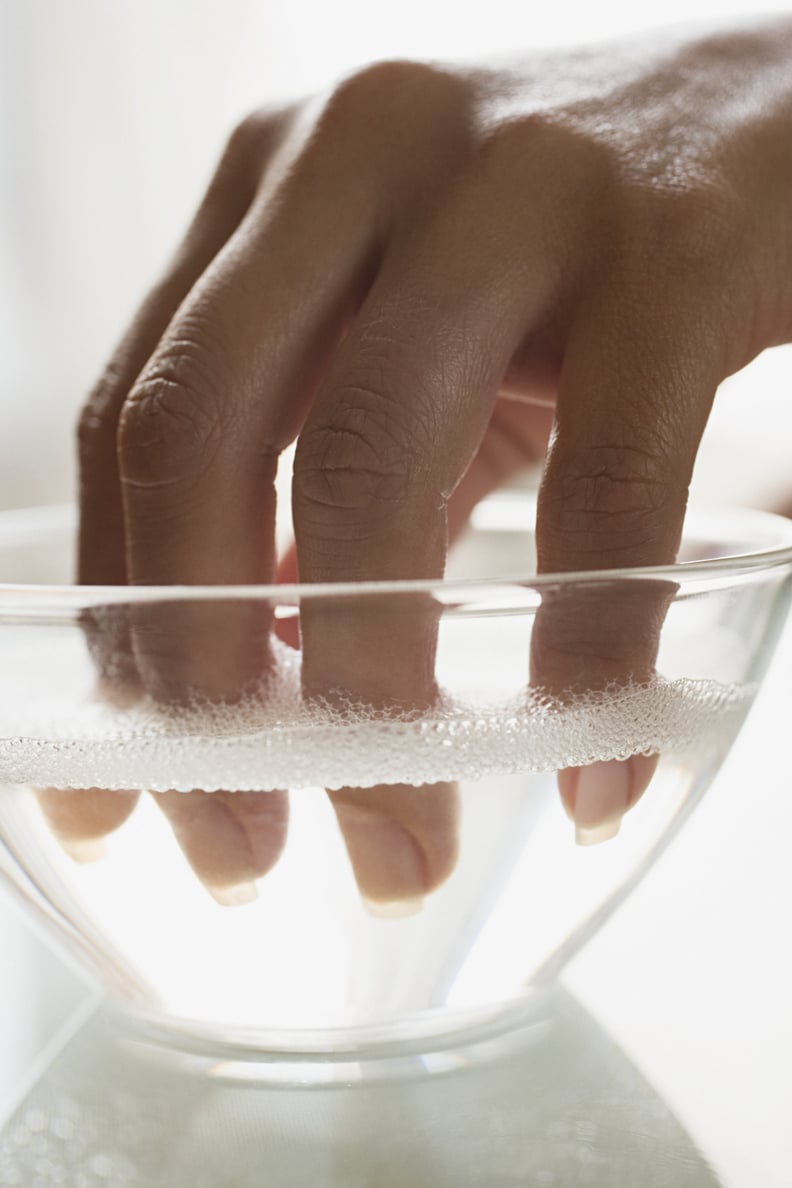 How to Remove Gel Nails at Home: Soak 'Em
Soaking your nails off is obviously a little more time intensive, but if you need to remove gel polish at home, it's still a good method. "You save plenty of time on the application and long wear of a gel manicure, so the trade-off is committing to the soak-off process," celebrity nail artist, Elle Gerstein, tells POPSUGAR.
You can do this by buffing your nails with a nail file — like this Flowery Duraboard Nail File ($2) — for a minute just to remove the shiny top coat. Then you can fill a bowl with hot water and Salon Gel Polish Acetone Remover ($5) and soak your nails for about 20 minutes, removing the paint with a nail scraper. If it doesn't all come off at first, you can repeat this process until you're able to scrape off all the remaining paint.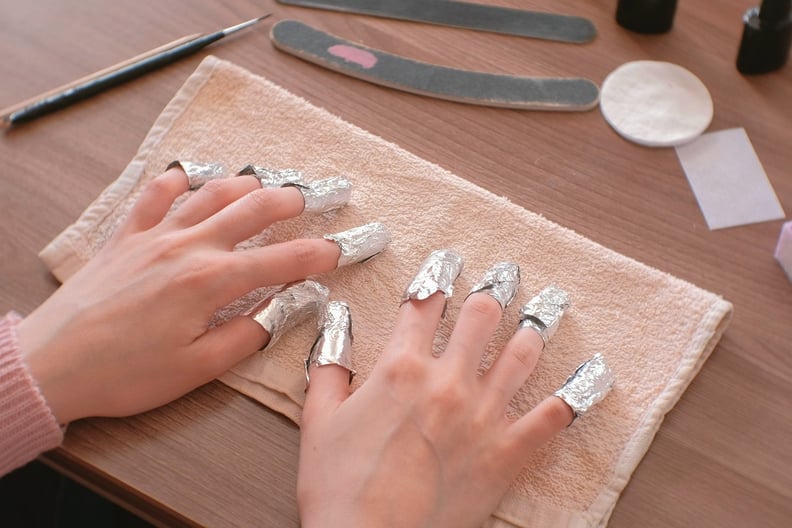 How to Remove Gel Nails at Home: Wrap 'Em
Another way to remove gel nails at home is the way of a professional nail tech with the aluminum-foil method. Much like prepping for the soak-off method, all you have to do is buff your nails a bit to remove the top coats. Then rip a cotton ball in half, and soak it in acetone before putting it directly on top of the paint. Once that's done, take a small strip of aluminum, and wrap one around your finger; it should be a little snug in order to hold the cotton in place.
Wait about 10 minutes before you remove the foil and cotton balls, and use a nail scraper to get rid of the paint that remains.