What to Know About Treating Cystic Acne, Per Dermatologists
Everything You Need to Know About Treating Cystic Acne, According to Dermatologists
As POPSUGAR editors, we independently select and write about stuff we love and think you'll like too. If you buy a product we have recommended, we may receive affiliate commission, which in turn supports our work.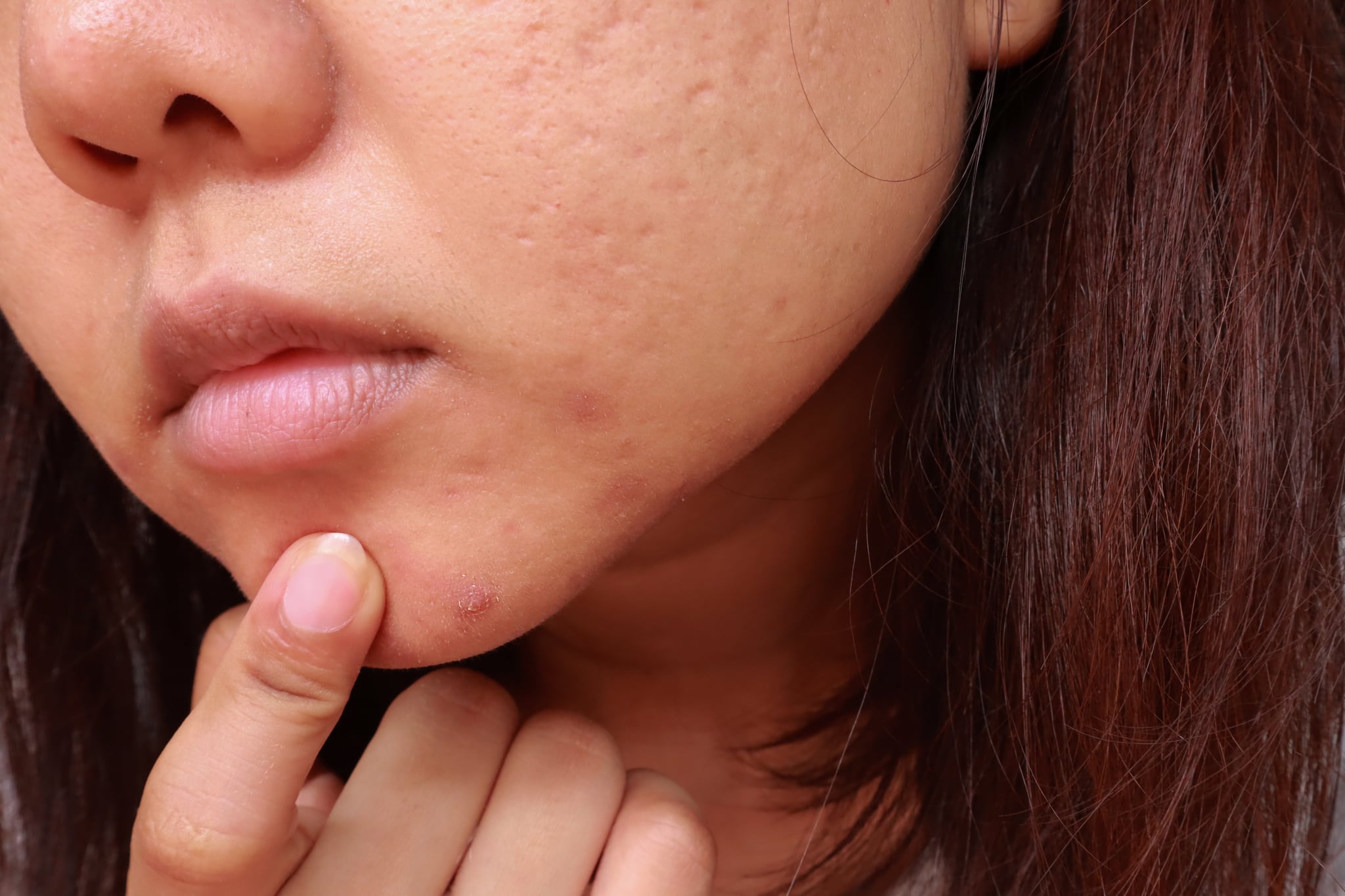 There is no one-size-fits-all solution for acne — especially when it's the cystic variety. You know the type: cystic acne often includes those large, painful bumps you feel forming beneath the skin long before you see them. They can feel painful to the touch, and once they appear on the surface — often red, filled with pus or characterized as large white bumps — they seem to stick around forever.
As one of the more severe forms of acne, treatment can be complex and requires the help of a professional. That means unfortunately, in many cases, this isn't the type of acne where you can use over-the-counter options. Because cystic acne also forms beneath the surface of skin, there's also a higher chance for scarring or postacne marks. That's why it's important to visit a dermatologist to create a treatment plan.
Below, we've asked dermatologists to share everything you need to know about cystic acne, including how to treat it.
What Is Cystic Acne?
If you think of acne on a spectrum of severity, blackheads and whiteheads are on one end and cystic acne is on the other. According to dermatologist Ted Lain, MD, cystic acne is characterized by large, pus-filled cysts under the skin's surface that can be red and painful. It's commonly found on the face but can also be found on the chest, back, and arms. "Normally, cystic acne is the result of a combination of bacteria, oil, and dry skin cells that get trapped deep within your pores," Chicago-based dermatologist Caroline Robinson, MD, said.
In many cases, it can improve with age and treatments like oral antibiotics, isotretinoin (formerly known as Accutane), and other dermatologist-recommended remedies like lasers. While it's not as common as fungal acne or hormonal acne, cystic acne is treatable.
What Causes Cystic Acne?
Similar to other types of acne, cystic acne occurs when oil, bacteria, and dead skin cells get trapped in the pores. It tends to occur most often in people with oily skin, but it's important to keep in mind that it can happen to anyone, Robinson said. Hormones can also be a factor.
"This kind of acne is most common in teens, women, older adults due to hormonal influences, and those on certain medications that cause acne," Dr. Robinson said. Since hormones stimulate oil production (one of the causes behind cystic acne), it leads to clogged pores, trapping of bacteria, and inflammation.
It also may just be in your genes. "We do know there is a genetic component, which is why we do see it most often in young adults or adolescents, but we have seen it in older adults as well," NYC-based dermatologist and Founder of Optiski Orit Marowitz, MD, told POPSUGAR.
How Do You Treat Cystic Acne?
First and foremost, it's worth noting that cystic acne should be treated with the help of a dermatologist. For the most part, topical creams can be ineffective since this form of acne develops underneath the skin, but prescription medication, lasers, and other in-office treatments are a suitable form of treatment.
"Oftentimes, isotretinoin or prescription-grade retinoids are necessary for treating severe cases of cystic acne," Dr. Lain said. These, he noted, can only be written by a professional. "Outside of some of the newer laser modalities and injections with steroids, the gold standard, oldest treatment protocol to cystic acne is Accutane," Dr. Markowitz said.
Still, even once your cystic acne is cleared, it's imperative that you keep a skin-care regimen to avoid it returning. "Beyond prescription treatments, it's important that patients suffering from cystic acne adopt a skin-care regimen that will help them balance the oil levels on their skin without stripping the skin and triggering additional oil production," Dr. Lain said. He recommends using a mild cleanser, like the SkinCeuticals Gentle Cleanser ($45), and advises to avoid picking at any pimples or using any harsh acids or scrubs.
Again, it's important to handle your skin very gently — including not to pick or prod — since this type of acne is very, very prone to scarring. Robinson agreed and advised using an oil-free moisturizer like the Neutrogena Hydro Boost ($19) to keep skin hydrated. As with everything else when it comes to acne, the most important thing is patience. Be kind to yourself, and remember: things will get better.