Huda Beauty 's Legit Lashes Mascara Was Worth the Wait
I Tried Huda Beauty's First Mascara, and It Was 100% Worth the Wait
As POPSUGAR editors, we independently select and write about stuff we love and think you'll like too. If you buy a product we have recommended, we may receive affiliate commission, which in turn supports our work.
It's a bit wild to think that after all these years, and after all the launches and buzz and expansion, that Huda Kattan doesn't have a mascara in her makeup range. That changes this month, however, with the drop of the Huda Beauty Legit Lashes Mascara, a dual-ended mascara that offers up to two full-sized mascaras in one diamond-shaped tube (no really, look down at the top of the tube and it's cut like a gem).
The fact that the brand hasn't had a mascara makes sense if you know Kattan, who is a perfectionist when it comes to her brands and formulations. Legit Lashes took four years to develop, with much of that probably due to the fact that the product features two totally different mascara formulas and two totally differently shaped wands. One one side, you have Length & Curl, and on the other, you have Volume & Define.
The "Lengthen & Curl" side features a curved wand with nine rows of tiny, evenly spaced plastic bristles, while the thin, glossy formula includes lengthening fibers. The Volume side, on the other hand, features a slightly hourglass-shaped wand with longer, "intertwined petal bristles," as the brand describes them, that travel all the way along the tip of the wand. The Volume formula is noticeably thicker and creamier than the one on the Lengthen & Curl side.
To test out Legit Lashes, I started by coating my top lashes with the Length & Curl side (the middle row in the image below, while the top row shows my bare lashes). Next, I layered on the Volume formula. Then, because I found the Volume formula a bit too heavy for my lower lashes, I finished by coating my lower lashes in the Length & Curl formula (the bottom row in the image below).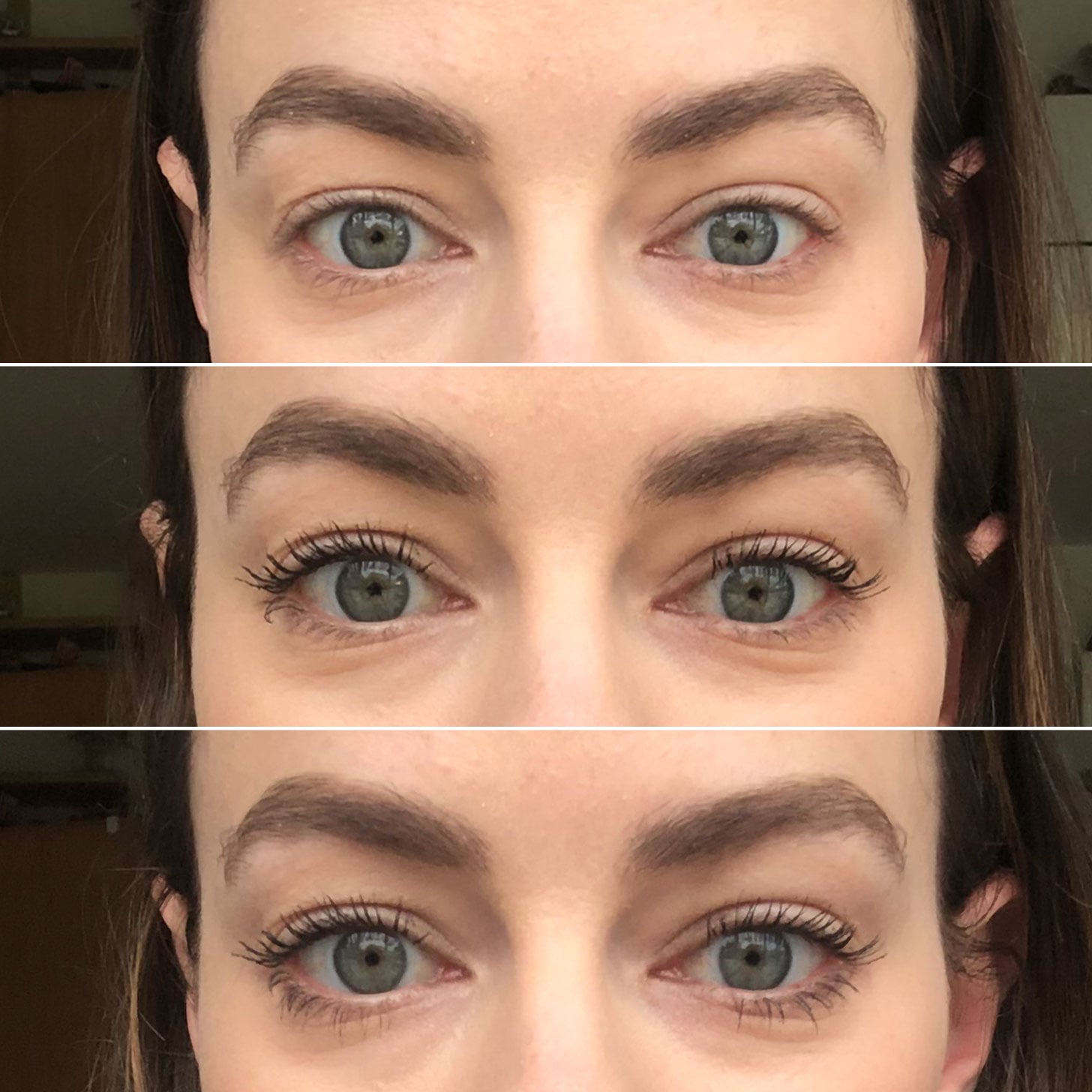 Image Source: POPSUGAR Photography / Sophia Panych
Next, I tried out just the Volume formula. It is definitely thicker and creamier than the Length & Curl side, and I found it worked best to dab off any excess formula on the tip of the wand with a tissue first, as it does tend to collect there as you remove the wand from the tube. It definitely adds thickness to your lashes, and several coats gave me a doll-like, almost '60s look, which I quite liked.
Personally, I love the Length & Curl side. I love how the formula is glossy and flexible, and how the wand catches each and every lash, keeping the hairs nicely separated as it combs the formula through them. And you can actually see length being added with every swipe. The final result leaves your lashes looking long and stretched out, which in turn makes your eyes look brighter and wider. And while I always curl my lashes before I apply mascara, the curved shape of the Length & Curl wand helps exaggerate the curl even more — and ensures that your lashes stay that way all day long.
The Volume side definitely adds a lot of thickness to your lashes, and for people who prefer the look of dark, dramatic lashes, you're going to love this formula. For me, it's a bit too volumizing for every day (my daily makeup look is quite minimal), but I do like having options — a mascara wardrobe if you will — and Legit Lashes gives you that in one tube versus buying a bunch of them. I'll be wearing Length & Curl every day, layering the two together whenever I want a bit more oomph, and reserving Volume for big nights out — whenever we're allowed to have those again, that is.
Years ago, Huda Kattan launched her brand with false lashes, and you never see her without her own lashes looking long and full, and generally amazing. Her first mascara had a lot to live up to, and I'm here to tell you that it definitely doesn't disappoint.
The Huda Beauty Legit Lashes Mascara ($27) is availavle now on
hudabeauty.com and on all other e-retailers on May 20.