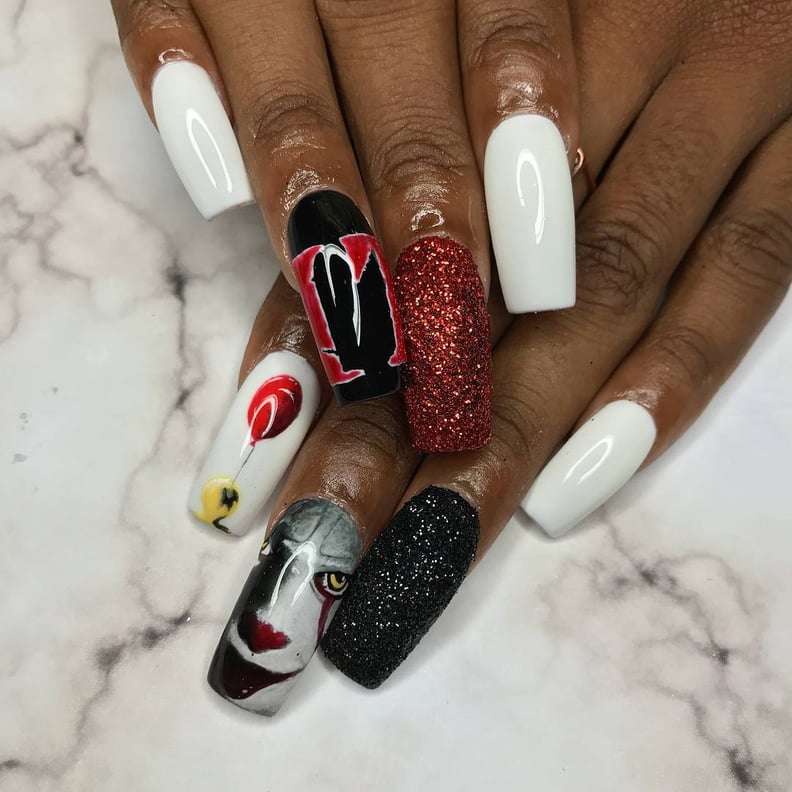 Few characters are quite as scary as Pennywise the Clown from Stephen King's It. Horror fans love the story of the Losers' Club so much, some are even going so far as getting motifs from the story and film drawn on their nails.
From horrifying clown makeup to red balloons, there's no shortage of Halloween nail art inspiration to take from this story. Some fans are taking it one step further and painting the scary symbols on stiletto-shaped nails to make the art even creepier.
If you can stand looking at Pennywise's face every time you glance at your hands without shrieking, read on to pick out your next nail design.
The close-up portrait of Pennywise in this manicure is simply horrifying.
The blood-red nails in this nail art are super scary.
Fans of the book will love the paper boat included in this manicure.
The black-and-white background in this manicure gives it an otherworldly feel.
No one will be able to miss your carefully applied nail art with this bright white background.
Add a pop of glam with a few glitter-packed nails.
This fan added a 3D element to their manicure with red rhinestones.
The black, rhinestone-encrusted accent nails make this manicure look even scarier.
These decals make it even easier to achieve an It-inspired manicure.
The black, sparkling base of this manicure lets the portrait of Pennywise really stand out.
The smile on this black manicure is subtle but scary.
We're still amazed at the level of detail on this horrific manicure.
Only true fans will pick up on the spider and balloon in this manicure design.
Make Pennywise the star of your nail art look by putting him just on an accent nail.
The teeth showing in this manicure would keep us up at night.