Beauty Influencer Jackie Aina on Her Luxury Brand FORVR Mood
Jackie Aina Is Creating Space For Black Women to Enjoy Luxury, 1 Candle at a Time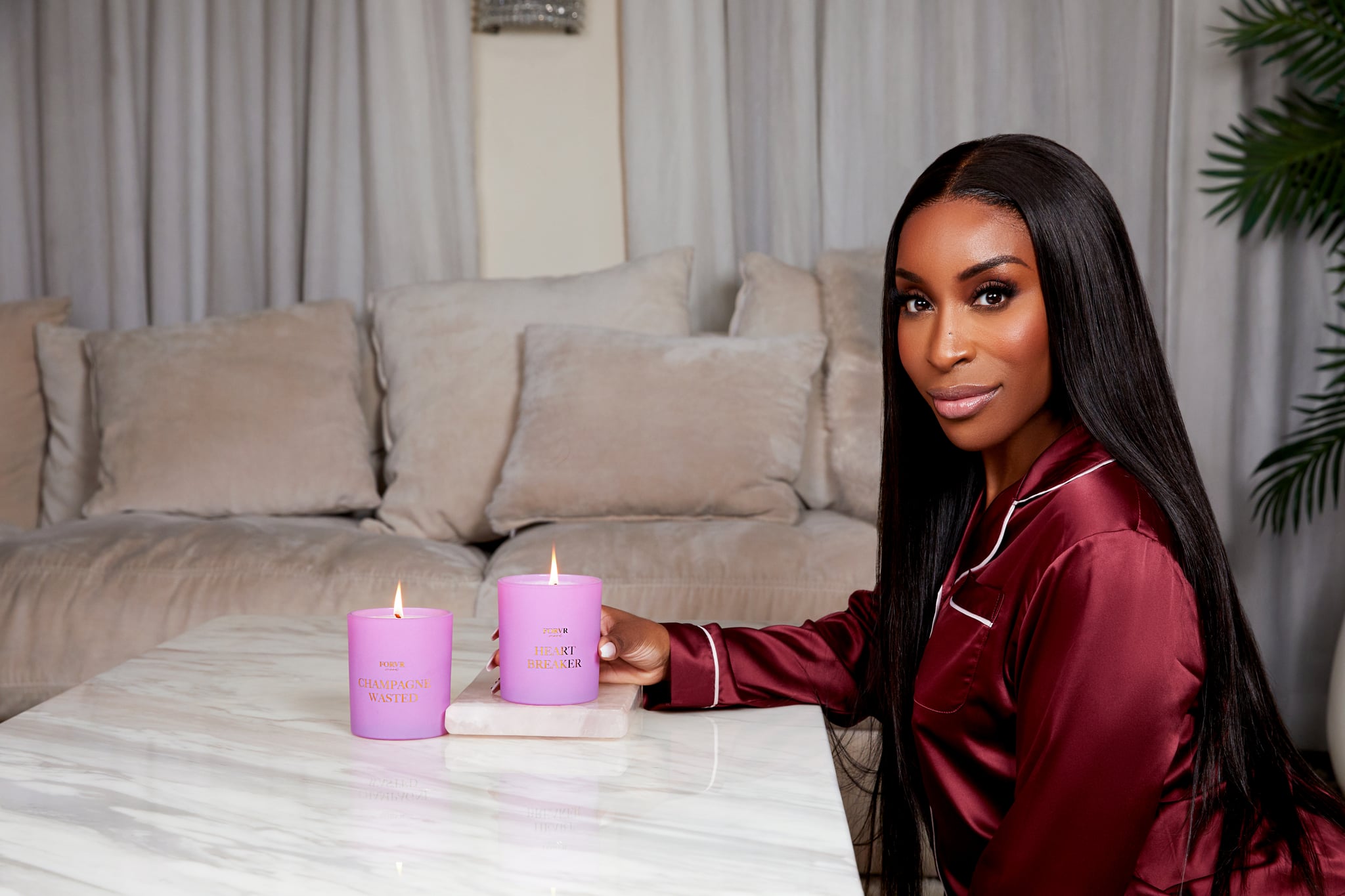 Most people associate the term "luxury" with expensive things, but adding a little luxury into your routine can be as simple as lighting a candle. This is the sentiment beauty influencer Jackie Aina had in mind when she created her lifestyle brand FORVR Mood.
Aina's earliest encounters with beauty products began with perfumes: "One of the ways my mom and I would bond — because we couldn't afford designer clothes, bags, and shoes — was fragrance," she told POPSUGAR. "It was the one little piece of luxury we could always afford." Naturally, that appreciation for scents transferred over to her love of candles, which inspired the creation of her buzzy beauty brand, which aims to make luxury self-caremore accessible, especially for Black women.
Not always having access to the finer things in life, Aina is familiar with the barriers Black women face within the luxury category, which is why FORVR Mood emphasizes the experience that comes along with buying something as small as a candle or silk pillowcase. The motto? Feeling fancy doesn't have to cost a fortune.
For Aina, she found that high-quality candles are expensive and, while they may look aesthetically pleasing, they often lack a long-lasting scent. "I wanted to start this brand because I wanted to make candles that look good in your home and smell great but don't cost more than $100," she said. "It's great if people buy the product, but I care more that people feel good about the purchases they make and that this is a brand that really puts their wellbeing first."
While the products are definitely beautiful, the witty branding — a bit of Aina's personality that comes across in everything she touches, from her makeup tutorials to her Twitter account — is what has made FORVR Mood resonate on social media. Each collection is a different "mood" and each candle within them has a name tied to the experience you can expect to get when lighting it. The debut collection "Core Scents" featured scents like Matcha Business, Cuffing Season, and Caked up; while the more seductive "Send Moods" collection featured the scents Grown Folk Business and We Not Linking.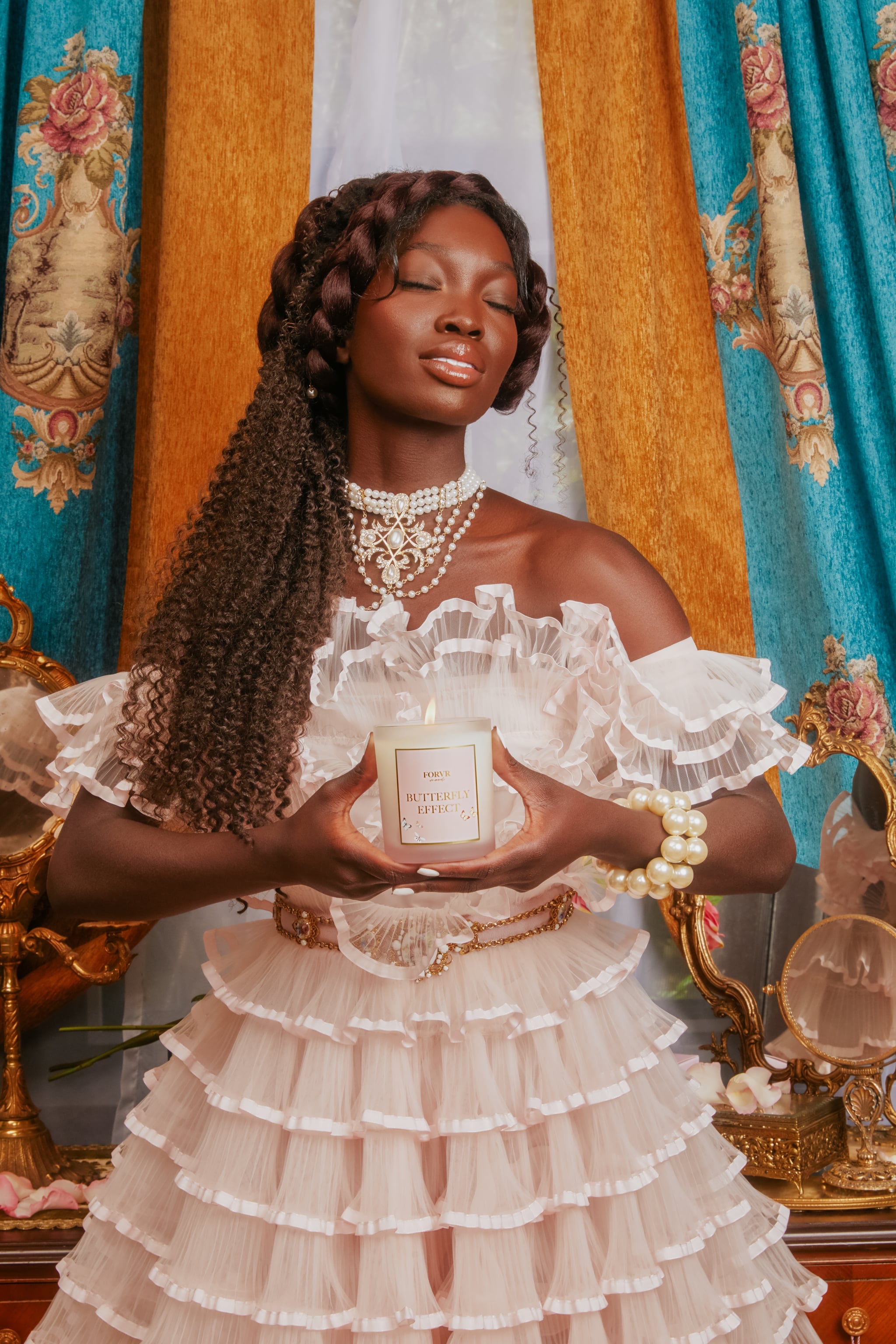 The messaging behind the brand focuses on putting yourself first, which is demonstrated on FORVR Mood's Instagram page with affirmations, reminders, and mantras like "Preserve your peace above all else" and "I am deserving of the best life has to offer." This all goes to emphasize the idea that luxury experiences are not solely about high price points but also about pouring into yourself and taking time to indulge in things that bring you peace and joy.
Luxury is not a linear term, in my opinion, it's not just about material items or money. Luxuries are about putting yourself first.
"I consider setting boundaries a luxury; I consider my time a luxury, and those are just daily things that can take on so many different forms," she said. "These are things I talk about because you don't have to have a lot of money to implement these things but I think they benefit us so much. Luxury is not a linear term, in my opinion, it's not just about material items or money. Luxuries are about putting yourself first."
Aina is unapologetically embracing being a young, successful Black woman and effectively creating space for other Black women to feel comfortable doing the same. The goal, she says, is to inspire others to slow down, take time for themselves, and enjoy their success — whatever that might look like.
Image Source: FORVR Mood