I Tried a "Jaw Bra," and the Results Were Undeniable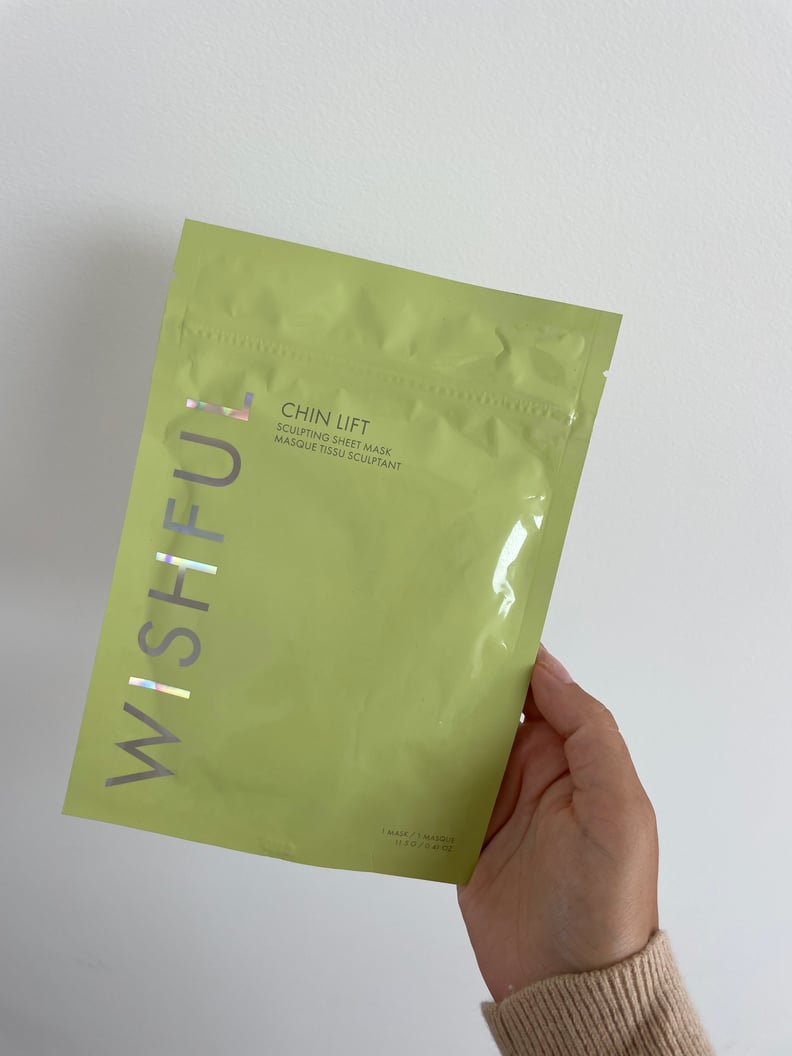 POPSUGAR Photography | Renee Rodriguez
POPSUGAR Photography | Renee Rodriguez
As POPSUGAR editors, we independently select and write about stuff we love and think you'll like too. If you buy a product we have recommended, we may receive affiliate commission, which in turn supports our work.
Over the last few months, I've been seeing "jaw bras" and "face bras" all over social media. For the unfamiliar, these products are face masks worn on the underside of the chin and jaw that hook over the ears. Most of these masks claim to tighten skin and eliminate double chins, which is something I'm definitely interested in. I'm still too scared to try anything invasive like plastic surgery or Botox, so I decided to hop on the face-bra bandwagon and try one for myself.
The jaw bra that I tested out is the Wishful Chin Lift Peptide and Niacinamide Sculpting Sheet Mask ($9). The product is formulated with ingredients like peppermint and niacinamide to soothe inflammation and improve the appearance of textured skin. Unlike traditional sheet masks made from microfiber or cotton, this product is made from a woven cotton material that is typically used for athletic tape.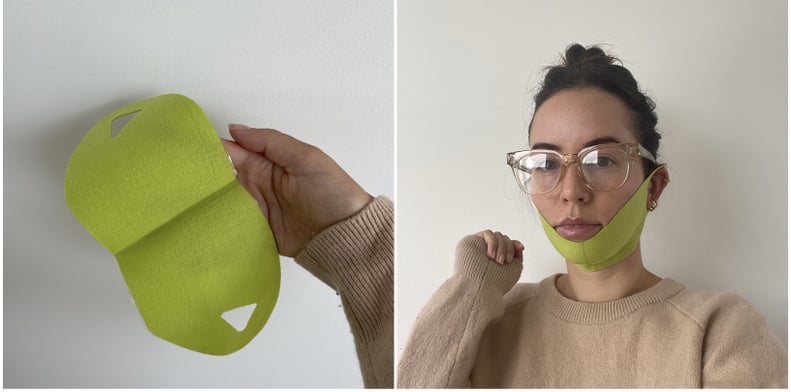 To try it out, I started by washing and drying my face. The directions stated to apply the product on a clean, dry face, so I skipped my skin-care routine and went straight for the mask. After taking it out of the package and peeling off the protective film, I stretched it out a tiny bit by pulling on either end to ensure it wasn't too tight. I placed the middle of the mask directly on my chin and pulled upward on each side until I had secured each side around my ears. I then set a timer for 30 minutes and let the mask do its thing.
The mask felt a little uncomfortable while I was wearing it, but mostly, my chin and jaw just felt securely held in place. I could still move my neck and head around easily, and although it looked a bit funny, it wasn't too difficult to wear for half an hour. For me, the worst part was the area where the mask hooked over my ears. It felt similar to wearing an N-95 mask on my face, except it was a lot heavier and tighter and left my ears feeling sore around the 20-minute mark.
When I took the mask off to inspect the results, I was genuinely shocked to see that my chin and jaw looked slimmer. I compared my before and after photos, and the difference was instantly visible. The skin underneath my chin looked flatter rather than puffy as it had before. Plus, not only did my face look slimmer, but the skin that was under the mask also felt hydrated and soft to the touch.
Although the results from using the mask were distinct at first, after three hours, my chin went back to normal. This had me wondering how masks like this actually worked and whether they're a good long-term solution.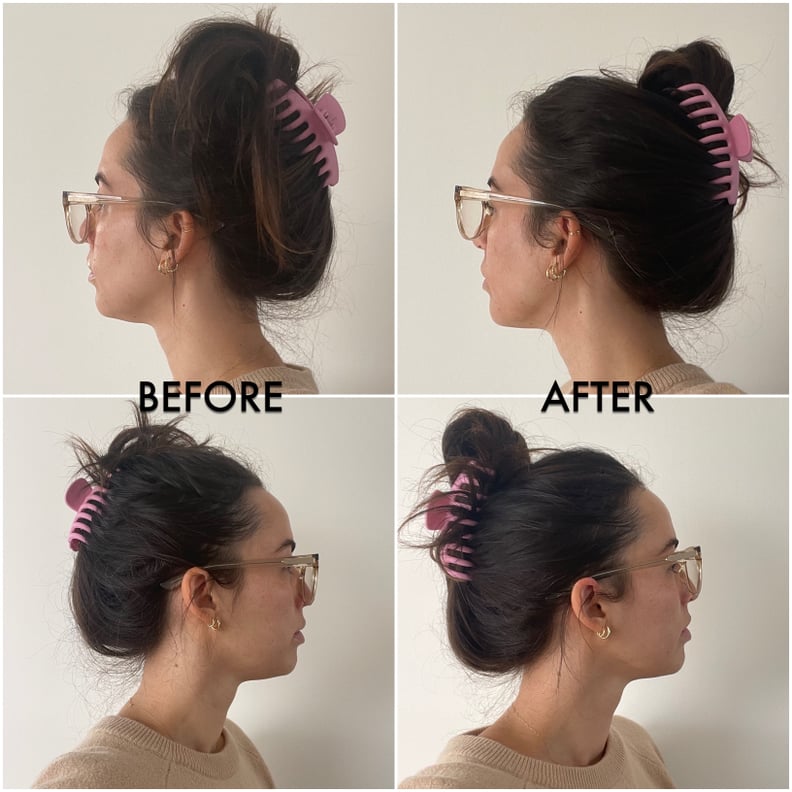 How do "Jaw Bras" Work?
"The likely mechanism by which these devices work is by adding compression to areas such as the under-chin region, which then temporarily decreases the amount of lymphatic fluid in that region," plastic surgeon Edward Chamata, MD, tells POPSUGAR. "This may create a temporary appearance of a more defined jawline since there's less fluid in that region due to compression."
I was surprised to learn that there are some disadvantages to wearing these masks too frequently. "The downside of using such devices could be the reduction in tone of the underlying muscles, which in turn would lead to more, not less, sagging," Konstantin Vasyukevich, MD, double board-certified plastic surgeon, tells POPSUGAR.
If you're looking for permanent ways to shape your face and jawline, both Dr. Chamata and Dr. Vasyukevich agree that surgical intervention is usually necessary. Liposuction, buccal fat removal, and facelifts are common examples of procedures that would permanently change the face.
However, for those looking for less invasive alternatives, Dr. Chamata suggests radio-frequency skin-tightening devices such as the celebrity-loved Morpheus8 or FaceTite, which can be performed in office without general anesthesia.
Personally, I plan on continuing to use this mask ahead of big nights out or scenarios where I'm having my photo taken because the results are undeniable, and I'm still not quite ready to head down the plastic-surgery road just yet.