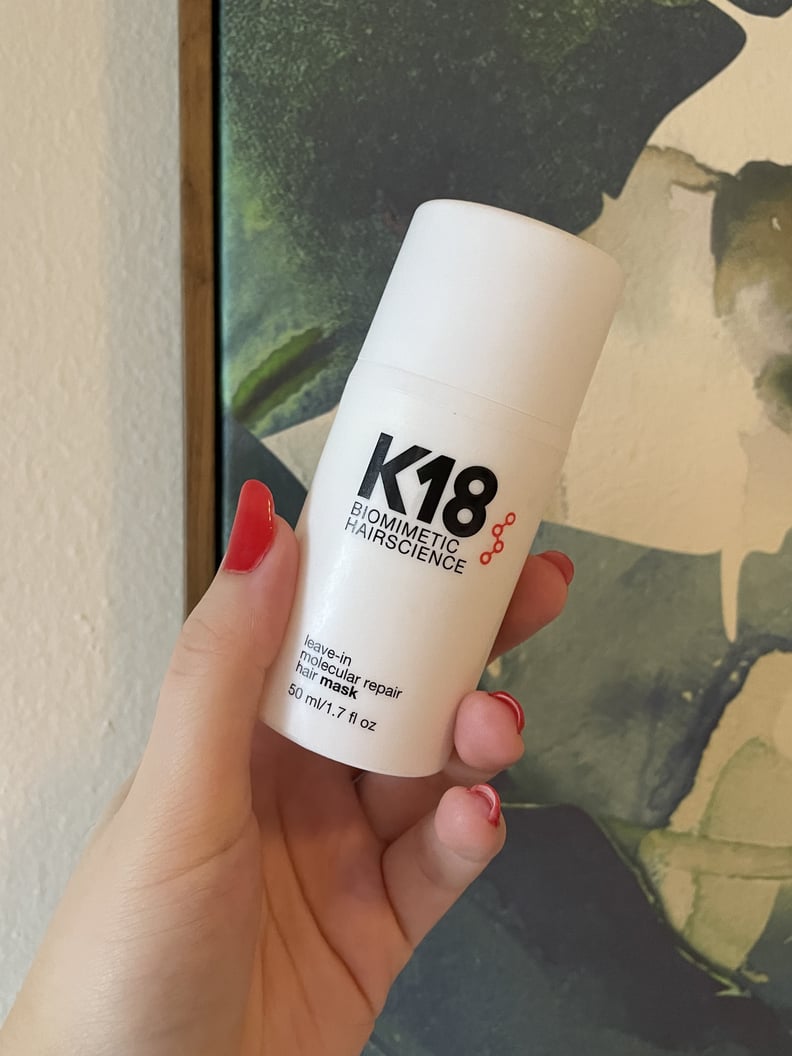 POPSUGAR Photography | Jessica Harrington
POPSUGAR Photography | Jessica Harrington
As POPSUGAR editors, we independently select and write about stuff we love and think you'll like too. If you buy a product we have recommended, we may receive affiliate commission, which in turn supports our work.
The K18 Hair Leave-In Molecular Repair Hair Mask has gone viral on TikTok for its ability to repair and strengthen your hair.
The leave-in mask has a loyal following that includes celebrities and beauty editors.
We tested it on air-dried hair to show you how it smooths and boosts shine.
TikTok is a goldmine for beauty discoveries. The tag #beautyproducts alone has 393 million views, and every time you click on a video, you have the potential to find your new favorite item. But there are a few products in particular that shine on the app. Basically anything CeraVe and E.l.f. Cosmetics are bound to be TikTok favorites, but anyone who frequents the app is also probably familiar with a hair mask that's being deemed the next best thing in hair care. The K18 Hair Leave-In Molecular Repair Hair Mask ($75) is slowly but surely amassing a cult following, which includes stars like Hailey Bieber and a handful of beauty editors.
The leave-on hair mask, which comes in a white bottle with a pump, is getting praise for its reparative and hydrating abilities. The tag #K18Hair has over 245 million views and is filled with people sharing before and afters of their hair using the treatment. Personally, my first time trying it was during a salon appointment where the stylist applied it for me. After the treatment and blowout, I noticed how soft and shiny my hair was, but since that's often my experience after a professional has worked their magic, it wasn't until I used it again at home that I truly saw the benefits.
The K18 Hair Leave-In Molecular Repair Hair Mask works in just four minutes. It helps repair damage from color, bleach, chemical services, heat styling, and just general wear and tear (like ponytails and brushing). With the brand's proprietary peptide blend, it repairs keratin chains in your hair that are broken and damaged, leaving you with hair that's not only smoother and softer but also stronger.
My Wet Hair After Applying the K18 Leave-In Mask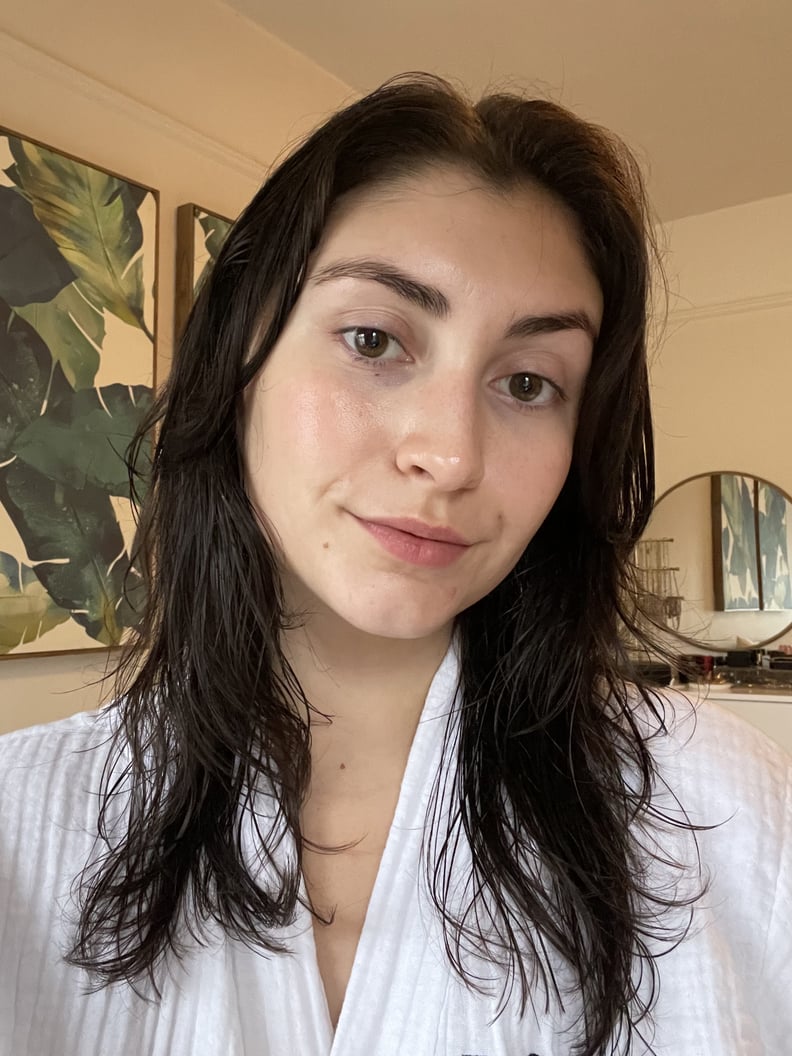 As someone with virgin hair and who doesn't heat-style all that often (I have the pandemic to thank for that), I consider my wavy texture to be relatively healthy, but I still like to use a special treatment every few weeks to keep it shiny and smooth. In-shower hair masks are great, but in the morning, postgym workout and prework, I don't always remember to dedicate a few extra minutes for the activity. Using the K18 mask actually cuts down on a step in your shower routine because you don't need to condition after shampooing. That's the first of many reasons why I love the K18 mask.
The instructions say to apply the no-rinse formula to towel-dried hair, so I usually put mine up in a hair wrap while I apply body lotion. Then, I apply one full pump with my hands, raking from midlength through my ends. The formula is thick but silky, almost like the consistency of a face cream, and is easy to distribute evenly. It also has a light, clean scent that reminds me of soap, which is just what you want postshower. It only needs four minutes to activate, during which I get dressed and do my morning skin-care routine. Because I like to air-dry whenever possible, I typically start the workday after it sinks in. (On days when I do plan on curling my hair, I follow-up with a heat protectant and then style as usual.)
My Air-Dried Hair Using the K18 Leave-In Mask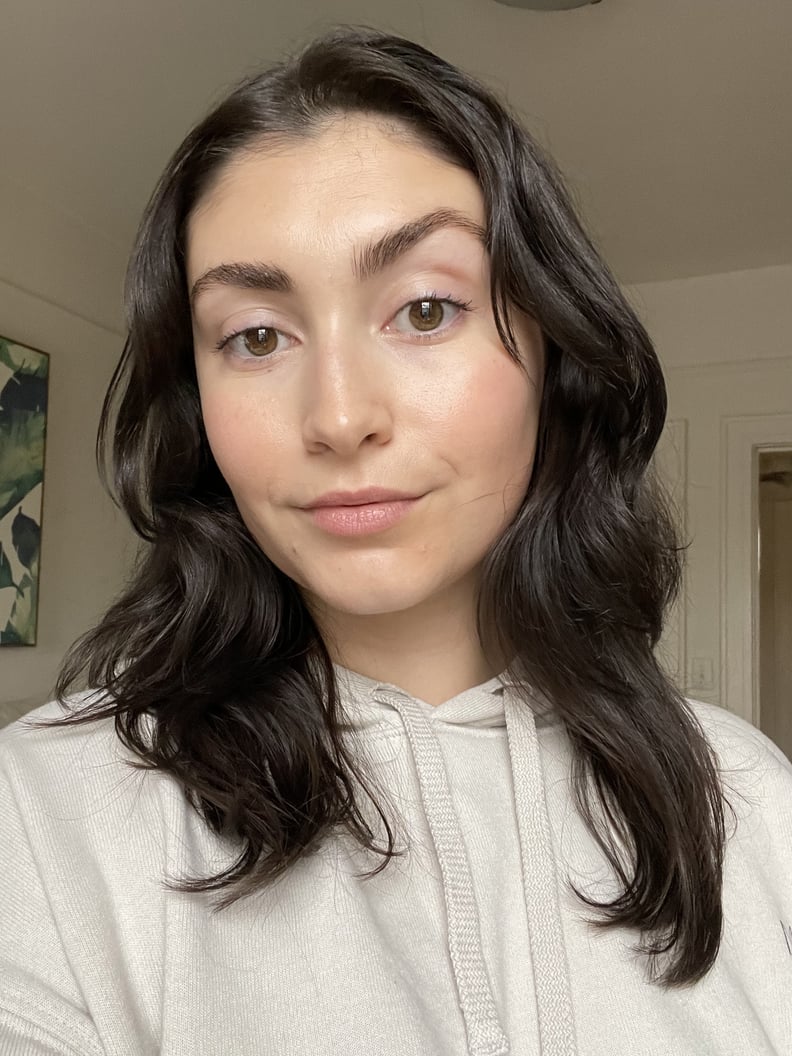 With my extra-frizzy hair type, I layer on a hair oil after my hair is completely dry (right now, I'm loving the Sol de Janeiro Brazilian Glossy Nourishing Anti-Frizz Hair Oil ($34)) but I don't need any other styling products to enhance my natural waves — the K18 Hair Leave-In Molecular Repair Hair Mask does a great job on its own. It's recommended that you use the mask every three to four washes but I stick to a once a month rotation and see the results in my hair. It gives me bounce and movement and miraculously doesn't weigh down my fine hair. The only thing that would make this product get a perfect five-star rating from me would be if it controlled my frizz a little better, but given how shiny and otherwise healthy my hair looks after using it, I can't complain.
Review: ★★★★