As POPSUGAR editors, we independently select and write about stuff we love and think you'll like too. If you buy a product we have recommended, we may receive affiliate commission, which in turn supports our work.
"Glass Onion: A Knives Out Mystery," the highly anticipated sequel to "Knives Out," finally hits Netflix on Dec. 23. This go-around, famed detective Benoit Blanc (played by Daniel Craig) is joined by an entirely new star-studded cast, including Birdie (Kate Hudson), Duke Cody (Dave Bautista), Andi (Janelle Monáe), Claire (Kathryn Hahn), Peg (Jessica Henwick), and Whiskey (Madelyn Cline) as they travel to Greece to stay with an old friend, Miles Bron (Edward Norton). That's when the games begin.
Set on a beautiful estate in the Mediterranean, as opposed to a Massachusetts mansion like the 2019 mystery film, "Knives Out 2" sees Detective Blanc take on a more relaxed vacation vibe (even though the cast are feeling anything but after a murder is committed). The setting of the new film directly influenced the hair and makeup design, but you won't see any typical vacation beauty looks here.
"They're all friends who knew each other years back, [but] they've all taken different paths in life," Jeremy Woodhead, the film's hair and makeup designer, tells POPSUGAR. Some of them have had an easier time than others, which Woodhead wanted to display in their looks. "We wanted to reflect that kind of money, rich, and over-experienced feel with a lot of them, and with others, who aren't quite as successful, we played it down a bit. We exaggerate the difference between those who've made it big and those who struggled later in life."
Keep reading to learn more about the inspiration behind each character's look, from Hudson's ever-changing, over-the-top hair and makeup to Bautista's tanned and tatted persona, and get some behind-the-scenes intel into why Cline clutches a few of her hair extensions in one scene.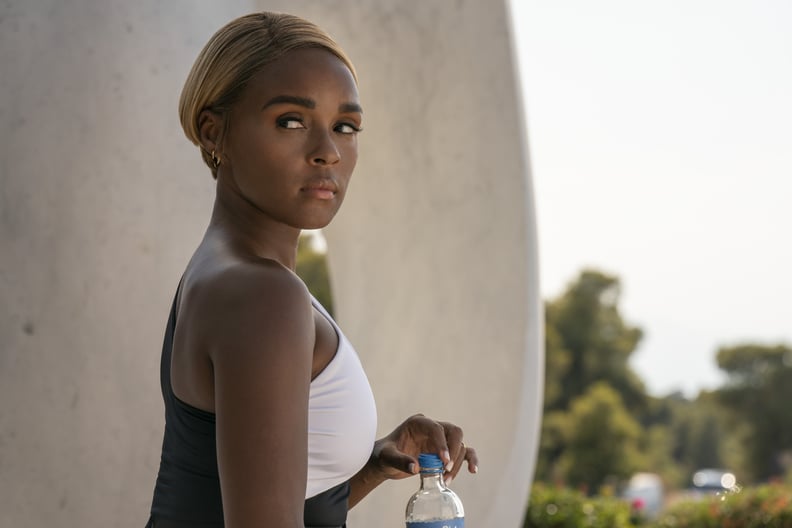 Andi's Many Beauty Looks in "Knives Out 2"
Andi, short for Cassandra, is a tech entrepreneur and an ex business partner of our host, Miles. We see her with several different looks, thanks to a handful of flashback scenes, including a sharp blond bob haircut. Every time she's on the scene, she looks polished and sophisticated with a slight edge. "You have to see the film to realize how many looks she has and why she has them," Woodhead says.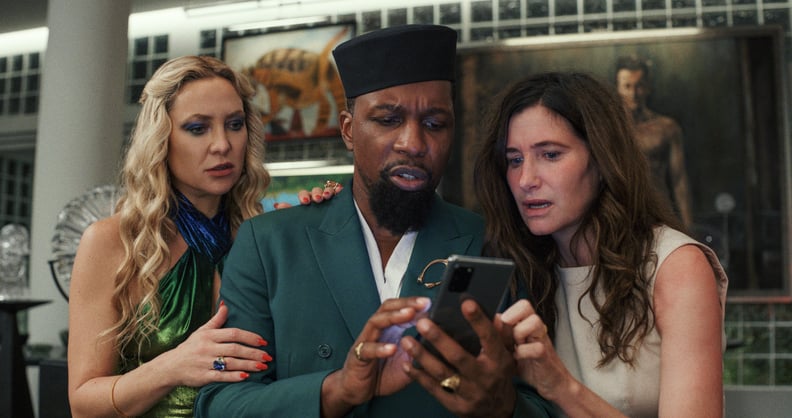 Claire's "Shopping Mall" Beauty Look in "Knives Out 2"
Claire is the politician of the group, sitting as the governor of Connecticut when she embarks on this trip. Her rise to the top is rather recent and wasn't smooth, making her a little rough around the edges. She has a very modest, conservative look to her, especially compared to the other people she's surrounded by. Woodhead describes her as having a "shopping-mall beauty" vibe.
"Not fashion forward [and] not reflecting any modern trends," Woodhead says. "We deliberately gave her a very bad blow-dry to suggest that she wasn't somebody who was savvy enough to go to a salon."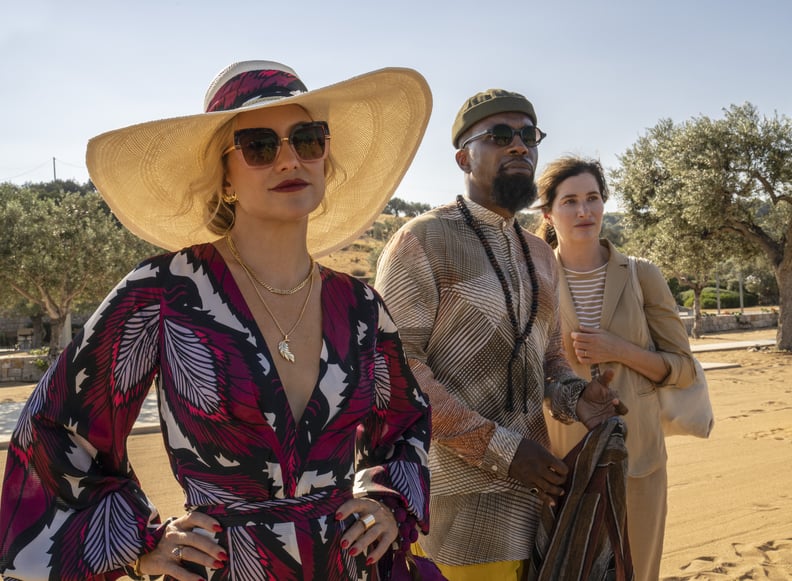 Birdie's Bold Hair and Makeup in "Knives Out 2"
Easily the person with the most noticeable hair and makeup choices in the film is Birdie, who fittingly is a former model turned fashion designer. "Her character was forever just dressing up," Woodhead says. "Every social event, there's another chance for another look."
The hair team used a combination of Hudson's natural hair, wigs, and hair pieces to create her many looks, with a standout example being her ultracurly lob. Woodhead describes her character as the type of person who would "probably change her makeup in the bathroom and come back a completely different person."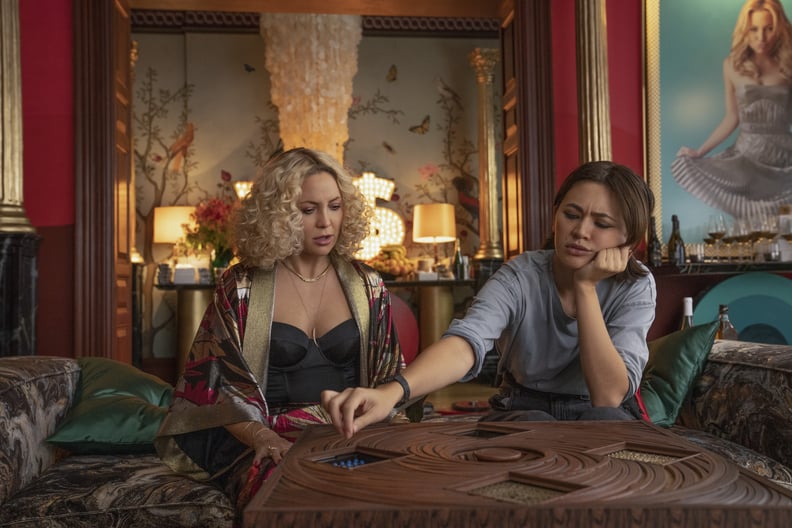 Peg's Minimal Beauty Look in "Knives Out 2"
Peg is Birdie's assistant, and she couldn't be more opposite her boss. The difference between Peg, with her understated look, and Birdie, with her over-the-top vibe, is palpable. "She's the right-hand woman to Kate Hudson's completely frivolous character," Woodhead says. "We wanted to make her look as if she didn't care at all about any hair or makeup."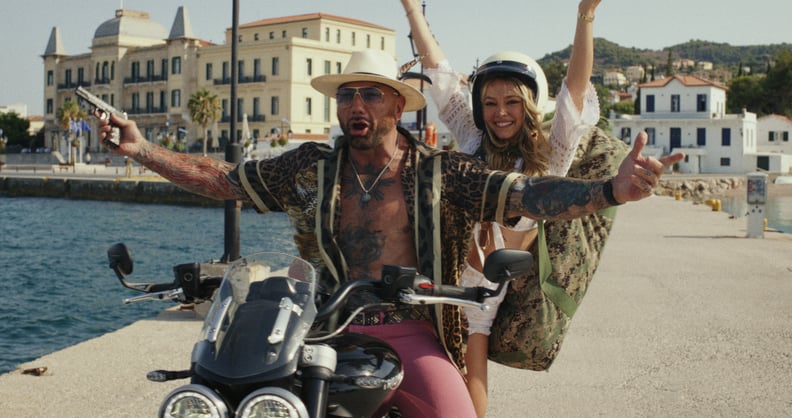 Duke Cody's Tan and Tattoos in "Knives Out 2"
Bautista's character, Duke Cody, is a showy, somewhat outlandish YouTube star. Woodhead describes his look as "out-there, flashy, rich, and opulent." For the part, Bautista shaved his head and got a tan, but the tattoos we see aren't fakes. He has permission to display his real ink on TV and film without copyright infringement, and his expansive collection lends itself to his role.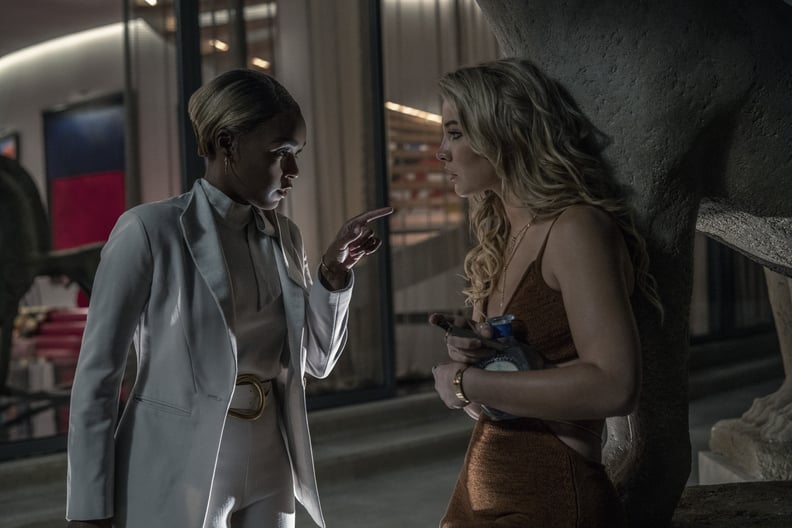 Whiskey's Biker-Chic Beauty Look in "Knives Out 2"
Whiskey accompanies her boyfriend, Duke Cody, on the trip and is the perfect sidekick to the out-of-touch social media star. She first rolls up on the back of Duke Cody's motorcycle, which is why Woodhead gave her a boho, free-spirited biker-chick vibe.
Her makeup is minimal and soft but still sexy in an I-woke-up-like-this way. Her hair has soft, beachy waves in it, but the real key are the permed extensions they added throughout her head. Woodhead wanted it to be obvious to the viewer that she'd be the type of person to always have a full head of extensions (not necessarily in a bad way). It became a crucial part of her character's identity, so much so that Cline had the idea to incorporate them as a prop. "We actually ended up using [them] in the film, and at one point, she's seen clutching a few extensions, which [had] come out," Woodhead says.