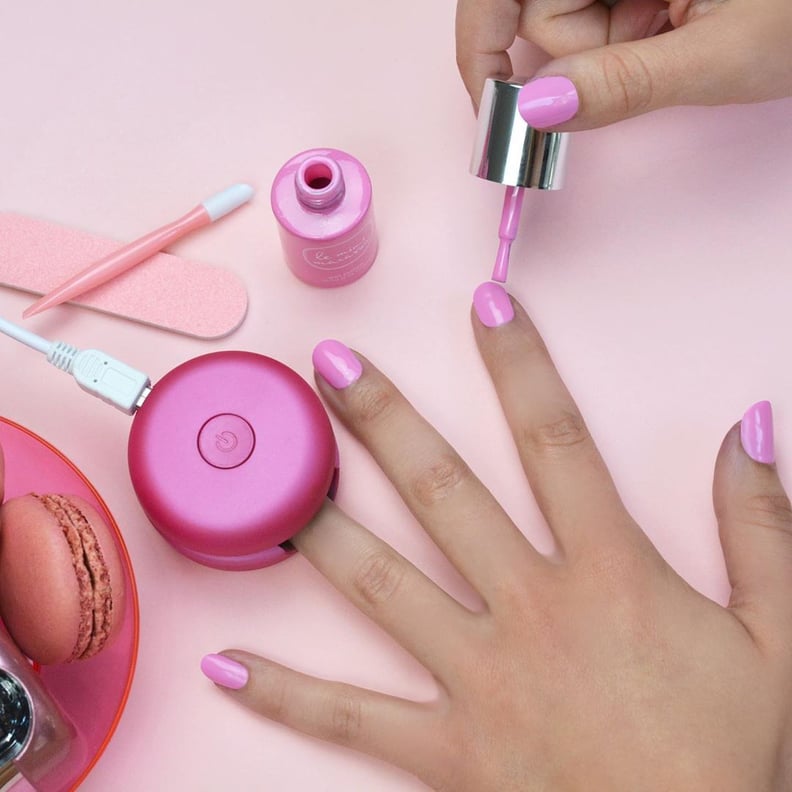 Le Mini Macaron
Le Mini Macaron
As POPSUGAR editors, we independently select and write about stuff we love and think you'll like too. If you buy a product we have recommended, we may receive affiliate commission, which in turn supports our work.
It's rare that you'll catch me without a manicure. Whether it's gel or regular polish from the salon or a quick at-home mani, I always like to have something on my nails. Here's why: first, my nails are very brittle, but when I have nail polish on, they're less likely to break; and second, my job involves me taking a lot of photos of products, more specifically holding products, and I feel like a little color makes everything look better.
In between salon visits, I don't mind giving myself DIY manicures at home and consider myself to be pretty good at them. The only problem is they chip so easily that it can start to feel like a waste of my time to even paint my nails in the first place. That's when I started looking into at-home gel manicure kits and came across the cutest one I've seen thus far by Le Mini Macaron.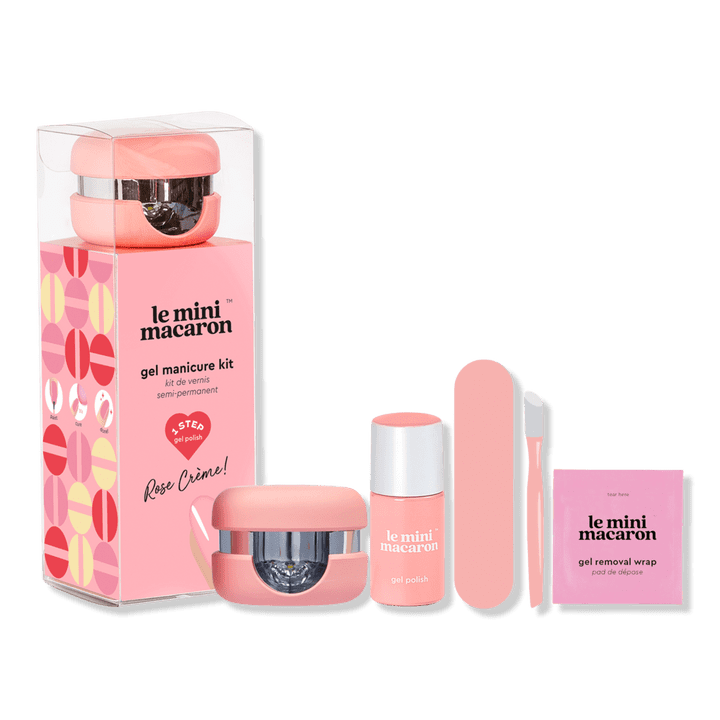 Le Mini Macaron Gel Manicure Kit: What's Included
Le Mini Macaron gets its name from the macaron-shaped LED light. Unlike traditional LED lamps that are solely functional, the Le Mini Macaron Gel Manicure Kit ($35) is also just really, really cute. It comes in various colors and two sizes: small, which allows for curing one finger at a time, and large, for your entire hand. (I have the small pink lamp.) It's powered by a USB plug so you can take it on the go and even plug it into your laptop to use.
What's Included in the Le Mini Macaron Gel Manicure Kit:
Gel nail polish
Mini nail file
10 gel-polish remover wipes
LED lamp with USB cord
Cuticle stick
Le Mini Macaron Gel Nail Polish
While the gel kits come with a bottle of polish, depending on which option you get, you can purchase more one-step gel nail polish shades separately. The brand carries every color you could ever want, from trendy greens to classic beige hues.
I typically stick to the same shades for my fingers — red in the fall and winter and light pink in the spring and summer. Pomegranate ($12), Crème D'Abricot ($12), and Fairy Floss ($12) shades are my favorites.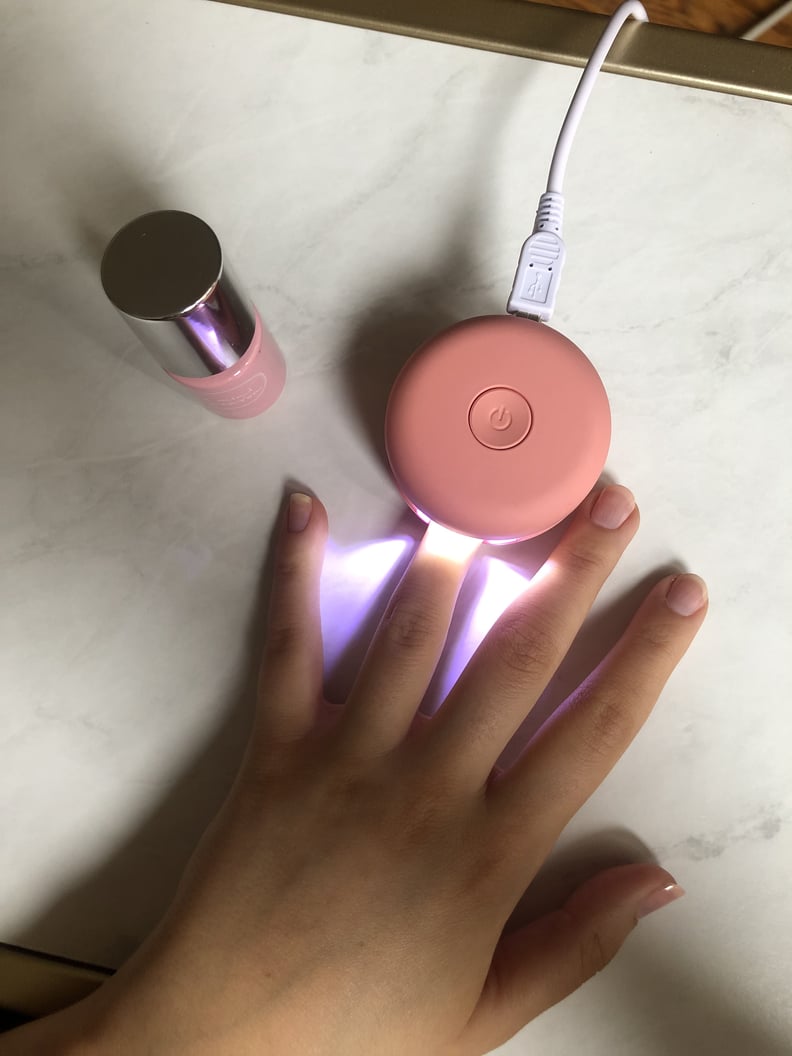 Le Mini Macaron Review: How To
Here's how I use the Le Mini Macaron at home. Keep reading for my full review.
To use the Le Mini Macaron, you start by applying an ultra-thin coating of gel polish and curing it in the LED lamp for 30 seconds; you know your time is up when the lamp auto shuts off. After you repeat that on each finger, you can assess how many coats you want to do. Personally, I like doing two or three if the color is super light. You may think curing one finger at a time would take a while, but the 30 seconds go by fast, and you can start painting the next finger while the one before it dries. My favorite part: the polish is quick drying, so there's no waiting around and fanning your hands frantically to keep from smudging.
The gel manicure lasts the standard one to one-and-a-half to two weeks, depending on how rough you are on your hands, and is practically chip proof. What more could you need?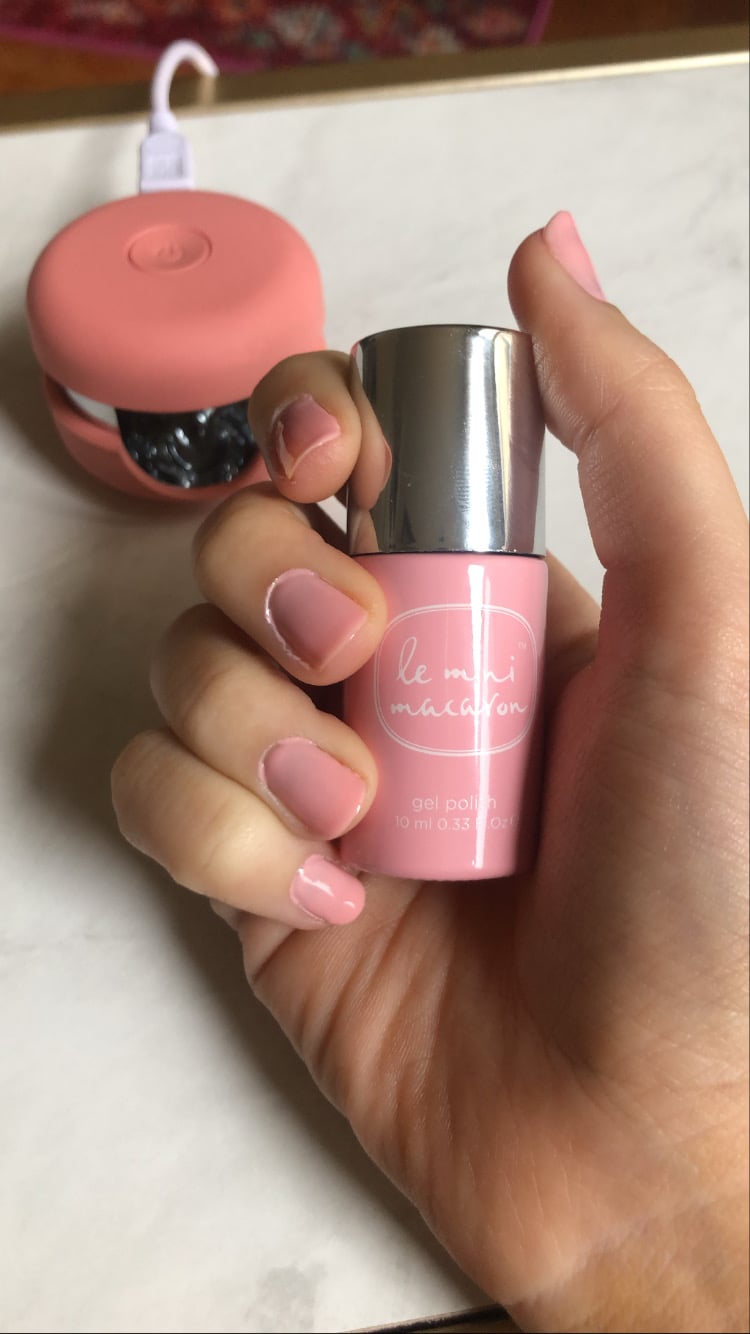 Le Mini Macaron Review