Not to Sound Like a Billboard, but This Drugstore Serum Made My Skin Noticeably Softer
Every editorial product is independently selected by our editors. If you buy something through our links, we may earn commission.
Fact: L'Oréal Paris sells one bottle of Revitalift Derm Intensives Hyaluronic Acid Serum every 60 seconds. That's a whole lotta hyaluronic acid, folks. But is it truly one of the best products on drugstore shelves? I gave it a spin, and here's the result.
At $30, the serum is neither super cheap nor prohibitively expensive. The vial boasts 1.5 percent of HA, and while that may not sound like much, it is actually the optimum amount to hydrate skin without causing irritation, which means this serum is unlikely to cause any unwanted side effects even on sensitive skin. What you will experience, however, is some serious smoothing action, thanks to the humectant nature of hyaluronic acid — meaning it draws moisture into the skin from the air to plump it up.
"As the skin's natural hyaluronic acid production decreases with age, skin starts to feel stressed, dehydrated, and dull — and signs of aging appear. That's where hyaluronic acid — the all-time hero for younger, plumper-looking skin — comes in," explained Elisabeth Bouhadana, L'Oréal Paris global scientific director. "Our biological strategy? To compensate for the loss of hyaluronic acid."
The formula contains two types of hyaluronic acid: 0.5 percent macro acids, which hold 1,000 times their weight in water to hydrate and smooth the skin's surface, leaving it looking more radiant and dewy; and one percent micro acids, much smaller particles of the hero ingredient that slip down into the skin to hydrate the deeper layers, plumping the skin from within.
The Test
At 35, I have the sort of lines that a dermatologist has no qualms about injecting away with Botox. While I don't have it that often, recently, I've been looking at skincare alternatives to help me eke out the stretch between appointments. The horizontal lines that etch their way across my forehead were starting to show when my face was at rest, and that is usually the time I'll book in for Botox. But I reached for a bottle of this serum instead.
The glass bottle, with its pipette dispenser, feels pretty luxe. The serum itself has a watery, gel-like texture that's cooling on the skin and easy to massage in. It has a good slip to it, so you could use this with a facial roller or gua sha if you're in the mood for a little at-home facial action. The serum is best applied after cleansing or exfoliating, and you can use it as your moisturizer or follow with a day or night cream, if needed.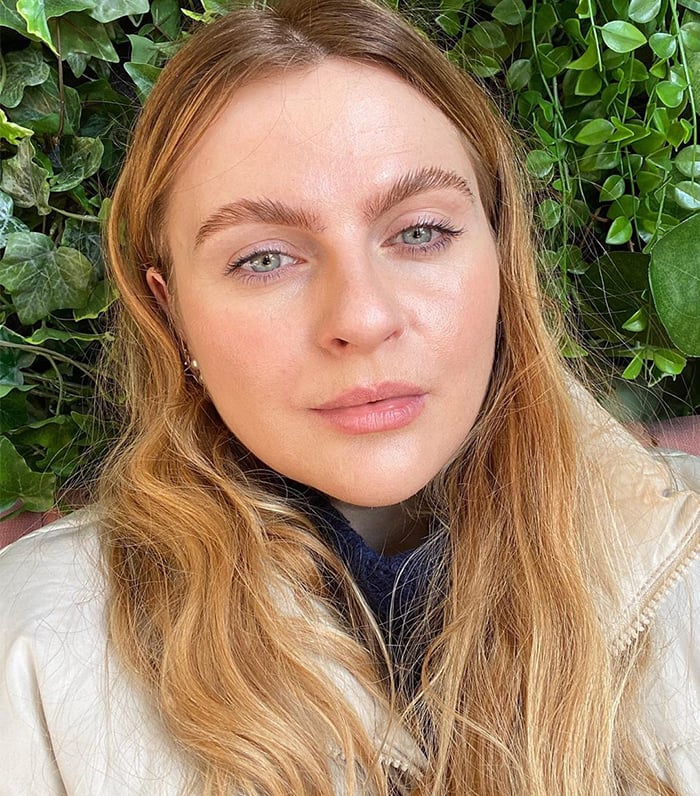 The Results
Used in the mornings, the serum instantly plumps up my complexion, so fine lines look less obvious, and my skin looks and feels calmer. At night, I slather on plenty, and upon waking, I've noticed my skin looks smoother and brighter. When it came to my more stubborn forehead lines, I got the best results when using this serum after exfoliating or using my dermaroller (which I do two to three times per week). Exfoliating lifts away dead skin that can act like a roadblock, preventing your skin care from getting where it needs to, while dermarolling creates tiny, imperceptible holes in the top layer of the skin, so your products can funnel their way inside.
Hydrated skin is generally smoother, brighter, and less spot prone, and while you might not have a dry skin type, everyone is prone to dehydration caused by all manner of things like central heating, late nights, and even stress, so factoring a hyaluronic acid into your routine as a little extra security blanket against dehydration is no bad thing.
Final Thoughts on the L'Oréal Paris Hyaluronic Acid Serum
Now, I'm not about to tell you that this serum's better than Botox. It's not; my lines are still there, but they are definitely less noticeable than before I started using the serum morning and night. I noticed a difference within a week, which was surprising. Needless to say, L'Oréal Revitalift Derm Intensives Hyaluronic Acid Serum ($30) has found a happy home in my skincare routine.