Women Are Cutting Their Hair to Demand Justice For Mahsa Amini
"Women, life, freedom." Those three words are the slogan of a growing protest in response to the death of Mahsa Amini in Tehran, Iran, on Sept. 16 while in police custody. The 22-year-old woman was previously detained by the "morality police" for allegedly violating hijab regulations, which sparked outrage over arbitrary enforcement of the dress code. Now, many women are cutting their hair publicly as a form of protest and show of solidarity.
At the time of her arrest, Amini was with her family visiting the capital city from Saqiz several hours away. As she exited the subway, Amini was stopped by police, officially known as the Guidance Patrol, for improperly wearing the hijab, although her mother maintains otherwise. Shortly after arriving at the detention center, Amini collapsed and was rushed to the hospital, where she went into a coma and died two days later. Police claim she had a heart attack, but brain scans leaked to Iran International show Amini suffered severe brain trauma.
In the weekend that followed, protests took place across the nation, beginning in Amini's hometown. Security forces were dispatched, and at press time, at least seven protesters have been killed. Social media platforms and communications channels, including WhatsApp, are also reportedly being restricted by the government.
Hair cutting has since become attached to the movement that's materialized both online and at in-person demonstrations. In photos of a protest in Istanbul on Sept. 21, an Iranian woman living in Turkey could be seen cutting off her ponytail surrounded by women protesters. Many are also sharing videos of themselves cutting their hair under a hashtag that loosely translates to: "You will never walk alone."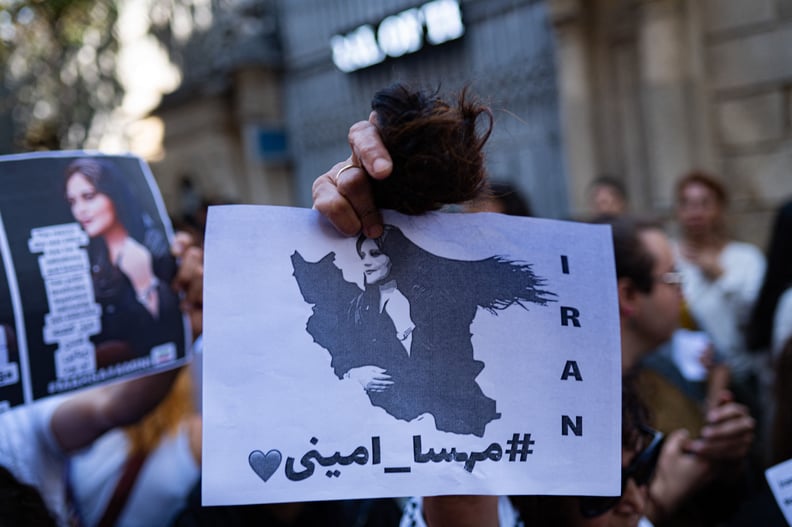 Hijabs have also been burned in opposition of the mandatory enforcement of modest dress and the severe penalization dealt to women if those stringent rules are not met. It's important to note here the differentiation of criticism of the enforcement of the hijab, and not the hijab itself. In a tweet being widely shared, political anthropologist Negar Razavi warned non-Muslim observers to be wary of using the current moment to make sweeping condemnations of "an entire religion."
Noted community organizer Hoda Katebi, who is Iranian, was among the activists and thought leaders commending the various forms of direct action taking place. "I'm so moved. These past few days I've been proudly watching Iranian women lead protests in the face of intense and familiar police brutality with a simple but powerful slogan: 'women, life, freedom,'" she wrote on Instagram. "Women wearing the hijab, not wearing it, or lighting it on fire atop a car in front of the 'morality police' — are standing side by side against a state's co-optation of religion and weaponization of hijab that harms us all, and instead demanding freedom and liberation on all fronts."