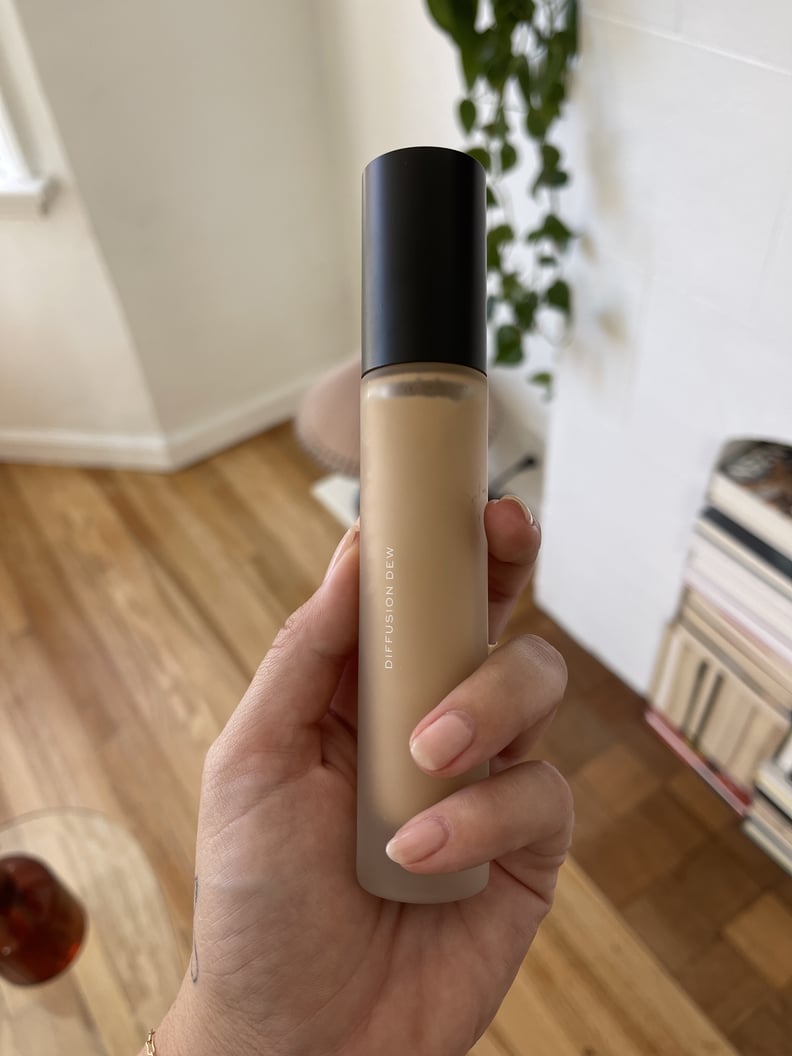 POPSUGAR Photography | Aviel Kanter
POPSUGAR Photography | Aviel Kanter
As POPSUGAR editors, we independently select and write about stuff we love and think you'll like too. If you buy a product we have recommended, we may receive affiliate commission, which in turn supports our work.
Make Beauty's new Diffusion Dew is a hybrid tinted moisturizer and foundation.
The skin tint uses "skin mimetic" technology to melt into the complexion.
The Diffusion Dew comes in 12 shades.
If you didn't know, Los Angeles just went through a major heat wave — we're talking over 100 degrees for about 10 days straight. This typically means there will be no makeup in sight for me (just a healthy slather of SPF); however, I had a date scheduled and wanted to look at least a little bit put together. I had just received the new Make Beauty Diffusion Dew Radiant Skin Tint ($32) and decided to put it to the test.
Make Beauty relaunched last year under the direction of Carrie Barber, and it's been steadily releasing innovative products ever since. The latest is the Complexion collection, which includes the Diffusion Dew, a concealer, a setting powder, and a powder brush.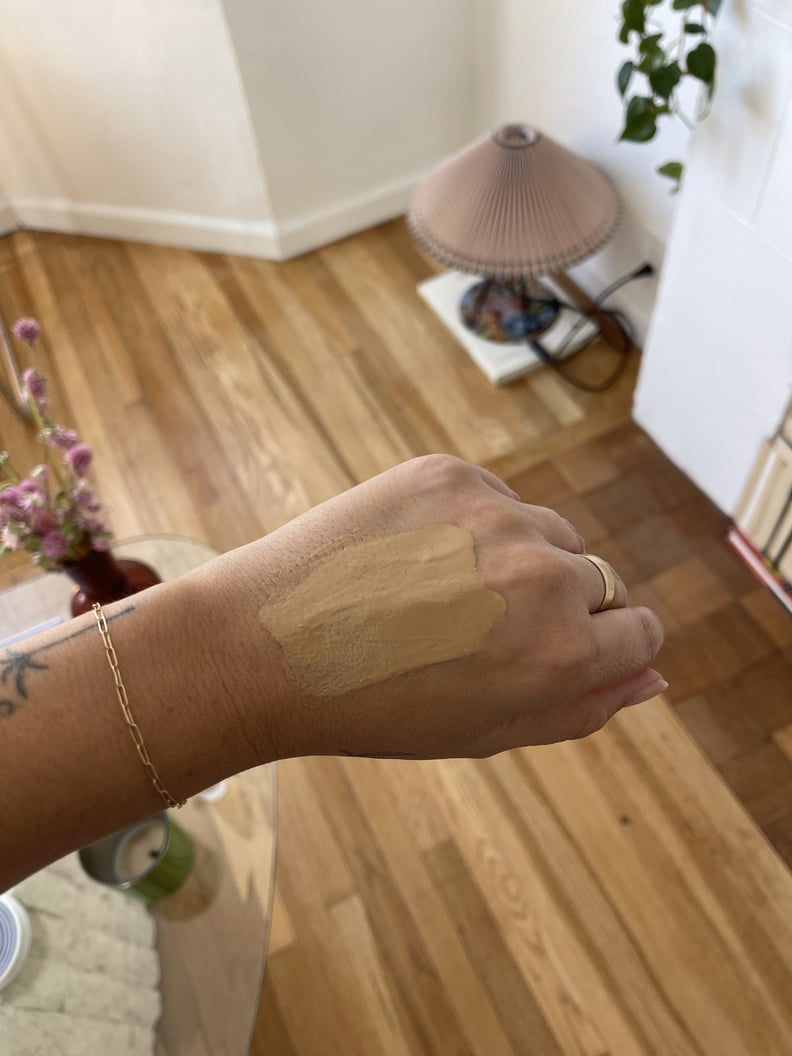 The Diffusion Dew is kind of like a hybrid between a tinted moisturizer and a lightweight foundation; it gives pretty sheer coverage but does a great job of adding a slight blur to the skin (I call it the IRL Paris filter). What I love about it is that it sinks into the skin evenly without sitting in creases or looking like it's another layer of makeup. It's ultra natural and subtle, which is my ideal makeup vibe. The only complaint I have is on the shade range — it comes in 12 colors ranging from light to dark, with more options for the former — but because it's lighter coverage, I found it to be pretty forgiving.
What sets the Diffusion Dew apart from other skin tints on the market? Well, like many of the products within the new Make roster, it uses "skin mimetic" technology, which essentially means the pigments mimic your natural skin. You can basically see the formula melting into the skin rather than just sitting on top. Plus, the Diffusion Dew also contains skin-care ingredients that help enhance that blurring effect: adenosine to help decrease the appearance of fine lines and niacinamide to help combat the look of dark spots, while decongesting pores and balancing excess sebum production.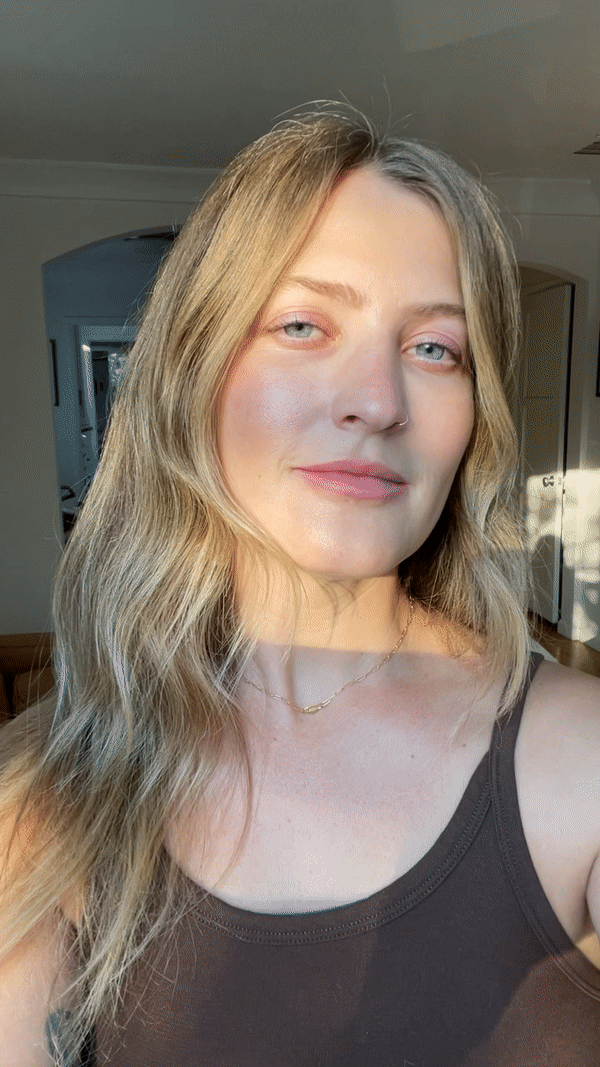 I like to apply it with a damp makeup sponge, but you could just as easily use a foundation brush or just your fingers. Personally, I like no-makeup makeup, so for an everyday look, I'd just leave it at that. However, if you want it to be a bit more of a dynamic look, I like to build on it with the Make Skin Mimetic bronzer and a swipe of the Cheek Tint to keep things dewy.
While I was a little nervous when heading out on my date that I might look like a melted ice cream cone by the time we said our goodbyes, the Diffusion Dew proved itself to have my back (or I suppose, cheeks?). It stayed on without budging, melting, or creasing throughout the afternoon and into the evening. What's more, the bartender took one look at me and said, "Wow, your skin is gorgeous," prompting my date to say, "Yeah, you're glowing!" Meaning, it's a big win in my book for the Diffusion Dew.
Rating: ★★★★