Mane Triple Ripple Jumbo Hair Waver Review With Photos
PSA: Jen Atkin's New Hair Tool Might Be My Favorite Thing Ever
As POPSUGAR editors, we independently select and write about stuff we love and think you'll like too. If you buy a product we have recommended, we may receive affiliate commission, which in turn supports our work.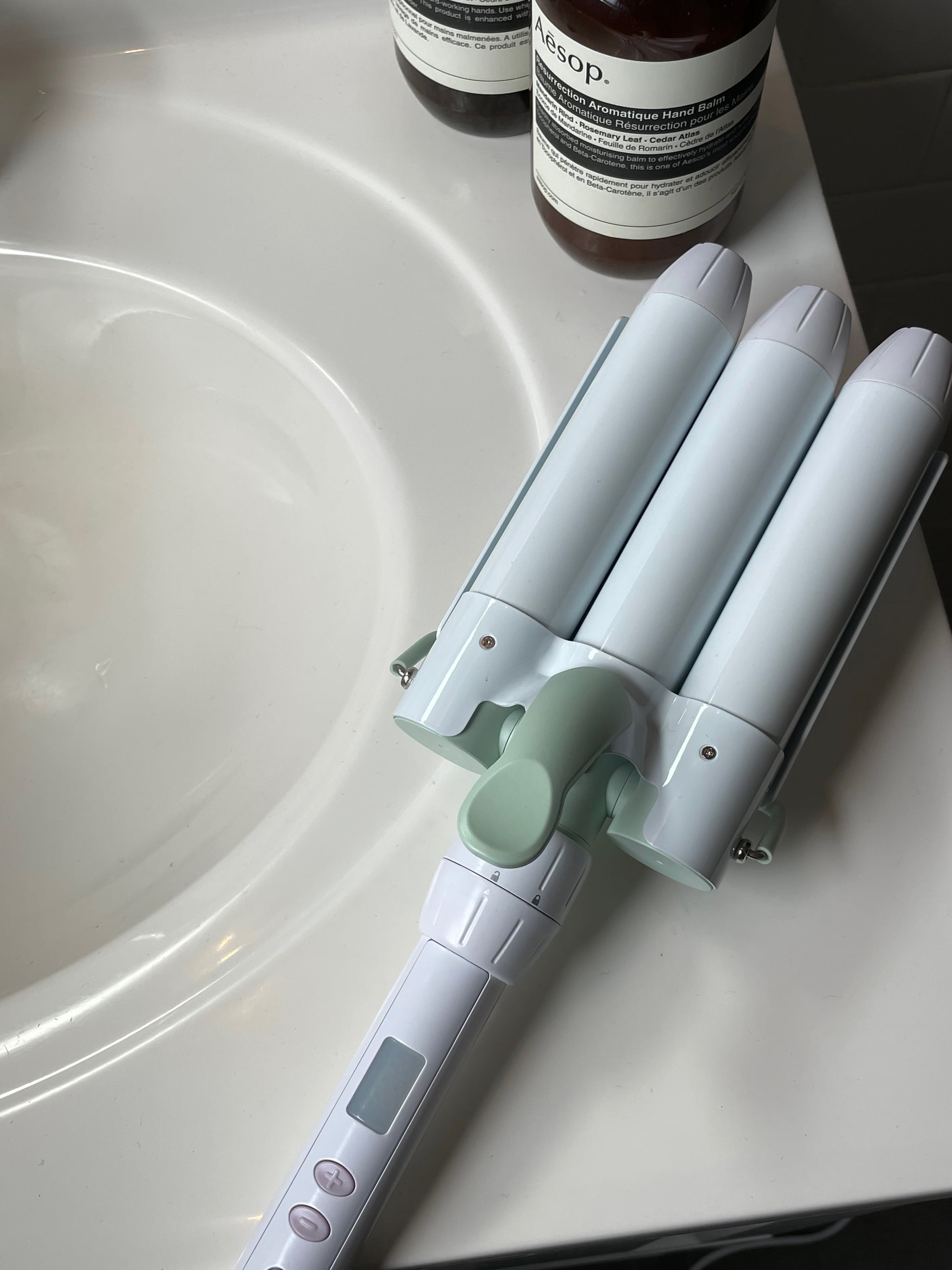 Jen Atkin recently launched a hair-tool brand called Mane.
One of the first product launches is a triple-pronged curling iron.
The Triple Ripple Jumbo Hair Waver promises creaseless, frizz-free waves.
The first time I saw someone with mermaid waves created by a flat iron, my jaw visibly dropped. I was obsessed with everything about the look. The effortless vibe, the piece-y texture — it was all that I was looking for, and everything I wanted my hair to look like. Unfortunately, when I figured out how people were achieving said waves, my jaw dropped again, and not in a good way. No matter how many different YouTube tutorials I watched or how many different straighteners I tried, I just couldn't nail it.
When I found out that Jen Atkin, one of the celebrity hairstylists who practically made the style her signature, created a singular hair tool that would help me achieve the look, I knew I had to test it out, and I'm glad I did. Allow me to introduce the Mane by Mane Addicts Triple Ripple Jumbo Hair Waver ($75). Keep reading for all the details on the product, which is one of the first in her latest hair brand since Ouai, and my unfiltered review below.
About the Mane by Mane Addicts Triple Ripple Jumbo Hair Waver
This hair tool features three 1.25" barrels that are ceramic coated to create creaseless waves.
It has a removable handle for easy packing and goes up to 410 degrees.
It is suitable for all hair types, lengths, and textures.
The device has an auto shut-off after 60 minutes.
How to Use the Mane by Mane Addicts Triple Ripple Jumbo Hair Waver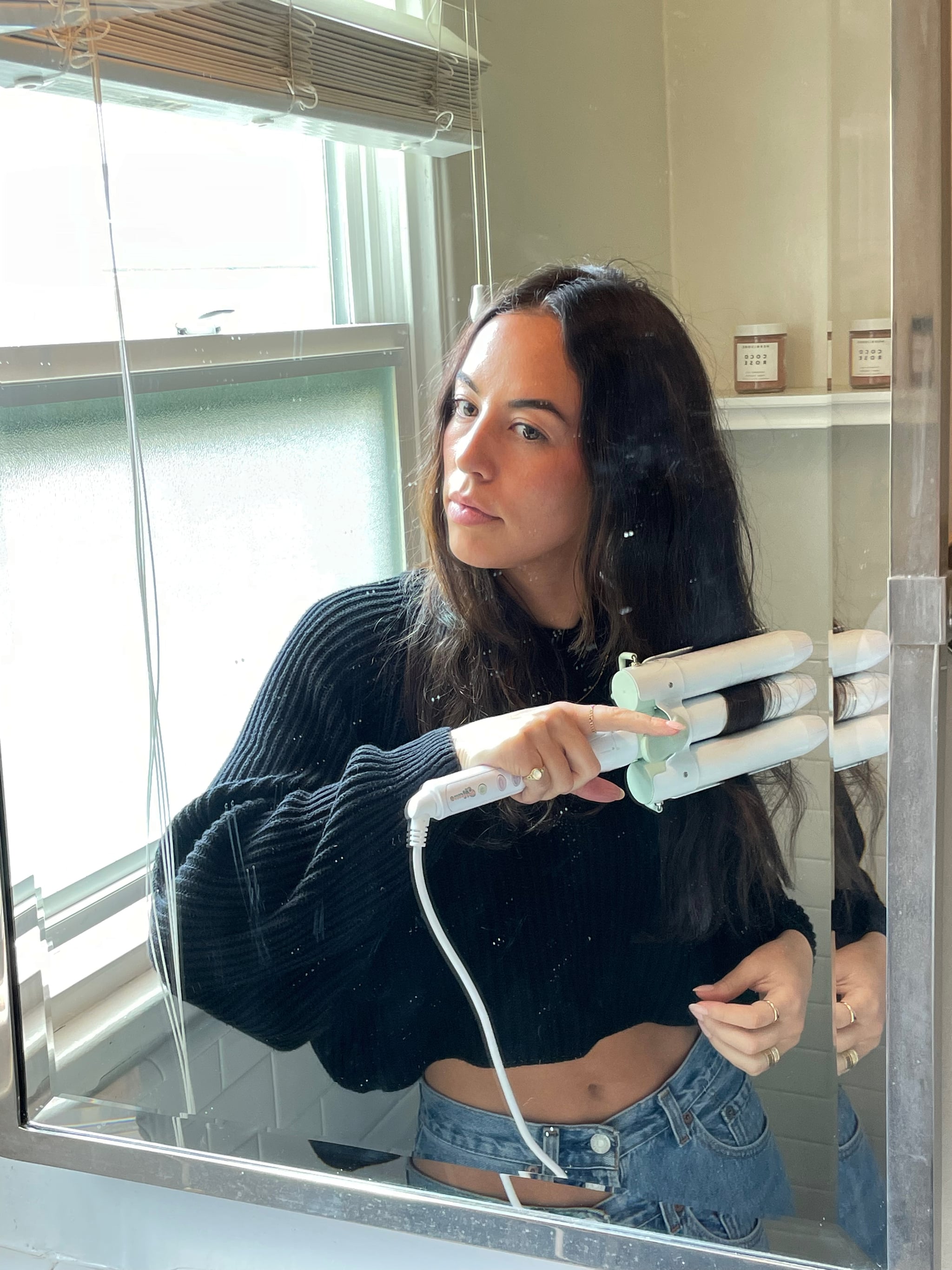 The brand recommends using the waver in three simple steps:
Step One: Section off your hair and start with the base of your head working upward.
Step Two: Hold the waver horizontally and clamp each section beginning near the root.
Step Three: After two to five seconds, continue down the length of your hair and make sure to overlap the last bend of the previous section to keep everything looking seamless.
When I want a supersleek look with defined waves, I typically follow these instructions to a T after washing and rough drying my hair with a blow dryer. However, I've learned that one of the best ways to use this tool is on air-dried hair. I have a little bit of a natural wave to my hair, and I've always had a hard time styling it after it's been air-dried. My waves aren't defined enough to be worn on their own, but when I go in with a curling iron the look doesn't come off natural or cohesive. This waver allows me to add just a few waves on the top layer of my hair and leaves everything looking perfect.
What I Like About the Mane by Mane Addicts Triple Ripple Jumbo Hair Waver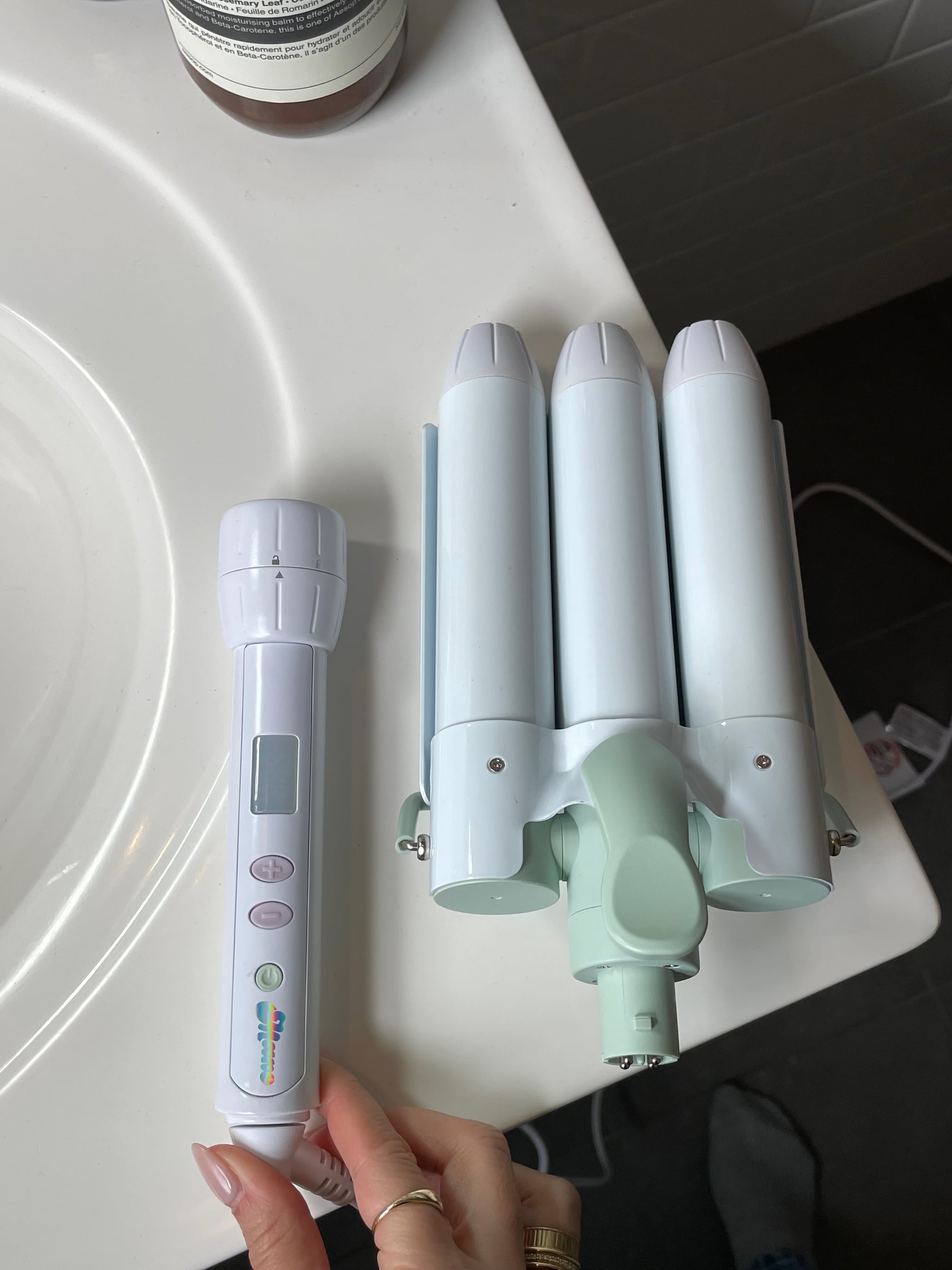 A better question would be what don't I like about the Mane Triple Ripple Jumbo Hair Waver? The honest answer: nothing. Not is it the one tool that's helped me finally master the perfect piece-y, laid back waves, but it's user friendly AF and packed with features that make my life easier.
Let's start with the removable handle — something I never knew I needed in a hot tool, but now I can't live without. I get ready at my girlfriend's house a lot before heading out on the weekends, and being able to easily fit this in a tote bag with all of my clothes, makeup, and shoes, has been a huge plus.
I'm also (embarrassingly) someone who frequently leaves the house without switching off lights or hot tools. I can't count the number of times I've received an angry phone call from a boyfriend or a roommate (back when I had a boyfriend and a room mate), upset because I forgot to turn off my straightener or curling iron. The fact that this device shuts off after an hour automatically means that even if it suddenly hits me while I'm out to dinner with girlfriends that I forgot to hit the off button, I don't have to worry about burning my apartment down. Thanks for having my back, Mane — my landlord appreciates it.
The fact that the barrels are large also means I can wave big portions of my hair in a short amount of time, which is perfect because I'm always on the go and happy to shave off a few minutes of my getting ready routine.
What to Consider Before Trying the Mane by Mane Addicts Triple Ripple Jumbo Hair Waver
I have long hair, and the size of these barrels is perfect for me. I have also used this tool on a few of my girlfriends with shoulder length hair and the result was stunning, however, if you're someone with a short bob, the barrel size might be too big for you. Although this tool is technically made for all lengths, I'm not sure you would be able to achieve the same definition on super short hair.
Rating:
Image Source: POPSUGAR Photography / Renee Rodriguez